Best battery cases for Samsung Galaxy S22 Plus 2023
Boost the battery life of your Galaxy S22 Plus, all while keeping it protected.
As the middle member of the S22 trio, Samsung's Galaxy S22+ manages to strike the perfect balance between power and performance. The top-tier smartphone features goodies such as a stunning 6.6-inch Dynamic AMOLED panel, a great triple-lens rear camera array, and much more. But all these things need power, and although the device's 4,500mAh battery works quite well, you'd still want to get one of these best Galaxy S22+ battery cases that'll help in giving your flagship the multi-day battery life it deserves.
Here are some of the best Galaxy S22 Plus battery cases
Why you can trust Android Central Our expert reviewers spend hours testing and comparing products and services so you can choose the best for you. Find out more about how we test.
NEWDERY 10,000mAh Battery Case
Staff Pick
Powerful and feature-loaded, NEWDERY's 10,000mAh battery case is easily one of the best snap-on power packs you can get for your Galaxy S22+ smartphone. It's claimed to add up to 150 percent additional battery life to the smartphone's own cell and supports 18W quick charging. In addition to that, it's compatible with DeX, Android Auto, and data sync features as well. Wireless charging support makes juicing up the case as easy as placing it on a charging pad, and you even get four handy LED indicators for keeping tabs on the existing charge level.
Slabao 5,000mAh Battery Case
Charge two devices at once
Built around a 5,000mAh UL-tested cell, Slabao's battery case gives your Galaxy S22+ an extra 80 percent battery capacity, complete with short circuit and overcharging protection. When plugged in, the case is simultaneously charged with the phone, although the latter takes precedence over the former. However, the real highlight of this case is that it comes with an additional USB-A port, using which you can juice up an extra device (e.g., wireless earbuds) while your phone is being charged. This thing is basically a snap-on power bank.
Loytal 5,000mAh Battery Case
Basic yet functional
Don't care about gimmicks and just want a dependable way of adding extra battery life to your Galaxy S22+ smartphone? We suggest checking out this power pack from Loytal. Unlike most other battery cases, it sports a sleek and uniform overall design. When plugged in, the batteries of both the case and the phone are charged simultaneously, and the charging stops once there's a full top-up. It's worth noting here that although Loytal's battery case works well for what it is, you don't get wireless charging or data sync support with it.
Zerolemon 8,000mAh Battery Case
Peace of mind
With a rated capacity of 8,000mAh, ZEROLEMON's battery case includes two (4,000mAh each) UL-certified lithium polymer cells that are claimed to add up to 120 percent extra endurance to the battery life of your Galaxy S22+ smartphone. The case has Quick Charge 3.0 support and can fast-charge the S22+ (using passthrough charging) at up to 25W using the PPS standard. It can also be charged wirelessly and is backed by an amazing 365-day replacement guarantee. How cool is that?
NEWDERY 4,800mAh Battery Case
Sleek and powerful
Simple yet capable, NEWDERY's 4,800mAh battery case offers a great way of adding extra juice to your Samsung Galaxy S22+ smartphone. It complements the 4,500mAh powerpack of the S22+, giving the smartphone up to 80 percent additional battery capacity. The case is made from TPU material and comes with a sleek back panel, complete with full wireless charging capability. It also supports 18W quick charging and features four LEDs at the back that let you know its current charge level with ease.
Give your Samsung Galaxy S22 Plus more battery life
Easily one of the best Android phones currently available in the market, Samsung's Galaxy S22+ boasts a plethora of advanced features. Among other things, it comes with a 4,500mAh battery that offers quite impressive endurance. But it doesn't hurt to supplement that battery life even further, and that's exactly what these Galaxy S22+ battery cases help you do.
Our top vote goes to NEWDERY's 10,000mAh battery case, which can give up to 150 percent extra battery life to the Galaxy S22+. Support for both 18W quick charging and wireless charging makes it easy to juice it up, and the convenient LED lights on the back offer a great way of monitoring the case's juice level. If you don't need this much extra power, we suggest going for NEWDERY's 4,800mAh power pack instead. It has all the goodness of the bigger model sans the extra heft.
On the other hand, Loytal's 5,000mAh battery case is perfect for anyone who likes to keep things simple. Having a uniform design, it resembles a regular case much more than other bulky battery cases. This simplicity does come at a cost, though, as there's no wireless charging or data sync support. Slabao's 5,000mAh battery case is also a great offering that lets you charge an extra device using its built-in USB-A port.
As the name suggests, these battery cases do a pretty good job of keeping the S22+ protected from everyday damage. However, that Dynamic AMOLED still needs to be shielded from scuffs and scratches, which is why we suggest checking out some of the best Samsung Galaxy S22+ screen protectors available out there.
Sign up for Black Friday email alerts!
Get the hottest deals available in your inbox plus news, reviews, opinion, analysis and more from the Android Central team.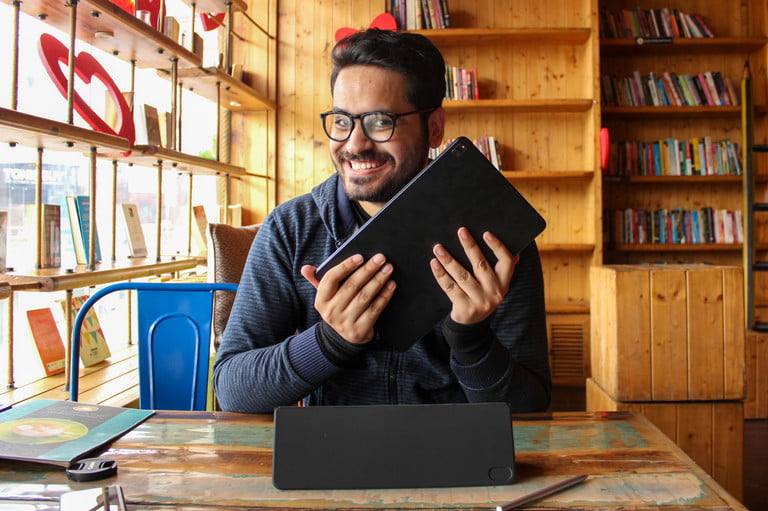 Prakhar contributes with commerce content and writes features and editorials for Android Central.
Contact: parkydoesstuff(at)gmail(dot)com