The best custom rooms in Rec Room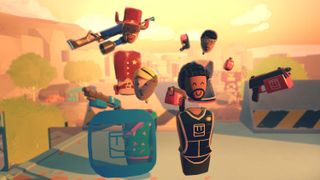 (Image credit: Rec Room)
Since Rec Room was first released for the PlayStation VR I have loved it. Based on the Recreation centers you used to go to as a kid, mainly to keep you from being underfoot, or from hanging around on street corners, Rec Room has a huge amount of pre-made content for you to play around with.
From games like Dodgeball and Paintball to full quests like the Rise of Jumbotron and even Laser Tag, Rec Rooms stock game is enough to keep you busy for hours. Then, because the guys at Against Gravity are crazy, they gave us Custom Rooms.
Custom Rooms Give users the ability to create and save huge rooms or parks for other people to play in. Using the maker pen, a 3D design tool that's far more powerful than I gave it credit for, and the sandbox tools available, you can make almost anything you want to interact with. There are some limitations, the things you make with the maker pen can't move or interact with you for example, but there is still plenty to do to make awesome fun happen!
Each week Against gravity posts a list of Featured Rooms, rooms they feel show off the best of the Custom Rooms and then allow you easy access to them in-game. All you need to do is, from your dorm look out over to your pinboard and you will see the featured rooms you can select or you can select custom rooms from your watch and you will see the featured rooms there. Ok enough talk lets dive in!
More: How tall should your PlayStation Camera be for VR?
PokePark
Why you can trust Android Central Our expert reviewers spend hours testing and comparing products and services so you can choose the best for you. Find out more about how we test.
This first room shows off how skilled some people are with the Maker Pen. PokePark is what it says it is, a park full of Pokemon. Some Pokemon are hidden, some are in plain sight, but all have them have been created in loving detail as best they can using just one device. Although you can't really interact with anything here, it's not like you can catch them or anything, it is fun to wonder all around this open park finding different Pokemon in different habitats, you can even look out for Team Rocket lurking somewhere near!
While PokePark is a passive Custom Room it is one that will make any Poke Fan smile in delight, and the park keeps getting new Pokemon all the time so it's well worth a revisit.
TheTunnelRCPark
This was the first Custom Room I played that actually had an interactive element to it other than just walking around, admiring the scenery. In TheTunnelRCpark you actually get to race little RC cars around an awesome race track with loops and jumps and all-terrain obstacles, it's so much fun, at least once you get the hang of it.
The driving is a little janky in the RC park and it takes a little getting used too. You hold a virtual controller in your virtual hand while you look at a virtual screen in your virtual world, it's so meta it's almost mind-blowing. To control the car you pull the trigger to make it go forward and press and hold the Move button to steer. You also have to physically turn the controller while holding both the trigger and the move to actually make your RC car go round corners, so like I say, complicated, but very satisfying when you do get it right.
FunGamesatPark
Although not a featured room this Custom Room came up in my feed as I was wandering about. Fun Games at Park has lots of fun games you might find at a pier or fairground, games like skeeball, tin can alley, and basketball hoops, are all available to play. Now some of the games don't work very well. They can be a little temperamental but overall it's a fun little room to kill some time.
That's it for this one, there isn't a lot to say, just that I enjoyed it the same way I enjoy these games at the pier when I go.
TheGiantRoom
Like the PokePark, The Giant Room isn't really interactive, it's more a place of delight and wonder. Being a little person in a huge area is really great fun especially with all the people pretending to be Ant-Man and climbing all over the furniture.
The time and effort put into this must have been huge as making even the simplest of shapes with the Maker pen makes me want to scream! So well done to the guy who managed to not only make a giant PS4 but also an entire PlayStation VR system to go with it. Very Cool.
New Features
So there we have it, 4 fun rooms to check out from the new update to Rec Room. I have spoken to the head of the FeaturedRoom section and she is going to be showing me a lot more in the coming weeks so watch out for more interesting Rooms. With the latest update of adding circuits to the mix the custom rooms are going to take a turn for the awesome and I can't wait.
We are also creating our Custom Room called MoNaClub! It isn't quite ready but you can go visit it anytime you like, you might even see some of us there so say hi and be nice!
Get the Android Central Newsletter
Instant access to breaking news, the hottest reviews, great deals and helpful tips.
Since the days of the HTC Hero James has had two or three Android phones stuffed into pockets. James is always on hand to offer advice on phones, apps and most recently, PlayStation, especially VR, It's now something of an obsession. Find him @keridel wherever Media Socials itself.