A beginner's guide to the Samsung Galaxy S6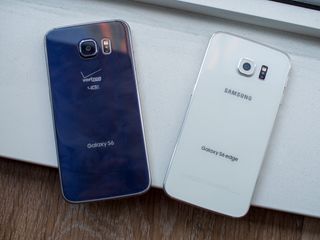 Ever the 800-pound gorilla in the room, Samsung has released yet another high-end Galaxy S device in 2015 to lead it through the year. This is the sixth iteration, and the Galaxy S6 has a lot of great new features. Dramatically improved hardware, a stunning camera and a software experience that's familiar to the hundreds of millions of people who already have a Samsung phone.
There are plenty of reasons to get yourself a Galaxy S6, and when you do you'll want to get started with this guide. Whether you've just put down the money on your own Galaxy S6 — or someone you know is the lucky one to have it and needs some help — this guide will get you started with the phone.
Hardware
Samsung made the most dramatic single-generation change in hardware when coming from the Galaxy S5 to the Galaxy S6, and it's really a solid upgrade. Plastic is all gone, replaced by a solid metal frame and panes of Gorilla Glass 4 on both the front and back of the phone. In losing the plastic we also lost the ability to remove the phone's battery and expand its storage by SD card, but in return received built-in wireless charging and a dramatically better looking and feeling device.
Here are the most important specs you need to know:
Swipe to scroll horizontally
| Category | Features |
| --- | --- |
| Display | 5.1-inch Super AMOLED at 2560x1440 resolution |
| Operating system | Android 5.1.1 Lollipop |
| Processor | Samsung Exynos octa-core |
| Storage | 32GB / 64GB / 128GB models (non-expandable) |
| RAM | 3GB |
| Rear camera | 16MP |
| Front camera | 5MP wide-angle |
| Battery | 2550 mAh (2600 mAh on GS6 edge) (non-removable) |
| Charging | Adaptive Fast Charging, Qi and Powermat wireless charging |
More: Complete Galaxy S6 and S6 edge specs
Also: Our full Galaxy S6 and S6 edge review
Setup
Samsung has a pretty self-explanatory setup process right out of the box with the Galaxy S6, and has actually left most of Lollipop's setup features including "Tap and Go" setup over NFC. During setup you'll be able to do usual stuff like get connected to Wifi, add your Google Account and restore your apps.
But you'll also do some Samsung-specific things during setup, like get signed up for a Samsung Account and train the fingerprint sensor in the home button to recognize your fingers. Both are things you may not want to do when you're anxious to get started with your new phone, but getting them out of the way up front is the best way to go.
More: How to set up the Galaxy S6
User interface
Samsung's take on Android 5.x Lollipop is much the same on the Galaxy S6 as we've experienced with recent software updates to the Galaxy S5 and Note 4. It hardly follows Google's lead in terms of design and colors, but if you've used a previous Samsung phone you'll feel right at home. Here are a few of the broad strokes to know about interacting with your Galaxy S6.
The launcher
Samsung's launcher — or the app that generates your home screens and app grid — is pretty simple to wrap your head around, but still has a few quirks. There's a standard grid of apps and widgets available for you to set up how you like, with as many pages as you want in whatever order you prefer.
Pinch in with two fingers on the home screen and you can then edit the screen grid size — to fit more apps and widgets on each page — or add/remove individual pages. The app drawer is pretty basic, but one thing we do recommend is using the "A-Z" button to sort your apps alphabetically. You can also use the "Edit" button to delete folders or apps quickly.
If you're not a big fan of how the Galaxy S6's launcher looks or performs, Android makes it easy to grab a new launcher from the Play Store and replace it entirely. You can always go back to the Samsung launcher if you wish, or have multiple installed and switch as you see fit. Check out our list of the best launcher replacements for the Galaxy S6 to get started.
Briefing
By default your leftmost home screen on the Galaxy S6 is taken up entirely by what Samsung calls "Briefing" (you may know it as its old name, My Magazine). This Flipboard-powered newsreader is pretty basic, and most news junkies will be happier with their own app of choice that isn't tied into the home screen launcher.
Thankfully you can turn off Briefing entirely if you don't want to see it, and can put a regular page for apps and widgets in its place. Briefing is also tied to Samsung's default launcher, so if you replace the launcher you won't see Briefing anymore, either.
Notifications and quick settings
Samsung has eschewed the standard Lollipop style dual-swipe notification shade, sticking instead to what it has used for years where a single swipe down from the top of the screen reveals both quick setting toggles and all of your notifications. You instantly have access to five quick settings toggles to do different functions, and a swipe to the left reveals another five. Just like other Android phones, you can swipe notifications away to the left or right, and if the notification has additional content available you can swipe down on it to expand the notification.
You can edit the placement of the quick settings from the edit button at the top of the shade or in the phone settings. When the notification shade is pulled down you can also quickly access the phone settings with a tap of the gear in the top-right corner, and adjust the brightness with the slider under the quick settings.
Camera
It's tough to argue against the feeling that the Galaxy S6 is one of the best smartphone cameras out there, and that's great for those who struggled with the hit-and-miss offering on the GS5. You can almost instantly launch the camera at any time (even when the screen is off) by quickly pressing the home button twice, and you'll be taking great pictures in seconds.
The new camera interface from Samsung is much simpler and easy to use, with great results coming out of its auto mode. If you want to get a little fancier with your shots there are additional camera modes, but you can get to those later once you're more comfortable with the phone.
Get all the Galaxy S6 camera tips here!
A couple other things to note when it comes to the Galaxy S6's camera:
Samsung's HDR mode does a great job of brightening pictures without going overboard, and we recommend leaving "auto HDR" on in most situations.
The camera can also handle 4K video recording, but it's turned off by default due to the fact that it also disables many of Samsung's more advanced camera features.
Check out the "wide selfie" mode for those big group shots with the front-facing camera.
The included Gallery app is pretty good, but it doesn't handle cloud accounts very well — consider Google Photos, Dropbox or even OneDrive for that.
Understanding themes
One of the smaller (in practice) features added to the software suite on the Galaxy S6 is the ability to apply system-wide themes to change the look of the phone. It's not quite as fully-featured as the current offering in HTC's Sense 7 software, but it does give options to those who don't like the stock look of the TouchWiz interface.
There are two main issues with the theme system on the Galaxy S6. The first is the way themes are applied — you can't pick and choose parts of different themes, so it's an all-or-nothing affair when you apply one. Additionally, when you apply a theme it only changes the parts of the phone Samsung completely controls — that means only Samsung's apps and launcher are changed. There's no way to get an additional icon pack to theme other parts of the phone to your liking.
Themes are still worth giving a try on your Galaxy S6 if you want a different look, and it's easy to go back to stock if you don't like the changes.
Read: Inside themes on the Galaxy S6
How to get better battery life
The only major pain point on the Galaxy S6 is the battery life. With just a 2550 mAh battery (2600 mAh in the GS6 edge), some find it tough to make it through a full day off the charger. Of course you can no longer just pop out the battery on your Galaxy S6 and replace it with a new one, but that doesn't mean you're without choices when it comes to extending the battery.
Samsung's built-in Power Saving and Ultra Power Saving modes will help make the most of the phone and its limited battery capacity. You can also invest in a charger that'll boost the battery quickly thanks to Adaptive Fast Charging technology, or pick up a wireless charger to add a few percent here and there when you have time to set it on the pad.
There are also the standard battery longevity tips such as reducing your phone's brightness, and checking for battery-thirsty apps. Through a combination of different methods you can keep the Galaxy S6's battery size from being a major issue.
Read: How to extend the battery on your Galaxy S6
Tips and tricks
Once you're done setting up your phone, getting to know the interface and have a good grasp for how it works, you'll likely be looking for some lesser-known tips and tricks for it. Well the Galaxy S6 has plenty of little features that are just waiting to be exposed and used, and you can learn about them with the two links below — go forth and learn!
Read: 10 things to know about your Galaxy S6
Also: Tips and tricks to make the most of your Galaxy S6
And: Motion and gesture options on the Galaxy S6
Learn about the Galaxy S6 edge and active
The Galaxy S6 comes in a "standard" version, but is also available in two other varieties that may be worth considering. Of course there's the Galaxy S6 edge, which was launched right alongside the standard model and introduces an amazing display that curves off of both long edges of the phone. There are a few pieces of software to do cool things with the curved edges, but it's nearly identical to the standard GS6 otherwise.
Launched a couple months later, there's the Galaxy S6 active as well. Following in the footsteps of previous versions based on the Galaxy S4 and S5, the Galaxy S6 active is exclusive to AT&T and puts a rugged exterior on a nearly identical skeleton to the standard GS6. It's water, dust and shock resistant, but that means no more metal or glass on the outside. It also loses the Galaxy S6's great fingerprint scanner, but you may think it's all worth it once you live with the dramatically larger 3500 mAh battery under the case.
Read: Here's what that crazy curved display can do
Read: Galaxy S6 and S6 active: What's the difference?
Accessories
With the slick and beautiful exterior of the Galaxy S6 it may be painful to cover it up with a case, but when it comes to protecting your phone from unwanted bumps and drops sometimes practicality wins out. If you're considering a case or other accessory for your new Galaxy S6, we have you covered with reviews of all the top choices and a great place to buy them if you need.
More: Galaxy S6 cases and accessories
Also: Shop for Galaxy S6 cases (opens in new tab)
Need more help?
If you're just getting started and still need more help, don't worry! We have more than two million members in our Android forums with all sorts of experience with all sorts of things. Point is, you're not alone.
So don't be afraid to ask questions. Or just lurk and see what others have sought help with, if you prefer. Chances are you're not alone.
Android Central Newsletter
Get instant access to breaking news, the hottest reviews, great deals and helpful tips
Andrew was an Executive Editor, U.S. at Android Central between 2012 and 2020.
Amazing phone, terrible battery life. A person will be lucky to get 4 hours SoT if they turn off everything that makes the phone a phone. Oh, and get a battery bank that supports quick charge.

That's not true at all. I get very good battery life granted I'm running a custom rom. Posted via the Android Central App

My battery life stinks. I'm rooted, stock, some bloat frozen. Currently I'm running Nova as my home launcher. Barely make it through the workday.

Try "S6 active" model with much larger battery. Also is much more durable, without protective case.
On the downside, there is no fingerprint scanner.

I was fairly confident it was either you or Phil...

Don't be hating on sammy because their recent flagships have got the competition beat, especially the nexus 6 and motorola in general....hehehe

No Android device comes close to the Nexus 6 in terms of speed, smoothness and overall Android experience, and let's not forget running the latest Google Android OS. And this comes from someone who also owns a Note 4, which has become my backup phone. Sorry but TW is a complete mess and resources HOG. Posted via the Android Central App

My brother has a nexus 6. I've used it extensively and compared it after 5.1.1 side by side w/ the Note 4 on 5.0.1. App launching speeds go back and forth. The N6 launches 2 or 3 marginally faster, the N4 launches 2 or 3 faster. Games, browsers, lower demanding apps, core apps, google apps, etc, etc. And this is comparing TW on 5.0.1 with stock on 5.1.1. Where the N4 falls short is memory management and launching the recent apps UI fast consistently . The N6 stock ROM is more efficient at managing RAM and task switching is more responsive. Other than that...nope. and keep in mind, how many people were complaining about 5.0.1 speed and consistency 6 months ago? Alot. The N4 doesnt even have it yet. Even though performance gains will be marginal, im looking forward to comparing the 2 when the N4 gets 5.1.1 and all 4 cores are active constantly, assuming the kernel is optimized the same way.

The Note 4 is a great device, but TW needs a serious overhaul, it just cripples the overall experience. Posted via the Android Central App

Lol. That's the sort of silly exaggeration i'd expect from someone with an extreme bias for stock android or nexus devices. Maybe if you were using the stock launcher nothing but native apps. Otherwise hell no, you're way...way off

In love my S6, but hate the poor battery life. in order to get respectable battery life, I have to shut down Google Now, and most Google services because the tiny battery just can't power this screen and all of the cool services. Even many of the features that Samsung promoted need to be turned off to save power (i.e. NFC, Download Booster,Smart Network) Like thousands have posted here, I would have gladly taken a slightly thicker phone for a bigger battery.

I think build quality is amazing. However, performance is not great. Mine constantly slows down over time, sometimes doing simple things and hitting home button causes home page to take several seconds to load. A couple of times the page has loaded off center, meaning all my icons/widgets are shifted half screen down.... phone needs a serious performance update. I've had mine since March w/ Tmobile, i've tried factory reset twice and to no avail... I'm actually not happy, i love the phone but performance wise it's a step back. imo

I'm a Samsung fan, but I have to echo the horrible battery life claims. I keep charging pads at work and at home and I have a quick charge car charger, and constantly have to charge to make it through the day. I also struggle with the random slowdowns, so much that I make it a practice to reboot my phone every day or two. I've never had to do that with any of my previous Samsung phones. However, with those two caveats in mind, I still really enjoy my S6. It's quite an accomplishment as a phone and I'm still pleased with it overall, in spite of its well-documented shortcomings. Posted via the Android Central App on Samsung GS6

Perfect time to post this. I won a new S6 last week from John Legere's #phoneshame promotion so I'm researching on the S6. Two questions I have are mainly for best cases and best wireless chargers (since the battery is apparently less than great)? Posted via the Android Central App

I suggest heading over to the S6 forums where users have posted pictures and reviews of cases and wireless chargers. The nice thing about the S6 is that there are a lot of cases to choose from cheap to expensive. Same with wireless chargers because the S6 supports Qi and PMA.

Appreciate the feedback! Posted via the Android Central App

The material design theme that was recently added is a must have. I highly recommend it. Posted via Verizon Galaxy S6 edge

How's the performance with that particular theme? The MD theme looks decent, but i've read many times that the S6' themes in general have been causing issues that don't exist on the stock theme

I have yet came across any issues with performance. It works perfectly fine. Posted via Verizon Galaxy S6 edge

Guys who are commenting on battery life, you just need to learn how to manage this phone then you will have a great battery life. I have 24 hours battery life after I turned off some useless software I don't use. This is a monster of a phone, you can't expect to run all the services of this phone and have the battery.you can turn on some services only when you need them.you don't leave on your car radio when you are not in the car. Simple.

Imagine being a newbie to smartphone tech and the Samsung S6 is your first device. Compare the S6 to what was available three years ago. No comparison. I remember the first time I even touched an Android device back in 2010 (I don't remember what kind). I wasn't impressed and I didn't think it was going to last. I didn't even pay attention again until 2012 when the S3 came out. Long story short the S6 is a huge leap forward. Posted via Morse Code

Got mine from AT&T, had to return the 1st unit i bought, no probs with 2nd, yet. I'm wondering if its normal for the box to not be sealed? AT&T store told me that Apple is the only mfr that seals the box in plastic. How do I know that AT&T didn't give me a device returned by another customer(restocking fee)? Does Sprint, T-Mobile or Verizon have sealed S6 phones.

The S6 is one of the best Android flagships on the market, but I'd still rather choose the Note 4 over the S6. Better battery life, removable battery, expandable memory, etc... the list goes on. Posted via the Android Central App

All the things you mentioned are fixable. I have both the gs6 edge and note 4 edge. As far as memory is concerned get a 64 gig phone problems solved theres a free promotion upgrade right now . And with the battery the easiest fix is a battery pack case ,I have a 3500 amp case works great and fills good to. I paid $13 for it on ebay Posted via the Android Central App

Does the S6 camera have a zoom feature?

Does the S6 camera have a zoom feature?

In the settings you can set the volume keys to control zoom. Also, you can physically pinch to zoom on the view screen.

Thanks, I will try your method. Doug

hi. please i have an issue with my samsung galaxy s6. for two days now there is usually this pop up ' say ok google or tap mic' on my phone screen. please what do i do to correct it and stop the pop up.

so angry with this so called flagship from samsung battery life and my biggest letdown is very low volume i go out can barely hear music messed with all the settings adapt a sound etc new headphones absolute rubbish. wish i had kept my s4 this pile of trash is going up for sale after a months use. spoke to samsung they were a total waste of time technical department werent really interested so im switching back to iphone

amazing phone but bettry is very bad
charging time 3 to 4 hour and bettry life only 3 hour
why??????

Should have bought an s6edge plus. I get 13 hours from my battery. Posted via the Android Central App

I'm trying to find out if there is a way for me to know if a person reads my text messages

I love the Galaxy S7, This mobile is my dream mobile. I bought dresses instead of mobile
Android Central Newsletter
Get instant access to breaking news, the hottest reviews, great deals and helpful tips
Thank you for signing up to Android Central. You will receive a verification email shortly.
There was a problem. Please refresh the page and try again.