The Galaxy S6 has extra camera modes you'll want to try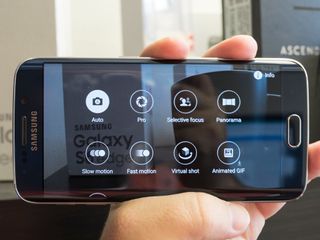 The Samsung Galaxy S6 camera is impressive in its own right. It shoots excellent pictures out of the box, with very little fuss. But it can do more. Much more.
Samsung actually pared back some of the features in the camera app this time around. That makes the initial experience easier — no more overwhelming feature lists — but it does mean you're lacking things that were built in before. Say, the ability to record an animated gif, for one. The good news is these features are pretty easy to get back. Here's how.
First things first: You're going to need to have a Samsung Account to get to the new (well, relocated, anyway) camera modes. That is, you'll be downloading them from Samsung's app store. The good news is it's relatively painless to sign up for one (you can now use your Google account to do so).
To get the new camera modes, just tap the "Mode" button that resides at the bottom of the camera app. Then choose "Download." You'll be whisked (wheeeeeee) into the Samsung app store and greeted with a list of available addition modes. And they are:
Surround shot: This is Samsung's version of Google's Photo Sphere.
Sports shot: Aids in taking pictures of fast-moving subjects.
Food shot: Magically makes your food porn look better by "emphasizing the vivid colors of food."
Sound & shot: This is a cool one that adds in a few seconds of background sound at the time you took the picture.
Beauty face: Digitally adds makeup.
Animated gif: Takes a series of pictures — 20, actually — and stitches them together for animation purposes.
Rear-cam selfie: Helps the rear camera identify faces and autofocus for ... a picture of yourself with the rear camera.
Dual camera: Simultaneously uses the front and rear cameras for that front-back effect. (Or, as we like to call it, Mullet Mode.)
You download these like you'd download any app. Simple enough. If you want to uninstall one of the modes, you'll need to do so through the listing in Samsung's store, too. (That really should be handed from the mode selector in the camera app, though, Samsung.)
More: Show us your pictures from the Galaxy S6!
Do all of those need to be separate downloads in Samsung's own app store? Probably not. (On the other hand, it's another opportunity to get you in to Samsung's app store, and you can't really blame them for that, even if you think it's a bit superfluous.) But these are some good options that you're going to want to check out.
Hope we get a camera ui update the the s5 Posted via the Android Central App

By buying the S6, that's how. Posted via the Android Central App

No need to be a dick Posted via the Android Central App

Ya I know Posted via the Android Central App

Probably true Posted via the Android Central App

This kid just likes to troll. Ignore her.

I don't troll Posted via the Android Central App

I think he meant cybertec.

The s5 has lollipop already ... If it didn't get it with that update, it will never get it Posted via the Android Central App

It will eventually be updated along with the Note 4....hopefully.

Just put this on the wife's phone. Is this the same (or similar )as animated photo mode on the Note 4? Posted via the Android Central App

Does the S 6 have any sort of slow motion video? It's the one thing the iPhone has I'd really like in my next Android device.

Yes it does, under mode. Posted via the Android Central App

It does, as mentioned already, but it isn't as good as the slow motion on the iPhone. The iPhone can shoot 240fps at 720p, whereas the S6 shoots 120fps at 720p.

And the 120fps 720p video from the S6 looks more like 480p unfortunately. Not sure what magic Apple is using, but they really have slow motion video capture that is far superior to every other phone.

Yes it has 3 slow motion modes, you can see all three of them at http://greentell.dk

Has Samsung fixed the camera for close up shots? My S3 had no issues taking close up shots, yet my S5 will not focus when you're trying to take a picture of something really close up.

I have taken a lot of close up shots and I've yet to have one not focus.

The s5 has a lot of camera issues.. Supposedly most of them are fixed with the S6 ( including this one)... My s5 can't focus on anything close up Posted via the Android Central App

I haven't had any issues with macro shots on the Note 4.

Gif mode is awesome, dual camera is cool, bit it can look strange if not done right. Videoing you reaction, as you video your kid doing something cute is probably the most appropriate

Nice stuff Posted using my note 3 via the AC App

I like this way of adding extra features to stock apps. Keep the basics and add the extra features you want.

The rear-cam selfie mode works well.

Is there Best Shot mode like the one on the s3, in which it takes some shots and suggests to save the best one? Posted via the Android Central App

FYI: Apps from the Samsung store download as regular APK's. Once you install them, you can disable the Samsung store and account. You can uninstall any of them from the application manager in settings. You do not have to do so through the Samsung store. AC should know this. ~ 64 GB S6 ~

Phil, with these modes downloaded and installed, does it slow down camera performance??? Mostly concerned with launching the camera via app and double tap.

I wonder if the sports mode is any good at reducing the blur when taking pics of kids indoors?

Too bad they don't include a real "pro" mode to control shutter speed and give complete control of ISO, RAW capture, etc. Maybe there is hope they will eventually add this though given this setup.

On a related note, does the S6 support Manual Camera (and by extension, the new Camera V2 API that allows for significantly more granular controls?) I want to upgrade, but I need to know about this - my top priority RN.

I don't understand one thing: Since Galaxy S3, the camera app shows an option to detect the light metering through spot touch, like in the nexus 5 and 6. But it never ever worked. I even tried the new S6 phone on a store and that option is still not working! Why is it there? Light metering on the Galaxys was always through the center of the screen. This is a deal breaker for me.

I have a Samsung account.I still can't download themes or these camera apps App Central Android the via Posted

Wasn't there a "blur" setting that highlighted the subject and blurred the rest on the Note 4 and s5? Was it removed for the S6?
Android Central Newsletter
Get the best of Android Central in in your inbox, every day!
Thank you for signing up to Android Central. You will receive a verification email shortly.
There was a problem. Please refresh the page and try again.