The Galaxy S6 has extra camera modes you'll want to try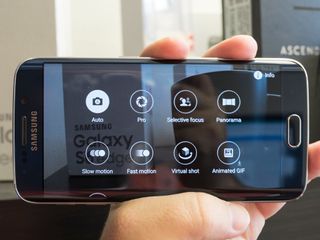 The Samsung Galaxy S6 camera is impressive in its own right. It shoots excellent pictures out of the box, with very little fuss. But it can do more. Much more.
Samsung actually pared back some of the features in the camera app this time around. That makes the initial experience easier — no more overwhelming feature lists — but it does mean you're lacking things that were built in before. Say, the ability to record an animated gif, for one. The good news is these features are pretty easy to get back. Here's how.
First things first: You're going to need to have a Samsung Account to get to the new (well, relocated, anyway) camera modes. That is, you'll be downloading them from Samsung's app store. The good news is it's relatively painless to sign up for one (you can now use your Google account to do so).
To get the new camera modes, just tap the "Mode" button that resides at the bottom of the camera app. Then choose "Download." You'll be whisked (wheeeeeee) into the Samsung app store and greeted with a list of available addition modes. And they are:
Surround shot: This is Samsung's version of Google's Photo Sphere.
Sports shot: Aids in taking pictures of fast-moving subjects.
Food shot: Magically makes your food porn look better by "emphasizing the vivid colors of food."
Sound & shot: This is a cool one that adds in a few seconds of background sound at the time you took the picture.
Beauty face: Digitally adds makeup.
Animated gif: Takes a series of pictures — 20, actually — and stitches them together for animation purposes.
Rear-cam selfie: Helps the rear camera identify faces and autofocus for ... a picture of yourself with the rear camera.
Dual camera: Simultaneously uses the front and rear cameras for that front-back effect. (Or, as we like to call it, Mullet Mode.)
You download these like you'd download any app. Simple enough. If you want to uninstall one of the modes, you'll need to do so through the listing in Samsung's store, too. (That really should be handed from the mode selector in the camera app, though, Samsung.)
More: Show us your pictures from the Galaxy S6!
Do all of those need to be separate downloads in Samsung's own app store? Probably not. (On the other hand, it's another opportunity to get you in to Samsung's app store, and you can't really blame them for that, even if you think it's a bit superfluous.) But these are some good options that you're going to want to check out.
Get the Android Central Newsletter
Instant access to breaking news, the hottest reviews, great deals and helpful tips.