The Galaxy S6 edge: Here's what that crazy curved display can do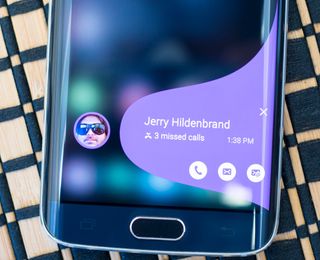 As the name implies, the big selling point for the Samsung Galaxy S6 edge (and that "edge" indeed is lowercase, boys and girls) is, in fact, the edge. Or, rather, the edges. Both of them, sloping down from the top of the phone into the thin metal band that is the side of the phone.
But is it merely form? Or is there actually some function to the edge?
The answer, of course, is both. Here's what all you can do with those curved parts of the Samsung Galaxy 6 edge.
READ NOW: Here's what that S6 edge display can do
Edge lighting
Let's be perfectly clear: We don't really advocate placing your phone face-down. It's just not a great idea, especially when you have a slippery fish like the GS6. Don't leave your phone face-down.
But if you do leave your phone face-down, you can do some fun things with the GS6 edge. You see, getting a call while you're talking face to face with someone can be annoying. So the idea here is that you'll leave your phone face-down (did we mention you really shouldn't do that?) and then the active edge (as in one of the edges) glows if and when someone's calling. Of course if you've left vibration on the you're now in full-on disco inferno mode, both glowing and vibrating.
If the person calling is one of the five you've added to the People edge (we'll cover that in the next bit), you'll see a different color for each. Of course then you'll have to remember who's assigned to each one.
People edge
This is where you can pick five of your pals and add them to a sort of quick-dial tab that lives on the edge of your home screen and lock screen. You pick the person from your contacts and assign them one of eight colors. These five fine folks then live behind the tab. Pull it and you see faces. (Not at all unlike Facebook's Chat Heads, only this is much better done.) Tap a face and you have option to call, text or email that contact. (The email and SMS icons are extremely similar, though, which is a little annoying until your force yourself to remember which is which.) If you miss a call or email or text from one of the five, you'll see a tab in their color anchored on the screen. And you can choose which notification you want to be notified about should you miss said notification from that favorite friend. (Again, that's a missed call, text message or email.)
It's a good idea and the implementation is pretty great. But that tab also feels like it's a world away up there toward the top of the screen, and we're just not using the People edge anywhere near as much as we thought we might. And that's a shame.
Information Stream
One of the earliest features of this curved edge display on the Note 4 edge was to present information of varying kinds. And that continues on the Galaxy S6 edge with a number of options. (Five, to be exact.) They are:
Briefing feed: Your usual notifications like missed calls and texts. You can pick and choose which apps can feed into this.
Yahoo news: News. From Yahoo.
Twitter trends: See what really important thing is happening right this very second on Twitter.
Yahoo finance: Financial information. From Yahoo. (You tell it what you want to know.)
Yahoo sports: Sports scores. From Yahoo. (You pick the teams.)
You also can download a few others from Samsung's app store, if you really want to.
The fun part of the Information Stream is this: When the phone's asleep (ie the screen is dark), swipe back and forth on the edge once to get the Information Stream to appear. It's cool, but kind of awkward.
Night Clock
The most useful part of the edge display has to be the Night Clock. As the name implies, it's a clock that appears at night. On the edge of the phone. So basically you just have to crack one eye open and see how little sleep you got since the last time you cracked one eye open to see how little sleep you got since the last time you cracked one eye open to see ...
You get the idea.
You set the start and stop time, with a maximum of 12 hours. If you don't have a full-size clock on your nightstand, it really is a neat little trick.
Left or right?
And now for the all-important question: On which side do you edge? Left? Or right? You can swap easily in the settings, but it would be nice to be able to set the clock on one side and the People Edge on another. For now, however, they're one and the same.
So choose wisely. Left? Or right?
Get the Android Central Newsletter
Instant access to breaking news, the hottest reviews, great deals and helpful tips.