Samsung Galaxy S6 and Galaxy S6 active: What's the difference?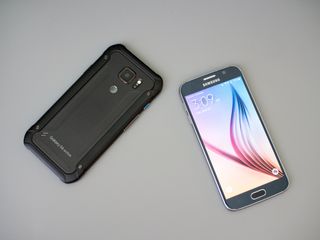 Of course at first glance you wouldn't guess much about these two phones is shared beyond the name and manufacturer — one with metal and glass all around it, and the other looking like it belongs in a tool belt. But actually, the Galaxy S6 active is nearly identical inside to its flagship predecessor, with just a couple of spec changes underneath the hardened exterior that sets it apart.
Want to know all of the differences between the Galaxy S6 and Galaxy S6 active? We have you covered — read on.
On the outside
It's not hard to spot the differences on these two phones. Beyond the screen and placement of the USB port, every other external design aspect is different between the Galaxy S6 and S6 edge. Comparing to the more familiar Galaxy S6, the active version has moved its power button farther up the side, while the volume keys move down the opposite side and a customizable "Active button" is placed above them.
The fingerprint-scanning home button has been replaced by a "dumb" plastic one, and the previously capacitive multitasking and back buttons match the new home button style. On the more subtle side, the headphone jack moves to the top of the phone and the speaker moves to the back.
The entire exterior of the Galaxy S6 active is now plastic and rubber, which gives it far more resilience. Hard plastic wraps around the perimeter of the phone, with rubber inserts on the sides that help with grip and a textured back panel that does the same. Raised edges and a metal ring mean the camera lens no longer protrudes from the back of the phone. The Galaxy S6 active is moderately thicker, wider, taller and heavier than the regular GS6, but none of the dimensional bumps change usability.
Extra bulk all around gives the Galaxy S6 active water-, dust- and shock-proofing — something the standard GS6 can't offer. Of course you can add a case to try and reach all three of those specs, but the end result will surely be less secure and likely larger than just getting a Galaxy S6 active from the start. Perhaps most importantly, the Galaxy S6 active reaches these durability specs with relatively few compromises — you simply get a slightly larger phone and lose out on the fingerprint sensor.
Internals and specs
For as dramatically different things are on the outside, the inside of these phones are quite similar. Both the Galaxy S6 and GS6 active have the same octa-core Exynos processor, 16MP camera with OIS, 3GB of RAM and a base 32GB of storage — the only difference being 64 and 128GB storage options for the standard model. Both phone support Qi and Powermat wireless charging, and have the same Adaptive Fast Charging tech inside if you use a wire.
One huge spec that differentiates the two phones is battery size — the Galaxy S6 active has a 3500 mAh cell inside, much larger than the standard 2550 mAh you'll find in the original. Because the specs are otherwise identical, that translates into much longer battery life for the active, to the point where longevity is no longer a problem on the Galaxy S6 active as it has been on the original phone. If you currently have a Galaxy S6, think about the battery life you get now and simply extend it by 35 percent — then you have a GS6 active.
Functionally, they're the same.
Sure there are big differences in external looks and feel, and the specs have changed in a couple notable places, but when it comes to using both of these phones they really act the same. The software on offer from both the Galaxy S6 and GS6 active is the same, save for carrier-specific tweaks, and the performance is great as well. Both can take wonderful photos from the 16MP camera in complete auto mode, and you can view those photos or any other content in stunning clarity on the QHD display.
That means no matter which version of the Galaxy S6 you choose, you won't have to feel like you're missing out on much that you could've gotten on the other. These are just two different ways to experience the same basic Galaxy S6.
Android Central Newsletter
Get instant access to breaking news, the hottest reviews, great deals and helpful tips
Andrew was an Executive Editor, U.S. at Android Central between 2012 and 2020.
I want that Active badly, my N5 (bought on launch day) is getting a bit old for me. I am very active as well, but don't want to spend the $700

i love my s6. the screen is amazing. absolutely a dream to look at. the camera is even better.

This sentence isn't very clear..."One huge spec that differentiates the two phones is battery size — the Galaxy S6 has a 3500 mAh cell inside, much larger than the standard 2550 mAh you'll find in the original." The Active has the larger battery?

I noticed that as well. I wouldn't be surprised if we see a correction shortly.

Indeed, the sentence is far less confusing when I include the word "active" there to indicate which phone I'm talking about. Thanks for the catch, and the sentence reads properly now.

Does the S6 Active use gorilla glass 4? Should a person use a screen protector with the S6 Active? Posted via Morse Code

Same GG4 as the GS6. Up to you on a screen protector — I find the downsides of having a screen prot (visibility, scratches on the protector, improper fit) outweigh the extra protection.

Thanks man. Posted via Morse Code

Yeah, totally outweighs scratching your actually screen. -_-

Yes, you should, GG4 scratches pretty much just like all GG before it... Posted via the Android Central App

A tempered glass screen protector is a good compromise, if you're worried about sand-on-finger-scratches to the screen. If you get a good one, they're lifetime-guaranteed (i.e. free / cheap replacement).

The rear looks way too busy, what's up with that design? Ugh... Posted via the Android Central App

The camo is silly Posted via Morse Code

Who doesn't like a busy-looking rear?

I'm going to be judge jury and executioner on this, if your looking for a durable kick ass device then the Galaxy S6 Active (and the soon to be released S6 Sport) should be the only device you look towards. When the Galaxy S6 Sport hits the Sprint shelves I'm going to be using the S6 Sport as my daily beater and use my Nexus 6 as my luxury device around the house. Posted via Morse Code

What is the s6 sport? Difference between a sport and active? Posted via the Android Central App

Sport is the Sprint variant Posted via Morse Code

If I were on AT&T, I would definitely go for the S6 Active. I love my regular S6, but there's just something appealing about the Active this time around that has me hooked on the overall package.

One of ugly and the other one is a phone. Posted via the Android Central App

Got the white camo and look beautiful! this black here does not make justice, i have also for the wife the regular GS6
and frankly the Active have better building quality that you can feels on hand, super fast phone and battery is the best on the market
SOT 8 hours with heavy use, besides the Galaxy S6 Active has a number of advantages over the Galaxy S6. It has an enormous battery (3,500mAh compared to 2,550mAh), the plastic construction remains cooler than the glass and metal of the regular Galaxy S6, it has the same processor and camera, and even features an extra shortcut button. But the biggest advantage that the Active has over the regular handset is that it is shock, dust and water-resistant. In fact, it's IP68 certified, which means it is totally dustproof and can resist long-term water immersion. The Galaxy S6 Active is also MIL-STD-810G certified, a standard that covers salt, dust, humidity, rain, vibration, solar radiation, transport and thermal shock resistance.

It really is awesome. If it wasn't locked tight due to it being on AT&T I'd buy it outright and use it on T-mobile. Posted via the Android Central App

It work on T-mobile, online you pay $20.00 or 30 bucks for SIM Unlock
http://forum.xda-developers.com/att-galaxy-s6/general/galaxy-s6-active-t...

Wow? Since when did it become common place to call a phone ugly? It's a phone. Posted via Morse Code

+1 million Posted via the Android Central App

Pop culture. Actually the Active looks a lot better than an S6 in 90% of the cases out there. Giant non-replaceble battery vs feeble non-replaceable battery ... and ... no fingerprint scanner v fingerprint scanner. Choices are good.

Since when did it become customary to call a fully functional home button "dumb"? Posted from my Samsung S6 Active

It's a plain plastic button that does literally nothing but act as a home button. No backlight, no fingerprint scanner, nothing. There's little reason for it to be a physical button at that point. Hence why it's a "dumb" button instead of a "smart" one.

Home button also does; double click launch the camera, if you hold it launch Google search or google now, when screen is off a tap on it wake up the phone as well the recent apk button if you hold it split screen multitask. cool

I am sorry, but calling a physical button that is fully functional "dumb" is wrong. If it was just for looks and did nothing it could be called a "dummy" button, but associating as "dumb" because it doesn't have certain features is not proper terminology, unless of course you are just wanting to infer your own preference. Posted from my Samsung S6 Active

Actually the term dumb for the physical button is completely acurate and appropriate. The term dumb describes that the physical button piece has no special features or capabilities. Yes pressing the button does stuff. But those features are not of the button its self.

No because both buttons are nothing more than a programmable switch.
neither is capable of independent actions when removed from the phone. It is a switch without a processor or memory to keep it's algorithms for what it does in stasis. Both are nothing more than a part of the whole being utilized differently and for different environments. To describe it as being smart just shows a lack of understanding of the technology. Posted from my Samsung S6 Active

Same comments, second article. No back-light because you can feel it. No fingerprint-scanner because they don't work when wet, or covered in dirt, or when the owner is wearing gloves. You need to think a little further than the dry confines of your home office / cubicle.

As someone who once owned the S6 and now owns the S6 active, it's quite clear that the S6 active is a far superior device. The S6 regular should have come with a 3500 mAh battery. But hey, at least it's pretty. /s

Yep. If your gonna seal it inside, then at least make it huge.

But hey, it is a good thing that Sammy sealed the battery inside of the GS6A. Why? Because the GS5A before it had a removable back, and unless all the latches were pressed around the perimeter and in the middle of the phone to snap the back cover back on the phone, water would be able to seep in. And say someone dropped their phone with a removable back cover or say it fell into a strong current of water. The cover would pop off and u would be S.O.L. So the sealed back eliminates ways water or dirt could seep into the phone's internals/so that the battery does not explode (a HUGE problem with galaxies of pre-2105). As for the GS6, Sammy could have done a locking mechanism with little "rivets" in the four corners where the rivets retract and release the back cover and give access. But nobody is that creative these days, so :/. Huge copying game: Samsung has to make the standard s6 look like an iPhone 6 and a Sony xperia z3 had a baby so Sammy copies Apple & Sony, LG copies Sammy, and so on.

I'm a heavy user and my s6 active last all day. Fantastic phone. I run nova on it though , didn't like touchwiz. Camera and screen are tops. Posted via the Android Central App

Damnit- 2 hours 53 mins of screen-on time, and only 69% battery left. This phone sucks.

People think that you really meant that xD

The active has the same wireless charging support for Qi and Powermat? The other spec sheets I had seen said the active supported only Qi and not powermat (ironic for an At&t exclusive). It's no big loss to me as I don't hang out at starbucks or other places with pma chargers. Posted via the Android Central App

Yeah, it was confusing. Confirmed with PMA today that Powermat is indeed in the GS6 active. They just didn't happen to list it in the spec sheet for some reason...

Aapold, I read on one of the forums that although powermat is not mentioned in the specs, it's supported too; but (a) I can't remember where (b) I haven't tested it. :) AoN

I love the S6 Edge, but I think if I had to pick, the S6 Active would be my choice. I don't like phones that are overly thin and I generally use my phone all day, so a big battery is a must for me. Yes, I'll lose some functionality, but I generally don't use those on all my phones, even if it had them. Yes, it would be cool, but right now, none are as appealing as a bigger battery to me. The extra protection also appeals to me heavily. I'll see if Samsung releases an unlocked variant of the Active so that I can consider one as a backup in case something happens to my G4.

Shame no finherprint scanner

I think the idea is you are likely to be wearing gloves anyway... I am assuming the extra button can launch the camera and take pictures? One of my main problems when cosplaying is difficulty taking pictures with my costume on which typically involves gloves of some kind. I have actually resorted to using my nose in the past... (Yes I know voice activated and other options exist now )... Posted via the Android Central App

If one gets released for Verizon I'll pick it up in a heartbeat. Posted via the Android Central App

Get the factory unlocked version you won't regret it.

I love this phone i sued my cousin own and it feels great

I absolutely love my S6 Active,I had the S6 and loved it but I had to have the S6 Active it's an awesome phone all around!
Android Central Newsletter
Get instant access to breaking news, the hottest reviews, great deals and helpful tips
Thank you for signing up to Android Central. You will receive a verification email shortly.
There was a problem. Please refresh the page and try again.