Samsung Galaxy S6 tips and tricks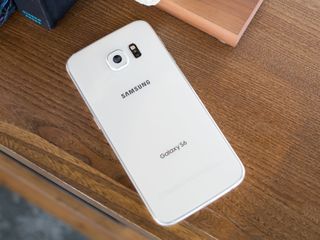 We've been using the Galaxy S6 and S6 edge for weeks now, and have racked up quite a few tips and tricks that we want to share that'll help you make the most of these great phones. You'll get more familiar with your new phone as you use it, but to get you started off we have a few good things to know and try to make the most of your Galaxy S6.
READ NOW: Tips and tricks for your Galaxy S6
The first things to do with the new phone
New phones are exciting, and that doesn't seem to go away no matter how many you've owned. There are just a few things to think about before you just rip the phone out of its box and get to downloading apps, though. Getting your fingerprints registered on the phone, swapping out the stock keyboard and getting it charged up probably aren't the first things to come to mind, but they probably should be.
READ: The first 5 things to do with your Galaxy S6
Add extra camera modes
The Galaxy S6 has a pretty wonderful camera even in complete Auto mode, but once you get used to it you'll want to explore new camera modes. A lot of camera modes, like Sound & Shot, were pre-installed on previous Galaxies but aren't on the GS6 — go take a look in the camera modes and you'll probably find one or two that appeal to you enough to download.
READ: Galaxy S6 camera modes you'll want to try
Use any Quick Charge 2.0 charger
We may sound a bit like a broken record at this point, but you really do need to take a look at a quick charger for your Galaxy S6. The Adaptive Fast Charger in the box with the phone will do the trick, but if you need an extra one for at home, the office or in the car, know that any charger branded for Quick Charge 2.0 will also work just as well. There are even portable batteries available with the technology if you need a fast top-up on the go.
BUY: Quick Chargers from ShopAndroid
Explore the great camera
There's more to this camera than just the Auto mode and some novelty shooting options — you can tweak quite a bit to get just the camera experience that you want. You can tweak the video recording settings for just how you like them, and once you master some of the hidden settings like long-pressing the viewfinder to lock exposure and focus you'll turn into a photography pro with the GS6 in no time. You'll want to read up on our full list of camera tips and tricks to learn it all.
READ: Galaxy S6 camera tips and tricks
Make the most of the curved screen on the S6 edge
If you opted to spend the extra dough on a Galaxy S6 edge, you'll want to get more out of it than just the temporary "ooh, ahh" of looking at the curved portions. The S6 edge has a few extra bits of software that work in conjunction with the curved screen, and it's not always the easiest to figure out at first.
READ: Here's what the Galaxy S6 edge can do
Get help in the forums!
No matter how much you know about your phone, you probably don't know everything. Whether you have a question about a specific feature, are looking for feedback on a problem or just want to bounce ideas off of other Galaxy S6 owners, our forums are a great place to be.
Get the Android Central Newsletter
Instant access to breaking news, the hottest reviews, great deals and helpful tips.
Andrew was an Executive Editor, U.S. at Android Central between 2012 and 2020.