Samsung Galaxy S6 tips and tricks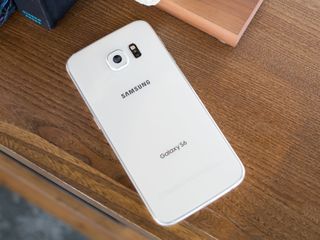 We've been using the Galaxy S6 and S6 edge for weeks now, and have racked up quite a few tips and tricks that we want to share that'll help you make the most of these great phones. You'll get more familiar with your new phone as you use it, but to get you started off we have a few good things to know and try to make the most of your Galaxy S6.
READ NOW: Tips and tricks for your Galaxy S6
The first things to do with the new phone
New phones are exciting, and that doesn't seem to go away no matter how many you've owned. There are just a few things to think about before you just rip the phone out of its box and get to downloading apps, though. Getting your fingerprints registered on the phone, swapping out the stock keyboard and getting it charged up probably aren't the first things to come to mind, but they probably should be.
READ: The first 5 things to do with your Galaxy S6
Add extra camera modes
The Galaxy S6 has a pretty wonderful camera even in complete Auto mode, but once you get used to it you'll want to explore new camera modes. A lot of camera modes, like Sound & Shot, were pre-installed on previous Galaxies but aren't on the GS6 — go take a look in the camera modes and you'll probably find one or two that appeal to you enough to download.
READ: Galaxy S6 camera modes you'll want to try
Use any Quick Charge 2.0 charger
We may sound a bit like a broken record at this point, but you really do need to take a look at a quick charger for your Galaxy S6. The Adaptive Fast Charger in the box with the phone will do the trick, but if you need an extra one for at home, the office or in the car, know that any charger branded for Quick Charge 2.0 will also work just as well. There are even portable batteries available with the technology if you need a fast top-up on the go.
BUY: Quick Chargers from ShopAndroid
Explore the great camera
There's more to this camera than just the Auto mode and some novelty shooting options — you can tweak quite a bit to get just the camera experience that you want. You can tweak the video recording settings for just how you like them, and once you master some of the hidden settings like long-pressing the viewfinder to lock exposure and focus you'll turn into a photography pro with the GS6 in no time. You'll want to read up on our full list of camera tips and tricks to learn it all.
READ: Galaxy S6 camera tips and tricks
Make the most of the curved screen on the S6 edge
If you opted to spend the extra dough on a Galaxy S6 edge, you'll want to get more out of it than just the temporary "ooh, ahh" of looking at the curved portions. The S6 edge has a few extra bits of software that work in conjunction with the curved screen, and it's not always the easiest to figure out at first.
READ: Here's what the Galaxy S6 edge can do
Get help in the forums!
No matter how much you know about your phone, you probably don't know everything. Whether you have a question about a specific feature, are looking for feedback on a problem or just want to bounce ideas off of other Galaxy S6 owners, our forums are a great place to be.
Andrew was an Executive Editor, U.S. at Android Central between 2012 and 2020.
OMG Really??? You guys are sucking these days. ~ 64 GB S6 ~

they are taking all these articles a little too far for click bait. Still waiting for the comparison of the G4/S6 to the OG Droid. Can the OG even handle the benchmarks, probably not

You mean the "quick comparison" to the OG Droid, with the more in depth one coming later... ;)

lol, don't forget the 2nd opinion

Epps720- do you know how many not smart people have migrated to Android?
These posts are needed!!! I get sorely tired of people coming from iPhones and low end Android devices, that don't understand how to use the high end device they just purchased. These posts provide information to these people that they didn't just buy a Status Symbol Phone, they bought a Status Symbol Computer... And they should do more than make calls, texts, and check Facebook to get their money's worth. A lot of unsmart people have money and carriers prey upon them. It's the duty of sites like this to instruct the masses on the use and capabilities of their devices. Regular people, remember that you didn't buy a phone, you bought a CPU with a PHONE APP. Rooted LG G2 Rooted GSIII
Stock Galaxy Note 4
(The Sprint Lover)

You're exactly right - but this article, and so many others like it, provide little (if any) "tips and tricks", per the title. It's mostly teaser to click through to their other articles on subjects already discussed... by them... My way-too-long comment towards the bottom of these comments elaborates on this further.

I'm sorry I missed the part where we forced you to read every article we publish. Posted via the Android Central App

Obviously you're not forcing anybody to do anything. But c'mon, y'all are spreading articles thinner than graphene and have been moving that direction for awhile now. There were what, 15 separate articles on the G4 in one day (ballparking)? I get that it was a new release, but y'all are better than that - y'all are talented writers, give us some depth!

You click bate guys are tools. Posted via the Android Central App

I won't apologize for wanting the quality writers here to put out quality, in-depth content, like they used to do. So think what you want, I'm really not a tool, I just know this site can do better than stooping to this level.

Nobody mentioned you forcing anyone to read articles, I look through the articles for valuable information which AC very often does have. That being said, it is frustrating when you take something that could have been one full article and break them out into 4 separate articles for no apparent reasons other than what I see as click bait. Here is a listing of 'some' of your S6 articles (article titles have been truncated). You can't honestly tell me that they are all valid/worthwhile standalone articles? - Help, tips and tricks
- Review
- How to extend battery life
- 10 things you need to know
- Touchwiz themes
- Second opinion
- look at flip cover
- Digital Galaxy Gifts
- Where's the weather app
- do I need samsung account
- What the edge can do
- best screen protectors
- how to hide battery %
- Extra camera modes
- Black Widow on Theme Store
- Change home screen app grid size
- about Qualcomm 4G sticker
- How to block calls
- One Avenger missing from S6 themes
- camera tips and tricks
- how to use easy mode
- how to turn off briefing
- top battery packs for S6
- 5 first things to do with phone
- S6 bloatware not bad
- how to set up the phone
- top 5 chargers for phone
- where's the flashlight app
- how cases will affect wireless charging and samsung pay
- is resale value a concern
- reading text on the side of Edge

Riding the waves of Sammies nut. Posted via My htc One M8

You ride HTC nuts... What's the difference??

+1000 - Thank you for taking the time to pull all that together.

What's the big deal. Looks like you have plenty of time on your hands anyway. Posted via the Android Central App

@epps7820 For someone bitching about too many S6 articles, you certainly invested a lot of time & effort into researching them.

Oh c'mon, it was to prove a point and you know that.

All you have to do is click on 'Galaxy S6' on the top of this article and it magically pulls up all their S6 articles really didn't take much time at all. And what does complaining about too many articles have to do with me listing them out. Just providing backup to my argument.

Dude like it or not Samsung is the big money player. Nobody has forced (at least I hope not) anybody to by a Samsung device. Now people have been persuaded with slick marketing campaign's but that's the individuals fault. "Don't hate the player, hate the game" Google+ All Day Everyday

I got 2 tips: don't drop it & bring a charger...

Lol! Posted via My htc One M8

Lol...these are the only tips I need! Posted via the Android Central App

Would anyone want a Google play edition galaxy s6? I know gpe is dead but that was probably the closest way to get AOSP on it. Posted via the Android Central App

Theoretically yes, but chances are the camera wouldn't be very good then :( Posted via the Android Central App

You could always download a different camera app. Why do people think Nexus phones can't download apps from the Play store? Posted via my Nexus 6 5.1.1

There's a difference between the camera app you use and the underlying software and firmware that controls how the phone takes the image data from the sensor and makes a JPG out of it.

If you wanted Android the way Google made it, why did you buy a S6? Posted via my Nexus 6 5.1.1

Exactly Google+ All Day Everyday

Because it is a far superior phone to a nexus? Posted via the Android Central App

This, without a doubt. Posted via the Android Central App

No Posted via the Android Central App

Oh snap!!!! Posted via the Note 4 or Tab S 10.5

Just got my S6 last week loving is but coming from a Nexus 4 the biggest thing I miss is Google Dialer with Google Caller ID. Please Bring it to any android!

Riding the waves of Sammies nut. Posted via My htc One M8

Well no. All the mindless drones are buying the Galaxy series. It is a very popular phone. Posted via my Nexus 6 5.1.1

Wow you are chugging haterade Posted via the Android Central App

Lol I love how he knows it is popular, but clearly thinks he is so much smarter than the 'mindless drones' buying them. It is ridiculous.

How about a tip to improve audio recording so it actually sounds like a premium device.. Because this doesn't: https://youtu.be/dQdu9jPJ5qo

To all you clowns crying about click bait here's the news, It's Samsung S6 season, that means all the news is going to be about the Samsung S6. Just like when it's football season the news is about football. If people want to buy or write about the S6 then just let them. Pretty soon it's going to be Moto X 2015 and Nexus 2015 season and they'll be taking/writing about that. Just relax and let people have their day in the sun. Google+ All Day Everyday

At what point did any of us clowns complain about the news focusing on the S6 or about this site writing about the S6? Edit: To clarify, the problem isn't the focus on the S6 or the fact that this (or any site) wants to write about the S6. The problem isn't with the S6 at all.

Actually their shouldn't be any problem at all. If A.C. wants to write 30 articles a day about the S6 then more power to them and to those who love the S6. I personally can't wait till the Moto X 2015, Nexus 2015 and the Note 5 start making headlines. Google+ All Day Everyday

And you're right - they can do whatever they want. I, and the other "clowns", can also complain about their movement to structuring their "articles" in a style that's clearly motivated more by ad revenue than providing higher quality, *in-depth* content.

Would you rather pay a subscription every month? Ads pay the bills my man. Posted via the Android Central App

Actually I would, but I know that's not for everybody and definitely understand the need to pay the bills. I have no problem with the site making money, at all. But when money motivates a decrease in quality, that's when I have a problem.

Do you realize that there are still android newbies out there coming to this site for the first time? And that maybe this article just might help them no matter how you feel about how it's written? Posted via the Android Central App

He's simply the janitor over at phandroid HQ. Let him be butthurt Posted via the Android Central App

LoL Google+ All Day Everyday

Nah, but I'm sure all the hard working janitors of the world appreciate comments like that.

Not criticizing how it was written. The writers on AC are great. And you're 100% right about newbs. But unfortunately your logic falls horribly short in this particular article. #1 - The #1 tip and trick is to read an article talking about the first 5 things you should do with your S6. #2 - Informing about the additional camera modes is a pretty helfpul tip. But there's nothing telling you how to do that "tip and trick" in this article, you need to go to their other article to see how to download the additional modes and more details about each. #3 - This one is genuinely helpful. And while it does link to their shopping site and products, you can glean the helfpul info (the fact that you can use any Quick Charge 2.0 charger with the S6) without going to any other link. #4 - While there are a couple of good pieces of info in #4, it's still generally a teaser to read the OTHER article about exploring the depths of the camera software. #5 - Gives no helpful info and just says to read their other article on what can be done with the Edge's edge. #6 - This is actually helpul as there aren't a lot of "newbs" that utilize online forums, and online forums are some of the most helpful sources of info in just about any subject. So 1, maybe 2, out of 6 "tips and tricks" actually provide a tip or a trick, or any helpful information that doesn't really require clicking through to another article. The other 4 provide absolutely no value and no "tips and tricks", but basically say "you're going to want to learn about this tip and trick, so please click through to our other article". The title of this article is Samsung Galaxy S6 Tips and Tricks - very generic and very SEO friendly. Yet when one gets to this article, they find very little actual content. Wikipedia: "Clickbait is a pejorative term describing web content that is aimed at generating online advertising revenue, especially at the expense of quality or accuracy, relying on sensationalist headlines to attract click-throughs and to encourage forwarding of the material over online social networks. Clickbait headlines typically aim to exploit the "curiosity gap", providing just enough information to make the reader curious, but not enough to satisfy their curiosity without clicking through to the linked content." If this article (and so many other ones by MN sites recently) doesn't match that definition, then I don't know what does. But keep telling yourself it's helpful for the newbs out there... Edit: And let me just say, again, that AC and iMore are better than this... they didn't always do this stuff. They have quality writers and editors, and historically have provided great content. These types of *clickbait* articles and "webs" of information are not necessary and make them stoop to a level of journalism that is beneath them.

If one of these tips, whether they had to read another article attached or not, helped them in any way, shape, or form, then no....my logic didn't fall short of anything. While I agree that this article was/is genuinely clickbait, I for one will click it and scan through it to see maybe there's something I may have missed. If not....I move on. Simple. I could understand your point if you had to feed the article. I mean actually feed it....with food from your fridge. Or maybe that it made your PC choke to the point it's unusable. Lemme ask, did this article hurt your very existence? Did it threaten your family? Cause the Earthquake in Nepal? Cause the GDP to only rise 0.2% the 1st quarter?

"While I agree that this article was/is genuinely clickbait..." If we agree on that, then the rest is really personal preference. I think clickbait is beneath the AC authors and something they didn't used to partake in, and strictly from a journalistic integrity perspective, I dislike it and know they can do better - that's the *only* reason for my complaints. Obviously this is a first world problem (if that?) that has no effect on real world problems like you mentioned. I don't worry about this when I'm putting my kids to bed at night. I don't dwell on this when I'm meeting with clients at work on a daily basis. But that's why all I'm doing is bitching about it in these comment sections. :)

i'm really glad this is being verbalized. what's killing me is every article being broken down into sections that you have to click. i know you can click "view all", but i shouldn't have to every time i want to read an article. the reason for the sections? so some of the ads can change every time you click the next button. maybe it's a necessary evil, but it just seems like they're coming on real strong with the ad crap lately. i've been reading AC for maybe 5 years now, and while i generally don't mind them putting out many little articles here and there about something like the s6 (.....lately, however, they're jumping the shark.....), tnt4 is right about the depth and quality around here since we've started the year. i think my favorite thing to read here anymore are phil's sunday posts, by far.

Agree completely. The "view all" option is yet another pointless ad generator. Who doesn't want to view all once they've clicked on the article already? Honestly, I'd be OK with all of this if AC (or MN) came out and said "hey guys & gals - expenses are up and revenue is down, so forgive us while we do some serious SEO work for awhile. We want to keep paying our talented writers"... yada yada, you get the point. But instead they're just lowering the quality of the site in general, forcing long time readers to sift through the crap to find the good content, and pretending it isn't happening. Posted via the Android Central App

Are we complaining about a few clicks now?? It's an S6 article, shouldn't we be complaining about battery life again? How about that Touchwiz?

Your recommending using the fast charger that's included with the phone. What if you also purchased the wireless charging pad. I got mine for free. But in your opinion what would be better to use? Or would it depend of the charging needs whether it be overnight or just a fast charge before going out.

It definitely depends on your needs. I have my wireless charger plugged into a quick charger cable/wall plug at work so I can pop the cable out and put it into my phone if I need a quick bump, but otherwise leave it on the wireless charger for the slower charge.

I must admit I got conned by all these S6 reviews and went out a bought one and it was awefull ! Cheap , tacky feeling phone , horrible slippery back and I don't even know we're to start with the user interface ! Took it back next day and now back with my lovely nexus 5 again . Luckily I got it on contract with tesco mobile in the uk and they give you a complete change your mind refund and cancel the contract straight away . Others may not be so lucky ! Posted via the Android Central App
Android Central Newsletter
Get the best of Android Central in in your inbox, every day!
Thank you for signing up to Android Central. You will receive a verification email shortly.
There was a problem. Please refresh the page and try again.