A quick look at three quick-charging car chargers that charge quickly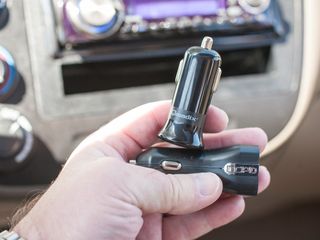 I'm used to maybe getting 10 or 15 percentage points on my way to or from the office while using my old, standard charger. It's not a long commute really, about average, according to the US Census bureau. But after taking a look at a few Quick Charge 2.0 for the car, I'm that much more excited about this tech that's finally hitting the mainstream in 2015. The short version: The charger and your phone work together to safely allow more juice to flow, then slow down the charge after that initial burst. So you'll go from dead to, say, 60 percent much faster, then slow the rate to finish the job.
And in the car, when you might just have a quick drive and a short amount of time to juice up, that makes a big difference. So let's take a quick look at two car chargers from a couple of respected accessory manufacturers.
A quick note here: A byproduct of this faster charging is heat. And a hot battery doesn't have the same lifespan as a cool one. Qualcomm — that's its Quick Charge 2.0 standard we're talking about here — says that's a non-issue and, so we're trusting them a good bit in these early stages to be right about that. And so we're also paying pretty close attention to the list of approved phones, as well as Quick Charge 2.0-certified accessories, which is what we're using here. You can find more on that at Qualcomm's website.
Show me the quick-charging car chargers!
More: What is Qualcomm Quick Charge 2.0?
The Qmadix next-gen Power Car Charger
This is what I'm keeping in my car. For one, the charger is small. The business end — the part that plugs into your 12V outlet — is small. Much smaller than the standard charger I'd been using previously. It doesn't extend very far at all from the base of the console. And so it doesn't get in the way of my cup holder, meaning I can still keep things in it. That's a big deal. It's got a two-stage indicator light that's a soft white when plugged into the car, and brighter when a phone's plugged into it. (I might have preferred blue or something instead.)
This one also comes with an attached power cord, done in that expandable telephone cord style. (Kids, ask your parents about such archaic communications devices.) So I can stretch it to use it, and it shrinks back when I'm done.
Buy now: The Qmadix Next-Gen Power Car Charger
Incipio Quick Charge 2.0 Car Charger
And here's a Quick Charge 2.0 car charger from Incipio. This one's a little different in a few ways. For one, it doesn't even come with a cable. You're on your own to supply that. (And any microUSB cable that's not from the bottom of the barrel should work with QC2.0 just fine, Qualcomm tells us.) It's also a little larger, but still not as big as the older, standard charger I'd been using. It's got a bright blue LED that fires up when you're charging, and it does so at 2A.
And that's about it. Works as advertised.
Buy now: The Incipio Quick Charge 2.0 Car Charger
Ventev dashport Q1200
Ventev's dashport q1200 car charger is fully compliant with Quick Charge 2.0 through its single USB port, charging devices "up to 75 percent faster," according to Ventev. You'll get that from any charger that meets the spec though, so Ventev really pulls ahead with how tiny it has managed to make the dashport q1200. It's about half the size of the other options out there, but is still built well and does the job.
Plug in the included tangle-free flat USB cable and you're up and charging. At $35 (well, that's its list price) it isn't cheap, but it's soooo tiny.
I don't have a Quick Charge 2.0 compatible phone yet but will probably pick up a Ventev Dashport q1200 when I get one as it's discounted price seems a bit more reasonable than the $30+ price of the others/ . My current in car charger barely keeps the battery from draining when I am using Waze.

I just bought the Ventev Dashport q1200 on eBay for $21.99 w/free shipping.

$22 on amazon... it's 2015, who doesn't at least CHECK the price on amazon (or ebay) before buying elsewhere?! :-P http://www.amazon.com/gp/product/B00QU9DEBW/ref=od_aui_detailpages00?ie=...

I would buy it off eBay to avoid shipping and taxes on Amazon. I'f you're a prime member it wont be such a difference.

Available on Amazon Prime for $22.50.

Of course if the company that makes and sells the chargers tells you they don't hurt the battery's life it has to be true :-)

Yeah, I really don't know how much of a grain of salt to take that with. But it also wouldn't surprise me to find out that it's true. Definitely will be interesting to see what folks see in that regard.

I wouldn't really recommend any charger with a built-in or proprietary cable. Even if it's well made, you're assuming that nothing will ever happen to that cable or its connector. Especially in the car, it's more likely cables will get jostled around and worn out, so it's important to have the ability to easily swap out a new cable.

And i thought quick chargers charge slowly... Posted via My G2

I have the Puregear (not listed) which works just fine as a Quickcharger on my HTC One M8.

Will any 2 Amp charger work more quickly than a standard charger? I found one on clearance for $8 at Best Buy, but didn't get it because I didn't want to fry my battery. Posted via the Android Central App

Of course a charger you get that charges at 2A will fill up the phone faster than one that's just 1A. But these chargers interact specifically with phones that are made to take in even more of a charge than that.

Yep. I used a 0.78 A (780mA) charger for a year on my Galaxy S4 because I dont like to use the originals (Im messed up in the head I know) then I went and bought an original Samsung charger, just like the one that came with the phone and its 2A. The 0.78A charger needed like 4 hours to charge from around 10% untill fully charged. The 2A charges around 1% a minute until it reaches 80-85% and it slows down for a more secure charge. In the end it takes around 2 hours or less to fully charge my phone. Your phone battery must be capable of handling all that juice comming in though. If not, it will only drain what it can. Ie. 1A, 1.5A, etc.. I hope this example can answer your question.

The cheap 2A car chargers will charge more quickly than a 1A charger, but you must use a cable that has the correct pin-outs. I found that using any of my standard USB data/charge cables would only yield 0.5A (as if charging from a laptop's USB port). I tried a few different chargers, with disappointing results, before I discovered that the cables I was using were the culprit. To get the faster 2A charge (or even a 1A charge), I had to use a charge-only cable. You can see the difference when you look at your battery charging status. It will say "USB" if slow charging. It will say "AC" if charging at full speed.

I bought the CHOETECH 51W 4 Port model. I didn't want to move away from Anker, as I've never used another brand of chargers (especially since PowerIQ) that I not only liked as much, but that provided as good support. But so far Anker has only one device that supports Quick Charge 2.0, and it's a single-port wall charger. I had their 2-port PowerIQ car charger, so needed something that could replace that. This was the only one on Amazon at the time that had multiple ports (I see a 2-port from Onite now). Other than being big, which isn't a surprise given its port count and is actually pretty compact with that in mind, it's been great so far. I've seen my phone pull as much as a little over 2A from it, although usually with actual use it drops to around 1 to 1.5A, but that's more up to the phone (Nexus 6) than anything else. No other issues I've experienced with some others, like FM interference or general reliability. Also, it's been nice to find that the Nexus 6, despite having the Midnight Blue with a black leather dbrand skin on the back, doesn't overheat as easily as the 5 did while charging, even WITH Quick Charge 2.0. I've seen one experience where it claimed to stop charging, but it looked like it was actually regulating its draw to roughly match what it was using. And when I turned off the screen, it recovered and had gained plenty of juice by the time I arrived.

Ughh I want one for my droid turbo, but my new truck has 2 USB port chargers, (along with 2 of the cigarette type) including one that is high enough output to charge an ipad (2amps?) Seems like it would be kind of a waste to use the Cig on that instead of the USB built in. Now I wish the usb had quick charge built in. I like the Toyota implementation of built in QI charge docks into the armrest myself too, even if QI is generally slower.

Install CurrentWidget: Battery Monitor from the PlayStore and check out how many Amps is that charger putting out. As simple as that. If any port is charging below 1A and you find it extremely slow then you can get a USB car charger from Amazon or something with 2Amps.

I wound up getting the Quick Charge 2.0 car charger from Verizon. It wound up being $23 with my company discount. It also has a neat LED on the micro USB connector so I can see in the dark to plug it in.

I went with the CHOETECH 4 port and a 20AWG Powwow USB designed for QC2.0 (they are the green ones not the red ones). I literally stream or play podcasts my entire 50 min commute and at the halfway point of my trip I usually top off my charge, which is either sitting at 95 to 97% depending on if I've taken a call, and this bad boy is done always before I pull up to start my work day. My Nexus 6 has finished it off as fast as 7 minutes according to the read outs on the lock screen, and sometimes a few seconds shorter. I've watched my QC2 home charger boost me from 62% to 92% in under 8 mins so to get such great results on the road is awesome. I used to never buy car chargers because of the slow voltage draws for almost 19 years and this is the first time I've appreciated getting that extra boost in such a quick amount of time.

So, does anybody know if these would work with iPhones? My wife has an iPhone 5S and it would be nice to buy one of these chargers for me and be able to just swap the cables and let her charge her phone. I'm sure it would work, so I guess I should just ask how well it would work. xD

I dont remember anyone saying their iPhones charged faster on iPad chargers. iPhones chargers are 1Amp (At least until iPhone 4S) and the iPad charger are 2A or 2.4A. The iPhone will take only what it needs up to 1A, maybe it can drain 1.3-1.5A but I doubt it. It doesnt need more.

Ok, that is kind of what I figured. It should at least charge about as fast as it would with its OEM wall charger and not really slow, right?

Yup, if the charger says 1Amp it will charge as fast as the OEM charger and not slower, if the charger says 2Amp it will charge as fast as the OEM charger and probably a little faster. Im not really sure about the 5S input, again, the iPhone 5S could get a little over the 1A, let say 1.2A but I highly doubt it goes up to 1.5A. If the charger says 780mA (0.78A) it will charge slower than the OEM charger, so it has to be 1A/1000mA at least. There is no damage if you use a higher Ampere on any device.

I've got the one from Pure Gear. It didn't come with a USB cable, but that's not a big deal in my opinion. The charger itself is tiny compared to two of the ones listed here. The Ventev is about the same size as the Pure Gear. I'm impressed with how quickly it charges. It's just as fast as my two Turbo Chargers from Motorola. It makes me wonder why Motorola had to make the turbo charger so massive. Posted via the Android Central App on the 2nd Gen. Moto X
Android Central Newsletter
Get the best of Android Central in in your inbox, every day!
Thank you for signing up to Android Central. You will receive a verification email shortly.
There was a problem. Please refresh the page and try again.