A quick look at three quick-charging car chargers that charge quickly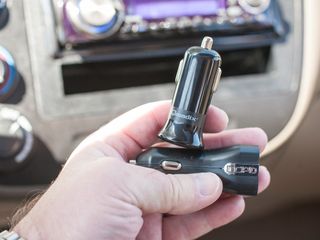 I'm used to maybe getting 10 or 15 percentage points on my way to or from the office while using my old, standard charger. It's not a long commute really, about average, according to the US Census bureau. But after taking a look at a few Quick Charge 2.0 for the car, I'm that much more excited about this tech that's finally hitting the mainstream in 2015. The short version: The charger and your phone work together to safely allow more juice to flow, then slow down the charge after that initial burst. So you'll go from dead to, say, 60 percent much faster, then slow the rate to finish the job.
And in the car, when you might just have a quick drive and a short amount of time to juice up, that makes a big difference. So let's take a quick look at two car chargers from a couple of respected accessory manufacturers.
A quick note here: A byproduct of this faster charging is heat. And a hot battery doesn't have the same lifespan as a cool one. Qualcomm — that's its Quick Charge 2.0 standard we're talking about here — says that's a non-issue and, so we're trusting them a good bit in these early stages to be right about that. And so we're also paying pretty close attention to the list of approved phones, as well as Quick Charge 2.0-certified accessories, which is what we're using here. You can find more on that at Qualcomm's website.
Show me the quick-charging car chargers!
More: What is Qualcomm Quick Charge 2.0?
The Qmadix next-gen Power Car Charger
Image 1 of 5
This is what I'm keeping in my car. For one, the charger is small. The business end — the part that plugs into your 12V outlet — is small. Much smaller than the standard charger I'd been using previously. It doesn't extend very far at all from the base of the console. And so it doesn't get in the way of my cup holder, meaning I can still keep things in it. That's a big deal. It's got a two-stage indicator light that's a soft white when plugged into the car, and brighter when a phone's plugged into it. (I might have preferred blue or something instead.)
This one also comes with an attached power cord, done in that expandable telephone cord style. (Kids, ask your parents about such archaic communications devices.) So I can stretch it to use it, and it shrinks back when I'm done.
Buy now: The Qmadix Next-Gen Power Car Charger
Incipio Quick Charge 2.0 Car Charger
Image 1 of 6
And here's a Quick Charge 2.0 car charger from Incipio. This one's a little different in a few ways. For one, it doesn't even come with a cable. You're on your own to supply that. (And any microUSB cable that's not from the bottom of the barrel should work with QC2.0 just fine, Qualcomm tells us.) It's also a little larger, but still not as big as the older, standard charger I'd been using. It's got a bright blue LED that fires up when you're charging, and it does so at 2A.
And that's about it. Works as advertised.
Buy now: The Incipio Quick Charge 2.0 Car Charger
Ventev dashport Q1200
Image 1 of 4
Ventev's dashport q1200 car charger is fully compliant with Quick Charge 2.0 through its single USB port, charging devices "up to 75 percent faster," according to Ventev. You'll get that from any charger that meets the spec though, so Ventev really pulls ahead with how tiny it has managed to make the dashport q1200. It's about half the size of the other options out there, but is still built well and does the job.
Plug in the included tangle-free flat USB cable and you're up and charging. At $35 (well, that's its list price) it isn't cheap, but it's soooo tiny.
Sign up for Black Friday email alerts!
Get the hottest deals available in your inbox plus news, reviews, opinion, analysis and more from the Android Central team.