10 things you need to know about the Samsung Galaxy S6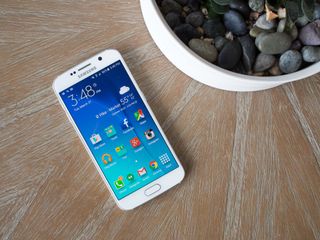 With an all-new hardware design, fresh take on software and an interesting change of direction in terms of features, the Galaxy S6 (and curved S6 edge) diverges quite a bit from its predecessors. This phone is still instantly recognizable as a Samsung device, but it doesn't feel or work quite like the old ones — let us tell you the top things you need to know about the Galaxy S6.
READ NOW: 10 things to know about the Samsung Galaxy S6
There's the Galaxy S6, then there's the S6 edge
We're used to having just a single flagship "Galaxy S" device each year, but in 2015 it comes in two flavors — a standard Galaxy S6, and then the Galaxy S6 edge. Both phones can really be referred to as a single device considering that they're about identical in terms of specs and build, but of course things get different when it comes to the screens and the software that support them.
The Galaxy S6 edge has the same screen size and resolution, but the AMOLED panel and screen glass are sharply curved on both the left and right side. The phone works identically on those curved portions as it does on the flat parts, but there are also a few extra software bits that interact with the edges. You can swipe in from the edge to reveal a quick contact launcher as well as access notifications, and when the screen is off you can get quick updates or a night time clock to show on the edge.
It's a tough ask to spend an extra $100 or so on the GS6 edge over the standard GS6, and it really comes down to how much you will appreciated the curved hardware — the software features alone don't make it worth it.
MORE: Where to buy the Galaxy S6 and S6 edge
You can't add an SDcard, but there's lots of storage available
When the first reports surfaced that Samsung wasn't going to offer an SDcard slot on the Galaxy S6, users of that expandable storage weren't at all happy with the situation. Now that we know the whole story, things aren't nearly as bad — the minimum storage offered on every GS6 model is 32GB, and there are options for 64 and 128GB if you need it as well.
Thankfully it seems most carriers are offering at least one of the two higher storage capacities, no matter what color or model of the phone you choose. And with the base storage amount being bumped up to 32GB, quite a few people will be fine with the entry-level option.
New and improved multitasking features are included
Multi Window has been one of the major features on most of Samsung's Galaxy lineup for making use of the bigger screen, and the Galaxy S6 has a completely revamped version of the feature. This time around the GS6 also includes the new Pop-up app feature that was first introduced on the Note 4, giving you yet another multitasking option.
Unlike previous versions, Multi Window is on by default on the GS6 and actually can't be turned off. At any time you can launch the feature with a long press of the Recents button (left of Home) and select two compatible apps to run on the screen at once, or open it with a tap of the Multi Window button on the top bar of an app card in the Recents view. You can still resize the windows to whatever size you wish, and close one or both when you're done.
Pop-up apps can be launched with a swipe down from the top-left or top-right corners of the screen — this will pull the current full-screen app into a small window. You can tap the top bar to bring any window down into a small Facebook Chat Heads-style bubble that'll float on top of other apps until you need to quickly re-launch it. Windows and Pop-up apps can be used interchangeably, and you can layer windows as you wish.
The GS6 supports both leading wireless charging standards
Samsung sealed up the Galaxy S6 so you can't access the battery, but in return it added in wireless charging capabilities. And while other phones support just one wireless charging standard, the Galaxy S6 supports both major standards — Qi and Powermat. That means you can charge up your Galaxy S6 on any wireless charging pad you find, whether it's the often-found Qi pads or the few Powermat chargers based by some major retail chains.
Samsung is even selling a new version of its Wireless Charging Pad (which uses Qi), but you can use any one you wish so long as it supports the standards.
You can use Quick Charge 2.0 chargers for a fast battery top-up
Wireless charging is great for casual top-ups and overnight charging, but when you need more battery and need it now, it's good to know that Samsung's Adaptive Fast Charging tech has you covered. Of course you can use the charger that comes in the box with the phone, which will charge up the phone as fast as possible, but also know that any charger that's certified as Quick Charge 2.0 compatible will also work!
As long as you have the proper charger, you can expect the Galaxy S6 to get charged up at the rate of one and a half percent battery per minute, depending on the current battery charge — that's pretty quick, and enough to get charged for a long day (or night) in very little time.
The display is just as great as the Note 4's
We weren't alone in praising the Galaxy Note 4 for its display, and Samsung has brought all of those same great qualities down to a 5.1-inch size in the Galaxy S6. At the same QHD (2560x1440) resolution in a smaller package it pushes pixel density to 577 ppi, which is downright crazy, while also keeping all of the same features. Brightness, colors and viewing angles are all good, and if you leave the phone in automatic brightness mode it'll boost the brightness higher than its usual limit when in direct sunlight to make it easier to see.
There are lots of apps to disable ... and some you can't
No matter where the rumor initially started, for some reason people got the idea that the Galaxy S6 would have fewer pre-installed (read: bloatware) apps than previous versions. That didn't turn out to be the case by any stretch, and depending on the carrier you get your Galaxy S6 from you'll be in for a couple dozen pre-installed apps that you just may not want.
Unfortunately not many of them can be uninstalled completely, but a good number can be disabled. It won't be tough to disable about 12 apps that you would've never used right after you start up the phone, after which you won't have to deal with or update ever again. But you will come across some apps that can't be disabled at all — like the built-in Internet browser, Calendar, Email app, Music app, Voice Recorder or Smart Manager utility.
You can wake up S Voice at any time hands-free
Samsung slowly but surely keeps improving its S Voice service, which now like Moto Voice on Motorola phones will listen to you for a wake-up phrase at all times — even when the screen is off and phone is locked — if you wish. You can train S Voice to wake up to any phrase of your choice or just the standard "Hi Galaxy" one, and when it wakes up it can handle all basic commands, web searches and more without any physical interaction with the phone.
If you're worried about battery life you can turn off the phrase detection and still use S Voice by launching the app manually, and you can train or re-train it for a new wake-up phrase at any time.
You can have any color you want ... well, never mind
Samsung showed off some interesting color choices for the Galaxy S6, including bright blue and deep green options, when it unveiled the phones internationally, but unfortunately you won't always have your choice of colors when you walk into a carrier store to buy the phone.
Right off the bat the green color is limited to just the GS6 edge, with the bright blue limited to the standard GS6 — but both of those options are only available internationally, not in the U.S. The remaining white, black and gold colors are available here in the states, but most carriers aren't offering both models in all three colors, don't have the colors in all storage capacities, or altogether are skipping the gold variety. Unfortunately that means it comes down to calling up your local store or checking website availability to see if your exact desired model is available.
A Samsung Account is kind of required
You'd hardly consider using an Android phone nowadays without a Google Account on with the device, and when it comes to Samsung phones that's starting to be equally as true when it comes to a Samsung Account. Signing into (or up for) a Samsung Account is part of the Galaxy S6 setup process, and those credentials can be used to sync up your contacts, calendar, Internet browser, S Health, Milk Music, Galaxy Apps content and more.
You can choose which services are signed into and synced with your account in the phone settings, but it's generally a good idea to have the account associated with your phone so things are easier when you go to use any Samsung app. To make the signup process simpler, you can even create a Samsung Account using your Google credentials, giving you one less username and password to keep track of.
Get the Android Central Newsletter
Instant access to breaking news, the hottest reviews, great deals and helpful tips.
Andrew was an Executive Editor, U.S. at Android Central between 2012 and 2020.