A look at the new Samsung Qi Wireless Charging Pad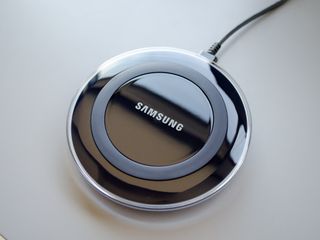 Even though it didn't actually offer a phone with Qi charging built-in, Samsung has previously sold a basic Qi charger (opens in new tab) for those who added it after the fact to their phone. Now that the Galaxy S6 has wireless charging from the start, it was as good a time as any for Samsung to refresh its wireless charger with a new design. The Wireless Charging Pad, as it's simply known, now looks like it belongs in the same design category as the GS6 and will likely be added on to plenty of phone orders in the coming months.
Qi wireless chargers are all pretty much the same in terms of function, and aside from the looks there's not much you can do to differentiate. The Samsung Wireless Charging Pad (opens in new tab) is about the same size as many others out there — 3.75-inches wide, and about .75-inches thick — but of course stands out a bit with its circular design. The flying saucer style charger also comes in both black (or very deep blue, depending on the light) and white colors to perfectly match the color of Galaxy S6 you choose, and has a nice 5-foot long charging cable and 5V / 2A charging brick included in the box.
A rubber pad on the bottom keeps the charger well planted on your desk or table, and a small rubber circle on the top of the charger does its best to hold onto your phone. Unfortunately Samsung's choice to use a flat glass back on the Galaxy S6 is working against it when it comes to keeping the phone planted on any wireless charger, and the amount of rubber on the Wireless Charging Pad isn't quite enough to keep Samsung's own phone stable on the top.
READ NOW: Samsung Galaxy S6 and S6 edge review
Unless the charger is on a perfectly-flat table (our best guess is your tables aren't) that's never touched or walked near, you'll have to be careful about how you place the phone to keep it from sliding off. If you're smart about it you let the camera pod on the back rest up against the edge to keep the phone on its spot, but more than a few times we found the GS6 had slid off of its charger while we were away. The Galaxy S6 kept itself stuck a bit more consistently on larger flat chargers like the TYLT Vu Solo (which is also about $10 cheaper (opens in new tab), so we would've preferred if Samsung put a little more grip to the top of its offering.
Image 1 of 8
In order to tell at a glance whether your phone is charging the Wireless Charging Pad does have a nice little LED array on the front edge of the charger that will light up a light blue when charging and green when completely charged. During the day the LEDs aren't quite bright enough to be seen from afar, but at night they may be bright enough to bother you if the charger was next to your bed. We didn't have too much of a problem with it, but wouldn't be surprised if the always-on light while charging was a deal breaker for those who wanted to charge overnight with it.
At $50 this certainly isn't the cheapest Qi charger out there, and though it's one that nicely matches your fresh new Galaxy S6 — in color and brand — it probably isn't the best choice in terms of features or value. If you plan on using your Galaxy S6 without a case you'll probably want a larger, rubber-topped Qi charger that'll hold onto the phone more securely. And if you don't have a Galaxy S6, there's no real reason to pay the premium for this charger over any other — maybe keep an eye out for when this one gets a price cut.
Andrew was an Executive Editor, U.S. at Android Central between 2012 and 2020.
What charge does the S6 see through this official charging pad? 760mA like most Qi chargers?

Doesn't seem to charge any faster/slower than any other Qi pad.

That's what interests me too. I'm not sure how accurate the Ampere App (https://play.google.com/store/apps/details?id=com.gombosdev.ampere) is, but a comparison between wireless chargers would be interesting - if there is any noticeable difference.

I'm interested only because if I miss the free charger from Best Buy pre-order, am I really missing much? I've got several Qi pads already that work fine. If the Samsung one is "better" then I'd make sure to get in on that.

As the words up above say, you're not missing much here other than a free charger... If you have another Qi one that works just fine, just use it. It's a standard, they all charge about the same.

I'm looking forward for qi charging to speed up charging and intensity. Wireless charging is great when you come home and put your phone down or at work sitting on your desk. If you need to charge quickly before leaving the house then the fast charge is the best way to go.

You may have already missed out on the free charger from Best Buys pre-order. I attempted to pre-order the S6 from Best Buy just so I could get the wireless charger and even though it still says it as a promotional item I received a notification during the online check-out process that the wireless charger would not be free since they were all out of the promotional chargers. The check-out process then attempted to add and charge me for the $60 charger, I backed out and canceled my preorder and will just plan on picking up my S6 when they are in the store.

Never do offers that aren't ONLINE ONLY Best Buy, Radio Shack, tech stores of similar style, online. Sales reps can always overwrite some of that stuff in stores. Wife and I got 2 Galaxy Edges with the free chargers and gift cards. Plus if you have a high data plan with your carrier, you get $25 credit per Galaxy device back on your plan. Learned that by talking to the Samsung Experience rep at Best Buy. Sometimes it's good to get out of the house and go to the store.