These are Samsung's Qi charging backs for the Galaxy Note 4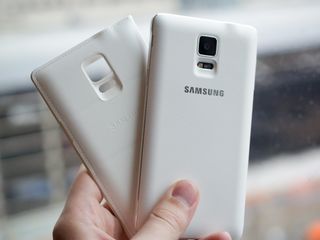 Qi doesn't come free on the Note 4 — get ready for a couple of compromises
Samsung put a big 'ol battery in the Note 4, and didn't even cover up the USB port with a flap like the Galaxy S5 — but that doesn't mean many of us aren't still wishing that the phone came with wireless charging capabilities out of the box. Just as it's done for the past few flagships, Samsung instead sells replacement back covers for the Note 4 that add Qi charging capabilities.
Both a standard back and S-View Flip Cover style are available — coming in at $30 and $60, respectively — that each add a little extra bulk but get your Note 4 charged up without any wires involved. There's a trade-off to be had here in either case, but for most folks it'll be worth it to forego plugging in every night — read along for a review of these two replacement charging backs.
The standard Qi charging back
Swapping out the stock back cover for this wireless charging one couldn't be simpler — just pull off your current plate and snap the new one on. The cover fit on my AT&T Note 4 just fine, and this cover has the added bonus of no longer having AT&T branding on the back, just a big chrome Samsung logo. The color, texture and styling are identical to what the Note 4 comes with normally.
The wireless charging works as intended without any issue, and while I noticed the back heated up a bit more than my other Qi-enabled devices I don't think it's a cause for concern. The Note 4 charges up just fine, and no longer needs a wire to do it.
Just like previous Samsung phones, the optional Qi charging back for the Note 4 adds considerable thickness and noticeable weight to the phone when installed. While the original back plate is paper thin and incredibly flexible when removed from the phone, the Qi back is over twice as thick, very rigid and has a little weight to it. The curve on the back is done well and makes the phone no tougher to hold, but you can immediately tell that something more is back there than usual.
Image 1 of 8
Although Samsung's own online store says that the Qi charging back will let your Note 4 maintain its "slim profile," the new back is thick enough to make nearly all third-party cases not fit. Even relatively forgiving rubber cases that I tried were still stretched to their maximum and didn't cover the device properly — this back plate pretty much eliminates the chance that your Note 4 will ever have a case on it.
That's not a big deal for me, as I don't use a case on my Note 4 in the first place, but I know a ton of people do and that makes this quite a deal breaker. Of course Samsung offers its own more protective option (which I'll talk about here next), but that isn't the same as being able to toss any case you want on the phone. At $29.95 it's fairly priced considering how much it eases charging, but the potential drawbacks may not make it worth it at any price for some people.
The S-View Flip Cover Qi back
Now that we know you can't really use the standard Qi charging back with a case, Samsung's option for wireless charging and device protection at this point is the Qi-enabled S-View case. I've laid out most of my feelings on the original S-View Flip Cover for the Note 4, and unsurprisingly things are nearly identical here on the Qi-enabled version.
The S-View case adds extra bulk whether it has Qi charging in it or not, and I honestly couldn't tell the difference between the two when they're attached to the Note 4. You get the same supple leather feel, stitching and features of the S-View window around front, along with very a subtle Samsung logo on the back and Galaxy Note 4 logo on the front. The S-View style of case is pretty polarizing among folks — you either love it or hate it — but you get that design with both S-View case options.
Image 1 of 8
For those who haven't yet picked up an S-View Flip Cover for their Note 4 but want one, you may want to consider getting the wireless charging variant. You expect the extra thickness when you're getting an S-View Flip Cover, so might as well spend the extra few dollars — currently a $17 difference at the time of writing — to just pick up the Qi-enabled version of this case for $59. Sure you don't get the option of red or gold colors, but if that's not a big deal you're best off getting the S-View with Qi. Get the full protection, extra features and the bonus of wireless charging whether you want it now or down the road.
Though these two options aren't without compromise, at least Samsung makes them available for purchase for those who want to add wireless charging and don't mind the trade-offs. Chances are I'll be keeping the standard Qi back on my own Note 4, and I think quite a few people out there will be doing the same.
Be an expert in 5 minutes
Get the latest news from Android Central, your trusted companion in the world of Android
Andrew was an Executive Editor, U.S. at Android Central between 2012 and 2020.