Samsung S-View Flip Cover for the Galaxy Note 4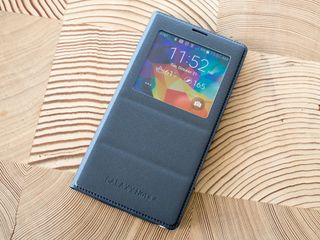 Flip cases aren't for everyone, but if you're going that route this is the one to get
Putting together a Samsung phone and an S-View case is like combining peanut butter and jelly — they're just meant to be together. If Samsung didn't make such a pretty penny selling these cases there'd probably be one in every phone box, because they really do work well in conjunction with Samsung's phones. The latest S-View case and the Galaxy Note 4 are no exception.
You get your choice of colors to spice up your Note 4, and in any case you get a little extra grip, complete screen protection and a few cool features if you're willing to put up with the extra bulk. Read along and check out our full review of the new S-View Flip Cover for the Galaxy Note 4.
My first reaction when seeing the $50 (well, $44.95 from ShopAndroid) price tag on the S-View case was to scoff at how little value it provided for that top dollar. But when I tossed it on my Note 4 I started to understand why the price is what it is. The entire case has a very nice soft feel to it, mimicking a nice leather, and has real stitching around the edges holding things together — not the fake printed stitching we saw on the Galaxy Note 3's back. The build quality is also top-notch, funnily making it sturdier than the stock back that the Note 4 comes with.
Part of what separates the S-View case from other standard cases on the Note 4 is the fact that it actually replaces the stock plastic back on the phone. You peel off the flexible back and clip on the S-View case, securely holding it in place while also keeping it perfectly flush with the metal edges of the phone. There's no give, rattle or potential for dirt and dust to get into cracks here — it feels just like the phone was made to have it on. And with your choice of black, white, gold and red colors, you can mix-and-match it with the color of your Note 4 to get something a bit more unique. (We're partial to the "Oreo" look of the black case with a white phone.)
The S-View case is notably thicker than what it replaces, keeping the design symmetrical in thickness on the back portion and the front flip-over portion. There isn't as much of a "hinge" on the side as just a curved piece of the same material that's on the front and back, with just the right amount of curve to smoothly wrap around the Note 4. There's a smart little cutout on the back portion that makes it easier to hit the power button, and +/- indicators on the opposite side to show where the volume keys are beneath.
The window itself is a very hard plastic that lets your touches reach through to the screen, but it doesn't have the same smudgeproof or scratchproof properties of the Gorilla Glass on the phone itself. The case incorporates magnets into the lid that tell the Note 4 that this is an S-View case, turning the screen off when it's closed to enable the small windowed interface, as well as wake up the screen when the case is flipped open. The magnets don't actually hold the case closed, or pin it back when you're using the phone, which is a bit of a bummer.
Then there's the added confusion of using your Note 4 as a camera with this case on. Even though the case doesn't physically obstruct the camera lens when it's folded around on the phone, I wouldn't recommend shooting pictures through another piece of plastic — particularly one that's smudged up from use. So that means taking pictures with your flip case dangling down under the phone — not a big deal sometimes, but it gets annoying when you take a lot of photos.
Just like previous cases of this style there isn't a ton of customization that can be done with the windowed interface when the case is closed. The main screen shows a time, date, weather and steps widget, as well as your full notification bar, a camera launcher and an app launcher. The notification shade can't be swiped down, which I guess makes sense. The camera launcher opens up a separate camera interface that only takes pictures in the square viewfinder that you see within the case, and are even put in a separate folder in the Gallery app. You also don't get any advanced camera controls, so this is really just for quick snaps rather than meaningful pictures.
The app launcher slides the main homescreen over to give you access to favorite contacts, messages, a flashlight and heart rate monitor, meaning you can get a few basic functions done without flipping open the case. Incoming calls, messages and alarms will also work via the window when the phone is idle, reducing the number of times you have to open up the case entirely, though that will only work with Samsung's baked-in apps as you would guess. If you use Hangouts for calls or any other messaging app you're likely to be out of luck — and that can be kind of a deal breaker here depending on how you use your phone for communication.
Image 1 of 27
If you're out there looking for a flip case to protect your Note 4's screen, but want one that adds another level of quality materials and actually adds a bit of value, the S-View Flip Cover is where you should start. My biggest gripe with it in the wide range of cases is that it's making a big phone even bigger, and adding this floppy screen cover part to deal with when you're actively using the phone doesn't help. That's a bit of a downer in the grand scheme of cases where there are very thin and light (but still protective) options out there to choose from.
But if you want the protection, style and little bit of increased function that only a case directly from Samsung can offer, this is going to be the right choice for you. Just be ready to take on a few extra moving parts and some bulk on your Note 4.
Get the Android Central Newsletter
Instant access to breaking news, the hottest reviews, great deals and helpful tips.
Andrew was an Executive Editor, U.S. at Android Central between 2012 and 2020.
No HTC Desire S»HTC Desire HD»HTC One S»HTC M8 (Naked)

You don't even own a Note 4 so no one cares what you're opinion is on this case.

Lol Sent from my glorious note 4.

Have the golden one. Flip case is all I use now. I think the G3 had the best flip case as apps were created to utilize and the m8 the most innovated. I'm waiting for that led dot view though. As for this flip case, got mines half off when I registered my Note 4 with Samsung. Definitely worth it. Posted via the Android Central App

Is it actually a fake leather or a PU leather?

Shouldve made it double as a wallet. Needs pockets Posted via the Android Central App

+10000000000 Posted via the Android Central App

The s view wallet has a pocket on the inside for a couple of bank cards although the sacrifice is a smaller s view window Posted via the Android Central App

The s view covers are always nice. I tried this one on my note 4 and while it is nice,nit just adds so much weight imo to the point where it almost feels like a brick. It is bearable though, I just went with a thin case

I picked it up with my Note on Thursday, used it for an evening and have put it away - never to see the light of day again. I have a leather sleeve coming and will use that. Making a big phone bigger and having to monkey around to take photos is an enormous hassle. My G2's flip case wasn't bad, my One M8's was awful and so is this. Posted via the Android Central App

If you're never found to use why not just return it Posted via the Android Central App

Loved the standard flip covers on my Note 2 and I have an s view one for my Note 3 but as stated photos are just a pain in the butt. Not to mention that window gets so dirty and smudgy I no longer use it. If I get the Note 4 this year I will be passing on this case.

+1 I agree completely Posted by my soon to be retired Note 3

only a true douchebag would use this.

I use a flip case for my G3. Doesssss that make me a douchebag? -_- Posted via the Android Central App on my T-Mobile LG G3

maybe. do you wear a bluetooth headset and belt clip/holster too?

Yes to the Bluetooth headset. Lmfaoo Posted via the Android Central App on my T-Mobile LG G3

nothing wrong witha bluetooth headset. people who make fun of those are insecure with them selves. bluetooth are made for a reson. to use you phone hands free and answer calls when you want to . i bet you user "gekko" still uses a lanyard for his keys hanging out of his pocket driving some american car too...... hahaha

I will rather use ear phone...I've always found Bluetooth to look ridiculous. But to each his own I guess

For those who don't have Bluetooth integrated in their car. A BT headset is necessary especially in states where it's the law. Posted via the Android Central App

I'm the one laughing when I change my oil on my American truck for $28 while you're having to schedule an appt at the shop and paying $90.

Lol
are you suggesting that pulling out a brick from your pocket, covering half of the face (or whole) and talking to it is making you that much hotter ?! :) via AC App on VZW Moto X/N7

Or someone that has a use for it

my wife like the metallic gold one and she not a douche. it protects it in her purse and you do not have to open t o answer the phone, send or reply to a text and call from you contacts. you can do this all while its closed. for her use its perfect. so shut your mouth douchebag.

what an ignorant comment Posted via the Android Central App

I've give S-View covers a go on both the S4(used the Spigen which was sweet from a case perspective) and the official S-View Cover with my Note 3 which also nice from a case perspective. Problem is from feature perspective it's great in theory but the fact that it only works with Samsung apps specifically messaging & music playing really limits its functionality.

A few things...
I got this case just to protect until I got my ordered case. So far it's OK at most. The wallet slots and the soon to be released wireless charging back cover; would have made me keep it. I also wish there was more actual protection rubber holder like in many of the cases sold. It's visually appealing but not enough to keep.

Have one on my Note 3. Think I'll pass for the Note 4 cover. Posted via the Android Central App

I have this case for my Note 3 and if using a case I can't say enough good things about it. I will be getting this case too when I get my Note 4. My Note 3 looks brand new and has never been out of a case. I take care of my tech products and it is important to me to have a good case for protection. One that is functional, too.

Big 2nd. You won't regret it. My wife and I both have it for the Note 4. When we had them for the Note 3, the phones still looked like brand new after a year... Posted via the Android Central App using my Samsung Note 4

Are you trading in your Note3 to get the Note4? Thanks

Maybe if I didn't have to wipe my screen everytime I open it then it would be nice. Posted via My Note 4

I have the Note 4 and the S-View and love both of them. I haven't use the camera for serious photography yet, but I did use my S3 and Flip Cover and did photography with no issues. I just held the phone with the cover opened down for portrait photography.
Does anyone know the purpose of the contractsame inside the back?

Wireless charging back cover please Posted via the Android Central App

Agreed. Why do they not have this available yet?!

Actually you can get it for $25 like I did with the note 4 and my s4 s view cover. When you buy a new Samsung device and sign in to your Samsung account and register your device Samsung always sends you a coupon code for %50 off on an order from their store. I only paid 28 bucks with shipping for my s view cover. And it does make the phone heavier but I like it.

It's also good for protection because the cover is a little bigger than the phone so if you drop your phone and it lands on a edge of corner it will be the cover that hits the ground and not your phone.

Is it just me or is this thing hideous? I like the idea of these cases though. I have a circle view case for my G3 (but I only occasionally use it). But I don't know... Something about this just seems like of ugly

There's gotta be a way to do one of these cases without the closing flap that gets in the way. My idea is kind of a roll up Venetian blind front cover... The entire front can be raised to the top which adds some height but no thickness or width. Posted via the Android Central App

that sounds horrible Posted via the Android Central App

Yes, I found the name. It's called "goStrap". I use it on both my e-reader and my phone. It definitely has stopped the dropping problem but probably just as importantly, it has given me back the use of my hand!!! They have a website but you can also get them at The Container Store. Hope this helps and best of luck!

Flip cases are a bad idea to use with smartphones - hard particles can get "stuck" between the front cover and the glass and the "rubbing" motion created by your own movement (especially if you put the phone into pocket or small purse/bag) might force such particles to scratch your display after some time, like a sandpaper. Plus you'll be wasting extra force and time on opening/closing it each time you need to access some app which can't be accessed through that tiny window on front cover, which can get annoying over time. Non-flip covers (which do not cover the front display) are cheaper, lighter, thinner, more convenient to use and offer enough protection for majority of people who have enough common sense to never carry their phone near keys/coins/screws/nail clippers ;-)

Nope. Doesn't happen. You think gorilla glass will scratch because dust rubs against it?? Now if I had sand in my pocket maybe but normal lint doesn't leave a scratch. My Note 3 looked brand spanking new when I popped it out of my flip cover. In theory your view may make sense but I used it in real world in my pocket everyday and it protected my phone perfectly. I'm just saying... I do believe the cover is not for everyone. People that take a

Lot of pics may find it clumsy.

Not looking to spend that much. I saw some flip cases for much cheaper on amazon I plan to buy. I'm sure, it won't look quite as nice as this one, but for $6.95 + $2.95 shipping who cares? Posted via the Android Central App

It's sad that Samsung didn't take the opportunity to make the Note 4 S-View cover way better than it was on the Note 3. I had it on the Note 3 and took it off because it was more trouble than it was worth. The things you get on the small square screen aren't enough to get over how annoying it eventually becomes to have that extra flap either dangling, or bent around the back to make the phone feel really fat, whenever you want to do something on your phone. I haven't seen it mentioned, but if they didn't give you the ability to control any music app that's currently playing, i really don't get why that's such an issue for them. The Note 3 version could ONLY control the Samsung Music app, which made that feature useless to me. They could have really had something special if they had allowed devs to make S-Cover versions of their apps which could let the user do some quick things without having to go all the way into the app. I get that it might be not worth it to make an SDK for one flip case, but they could at least have allowed people to add widgets and customize their screen with their own images or something. I just wish they'd done something more interesting than basically just adding slightly more than last year. As it is, spending $50 on this is not something I plan on doing again this year.

FYI... I have the S View for the Note 4 and they have added 3rd party music apps to support the window. I know the note 3 did not but I have been using Spotify for the last week and the cover art and FF, Pause, RW button work on the window. Also they added the flashlight widget, which I think is handy. I like the S View cover... When it came time to trade my Note 3 in its looked brand new! It is a little clumsy when it comes to taking pics but I don't do alot of picture taking with my cell phone.

Couldn't agree more... All they need to do is let us create S View screens (like the home screen and others) that are the size of the cover window and let us throw whatever we want in them, including our favorite weather, stocks, and music streaming widgets. When closed we can swipe back and forth to different S View screens just like on the full screens. It's sooo obvious.

These do look good on the Note 4 but it's time for Samsung to add a little extra to these for that $50. These should at least double as a kickstand also.

I bought a flip case tried it on my phone and I didnt like it. It was a pain to answer the phone and text with both hands having to flip the panel, so I took it back. I think 50 is overly priced for it.

I wish they would open up these cases to some kind of customization, even if it is letting you just use the default messaging app on your phone instead of the included Samsung one. I use Hangouts and this case would not be worth it as I am not willing to switch merely for a case.

I had the case for the note 3. All in all, the s-view is a cute case marked by one horrible downfall: the sharp edges. All of those stiched edges you see have a razor sharp (ok, I'm exaggerating) edge and make holding the phone uncomfortable. This time with my note 4 I'm opting for a very minimalist case with just a screen protector.

It doesn't protect the edges of the phone if dropped.

I don't like Pouch cases. I don't have problems with the S view caxe Posted via Android Central App

I love the idea of replacing your phone back with a case that is directly attached to the back of your phone. It's a great way to reduce bulk. All phones that have removable backs should have cases that do this. However, I recommend that you do a drop test with this particular case (on a non scratch surface). I had it, and dropped my Galaxy S5 phone < 2 ft from the ground and it popped out of the case and scratched the fake chrome.

The s view cover is much more better than the one from g3. It makes n4 thicker

I had a note 3 with a view case. I now have a note 4 with a view case. My 3 case automatically have me the time date view. My 4 does not. What setting do I need to change?

Does ANYONE know if Samsung makes the S View smart case in RED!!!!!!!!!! All the ones I buy that are NOT Samsung do not work correctly, such as when I open the front cover the LOCK SCREEN does not come on automatically and when I close the cover, the LOCK SCREEN does not automatically close nor does the temporary close screen come up. Nees a RED case--I have the berry colored now.

Going "naked" just sounds stupid to me. Everywhere I go, I see cracked smartphone screens, because it's not covered under standard warranty in most cases, and very expensive to replace.
For something so important in every-day life, it seems like basic common sense to protect it against being broken in a fall, and it's ludicrous to expect that it will never fall and break.
Using a smartphone without a case seems about as logical to me as playing hockey without a helmet. Smartphones have become so unbelievably thin nowadays, that anyone can afford the extra bulk of a case.