Samsung S-View Flip Cover for the Galaxy Note 4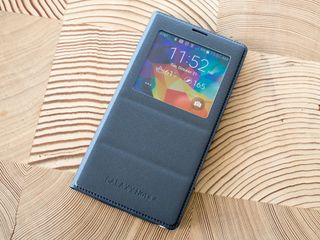 Flip cases aren't for everyone, but if you're going that route this is the one to get
Putting together a Samsung phone and an S-View case is like combining peanut butter and jelly — they're just meant to be together. If Samsung didn't make such a pretty penny selling these cases there'd probably be one in every phone box, because they really do work well in conjunction with Samsung's phones. The latest S-View case and the Galaxy Note 4 are no exception.
You get your choice of colors to spice up your Note 4, and in any case you get a little extra grip, complete screen protection and a few cool features if you're willing to put up with the extra bulk. Read along and check out our full review of the new S-View Flip Cover for the Galaxy Note 4.
My first reaction when seeing the $50 (well, $44.95 from ShopAndroid) price tag on the S-View case was to scoff at how little value it provided for that top dollar. But when I tossed it on my Note 4 I started to understand why the price is what it is. The entire case has a very nice soft feel to it, mimicking a nice leather, and has real stitching around the edges holding things together — not the fake printed stitching we saw on the Galaxy Note 3's back. The build quality is also top-notch, funnily making it sturdier than the stock back that the Note 4 comes with.
Part of what separates the S-View case from other standard cases on the Note 4 is the fact that it actually replaces the stock plastic back on the phone. You peel off the flexible back and clip on the S-View case, securely holding it in place while also keeping it perfectly flush with the metal edges of the phone. There's no give, rattle or potential for dirt and dust to get into cracks here — it feels just like the phone was made to have it on. And with your choice of black, white, gold and red colors, you can mix-and-match it with the color of your Note 4 to get something a bit more unique. (We're partial to the "Oreo" look of the black case with a white phone.)
The S-View case is notably thicker than what it replaces, keeping the design symmetrical in thickness on the back portion and the front flip-over portion. There isn't as much of a "hinge" on the side as just a curved piece of the same material that's on the front and back, with just the right amount of curve to smoothly wrap around the Note 4. There's a smart little cutout on the back portion that makes it easier to hit the power button, and +/- indicators on the opposite side to show where the volume keys are beneath.
The window itself is a very hard plastic that lets your touches reach through to the screen, but it doesn't have the same smudgeproof or scratchproof properties of the Gorilla Glass on the phone itself. The case incorporates magnets into the lid that tell the Note 4 that this is an S-View case, turning the screen off when it's closed to enable the small windowed interface, as well as wake up the screen when the case is flipped open. The magnets don't actually hold the case closed, or pin it back when you're using the phone, which is a bit of a bummer.
Then there's the added confusion of using your Note 4 as a camera with this case on. Even though the case doesn't physically obstruct the camera lens when it's folded around on the phone, I wouldn't recommend shooting pictures through another piece of plastic — particularly one that's smudged up from use. So that means taking pictures with your flip case dangling down under the phone — not a big deal sometimes, but it gets annoying when you take a lot of photos.
Just like previous cases of this style there isn't a ton of customization that can be done with the windowed interface when the case is closed. The main screen shows a time, date, weather and steps widget, as well as your full notification bar, a camera launcher and an app launcher. The notification shade can't be swiped down, which I guess makes sense. The camera launcher opens up a separate camera interface that only takes pictures in the square viewfinder that you see within the case, and are even put in a separate folder in the Gallery app. You also don't get any advanced camera controls, so this is really just for quick snaps rather than meaningful pictures.
The app launcher slides the main homescreen over to give you access to favorite contacts, messages, a flashlight and heart rate monitor, meaning you can get a few basic functions done without flipping open the case. Incoming calls, messages and alarms will also work via the window when the phone is idle, reducing the number of times you have to open up the case entirely, though that will only work with Samsung's baked-in apps as you would guess. If you use Hangouts for calls or any other messaging app you're likely to be out of luck — and that can be kind of a deal breaker here depending on how you use your phone for communication.
Image 1 of 27
If you're out there looking for a flip case to protect your Note 4's screen, but want one that adds another level of quality materials and actually adds a bit of value, the S-View Flip Cover is where you should start. My biggest gripe with it in the wide range of cases is that it's making a big phone even bigger, and adding this floppy screen cover part to deal with when you're actively using the phone doesn't help. That's a bit of a downer in the grand scheme of cases where there are very thin and light (but still protective) options out there to choose from.
But if you want the protection, style and little bit of increased function that only a case directly from Samsung can offer, this is going to be the right choice for you. Just be ready to take on a few extra moving parts and some bulk on your Note 4.
Sign up for Black Friday email alerts!
Get the hottest deals available in your inbox plus news, reviews, opinion, analysis and more from the Android Central team.
Andrew was an Executive Editor, U.S. at Android Central between 2012 and 2020.