No, Google Hangouts is not shutting down — it's just rebranding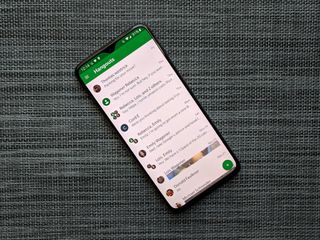 (Image credit: Ara Wagoner / Android Central)
Hangouts, Google's chat app, first debuted in 2013. A report from 9to5Google yesterday said that sources confirmed Hangouts would be shutting down in 2020, to the surprise of absolutely no one. But there's one slight problem: that's not what's happening at all, and the Google product lead for Hangouts, Scott Johnston, was very clear about that:
https://t.co/QgYfj03ADn

Hey @hallstephenj, I run Hangouts and this is pretty shoddy reporting. No decisions made about when Hangouts will be shut down. Hangouts users will be upgraded to Hangouts Chat and Hangouts Meet. Your source is severely misinformed. You can do better.https://t.co/QgYfj03ADn

Hey @hallstephenj, I run Hangouts and this is pretty shoddy reporting. No decisions made about when Hangouts will be shut down. Hangouts users will be upgraded to Hangouts Chat and Hangouts Meet. Your source is severely misinformed. You can do better.— Scott Johnston (@happyinwater) December 1, 2018December 1, 2018
2/ So while that will result in the eventual shut down of Hangouts classic (as we now call it), it doesn't imply we are ending support for the use case supported by the product: messaging and meetings.2/ So while that will result in the eventual shut down of Hangouts classic (as we now call it), it doesn't imply we are ending support for the use case supported by the product: messaging and meetings.— Scott Johnston (@happyinwater) December 1, 2018December 1, 2018
I can see how people might get confused there; they see "Hangouts" and "shut down" and think the whole thing's dying Hangouts has been generally been declared "abandoned," "stagnant" and "dying" several times in its five-year history. It'd be almost reasonable if we hadn't known that Hangouts can't die, at least not in the foreseeable future, because Hangouts is a G Suite service that paying businesses rely on.
Google began refocusing Hangouts for enterprise two years ago, and in March 2017, two new services were announced in the form of Hangouts Chat and Hangouts Meet. Hangouts Chat brings an integrated team messaging system to G Suite locked down with Google Vault and secured to ISO, GDPR, and HIPAA certifications.
Hangouts Meet gives businesses a secure but simplified way to hold conference calls and video chats with employees and outside participants no matter where they are or what device they're using. Hangouts Meet on G Suite Enterprise works with computers and smartphones, and even features a call-in phone number, and speaking from experience, that call-in number can be a lifesaver on an important team call. G Suite even sells Hangouts Meet Hardware with cameras, dedicated speakermics, and touch-panel video displays, which are self-diagnosing when something goes wrong with a call.
Now, all of this emphasis on business can make it seem like consumer access to Hangouts is going away, but I don't believe that's happening either. Hangouts is still one of the most consistent cross-platform chat apps on the market, and Google's product lead for Hangouts, Scott Johnson, said repeatedly that users would be upgraded or migrated to Hangouts Chat and Hangouts Meet.
4/ But this isn't just true with Google Apps, it is true across the market. Line supports both businesses and consumers. As does Facebook Messenger. Dropbox. Even Teams recently opened to consumers. I could go on.4/ But this isn't just true with Google Apps, it is true across the market. Line supports both businesses and consumers. As does Facebook Messenger. Dropbox. Even Teams recently opened to consumers. I could go on.— Scott Johnston (@happyinwater) December 1, 2018December 1, 2018
At the moment, Hangouts Chat and Hangouts Meet are G Suite-only, but Johnson emphasizes that these will not just be enterprise products. If I had to guess, Hangouts is going to end up like Google Keep. Keep is a part of G Suite, but it's widely used by consumers as part of the Google Drive product family. Keep continues to see improvements and refinements made to the service, and regular users reap the same benefits as businesses.
When Hangouts migrates "Classic" users to Hangouts Chat and Hangouts Meet, they'll continue to see benefits and improvements to the service just as enterprise users will, because if Google wants to keep G Suite customers, they need Hangouts to compete. If/when the Chat/Meet migration happens, it just means that the Hangouts team will only have to support two apps for its service, not three, meaning they should have more time to work on features and fixes.
May I suggest they start with in-app message searching and a dark theme?
Android Central Newsletter
Get instant access to breaking news, the hottest reviews, great deals and helpful tips
Joe Maring was a Senior Editor for Android Central between 2017 and 2021. You can reach him on Twitter at @JoeMaring1.
Easy to chat amongst friends from phone and computer.still use

It it acts as an sms app for Google Voice numbers. Still very necessary for my use.

The google voice app is still being updated and works better (for me).

I got all of my friends on Hangouts... Its the best chat app in my opinion. If Google let's this go, I'm done supporting them. I'm tired of investing in thier products, just to have services removed three years later. Screw Google

They are not letting Hangouts go it's being upgraded to Hangouts Chat, read the article. If a service is being shut down the functionality is moved or used in other services in a better way G+ will still be available (for G Suite) and all the updates recently made it even better. Google Glass still an Enterprise product used in various industries and businesses after all these years.

So what are they going to do with Google Voice SMS?

The Google Voice app has built in SMS. Better than Hangouts IMO

I run all of my SMS through my Google Voice # via the Hangouts app, as this allows me to use one number and switch between receiving calls/texts seamlessly across multiple phones and iPad.

Me too. My only issue is that Hangouts can take forever to load on my phone. I love being able to respond to texts from multiple devices.

That's the way I use it also it is perfect for my use

Google should beg Apple to federate Chat with iMessage/facetime. Otherwise it will be another duo/allo/hangouts/plus/wave.

I'm... so confused by all of this. "With Hangouts now being used for business purposes and Chat being developed for consumer use, the regular Hangouts app no longer serves any real purpose." I know that's how they pitched it but does ANYONE see this in real life? My (large) company uses Google services as our email client, and it's actually the ONLY place I see "Hangouts Chat" and "Hangouts Meet" -- in my business account. My normal account still uses Hangouts -- on the web and on my phone. It actually makes more sense this way -- I would think for business you'd want your video separate from your non-video. Is there a single person who prefers MORE apps rather than a well-designed app that can do more things, at least in the chat space? It seems so backwards to me to break things up, and the idea of wasting resources developing some parallel business vs personal track makes even less sense. Sometimes I worry I'm in a bubble so I honestly want to know, is ANYONE out there who used to use Hangouts proper now using "Hangouts Chat" for personal things?

I'm a long-time GV user (since GrandCentral) and just use the Voice apps and Browser interface. I still can't make heads or tails of what Google did, is doing or will do with Hangouts or any of their various chat and messaging apps that seem to come and go with the seasons. You'd think they could formulate a coherent plan, execute on it and adapt to changing conditions without all the confusion and incoherence.

This makes me sad :( I love hangouts and have friends that prefer to use it instead of texting or other chat apps.

Stop being sad! This article specifically mentions that Hangouts is NOT going away! They are re-branding it/re-platforming it. This is a technical decision gone awry.

Yeah, I use Hangouts everyday all day. I just do not understand Google! Instead of improving an established product, the bounce around like a pinball. They have yet to develop anything anywhere as good or useful as Hangouts. Is it perfect? No - but if they had put the energy into improving Hangouts instead of jerking around with failed alternatives, it would be a much better product today. Maddening.

I agree, but Hangouts is NOT going away. It looks like they are re-platforming it and re-branding it. That said, Google is pretty bad at product marketing so it's easy to get why people are so confused. Read the product manager's tweets - he clearly states that consumers are still on the roadmap!

I'm still using it. It's just easier to have my Google chat and my text messaging to be the same thing. I tried Allo and a few of the other random Google chat apps. But I like Hangouts. Hangouts 4 eva

My work uses it frequently for video conferencing. Simple, easy, and free. We'll continue to use it until we can't or something better comes along.

I still use it on desktop all the time, but I use it the most for GoogleFi. With hangouts, I can get my GoogleFi SMS on my GoogleFi phone, my Verizon phone, and my desktop. If they move the ability to get my GoogleFi SMS on Messages across all my devices, I will not be that upset. If they don't give me another way to do that, I will be pretty upset! I do use it to message a lot of people, but most users are moving on already, so that part will not bother me too much.

Wonder what that's going to do for Google Voice.

If you use Google Fi it allows you to send both sms texts and hangout messages via Hangouts across any platform. It's brilliant. It's the reason I don't want to switch from Pixel phones or the Google carrier. If they get rid of this app I'm switch to the iPhone and getting Verizon through my company's work plan.

I also use the app. I used it for group assignments while attending college. Have been done with college for a while. You can also share your computer screen with other party. I still use hangouts all the time.

I've been on Fi for 3 years now, and I actually left Hangouts back in July. I was running into a lot of annoyances because it wasn't really operating as an SMS client, but a web messaging client with some SMS functionality, so I'd find that apps I was authorizing to use SMS weren't actually sending those SMS messages through Hangouts, with the primary offenders being Google Assistant and Glympse. Hangouts on Fi also seems to be storing its messages in a weird way where if you do decide to switch to another SMS client, the other client can't find them. THe result being that while Hangouts is still on my phone, it's Messages that I use to handle SMS now.

These issues are part of why SMS was taken out of Hangouts for everyone else, and I really wish they'd done it for Fi, too.

This is part of the reason that I don't use it. The other being that I wasn't able to send or receive SMS when I was out of the country and had bad data reception. When I switched to messages I was able to easily get my SMS.

Messages ...as in Android messages...is an unusable mess with group messaging....and project Fi doesn't have RCS support and the ability to get messages and calls from your laptop and tablet was very nice for Fi customers

Google just never gets this right, all they had to do was to develop on Google talk way way back.. and improve that one.. (for example attach a phone number to it for auto lookup just like whatsapp) They just keep reinventing it again and again, that's very bad for messaging apps. Because you need a user base before it gets really used... I didn't really try after Talk the others, in the beginning a bit Hangouts. But that is soon surpassed by WhatsApp.. and now you can talk with WhatsApp pretty much with everyone here. And for a more closer circle I use telegram. Really no need for something else. That 'new' message app will be doomed to fail here in most part of Europa.. no carriers in my country do really support it at this time for the general people there will be no need to look beyond WhatsApp

I also work in Japan and use Japanese SIM card but Hangouts still works for my Project...ahem...Google Fi service. It's like having two numbers simultaneously active. I don't even need to switch services, my Fi service works through the Japanese carrier's data connection and Wi-Fi.

I guess Google Voice users will be using the Google Voice app for texts? I currently use Hangouts, as it's easy to have multiple Google Voice accounts on one device. I will need to research what I need to do once Hangouts goes the way of the dodo. It's unfortunate, as the app is really pretty good, and does everything I need it to do. Wife and I can video chat, text, IM, make VoIP calls.

I use it daily. My friends and I all have different phones from different companies, and it makes it easy to keep up with conversations if I'm on my computer.

I use it to talk to my son who only has a tablet. No phone number or service attached. Just connects through wifi. Some one give me something that does that easily and then I wont mind the loss.

I like how it's not dependent on your phone number. So can pick up any device and continue where you left off

I'm using is since Gtalk days ... I don't remember when it all started, but I know it was on jabber or something. Since then I have all my contacts there. It's the most intuitive way of communicating with friends, clients etc. as it's in gmail, previously in G+ and it has separate desktop app (Chrome app). The best video chat out there is via Hangouts. I'm not sure where to switch after the shutdown as the users I'm communicating with will scatter over bunch of different services and Google is not talking about the "all in one" option for end users like HO is. I don't want gSuite, don't need it for personal use, but still love the HO features. Skype is out of the question for me, Viber also, and FB is ... OMG I don't wanna start ... Whatsapp and FB Messenger and no go as like Viber are hard on spying the users. Sooo ... Telegram is the way to go, but very few of people I know want to use it. I'm really out of the options if HO and Allo is not going to be present. And in my country SMS is dead, literally. Nobody uses it.

I like Hangouts. I like that in a group chat individual avatars for each person in the chat clearly indicate how far into the dialog each person has read. I do use the desktop app, which is nice. That said, I could never get it to get traction among my family and friends. Literally everyone in my circle, except my wife, use SMS/MMS exclusively. My wife and I still use it because I have an Android, and she has an iPhone, so that's the only way we can interchange messages with read indication (the moving avatar). I use Android Messages, and the desktop portal works fine for me. I'll miss Hangouts and what it could have been, but when it shuts down, the only real loss will be the interoperability for my wife and me. We'll survive.

It's not shutting down, people. That's the ENTIRE point of this article! #yeesh

You keep saying that. The part you're likely not aware of, is that AC will update old/existing articles without there being any real indication of the fact. If you look at the URL for this one is says "google-hangouts-reportedly-shutting-down-2020." At the top, it shows the date of the article as Dec 1st. The comments you keep replying to are from Nov 30th. So, most of those people were likely commenting on an outdated article that was replaced by the current one.

This is not good at all🤔🤔

Fi SMS. I got a notice earlier this year that Voice SMS was going to be removed from Hangouts soon, so I messaged Fi's customer service asking what I should use when it gets pulled, and they said that they didn't plan to kill SMS forwarding for Fi, only for Voice.

I don't know anybody that still uses hangouts so who cares in the end except for a few. Good move by Google to eliminate the trash and make new better things.

I stopped using it when they did away with Youtube integration. It was the easiest way to broadcast a live podcast.

That's still around in at least some form. We used it for the 400th episode of the Android Central Podcast not too long ago.

I always use hangouts on both my mobile device and desktop computer. It's thee app to use for my family and friends no matter what OS they're running. Hangouts works incredibly well across platforms and does a great job. My 2 young children have iPads and don't own a cellular device so WhatsApp is not available. They're so familiar with it, it has proven a great way for us as a
Family to share content. Even their 70+ yr old grandma has it on her PC! Take it away and what messaging apps are left to use? I'm talking non cellular iOS to Android and Windows?? What ....email?? It's simply not the same. What other popular messaging app offers this flexibility? It will be missed. 'if' Google introduce it's replacement that is as flexible and covers the very popular
OSs then horraaaaaaah, but can u see that happening? Not me. RIP Hangouts.

Telegram works for the situations you describe perfectly

Good new for you and your family: it's not dying!

"should surprise anyone"? Well it surprises me... Considering they just updated Android auto to work with mms and group messages for hangouts and whatsapp... So now that they introduced that functionality, they're just gonna kill it? That seems kinda stupid... Also, I'm with everyone else.. Google needs to stop killing things... If they are gonna keep doing this, then release these products as betas or projects... Stop making them actual full blown things and expect us to want to use them when you'll kill em... I mean, at this point... Who will want to use their "next awesome software thing" knowing that if they do use it, and like it, then it'll just be canned in less than 3 years....

And since Google doesn't have Duo support for PC, I'm now using Skype. Their loss.

Google Duo for the Web finally went public in recent days but it's probably too little, too late to get people to switch back from Skype.

I use it because it works over wifi, with no need of a cellular connection. WhatsApp can't do that.

Does anyone have any help for my case If I use just google voice when someone calls, my name shows up as calling me if I use Hangouts it work perfectly ANY HELP?

Google. Holy **** get it together. You are the most confused company on the planet.

I just went with their standard messages app. Kinda done with the whole thing about not being sure if the service is gonna be around it not.

Wait, we can go back to calling it Gchat like we did years ago? Or honestly, like we still do. Nobody every called it hangouts anyway, that was a stupid name change. Seriously though, it's the best chat service to use whether you are on phone or computer, google or iphone. Why would they get rid of it or change it? I say stop calling the "chat" part hangouts and just to back to "Gchat".

Please keep in mind that a "consumer" version doesn't mean a free version, necessarily. It could be they are planning to require you be paying for Google drive or one of their other services.

Sorry google executive but the reporting is not that shoddy: hangouts as consumers know it is shutting down replaced by Hangouts Meet and Chat... it is google messaging strategy that is shoddy and confusing

Google's Messaging Platform is a mess! Hangouts, Google Hangouts, Meet, etc.. - make up your mind! There should be two apps and that's it - Hangouts and Meet. Hangouts for personal use and Meet for business use. Meet should be based on Hangout's code but with more added to it for doing meetings and such. Having a Google Hangouts and Google Meet as two separate applications is down right stupid and not user friendly. At my previous job we used Microsoft products - Outlook with Exchange Server, Skype (Lynx), etc.. Skype was an awesome messaging platform. It was always running, we can ping someone and get immediate response because the notification actually works, and we can quickly start sharing our screens, controlling the remote screen, and even add people to the conversation all within one app. Best part, people who jump into the conversation can see the entire chat thread! Now I'm working at a new place that all G-Suite based. What a mess! Need to ping someone in Chat? Maybe they hear the notification and respond but in most cases they don't hear or see anything and eventually respond when they bring up the chat app. Need to share your screen? Sorry, we now need to create a whole new conversation thread in Meet just so I can share my screen. Hey we need Bob in this conversation, good luck pinging him so I email him instead and he joins in BUT we have to tell him what's going on because he can't read the chat thread at all. Bob needs to take over the computer and fix something? Oh great now let's create a Webex session and let's all jump into yet another thread and get our work done.... So with Skype we did everything in 1 app and it was quick. With Google we had to start with Hangouts, move to Meet and eventually jump into a Webex or GoToAsssist session just to get something fixed. This is not business friendly at all. Google if you're reading this (and I doubt you are), you need to have ONE unified messaging app that does Chat, Group Chat, Screen Presenting, Screen Sharing (remote control) and Recording so those of us in the work environment can be more efficient with our time.

So what if you don't have a G Suite..?
Android Central Newsletter
Get instant access to breaking news, the hottest reviews, great deals and helpful tips
Thank you for signing up to Android Central. You will receive a verification email shortly.
There was a problem. Please refresh the page and try again.