How to set up the Samsung Galaxy S6 and S6 edge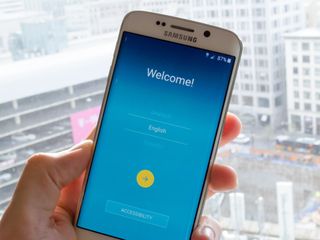 While it sure would be nice for every phone to have the same exact setup process when you first turn it on, that just isn't the case. Even within manufacturers, new versions of software usually bring a new setup process, and while they may be familiar they aren't always the same. The Galaxy S6 and S6 edge guide you through the process pretty smoothly and get a lot done in just a few steps — let us walk you through it.
READ NOW: How to set up the Galaxy S6 and S6 edge
Wifi connection and End User License Agreement
Things kick off pretty easily — select your language, and turn on accessibility features from the first screen if you need them. Then you'll choose a Wifi network — even if you have an active SIM in your phone, we recommend getting Wifi connected for when the phone starts syncing data in the later stages of setup.
And then it wouldn't be a phone setup without a licensing agreement. Samsung pops up a basic EULA about the terms of using its software. By default the phone has a box checked to send diagnostic data about the phone back to Samsung for analysis — you can uncheck this if you don't wish to send that data. Tap "Next" to move on to more interesting things.
'Tap & Go' and your Google Account
Now that you have Wifi connected, this is where you can start really making the phone your own. Google introduced a new feature in Android 5.0 Lollipop called "Tap & Go" that lets you simply place a new phone back-to-back with your old Android phone and transfer your account information to the new phone via NFC and Bluetooth. That feature is the next thing you'll be greeted with on your phone, and it's a great way to switch to your new phone if you are coming from an Android phone. This will copy over the Google Account credentials from the old phone to the new one so you don't have to enter them manually. Depending on the security level of your account you may need to enter a password, but it's far easier than doing everything manually.
If you're not coming from another Android phone or don't have your old phone available anymore, simply touch "skip" and move on to the standard Google Account setup. You'll enter your primary Google Account name and password, as well as a two-step authentication code if you've turned that on for your account. If you have more than one Google account, enter the primary one you use for your data here, and you can always add additional accounts (Google or otherwise) in the settings later.
Restore your apps and agree to Google's services
Once your Google Account is entered, we go to another screen that's new for Lollipop devices. Google now lets you choose to restore apps and data from a specific device you have had connected to your Google Account, rather than just the most recent one. Tap the drop-down for "Restore from this backup" and select the phone you want to restore from — it's generally still hit-or-miss on which parts of the system will be restored, but expect things like Wifi network settings, sync options and wallpapers to make the jump. You can also select to restore the apps (but not app data) from that backup — choose "Also include" to select which apps (or no apps at all) to restore from that phone.
If you'd prefer to start fresh with your new device — which is often advisable to avoid issues — you can instead choose "Set up as new device" from the top drop-down menu and select "Next." After you choose your restore options, you'll be faced with a screen where you now have to confirm you're aware of another licensing agreement and Google's service policies. The boxes for backing up your information privately to Google's servers is checked automatically, as is the box to use Google's location services — both generally make your phone experience better, and you can choose at any time to turn either one off if you change your mind.
Samsung Account and sync
Now it's Samsung's turn to get in on the account game — the next steps involve getting signed in to (or signed up for) your Samsung Account. If you've ever had a Samsung phone or tablet before you likely have a Samsung Account, which is used for syncing data in apps like S Health, Milk Music and the Galaxy Apps store. If you have the account, sign in with your user name and password here.
If you don't have an account, we recommend just signing up for one here so it's out of the way and already into the phone for the times when you use Samsung's apps. The nice thing is that Samsung now lets you associate your Samsung Account with a Google Account, so you can use one set of credentials for both — little reason not to do it.
And look, more licensing agreements! After signing into your Samsung Account, you'll be faced with more terms, conditions, policies and agreements. You can read through the terms with each link and select them as you go, or just tap the "I agree to all" option and get on with setup. After doing that, you'll be prompted to choose to back up your data now a second time to Samsung's servers. Chances are you won't need this if you're going with Google's backup service, and you can always choose to turn it on later if you wish.
Set wake-up command and scan fingerprint
The final two steps aren't really necessary for the function of your phone, but if you have the time it's good to just do them while they're in front of you. S Voice on the Galaxy S6 has a wake-up command option that lets you get the phone's attention and give it commands without ever touching the phone, and on this screen you can set that up. You choose the phrase — or you can go with "Hi Galaxy" as it suggests — and repeat it multiple times so that the phone knows how you'll be addressing it.
Next is fingerprint scanning, which the phone can use to lock your phone simply but securely, and also use for authenticating in apps that support the sensor. The process is pretty simple — just follow the on-screen prompts to put a finger on the home button multiple times at varying angles to get a full scan of the finger. You only get to register one finger at first, but you can always go into the security settings of the phone to add additional fingerprints.
And that's it! You're up and running on your brand new Galaxy S6.
Android Central Newsletter
Get instant access to breaking news, the hottest reviews, great deals and helpful tips
Andrew was an Executive Editor, U.S. at Android Central between 2012 and 2020.
Got mine set up to my liking... Google keyboard, Google launcher. Etc etc. Posted via my Samsung Galaxy S6

So apart from the Samsung account that a majority skip and the fingerprint scanner, it's the standard Lollipop method. Might do a KitKat Jellybean, Gingerbread, Honeycomb, Ice Cream Sandwich etc. That'll be a perfect tutorial Posted via the Android Central App

Used touchwiz launcher for couple of days but back to Nova with 6 * 6 desktop layout and other customizations. Feels so nice fingerprint scanner working so well on an android phone. After getting used to on the iPhone it's very tough to use a phone without one. Smartlock is cool but fingerprint which works is the best option for me. Hopefully most flagship android phones will have this as a standard feature going forward.
And, man the camera on this phone is a delight to use. Makes you take more pictures since it's so good. Posted via the Android Central App

You Definately gotta ditch that stock Touchwiz launcher. It's always sucked IMO. I have a quick question though. Have you noticed that native TW apps and basically most apps tend to load quicker on the stock launcher?? That's assuming you're using the stock transition animations on nova. That seems to be the case on the note 4 since the LP update. It's not enough to get me to use the stock launcher but I've noticed that the TW launcher has been highly optimized with the LP update on the note 4. I was just wondering if it's that's the case in the S6 as well Posted via the Note 4 or Tab S 10.5

Interesting had not noticed and just tried didn't see a difference in app launching times between the launchers. Actually never thought about that but may be will keep an eye. But Nova launcher is running buttery smooth on the device so nothing to complain as of now.
Tried Google now launcher as well but don't like the 4 column and fixed row layouts in both gnl and touchwiz. So much wasted space on a such high resolution screen IMO. Posted via the Android Central App

Ya, Nova has always been my personal favorite. For whatever reason on the note 4 not only is the slide up transition animation faster on the stock launcher, but most apps seem to launch quicker as well. As soon as you switch to another launcher the transitions slow down somewhat. Posted via the Note 4 or Tab S 10.5

Are you using the 'MateriNova' beta version? My regular Nova was acting like that after the lollipop update but the beta is smooth as butter 95% of the time. Posted via the Android Central App

I did update it initially after it came out, but went back to Halo Nova because I noticed some inconsistencies. I'm just waiting for the update to hit the playstore in the mean time. Posted via the Note 4 or Tab S 10.5

You know you can change the orientation of the icons in TW. From the 4x4 to 4x5 or 5x5. -via Android Central App on GWaLL's S5

Haven't noticed this either with the google now launcher. But of course, my animations are set to .5 Posted via the Android Central App

Ya you Definately won't notice it as much with transition animations set to 0.5 Posted via the Note 4 or Tab S 10.5

Anyone having issues with slow downs and random app crashing? My main issue now is that when using any GPS app and Google Music, google music tends to stop within 30 secs and randomly Google maps turns off, and Scout it's not working when you leave the app or turn off screen... Love the phone but can't with these issues Posted via the Android Central App P.S. It took me 3 tries to post this comment, and I had to make it shorter... App kept crashing... Any one having these issues in Lollipop with other phones?

Do a reset, something isn't right Posted by my soon to be retired Note 3

He's using a Samsung phone...that's what isn't right

Nope. Good try though. Posted by my soon to be retired Note 3

@tdizzel Just curious what device do you use as your daily driver? Posted Via The AT&T Note 4

Something inferior Posted by my soon to be retired Note 3

Nope. Good try though. Posted from my Droid Turbo, Kelly and Ozone

@NoNexus I figured he did. What I don't understand is why he comments on every single Samsung article especially since he seems to dislike Samsung. If an article doesn't interest me I don't even bother reading it. Posted Via The AT&T Note 4

There are no words to describe how hilarious it is that you make that comment in a conversation with Nonexus. btw, I don't even comment on half of the Samsung articles, but whatever.

You act like I play favorites. I pick on every phone. Samsung for the last two years just has less to pick on Posted by my soon to be retired Note 3

Well, it was smart switch, duh! Any good flasher knows that backing up and restoring apks/apps will give you crashes and a bad new ROM experience... That's what the app transfer option does.. So my initial gut feeling that app restoring wasn't a great idea, was right.. Did a hard reset, and skipped smart switch, BAM! no crashes, no slow downs yet... My bestie had the same issue, he had already done a hard reset and still had the same issues... Told him last night to not use smart switch and same positive results! I should stick to SCloud back up. P. S. MISS MY NOTE 4! Posted via the Android Central App

More Samsung coverage...you guys strike a deal or something? Posted via the Android Central App

They just did an identical article on the new htc m9. Posted via the Android Central App

It's a flagship that's currently being released. Of course it's getting coverage. Google+ All Day Everyday

Let me say this concisely: Add together all the sales of every android oem, and Samsung sells more phones than them all combined. Besides, don't you have some rocks to kick outside?? Posted via the Android Central App

As someone who usually enjoys the feed off this app, this is just my opinion. Getting bored of the constant S6 coverage. If readers get bored, that's not a good thing. It's called feedback, no rocks required. Posted via the Android Central App

If you think its bad now, wait until a new moto is released, then you will see articles upon articles since they LOVE moto products even with all of the weaknesses that moto has in their devices.

Does the Google launcher make touchwiz more tolerable? Posted via the Android Central App

It definitely did on the s5 Posted via the Android Central App

Yes. I love it on my s5. Much more responsive Posted via the Android Central App

Any launcher other than stock does. Not a fan of Google launcher but it is still better Posted by my soon to be retired Note 3

I recommend ActIon Launcher 3. You get all the benefits of Google Now Launcher with the added customizations. Google+ All Day Everyday

I really love my Action Launcher. I have the paid version. The feature called Shutter helps me keep all widgets and icons in only two homescreens.

+1 Google+ All Day Everyday

I use Nova on my Note 4 and have no problem with the few touchwiz elements I still occasionally see after the lollipop update. I mean, sure, I'd prefer to pick my own color for the settings menu and quick settings notification panel, but every time I see people talking about this I have to wonder what else is supposed to be oh so problematic. Posted via the Android Central App

I thought I was the only one that didn't like the brighter blue color scheme that Samsung is using on LP, Lol. Ive mentioned it a few times before and no one ever acknowledges it. I haven't read anyone else mention it either. I honestly liked the darker blue theme of the S5 on KK and the note 4 KK quick settings more. Posted via the Note 4 or Tab S 10.5

I do too, technically, but it so low on my radar... That is possibly the only nitpick I have with LP as of yet.. Posted via the Android Central App

Yep, same...only gripe with LP so far on my note 4. Not a fan of the color scheme at all Posted via the Android Central App

I'm seriously hoping soon they decide to offer theme support to the note 4 , S5 etc. My note 4 is on atnt so it's locked down. I think overall the UI definately looks better, just not that bright blue theme on the app headers/ quick settings. I'm getting used to it though Posted via the Note 4 or Tab S 10.5

Does the Galaxy s6 support LTE-Advanced?
Since they dropped the QUALCOMM chipset for the modem I wonder if that was also dropped.
Also is there an IR port on the s6?

Yes it supports LTE-Advanced, CPU does not equal radio even though at times they are combined (System on chip [SoC]) Yesh it has IR. I think that is one of those questions that will 95% of the time be a yes from here on out. Not being a jerk by saying it that way, it is just kinda standard anymore.

Do you have any references regarding LTE-A support. The original Samsung radio was part of the Snapdragon 805 and 810 made by Qualcomm... The Qualcomm 805 in the S5 does support LTE-A but Samsung swapped the QUALCOMM chipset and radio out for a reported Shannon 333 Modem radio chipset... Other people have said that while it supports LTE, they did not think it supported LTE-A at this time. And in looking at various spec sheets they only refer to LTE....

Again, cpu does not equal radio. They are two different things. If you do a quick Google search you will see I am right. Posted by my soon to be retired Note 3

U know this will be way different with ATT right? Posted via the Android Central App

Is there a way to change the Samsung stock keyboard to a dark theme? Posted via my Samsung Galaxy S6

Not the stock one use another one if you want that Posted by my soon to be retired Note 3

These articles are useless. Google makes it simple to set these up. Posted via the Android Central App

Your comments are useless. Posted via the Android Central App

Really? So this article is useless yet you bothered to take the time to comment on it? News Flash- Android Central pushes articles for everyone including people are totally new to Android. Two years ago I had know idea my Google email was actually my Google account. Android Central and some of its users have been very helpful to me on my Android journey. Great job Android Central. Google+ All Day Everyday

Welcome to GalaxyCentral. Posted via the Android Central App

This site shows several S6 models and lists only some with LTE-A and it looks like the AT&T phone is not shown as LTE-A.
http://pdadb.net/index.php?m=specs&id=7836&c=samsung_sm-g9250_galaxy_s6_...
If this is correct we will need what is called a zero model to get LTE-A speeds???

need help just received my new galaxy s6 and its in Korean cant understand it cant use my dam phone

Hi. Having problems setting up my email account although I was able to do it with the S5 easily enough. Also having problems linking my Gear 2 with the S6.

managed to set a g mail address but now I need to add on my own default email address

Looking for beginners tutorial For Samsung Galaxy S6. Family member bought me an S6 and I can not figure out how to use it. Miss my old flip phone with basic features. All the tutorials I've found are too advanced. Want to learn how to use the S6.

I'm interested in same tutorial on the Samsung 6
want to know my different avenues. great phone
It's a mind blower. thanks to all of us who enjoy them.

my samsung galaxy s6 edge plus has got locked up with fingerprint security option and am unable to recall my backup password but i am entering my google id which is completely correct. Still the mobile is not accepting it...i dont even have a samsung account...please please help me out of this....
Android Central Newsletter
Get instant access to breaking news, the hottest reviews, great deals and helpful tips
Thank you for signing up to Android Central. You will receive a verification email shortly.
There was a problem. Please refresh the page and try again.