New rumor claims Samsung's Galaxy S22 will have an iPhone 13-like design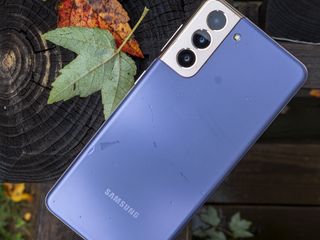 (Image credit: Nick Sutrich / Android Central)
What you need to know
A new rumor suggests the Galaxy S22 and S22+ will both have a similar design to the iPhone 13.
Both phones are tipped to have a flat display with "symmetrical bezels."
Samsung is expected to unveil the Galaxy S22 series sometime in Q1 2022.
Samsung's next Android flagship will look a lot like the iPhone 13, according to a new tweet from tipster Ice Universe. The tipster claims both the Galaxy S22 and S22+ will look like the iPhone 13 without a notch.
S22 and S22 + look like iPhone 13 without notch. The front and rear are flat and symmetrical bezelS22 and S22 + look like iPhone 13 without notch. The front and rear are flat and symmetrical bezel— Ice universe (@UniverseIce) October 26, 2021October 26, 2021
Both the phones will apparently feature flat displays with symmetrical bezels. Since no other details have been revealed so far, it remains unclear just how similar the two phones will be to the iPhone 13.
While no renders of the Galaxy S22 and S22+ have surfaced online yet, we did get our first look at the Galaxy S22 Ultra last month. The leaked renders revealed a design similar to Samsung's Galaxy Note series phones, with a boxy frame and a dedicated S Pen slot.
S22 Ultra camera
108mp Improved version of HM3 main 1 / 1.33 "0.8 um F1.8 FOV 85
12MP 0.6X sony 1/2.55" 1.4um F2.2 FOV 120
10MP 10X new sony 1/3.52" 1.12um F4.9 FOV 11
10MP 3X new sony 1/3.52" 1.12um F2.4 FOV 36S22 Ultra camera
108mp Improved version of HM3 main 1 / 1.33 "0.8 um F1.8 FOV 85
12MP 0.6X sony 1/2.55" 1.4um F2.2 FOV 120
10MP 10X new sony 1/3.52" 1.12um F4.9 FOV 11
10MP 3X new sony 1/3.52" 1.12um F2.4 FOV 36— Ice universe (@UniverseIce) October 26, 2021October 26, 2021
Besides shedding light on the design of the Galaxy S22 and S22+, the tipster has also posted new information about the camera specs of the Galaxy S22 Ultra. As per Ice Universe, the follow-up to Samsung's best Android phone will use a 108MP main sensor with an f/1.8 aperture lens.
The sensor is claimed to be an improved version of the ISOCELL HM3 used in the Galaxy S21 Ultra. It will be joined by a 12MP ultra-wide lens, a 10MP periscope lens with 10x zoom, and a second telephoto lens with 3x zoom.
The Galaxy S22 series is expected to make its global debut sometime in February next year. Samsung's value-focused Galaxy S21 FE, on the other hand, is rumored to be unveiled in January.
Samsung Galaxy S21
Samsung's Galaxy S21 is a great flagship phone that gets most things right. It also has a relatively small size that makes it more pocketable than most of its rivals.
Maybe I'm the only one who never liked the curved screens... most of us i think put a case on our phone so there is either a bezel or the screen has no protection, either way i never cared for them.
I just got the zflip 3 and love it, and love having a flat screen.

I don't. It's why I won't buy a Pixel 6. I have a Note 9. These curved screens give false touches all the time, and actually make the phone less comfortable to hold as you're instinctively ALWAYS working to avoid resting your hand on it. Beyond that, they're awful if you use screen protectors. It's really difficult to find a glass screen protector that will fit it well. Film protectors peel all the time on these screens. My Note 9 was the first phone where I actually had to replace a screen protector on. I've had my iPhone 11 Pro as long as I had my Note 9 before I got the iPhone, and I've had the same film screen protector on it from Day 1. It's mint. No peeling or anything. I abhor these curved screens. I don't even consider phones with this design aspect an option.

Doubt if it is Feb of this year. Probably mean Feb of NEXT year. "The Galaxy S22 series is expected to make its global debut sometime in February this year." And I too, dislike curve screens; one turn off on the Pixel 6 pro.

Hated curved screens. My last Samsung had them and I never bought a curved screen phone after that. Pointless. A turn off on the Pixel 6 Pro as well even if they are reduced. There is a reason Apple never jumped on that bandwagon. Zero value.

Personally I love curved screens. I've never liked plain flat screens. Glad to have a choice.

It seems we're in the minority. I too love Samsung's curved screens. Beautiful, elegant, useful (edge lighting). Now my wife, hated it on her S8. She claims they break easier.

They do break easier. It's physics. They also increase risk of breakage due to the design, which I guess is also physics :-P So, your wife is right. Personally, I think these curved screens were designed to look good, not function well. Because I never felt it was a functional upgrade on my Note 9. It was just a magnet for mistaken touches, etc. I'll never buy a phone with a curved screen again. The second the iPhone 11 Pro came out with the flat screens, I ran to it and never looked back.

I love curved screens and I'm so mad Samsung started going back to ugly, flat screens. The note 8 design was the best IMO. Flat screens are one of the major reasons I hate iPhones, so bland and plain looking.Give me a curved screen any time any day!

Wouldn't be surprised.
Under TM Roh, all that Samsung knows how to do anymore is copying Apple regardless of what Apple does is good (flat screens) or bad (no basic hardware features, no chargers, screen molestations etc). The one good thing Apple did - the iPhone Mini - is the only thing Samsung isn't copying and should.
I guess their bosses Freudian needs for overcompensation with phones speaks louder than to meet consumer demand across all phone sizes.

Giving away millions of chargers - often to users who already have multiple - is extremely wasteful. It just increases the amount of trash that finds its way in a landfill. In 2021, if you don't have a phone charger, then the problem is not with Apple or Samsung. Who doesn't own a phone charger, at this point in time? Even if Samsung gave you a charger, you'd complain that it isn't the fastest of fast chargers. These companies cannot win either way unless they're throwing the bank at you people. SD Cards were fine until Google Introduced App2SD. The Unified Storage fiasco didn't help. Smartphones are using NAND Flash that is 10x faster than SD cards. Using the SD Card for App or Unified Storage creates a storage throttling situation, where your I/O speeds throttle excessively any time something from the SD Card is accessed. This is like creating a RAID with an SSD and HDD in a PC. You cannot reliably record UHD 60 FPS to SD Cards. Most people buying SD Cards are not buying the premium cards, they're buying the cheapest highest storage card they can find. When coupled with App2SD or Unified Storage, this created all sorts of issues. The only way to eliminate these issues, is to remove the SD Card slot itself... which became more and more problematic as OEMs had to figure out weird ways to place them in the device to be space efficient. The Note 9 SD Card + SIM Card Tray is abysmal and makes inserting them into the device a real hassle. It also created issues for people who bought a phone to record high resolution video but got a lower storage capacity because they thought the SD Card would make up for it. This turns out not to be the case, when you're doing RAW+JPEG, taking tons of Burst Photos, or recording UHD 60FPS or 8K video. In those instances, they'd end up with storage issues because they're recording a media type that the phone will refuse to record onto an SD Card (RAW+JPEG, UHD 60 FPS on Samsung phones) due to lack of storage bandwidth. This necessitates at least a 256GB device, but many were going for the 128GB and sticking an SD Card in there. Apple limits ProRes recording to 1080p30 in 128GB iPhone 13 Pros for this very reason. Beyond that, the SD Cards go bad if you use them heavily. I've had countless go bad. The same thing happens to thumb drives. SD Cards are amazing for holding static data that is primarily just read off the card (Music and Video Libraries, etc. I've even used SD Cards to store Samples for music production on a laptop, and it worked fine as long as I didn't need huge Read Speeds). They are not good for heavy writing. There's a reason Photographers and Videographers fly through SD Cards, and there is a move towards CFast and SSDs in those markets. The 3.5mm headphone jack is just another hold in the phone to house a noisy connection that takes too much engineering effort to shield and make sound "quality." Bluetooth is the future. Should have gotten those Beats Flex when they were $49 :-P
Android Central Newsletter
Get the best of Android Central in in your inbox, every day!
Thank you for signing up to Android Central. You will receive a verification email shortly.
There was a problem. Please refresh the page and try again.