The iPhone 13 and Galaxy Z Fold 3 are too expensive. Buy these things, instead.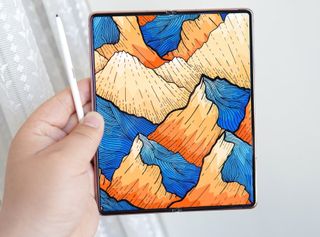 (Image credit: Ice Universe / Twitter)
Last week, the iPhone 13 lineup was finally available to the public. But the phones aren't cheap. The 13 Pro Max with 1TB of storage starts at $1,599. That's nearly the same price as the Samsung Z Fold 3 with 256GB of storage, priced at $1,799.
While the iPhone boosts extraordinary photo and video capabilities, faster charging speed, and more storage, Android Central's Nicholas Sutrich says Samsung made all the right changes with the Z Fold 3 by "finally giving people a good reason to consider a foldable phone without making serious concessions."
Which one would you choose? Do you prefer the iPhone 13 Pro Max or the Samsung Z Fold 3?
While I have no intention of getting either phone, I was curious to find out what all I could buy for the same amount of money these devices cost.
Best budget phone
The first thing I wanted to figure out was how many budget phones I could get instead of buying these high-end phones?
The Google Pixel 4a, which starts at $349.99, is considered one of the best budget Android phones. For the price of one 13 Pro Max, I could get four. For the price of one Fold 3, I could get five.
If the camera is your thing, then our former AC reporter Hayato Huseman says the Pixel 4a is the "budget camera quality leader."
Pizza
OK, so here's where I get excited because as much as I love gadgets and all kinds of tech goodies, food is way more important, specifically pizza.
Don't ask me about the pizza war I started in our virtual newsroom because everyone had different places they liked to eat.
But I picked two places. A large cheese pizza at Domino's Pizza costs $15.99. So for one 13 Pro Max, I could get 100 pizzas, and for one Fold 3, I could get 112 pizzas.
At Papa John's, a large cheese pizza is $21.79. For one 13 Pro Max, I could get 73 pizzas, and for one Fold 3, I could get 82 pizzas.
Listen, I don't know about you, but it is my dream to be in a room full of pizza.
Streaming service
Instead of getting one device, you could save your money and purchase years' worth of content on any streaming service.
Netflix premium for a year will cost you $215. So for one 13 Pro Max, that's seven years of Netflix, and for the Fold 3, that's eight years.
I didn't do all the math on other streaming services. But if this is Netflix, imagine the possibilities with other services.
PlayStation 5
I know they're still out of stock at many places, or at least, they're very hard to get. But the digital version of the PS5 costs $399.
If there was enough console stock, you could get four of them for one 13 Pro Max or one Fold 3.
And if you're cheeky, you could keep one for yourself and sell the others.
Vizio's 4K 55 inch OLED TV
Vizio's first 4K OLED TV is expensive, priced at $1,200, but that's still cheaper than either phone. Paired with your favorite streaming service subscription, and you're basically set.
If you have a PS5, you can throw on an OLED TV to get those rich blacks and variable refresh rate.
The cost of both of those will match the price of the iPhone and will still be cheaper than getting the Z Fold 3.
Samsung bundle
Finally, this entire bundle might cost a bit more than the 13 Pro Max, but it's still cheaper than the Fold 3, and you're getting four products.
The Samsung Galaxy S21 is $850, the Samsung Galaxy Tab S7 FE with 64GB is $530, the Samsung Galaxy Watch 4 is $250, and the Samsung Galaxy Buds 2 is $150.
In total, that's all worth $1,780, which is a bit less than the Fold 3, which costs $1,799.
Get the Android Central Newsletter
Instant access to breaking news, the hottest reviews, great deals and helpful tips.
Shruti Shekar is Android Central's managing editor. She was born in India, brought up in Singapore, but now lives in Toronto and couldn't be happier. She started her journalism career as a political reporter in Ottawa, Canada's capital, and then made her foray into tech journalism at MobileSyrup and most recently at Yahoo Finance Canada. When work isn't on her mind, she loves working out, reading thrillers, watching the Raptors, and planning what she's going to eat the next day.
Ridiculous. I wouldn't buy either one. I have much better things to do with my money.

I'd love to buy the surface duo 2 but it's too expensive for me to justify but at least your almost getting 2 phones with that one 🤣

The only alternative that actually works as a replacement for the Fold is the bundle. Well, maybe the budget phone as well, but if someone only needed a budget phone, the Fold wouldn't even be an option, so... And the bundle? Well, for one it doesn't really make for much of a replacement. The phone might be top notch, but if you're looking at the Fold you're looking for a big display. The tablet? Well, you're not likely to lug a tablet along everywhere you go, so that's not really an argument. The smartwatch and earbuds may be of some use... May! But likely not, and certainly not in a way that could replace having the larger display at your disposal all the time. I was hoping for genuine alternatives, not just random stuff you could buy for the value of the two devices...!

If you are advocating for restraint and just spending less on a capable device, that's fine, but basically totaling up combination alternatives does not meet the criteria of your own article. And yes, I did make the leap from replacing my iPhone with a high end 13 Pro Max to switching to the Galaxy Z Fold 3. Thanks to Samsung's generous pre-registration discounts, and a far more generous trade-in than Apple (for the same iPhone X) I came away with a folding tablet that has all the top end specs I could ask for (well, not cameras, but far better than "good enough") for a lot less than that top end 13 pro Max. As Manus Imperceptus points out - anyone interested in a Fold 3 is not going to be satisfied logging around a tablet with their phone.

Why would I get a Pixel 5A (or whatever "A" series) for twice the cost of a moto G power? If I am getting a budget phone, I would much rather have the better battery life and an acceptable camera than mediocre battery life and a slightly better camera. Having to pay nearly double for essentially less phone (in the ways that matter to me) makes vary little sense. And before you say "but UpDaTeS"... yeah, I can just buy the next model and pass this one on to my kids, or parents, or whatever, and I am still paying about the same as for an unlocked pixel (moto still gets regular security updates). And since we are on this, I can do 6-10 moto G power phones (depending on whether I find them on sale) for the price of the iPhone, and throw in an extra for the price of the fold.

The update argument is honestly overblown. We're way past the age where Android was an unstable mess in dire needs of updates to perform properly. I spent 5 years with an Android 6 device with absolutely zero complains, and now that I recently upgraded to an Android 10 devices, I can tell you that the only things I love that I have now are dark mode, hold power button for screenshots, and a built in night mode. None of which are essential and one which can be done with 3rd party apps. In terms of actual smoothness and responsiveness Android 6 was already excellent. Idk what exactly does Android 11 have (some apps not working on it?) That's so amazing that it would warrant a pixel over a cheaper Moto phone.

The most expensive phones were never indended for everyone. If you have to ask the price of a high end phone, than you can't afford it. Those that regularly upgrade expensive phones don't care what they cost. Neither the iPhone 13 or any folding phone have any interest to me. Ya, I'm still amazed that the mobile industry has convinced millions of people to upgrade perfectly fine, functional phones on a regular basis for thousands of dollars of monthly forever payments.

Sure tape together a couple of phones to replace the fold or carry a tablet and a phone to replace it. I understand the fold 3 isn't for everyone due to the cost but it depends on the use case and the budget..

You can also straight up build a gaming PC that has an rtx 20/30 series or an RX 5000/6000 series with $1.7k. Yes, even in today's market of hyper inflated GPU prices. $1.7k on a phone is beyond ridiculous.

So, you carry your gaming pc around with you all the time, and use pretty much constantly throughout the day? An expensive smartphone is like an expensive bed; you spend a LOT of time with/in it, so might as well get the best you can afford...

Fold 3 price isn't for everyone but the device is a game changer. It's a portable mini laptop (I have bt keyboard and mouse) a portable game system with Xbox game pass and controller and folds up to a traditional phone that can be use one handed. Great pics, all day battery, and screens display great. For $1000 after trading in a paid off device, getting Fold 3, buds pro, a case and 25w fast charger was worth every penny.