Galaxy S22 preorders tipped to start in February to make way for the S21 FE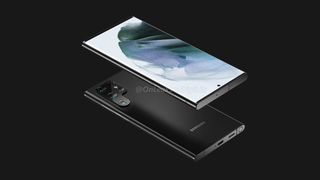 (Image credit: Digit / Onleaks)
Update, Oct 28 (5:00 p.m. ET): More hints of S22 launch delay
What you need to know
Samsung is reportedly still preparing to launch the Galaxy S21 FE.
The launch could take place in January, which would lead to Samsung delaying the Galaxy S22 launch.
If true, the Galaxy S22 series could launch in February, sometime around Mobile World Congress.
Apparently, the Galaxy S21 FE is still on. According to the latest from SamMobile, the device is still set to be launched, although it may arrive later than expected, which could affect the Galaxy S22 launch.
SamMobile says that the Galaxy S21 FE could launch in January, meaning it'll miss the holiday season, a crucial time for companies to promote and sell their best Android phones.
This would be around the time the Galaxy S22 series was expected to launch, which would likely conflict. Instead of following the Galaxy S21 series with a January launch, Samsung could then delay the S22 series to February to give the S21 FE some breathing room.
Leaker Ice Universe also hinted that the Galaxy S21 FE could arrive alongside the S22 series. However, that tweet has since been deleted, suggesting this might not actually be the case.
The situation with the S21 FE has been an interesting one, with leaks and rumors playing a tug-of-war on whether or not we'll actually get the device. Given the semiconductor shortage, Samsung has reportedly run into production issues with the device, putting its launch into question.
Of course, until Samsung gives the word, we should take this all with a grain of salt. Android Central has reached out to Samsung regarding its plans and will update if we hear back.
However, given these delays and production troubles, Samsung would probably be better off canceling the Galaxy S21 FE and launching its next flagship series in January (or even December), especially since the S22 series is likely right around the corner with what could be some very enticing changes.
Update, Oct 28 (5:00 p.m. ET) ― Prosser corroborates S22 launch delay
Following rumblings earlier this month that the Galaxy S22 series might be delayed, leaker Jon Prosser is now corroborating the rumors that the new flagships won't arrive in January.
According to Prosser, Samsung is tipped to open preorders for the S22 series during the second week of February, putting it behind last year's launch of the S21 series.
Given the current belief that the S21 FE is actually on its way, it's not entirely surprising that Samsung would push back its flagships. What's really surprising is that Samsung is still apparently pushing through with the S21 FE.
That said, Prosser does not have exact dates for the S22 launch, but he does indicate when exactly we should expect the S21 FE to launch.
Samsung's S21 FE is delayed until January, as far as I know.

Launch is rescheduled for January 11, 2022.Samsung's S21 FE is delayed until January, as far as I know.

Launch is rescheduled for January 11, 2022.— Jon Prosser (@jon_prosser) October 14, 2021October 14, 2021
Get the Android Central Newsletter
Instant access to breaking news, the hottest reviews, great deals and helpful tips.
Derrek is a long-time Nokia and LG fanboy who loves astronomy, videography, and sci-fi movies. When he's not working, he's most likely working out or smoldering at the camera.
Why is it late? It needs to be out this year or it'll be confusing.

Samsung A53 was supposed to be Dec... No news on that one....

Who the heck gifts flagship phones for Christmas? LOL..... I'm amazed Xmas delivery matters. And if the fan edition doesn't come out..... Nobody cares... Samsung literally makes over 20 other phones to chose from. 😆

I have always complained that Samsung makes too many phones! Samsung should focus on their S-series, Note series and Flip/Fold series. All of these other phones are utter nonsense! Samsung doesn't need mid-tier phones. Their phones drop in price anyway, 1 or 2 months after launch. Too many phones add to the fragmentation problem, and that business model helps to delay Samsung software updates as well as makes it difficult for app developers to optimize their apps for so many devices. Also, no manufacturer should release phones every year, including Samsung and Apple. Phones are gaining minor updates annually instead of game changing updates. We are already in a Semiconductor crisis. Manufacturers should focus on software improvements every year with current hardware and stop with the "You need this brand new phone to make your life just a tad bit better than last year" sales mantra. Phones should be released every 2-3 years. Or one year release a phone and the other year release other products such as tablets, watches or other gadgets. Manufacturers should recycle old phones and release new ones with increased credits for buyback or trade in programs. We will continue to run into this issue of delays as more phones are released in the same year using SOCs from the same chip foundries.

Agree with all points except Samsung doing away with phones that are not notes, s-series flips or folds. These are technically flagships so if they stop producing the others, they have no mid-range phones which sell a lot in Africa and Asia. I think it's better they streamline the flagships instead; offering only 1 or 2 options for s-series, 1 note, flip and fold and doing same for the mid-range devices as well. Instead of having all the ultras, A50's, A70"s etc. Everything else I totally agree with, we don't need a new phone every year at this point. We're depleting earth's resources unnecessarily for tiny improvements on last year's flagship.

I'm going to have to respectfully disagree with you somewhat here. While I agree that Samsung makes WAY TOO MANY phones. I see nothing wrong with them playing in the mid-range market. A great many people don't have $1K to throw on a flagship phone. The appeal of the FE series is that with it, people get flagship-level performance without all the bells and whistles, for a modest mid-range level price. Where Samsung aired is with Brand confusion. They gave their cheap phones the "Galaxy" Branding. the name "Galaxy" should be reserved for their high-powered phones.

Don't care. I'd only buy a Google phone, at this point. Samsung's phones always launch at off times, anyways.

And we needed to know this because...? Are you some sort of influencer? lol

"I oNlY bUy GoOgLe PhOnEs"

They need to release the specs and prices for the S22 series of many will jump to the Pixel 6 series and they won't dump a three month old phone for a newer S-series. I will admit I say this cause for me it could be a 6 or a S22.

Still to early for that. They are likely still finalizing its final design so it can be released to manufacturing. My advice is to just wait if you're not sure. If whatever Samsung releases in a few months doesn't blow your skirt up, then get the Pixel 6. It'll likely be even more cheaper by that point anyway.

The Pixel 6 will be even more behind performance wise once the S22 releases. If Google wants to get serious they need to go head to head at release times otherwise they are essentially always behind the 8 ball.

I don't think Google was shooting for "Performance King" with the Pixel 6. I think they wanted something that was adequately competitive in the performance arena while having an on-board CPU with unprecedented AI abilities. The truth is that most Android users aren't really taking advantage of the full power potential of their phones anyway. Google knows this. But those AI features are things many Android users will take advantage of.