Motorola Razr Plus vs. Samsung Galaxy Z Flip 4: Which flip phone should you buy?
How does the new Motorola Razr+ compare to the Galaxy Z Flip 4?
Bigger is better
The new Motorola Razr+ is a compelling foldable phone with an attractive design, strong specs, and a large cover display that lets you perform various tasks without opening the phone. The Razr has never looked so good!
For
Beautiful curvy design
Faster refresh rate displays
Dust resistance
Large, versatile cover screen
More base storage
Faster charging
Vegan leather option
Wireless Ready For support
Against
Weaker water resistance
Displays hard to see in direct sunlight
Just okay camera quality
Only one storage/RAM configuration
Fewer color options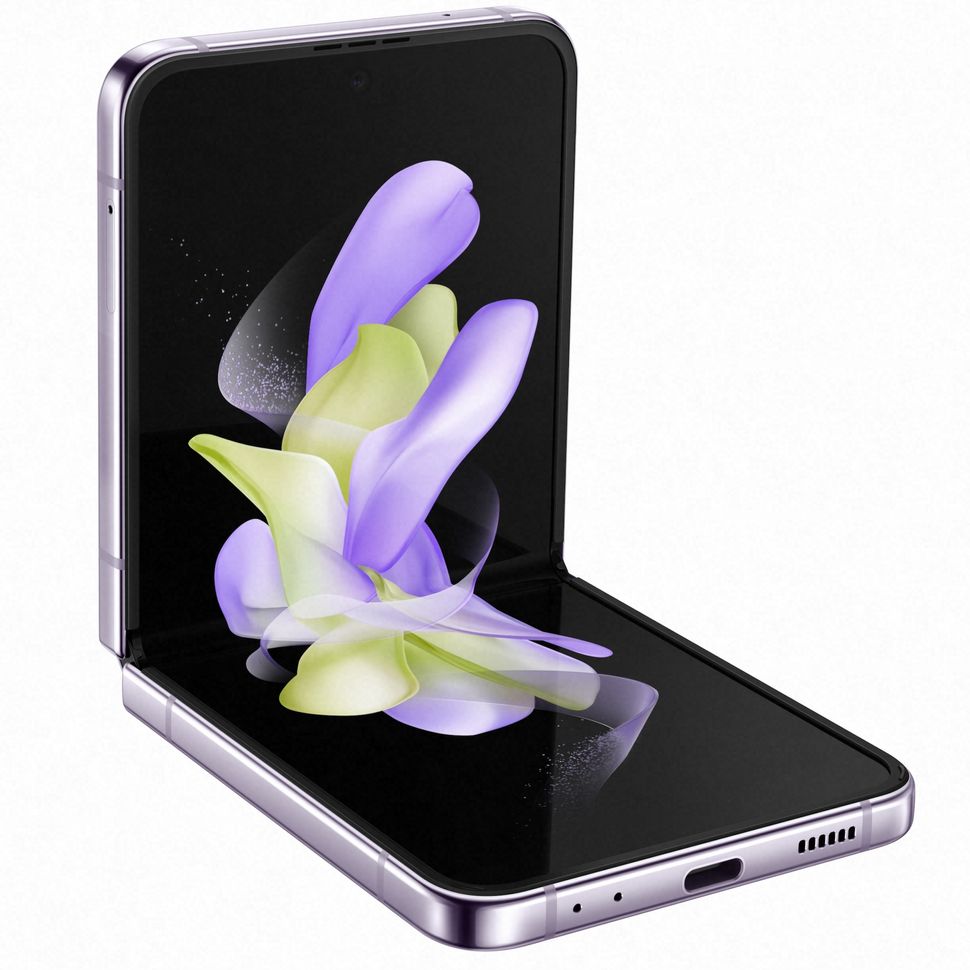 The standard
The Galaxy Z Flip 4 is a solid foldable phone with a sleek design that users can customize to their liking at purchase. It also benefits from Samsung's great software and a durable build with strong water resistance. You won't be disappointed with this phone.
For
Great design
More customizable color options
Strong water resistance
More robust software support
Good battery life
More storage options
Faster wireless charging
Against
Starting storage only 128GB
Smaller, less useful cover screen
Slower wired charging
No DeX support
Hinge leaves a gap when closed
Samsung has some serious competition. Now that the new Motorola Razr+ is available, consumers in North America finally have another option for a clamshell foldable phone in the United States, and it's a surprisingly compelling option. At the time of writing, Samsung's latest model is the Galaxy Z Flip 4, which launched during the second half of 2022, although we expect the company to launch its successor fairly soon. But for now, we're comparing these two current models.

When it comes to foldable phones, Samsung has had the upper hand, despite Motorola launching the first model with the Razr (2019). The Galaxy Z Flip lineup has become the best-selling foldable phone on the market, likely due to its attractive design, unique form factor, and impressive specs. It also helps that it doesn't cost nearly $2000 like some of the larger-screened foldables, and the Galaxy Z Flip 4 is one of the most durable foldable Samsung has made thus far.

But after taking some time off to get its bearings, Motorola is thrusting itself back into the foldable space, and in many ways, the new Motorola Razr+ matches and exceeds the Galaxy Z Flip 4 on many points, particularly with the large cover screen and an equally attractive design. But is this enough to dethrone the reign of Samsung's Flip lineup?
Motorola Razr Plus vs. Samsung Galaxy Z Flip 4: Design
Why you can trust Android Central Our expert reviewers spend hours testing and comparing products and services so you can choose the best for you. Find out more about how we test.
Aside from both these phones being clamshell foldables, their designs couldn't be more different. Samsung goes for a flatter build all around, from the display to the rear panels and the frame. The corners are slightly rounded, but the phone is pretty angular.

Visually, it's a great-looking phone with color that covers much of the rear panels. Thanks to its Bespoke Edition models, Samsung also helps you make it even better. This lets consumers customize their colors and combinations for a more personalized design.
Meanwhile, the Razr+ has a much more curvy design. The rear panels are flat but then curve inward into the frame, which is also rounded. This makes the phone pretty comfortable to hold, given the lack of sharp edges. The color takes up the entire lower rear panel and the frame, which wraps around each half of the phone. The top cover panel is mostly reflective glass.

Motorola has three color options available: Infinite Black, Glacier Blue, and Viva Magenta. The latter option is the only one with a vegan leather back, while the others have soft glass. Unfortunately, Motorola doesn't have anything like the Bespoke Galaxy Z Flip, where customers can customize color options. How cool would it be if Motorola brought back Moto Maker?
On the front, both phones feature similarly sized displays, with the Razr+ putting for a 6.9-inch panel at a rather long 22:9 aspect ratio. Meanwhile, the Galaxy Z Flip 4 has a smaller 6.8-inch OLED panel at the same 22:9 aspect ratio. Aside from the size, another difference is in how the hinges on both phones handle the displays.
The way Samsung's hinge closes the phone leaves a gap in the hinge area, which can be problematic as it leaves space for objects to get lodged in and damage the display. It also leaves a mighty deep crease when the phone is open, which is a little hard to ignore. The Razr+ uses a teardrop-style hinge, allowing the phone to close fully without a gap. It also makes the crease a bit less intense and not as deep.
Image 1 of 2
Both hinges are sturdy and versatile enough to let the phones hold their positions at various angles. This makes it easy to capture photos or videos without a tripod or prop the phone up for a video call or when watching videos. The Z Flip 4 is able to hold its position at much wider angles than the Razr+
The Galaxy Z Flip 4 also has the upper hand when it comes to water protection, thanks to the IPX8 rating, allowing the phone to be fully submerged for a small amount of time. The Razr+ has only an IP52 rating, which protects it from light splashes and rain, but not submersion. However, it does have the benefit of dust resistance, which is also important.
Motorola Razr Plus vs. Samsung Galaxy Z Flip 4: Cover screen
The cover screen is the most obvious difference between the two phones. The Razr+ has a large 3.6-inch display on its cover panel, which expands beyond the dual cameras and LED flash unit. The cover screen comes with a series of widgets, or "panels," that show glanceable information and other content.
The cover screen can be used for taking selfies, interacting with and responding to notifications, playing games, and opening apps. Nearly any application that can be opened on the main display is also available on the cover screen, making it possible to do quite a lot without actually opening the phone.
The Galaxy Z Flip 4's 1.9-inch cover screen isn't as versatile. Samsung has a series of widgets that users can interact with on the cover screen, and features can be expended using Good Lock, but you'll have to look to third-party apps like CoverScreen OS to get more out of the display. And even when you do, it's a bit too small to really run full apps in a meaningful way.
It's also only a 60Hz panel, which isn't really that big of a deal on such a small display, but the 144Hz cover screen on the Razr+ is pretty impressive, and it makes you feel like you have a second phone in your hand.
Motorola Razr Plus vs. Samsung Galaxy Z Flip 4: Hardware & specs
Regarding hardware, these phones are actually pretty close, which can make choosing between the two a little difficult. The Snapdragon 8+ Gen 1 performs admirably on both devices when paired with 8GB of LPDDR5 RAM. You can juggle apps without a hitch, and the phones don't really have a problem playing graphically intensive games. You will notice the phones heat up with extended gameplay, but that's about it.
Interestingly, while the Razr+ offers only one storage option, it's double that of the base 128GB Galaxy Z Flip 4, which is offered at the same $999 MSRP. That means you're getting a little more bang for your buck here, especially considering neither phone has expandable storage. The Flip 4 gets you up to 512GB of storage, unlike the Razr+, but you'll have to fork over more dough.
Swipe to scroll horizontally
| Category | Motorola Razr+/40 Ultra | Samsung Galaxy Z Flip 4 |
| --- | --- | --- |
| OS | Android 13 (My UX) | Android 12, upgradeable to Android 13 (One UI 5) |
| Display (internal) | 6.9-inch, pOLED, FHD+ (2640 x 1080), 165Hz LTPO, 1400 nits, 22:9 | 6.7-inch, AMOLED 2X, FHD+ (2600 x 1080), 120Hz LTPO, 1200 nits, 22:9 |
| Display (external) | 3.6-inch, pOLED, 1066 x 1056, 144Hz, 1100 nits, 1:1 | 1.9-inch, OLED, 512 x 260, 60Hz |
| Chipset | Snapdragon 8+ Gen 1 | Snapdragon 8+ Gen 1 |
| RAM | 8GB LPDDR5 | 8GB LPDDR5 |
| Storage | 256GB, USF 3.1 | 128GB/256GB/512GB UFS 3.1 |
| Audio | 3 mics, stereo speakers, Dolby Atmos | Stereo sound, Samsung Scalable hi-res codec |
| Connectivity | 5G, Wi-Fi 6E, Bluetooth 5.3, NFC | 5G, Wi-Fi 6, Bluetooth 5.1, NFC |
| Security | Fingerprint sensor | Fingerprint sensor |
| Protection | IP52, Gorilla Glass Victus | IPX8, Gorilla Glass Victus+ |
| Battery | 3800mAh, 30W wired charging, 5W wireless | 3700mAh, 25W wired charging, 15W wireless, 4.5W reverse-wireless charging |
| Dimensions (open) | 73.95 x 170.83 x 6.99mm | 165.2 x 71.9 x 6.9mm |
| Dimensions (closed) | 73.95 x 88.42 x 15.1mm | 84.9 x 71.9 x 15.9-17.1mm |
| Weight | 188.5g, 184.5g (Viva Magenta) | 187g |
| Colors | Glacier Blue, Infinity Black, Viva Magenta | Bora Purple, Pink Gold, Blue, Black, Yellow, White |
The displays on both are pretty good, but the Razr+ has the advantage of a faster 165Hz refresh rate, which is something you normally see on gaming phones. This makes animations and gameplay incredibly smooth. Still, the 120Hz panel on the Galaxy Z Flip 4 isn't bad at all and gets nice and bright, despite lower peak brightness than the Razr+.
In my use, the Razr+ display is plenty bright indoors, but it can be difficult to see outside, likely as a result of the rather reflective displays.
When it comes to battery life, both phones are nearly identical, with the Razr+ getting a small edge over the Flip 4 with a slightly larger 3800mAh battery and faster 30W charging. Interestingly, I haven't been able to get the all-day battery life that Motorola claims, but some others have managed it. On the other hand, Android Central's Harish Jonnalagadda has managed "well over a day's worth of use" on the Flip 4.
The Flip also has faster wireless charging and even reverse wireless if you need it.
Motorola Razr Plus vs. Samsung Galaxy Z Flip 4: Software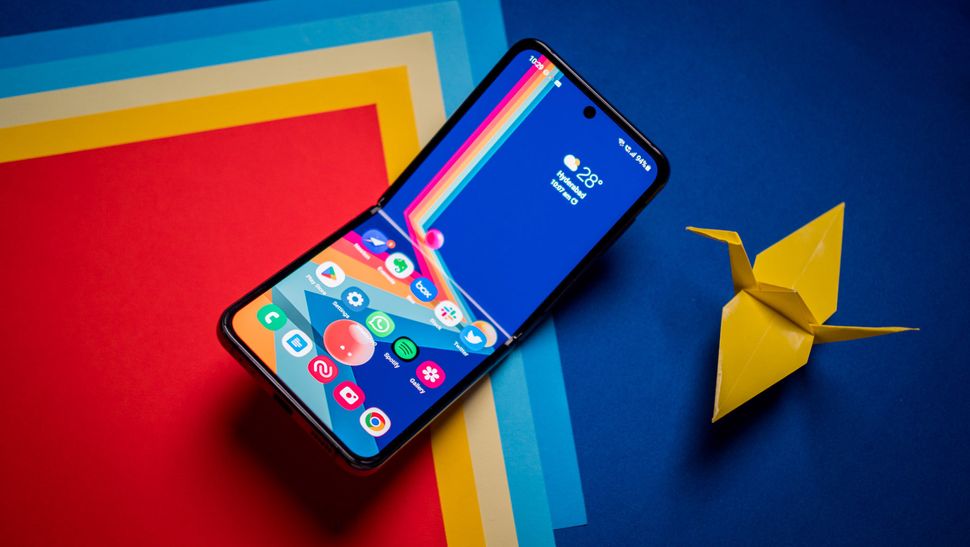 The software experience on these phones is very different, despite both phones running Android 13. The Razr+ uses My UX, which is nearly indistinguishable from the Pixel Launcher, aside from some small touches here and there from Motorola. Personalization options look slightly different but get the same jobs done, while Motorola has its own set of widgets to view information at a glance.
Motorola also has its popular gestures, which help set the company's phones apart from the rest. You can chop the phone twice in your hand to turn on the flashlight, twist it twice to launch the camera, and even set various functions when double-tapping the back of the device.
If you like the Pixel UI, you will feel welcome here.
The Galaxy Z Flip 4 uses One UI 5 based on Android 13, although it was launched with the previous version. That said, One UI isn't nearly as bubbly or colorful as the experience you'll find on the Razr+. Samsung takes things into its own hands with how it handles software, keeping everything pretty uniform and more compact. Overall, One UI is more efficient with how it uses space.
Samsung also provides many of its own apps in One UI, such as the surprisingly useful Gallery app, Samsung Music for offline music files, and its own versions of stock apps like Phone, Camera, and Messages. Aside from some redundant apps, Samsung's versions are actually pretty good.
And since Samsung takes a fair amount of control over its software, it'll introduce many features that you won't find on other devices. It also does a pretty good job with updates, something Motorola is not known for. The Galaxy Z Flip 4 gets monthly patches and other feature updates, while the Razr+ is promised bi-monthly updates.
The Z Flip 4 is promised four OS upgrades and five years of security updates, one year more than the Razr+ is promised. However, support for both phones will end at roughly the same time.
Since these are foldables, some software tweaks are needed to take advantage of the form factor. Some apps like YouTube and the camera will shift the UI when the phone is folded in at an angle, allowing users a better way to view content or providing a better grip when taking photos. Both phones actually do a pretty good job at this.
Motorola takes things up a notch with its cover screen. When closing the phone while using an app, you can press a button to continue using that app on the cover display. You can also start an app on the cover screen and open the phone to continue using it on the larger display. Since you can't use full apps on the Z Flip 4, this level of app continuity isn't possible.
Motorola Razr Plus vs. Samsung Galaxy Z Flip 4: Cameras
Cameras on clamshell foldables aren't great. That's just a fact, and it's likely due to the physical constraints of the devices. You won't get the best photo quality from either of these phones, so if you're in it for the cameras, look away. If you're fine with having just okay photo quality, then you should be fairly pleased with either option.
Swipe to scroll horizontally
| Cameras | Motorola Razr+ | Samsung Galaxy Z Flip 4 |
| --- | --- | --- |
| Rear Camera 1 | 12MP wide, f/1.5, 1.4μm, OIS, 4K 60fps | 12MP wide, f/1.8, 1.8μm, Dual PDAF, OIS, 4K 60fps |
| Rear Camera 2 | 13MP ultrawide + macro, f/2.2, 1.12μm, 108°, 4K 30fps | 12MP ulrawide, f/2.2, 1.12μm, 123°, 4K 30fps |
| Selfie Camera | 32MP, f/2.4, 0.7μm | 8MP, f/2.4, 1.4um, Quad Pixel, 4K 60fps | 10MP, f/2.4, 1.22μm, 4K 30fps |
The Galaxy Z Flip 4 takes pretty good photos with a decent amount of dynamic range. Colors tend to be on the punchier side, and sometimes the phone can go a little overboard with dynamic range, but images are overall decent in daylight. Low light isn't bad either, and shots are low on noise while still offering plenty of detail.
Image 1 of 5
The Razr+ doesn't have the most robust set of cameras, but it tries to make up for it with a very wide aperture on the primary lens. The result is images with plenty of light, but sometimes too much light, and colors can often appear pretty muted, especially when compared to the Z Flip 4. You also won't find as much dynamic range here. Still, photos are fairly decent, even if they're not the best.
Things are much better at night, which is where that wide aperture shines, bringing in plenty of light into darker scenes.
Unfortunately, selfies on the Razr+ are more miss than hit due to a weird sepia-like tone that sometimes appears, seemingly the result of weird processing. With any luck, Motorola will address this in a future update.
Image 1 of 5
Video on the Razr+ also isn't too great, although the primary and selfie cameras can shoot 4K60 video. The phone also includes some interesting video features, such as Horizon Lock.
The Flip 4 is also no slouch, and Samsung also includes its own set of goodies to help users get the most out of their phones. Camera Assistant, for example, brings additional settings to the app, while Expert Raw brings an extra level of manual adjustments.
Motorola Razr Plus vs. Samsung Galaxy Z Flip 4: Which should you buy?
Choosing between these two phones comes down to what you value most. With the Razr+, the main selling point is the large cover display that gives you the flexibility to perform most actions without opening the phone. It's like having two phones in one, which is pretty compelling at $999.
For the Galaxy Z Flip 4, I'd say the biggest selling point is the software and support. I personally prefer One UI, which has made the switch to the Razr+ an interesting one. Samsung just puts a lot more effort into a cohesive software experience while offering consistent support for its phones. You'll also probably enjoy the cameras more on the Razr+.
It would be a tough choice if I had to decide between these two phones, given how I gravitate toward Samsung phones. However, I think the Razr+ brings a unique experience that can't really be matched on another clamshell foldable, and that alone is enough for me to pick this over the Flip 4.
Another point to consider is that the Galaxy Z Flip 5 will likely be launched soon, so the Flip 4 is already on its way out. Once the Flip 5 comes into the picture, that's when the competition will really heat up.
The OG foldable
The new Razr+ is Motorola's big comeback to the foldable space, and it's a very good one. The phone's most compelling feature is the large cover display that lets you run nearly any app you want to get things done without opening the phone. Plus, it looks absolutely fantastic.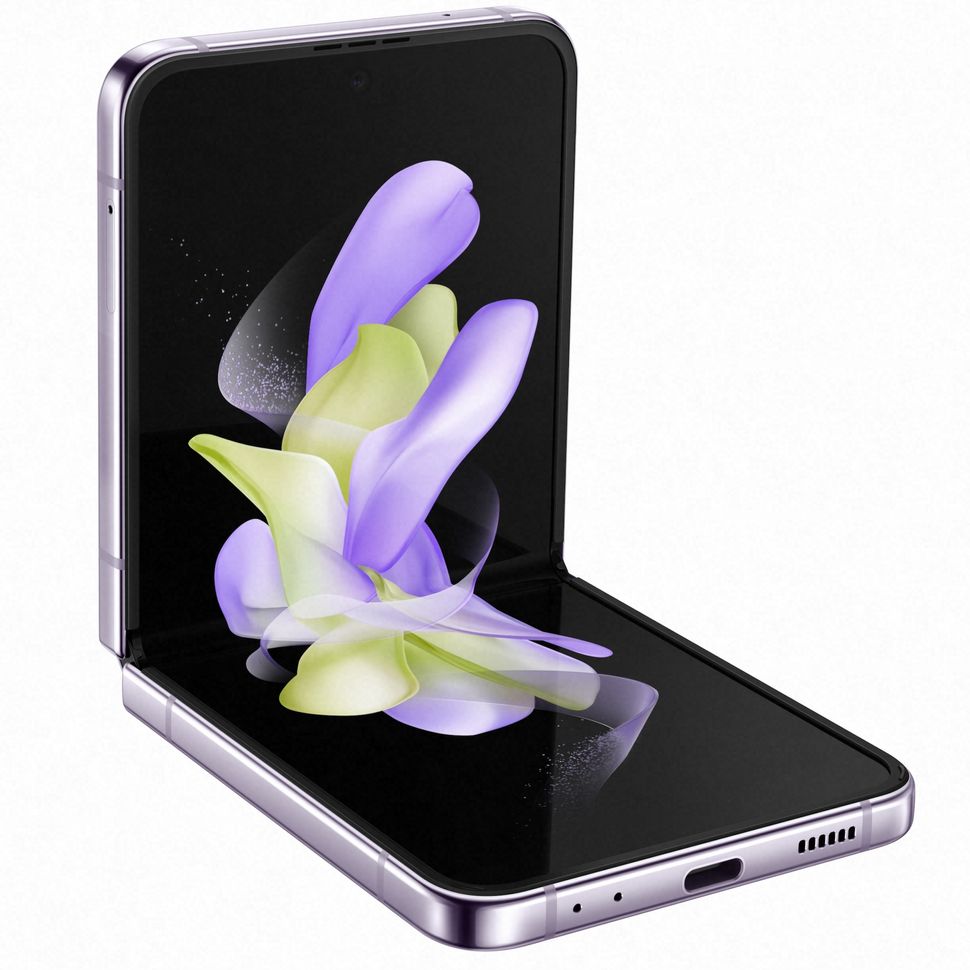 Beautiful and durable
Even with the new Z Flip 5 on the way, the Galaxy Z Flip 4 is still a very good phone powered by one of the latest Snapdragon processors. You can choose among an assortment of colors if you buy it from Samsung, and the phone is quite durable thanks to its strong hinge mechanism that should last for years.
Get the Android Central Newsletter
Instant access to breaking news, the hottest reviews, great deals and helpful tips.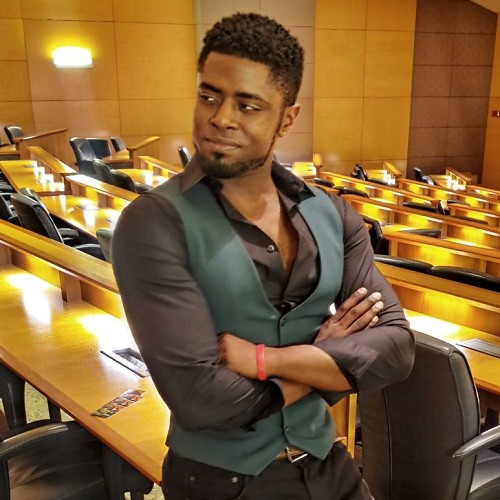 Derrek is a long-time Nokia and LG fanboy who loves astronomy, videography, and sci-fi movies. When he's not working, he's most likely working out or smoldering at the camera.