Samsung Galaxy Z Flip 5: What we want to see
Samsung could be making some big changes to the Z Flip 5.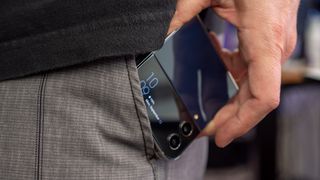 (Image credit: Nicholas Sutrich / Android Central)
Samsung has absolutely dominated the foldable market, thanks to the popularity of its Galaxy Z Flip and Z Fold lines. While the larger Fold may be a more interesting and versatile device, its high price tag is a bit of a turnoff, making the more affordable Flip line a good option for first-time foldable users. Samsung is expected to launch the Galaxy Z Flip 5 later this year, and while there's still plenty of time before the announcement, some rumors about the device are already cropping up.
While the Galaxy Z Flip 4 is a fantastic device, it's still far from perfect, especially now that more OEMs are launching clamshell foldables of their own. Samsung has some tough competition from the likes of OPPO, Motorola, and even Huawei, with others likely to join in. However, there are some ways Samsung can ensure it stays ahead of the curve with improvements to the Galaxy Z Flip 5, and here are some of the ways we think the company can improve its next flip phone.
Bigger is better
Samsung's cover display on the Galaxy Z Flip 4 is great, and lets users access a number of functions without needing to open their phone. You can take selfies, view notifications, control music, and more. However, the cover display is pretty limited by its small size.
At just 1.9 inches, the cover display is smaller than those found on other foldables from Motorola and OPPO. Last year's Motorola Razr 2022 arrived with a 2.7-inch panel (the same as its predecessor). Meanwhile, the new OPPO Find N2 Flip recently hit the market with a whopping 3.26-inch cover display, putting all others to shame.
Rumor has it, Samsung is likely going to increase the size of the Galaxy Z Flip 5's cover display. It will apparently be larger than the one on OPPO's Find N2 Flip, which means we could find ourselves with a massive outer display to complete tasks without opening the phone.
On that note, while Samsung's cover display is pretty useful, it's further limited by its software. Users can mainly interact with it using various widgets, unlike the Razr 2022, which lets you do just about anything you can on the main display. There is a way to get a proper app launcher on the Z Flip 4, but we would prefer this to be a native experience out of the box.
Unlimited power (or just a larger battery)
One of the shortcomings of the Galaxy Z Flip 4 is its fairly small battery. At 3,700mAh, it's not exactly winning any longevity contests. The battery is actually fairly decent, thanks to the Snapdragon 8+ Gen 1. However, with devices like the Find N2 Flip arriving with larger batteries, we can't help but want the same for the Z Flip 5.
Given the rumor that Samsung is increasing the size of the cover display, the company would be wise to increase the capacity to make up the difference. Just imagine the battery life with not only a larger capacity but with a more efficient Snapdragon 8 Gen 2. The chipset has already proven quite impressive on the Galaxy S23 series, easily getting the baby S23 through a full day of use.
Better cameras
The cameras on the Z Flip 4 aren't bad. In fact, Samsung gave it larger pixels to improve low-light performance. When compared to the Galaxy Z Flip 3, the improvements it pretty clear. However, as our Harish Jonnalagadda points out, the Z Flip 4's primary camera "is essentially the same sensor that was in the Galaxy S21 series." That's a two-year-old phone.
We're not saying Samsung needs to slap a 108MP or 200MP sensor on the Z Flip 5, as that would be overkill. However, a 50MP sensor wouldn't hurt, especially since that's where other clamshell foldables are already going. 50MP has become the new standard for plenty of Android devices, including budget Android phones, and at this point, 12MP is starting to look a little sad.
Also, if Samsung could throw on a telephoto sensor, it would easily beat out the other clamshell foldable phones, all of which leave this out and opt only for a dual wide and ultrawide setup.
Ditch the crease (and plastic)
Samsung makes great displays, and it has had years to improve its hinge and folding display tech, working to minimize the look and feel of the crease. However, it's still quite noticeable in use, more so than on other folding displays. Not only that, but the Flip is still unable to fully close shut, leaving a bit of the display exposed when folded, which is kind of counterintuitive for a flip phone.
Samsung may finally do something about this, according to a rumor stating that the company will change up its hinge design for its upcoming foldables and adopt a waterdrop folding display. This is similar to what other foldable phones are using, which causes the display to fold in a wider shape when closed, allowing the device to fully close shut while greatly reducing the crease when unfolded.
Another problem Samsung needs to address with the Galaxy Z Flip 5 is the use of its PET (polyethylene terephthalate) screen protector. Users are urged not to remove it, but in our use, we notice that the screen protector cracks and becomes damaged over time.
Ideally, we would like to be fully rid of these, but if Samsung is going to pre-install screen protectors on the Z Flip 5, hope it can figure out a way to create something a bit more sturdy that doesn't crack or peel off after some time.
Give it eyelashes
Eyelashes help keep airborne dust and dirt from entering our eyes, particularly when our eyes are closed. Samsung needs something similar for the Z Flip 5.
One aspect of Samsung's foldables that have held its devices above the rest is the fact that they are water resistant, meaning they can handle some rain, a splash, or even being fully submerged for a brief period. This is something that other foldable phones lack as Samsung has been particularly focused on increasing durability.
However, the phones have lacked any dust resistance, which is particularly problematic for users in sandy or dusty areas. It also doesn't help that the display doesn't fully close when folded. If you're planning to take your Z Flip 4 to the beach, be extra careful!
However, rumors suggest that Samsung is finally looking to address this with the Galaxy Z Flip 5. Apparently, the company is looking into adding official dust resistance to the phone's IP rating, although it's not clear if this will make the final product when the Z Flip 5 launches later this year. We really hope it does, as durability is a big reason why users have not completely warmed up to foldable phones, and dust resistance would give Samsung's foldable similar durability as any of its other phones.
Get the Android Central Newsletter
Instant access to breaking news, the hottest reviews, great deals and helpful tips.
Derrek is a long-time Nokia and LG fanboy who loves astronomy, videography, and sci-fi movies. When he's not working, he's most likely working out or smoldering at the camera.