Mint Mobile: How to know if there is coverage in your area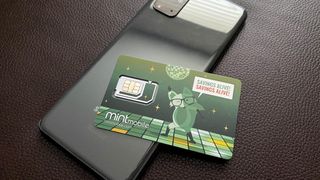 (Image credit: Samuel Contreras / Android Central)
If you like what Mint Mobile has to offer but aren't sure about Mint Mobile coverage, there are a few things you can do before signing up. First, you'll need to make sure that your phone is fully compatible with T-Mobile since Mint Mobile uses this network exclusively. Next, make sure to check Mint's coverage map (opens in new tab) before switching, but keep in mind that there's a seven-day money-back guarantee window if things don't work out as expected.
Does my device get Mint Mobile coverage?
Most modern unlocked phones support the majority of T-Mobile's network and thereby Mint's, but if you're shopping for something new then these are some of the best phones to use with Mint Mobile. It's worth noting that some older devices might not support Band 71, which uses a 600MHz spectrum to deliver long-range coverage to fill in the gaps between towers. If your phone doesn't support this band, you'll drop down to 3G a lot more often.
You can find out which bands your phone supports in the specification settings, but pretty much any new phone will be compatible with Mint, including Android and iPhones. Look for Band 2 (1900MHz), Band 4/66 (1700/2100MHz), Band 5 (850MHz), Band 12 (700MHz), and Band 71 (600MHz) for 4G LTE. If you're set on getting 5G coverage with Mint, T-Mobile uses N71 (600MHz) and N41 (2.5GHz) for its sub-6 5G network.
Because Mint supports 5G on all its plans at no extra cost, you might be interested in learning more about Mint Mobile's 5G service. If you already have a 5G-capable phone that you want to bring to Mint Mobile, just make sure that it's unlocked and GSM compatible.
If you're still not sure, head to Mint's website to use its compatibility checker, which will confirm whether your device will work by entering its IMEI number. You can also do this by downloading the Mint Mobile app, which will check your phone's compatibility automatically.
Does my area get Mint Mobile coverage?
If you want to know whether the specific area you're in gets access to T-Mobile's network, visit Mint Mobile's coverage map. Remember to check the places you frequent, such as your workplace, relatives' homes, or maybe even Times Square. By clicking an area on the map or putting in your exact address or zip code, there will be a little icon that pops up showing you the strength of each frequency present (outdoors, indoor residential, etc.). If everything in your area is green, you're most likely good to go.
You're not stuck with Mint Mobile coverage
Fortunately, Mint Mobile has a seven-day money-back guarantee. If you're not satisfied, all you have to do is let Mint know within that first week of activation — no questions asked. Shipping and handling fees won't be returned, but at least you don't have to send anything back.
And if you really have doubts about Mint Mobile, then there's a Starter Kit you can get through the Mint Mobile app that will give you a seven-day trial to test its service. If you happen to go past the seven days, you'll stick lock in the unlimited plan's yearly rate for the first three months ($90 total). Though things will probably work out, there's not much to lose if they don't.
Fully compatible
(opens in new tab)
One of the best devices for Mint
The Samsung Galaxy S20 FE is one of the best Android phones you can buy today, and luckily it's fully compatible with Mint Mobile. You'll get more for your money with your Mint plan and this device working hand in hand.
Data savings
Save by buying in bulk
Mint Mobile has great rates on data plans if you're willing to buy in advance. Because it runs on T-Mobile's network, you'll get excellent coverage and access to T-Mobile's growing 5G network.
Android Central Newsletter
Get instant access to breaking news, the hottest reviews, great deals and helpful tips
Olivia Lipski is a freelance writer for Android Central and loves testing out the latest smart home tech and discovering the best cell phone plans. When she's not busy running around NYC trying to find great food or coffee, she's in her kitchen trying to make it herself.
Android Central Newsletter
Get instant access to breaking news, the hottest reviews, great deals and helpful tips
Thank you for signing up to Android Central. You will receive a verification email shortly.
There was a problem. Please refresh the page and try again.