The best weather radar apps for American users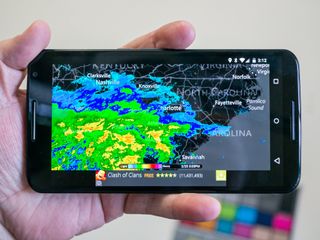 For more than just 'is it raining?'
Most weather apps come with radar, but it can leave something to be desired, especially for those who are a little more dependent on the weather's wicked wiles. For storm chasers, meteorologists, and weather enthusiasts looking for more advanced radar on their Android devices, we've looked through the cream of the crop with KXXV-TV Meteorologist Conley Isom and we've arrived at the best three for your Android. And just our luck, each one suits a particular niche for a particular type of user.
A note on location before we begin: due to the differences in meteorological services between countries and continents, we've limited this article to Level 3 radar apps for the United States. Our apologies to our international readers.
Read now: The best radar apps for American users
For amateurs and light users — MyRadar
MyRadar is a good jumping off app for those who are just beginning to get into meteorology or only need a more advanced radar during the rare supercell or snowstorm. This app is free — with in-app purchases to get rid of ads and add on extra services like XX — and it's very easy to use. MyRadar is the only app in this list to automatically mesh the radar data from different station and allow you to see statewide or eve nationwide radar data all at once.
MyRadar could actually double as your weather app in a pinch, as once you've got your location in the crosshairs on the map you can pull down on the current conditions, forecasts, and details on current conditions. MyRadar is also a radar app with wide availability, with apps not only for Android and iOS, but also Windows 8, Windows Phone, and even Google Glass, if you happen to have a pair.
In Isom's words, MyRadar may not be quite advanced enough for storm chasers, but it's a good simple app for those who don't need all the bells and whistles that more expensive apps have, but there are a few advanced features for users to play with, as well. If you're not used to looking at advanced radar programs, then this is where you should get your feet wet before you dive into more powerful radar apps.
Download: MyRadar(Free, in-app purchases) (opens in new tab)
For storm chasers — Radarscope
Radarscope is a jump up from MyRadar, in features, in detail, and especially in price. It is ten dollars, and there are additional subscriptions for weather data services like AllisonHouse.com. Radarscope also allows you to log into Spotter Network and see where other spotters are on the map. For advanced Level 2 radar data including lightning data, you can tack on a separate subscription to Radarscope Pro.
When choosing what radar you want to pull data from, your radar stations are organized by state. If you're switching between relatively close radar stations, you can also tap the radar button on the bottom of the map and pick the radars as they appear, allowing you to quickly switch stations without leaving the map. Radarscope is the radar app that Isom has been using for years, and he highly recommends it for those who need to track storms during severe weather events.
Download: Radarscope ($9.99) (opens in new tab)
For advanced users — PYKL3
PYKL3 (pronounced pickle) Radar is the radar app with the most bells, whistles, and options, and for ten dollars, it should be a fairly robust app. Like Radarscope, PYKL3 allows additional subscriptions to be handled either in-app or for you to tie into services like Allison House, Caprock Weather, and Spotter Network. It's not updated as often as the others — the last update was in December, and the developer team isn't nearly as active as other radar apps. Having said that, PYKL3 is still one of the more stable radar apps out there.
PYKL3's real draw is in the customization within the app, as you can customize the colors of your radar and radar color tables. Keep in mind that for all that customization, PYKL3 also has the highest learning curve. It always displays the current location, your current view, and data source, and allows you to easily switch between a myriad of reflectivity, velocity and storm relativity views. Besides the learning curve, our main gripe with PYKL3 is that touching and dragging the map around can give you whiplash with just how sensitive it is.
According to Conley Isom, PYKL3 will be more useful for users who want to really customize their data and their maps as opposed to users who just want to get in and get to tracking or chasing. However, that customization can be a double-edged sword to users who don't want to mess with a dozen settings while trying to pick out hooks in a line of supercells.
Download: PYKL3($9.99) (opens in new tab)
So, do you use a dedicated radar app? Are you content with MyRadar, or do you need the power of Radarscope or PKYL3? Chime in below in the comments.
Ara Wagoner was a staff writer at Android Central. She themes phones and pokes YouTube Music with a stick. When she's not writing about cases, Chromebooks, or customization, she's wandering around Walt Disney World. If you see her without headphones, RUN. You can follow her on Twitter at @arawagco.
Been using PYKL3 lite version. Works great!

Still no love for Raindar?!

Last updated in 2013 was a bit of a red flag for me, sorry.

Haha, no worries! It's been my favorite a long time. I get it, though.

Seriously? Because it hasn't been updated recently? Radar and the map don't change much. Please base it on its appearance, speed, and functionality.

2 years without an update is a long time. It likely has compatibility issues with 5.0 and probably even 4.4.

Nope, no issues. I've been using Raindar for years and it still works great on my Nexus 5, just as it has on all my phones. Posted via the Android Central App

And for the record, Raindar also works fine on Marshmallow (6.x).

If it's software, there's something wrong with it. Updates don't guarantee improved quality, but no updates guarantees bugs that aren't getting fixed. Posted via the Android Central App

Last update is one of the first things I look at when downloading an app. If it has been over a year since the last update, then I move on, and find something else. Posted via the Android Central App

I tried out the app and it does work well. The UI is dated, but as you said the maps and radar are up to date, so it doesn't really matter.

No, radar doesn't really change, but can you seriously tell me that there isn't *something* that could be improved? I know you and I don't have access to the code, but surely there's some redundant coding or new APIs that could be worked out/in to improve the app? Just because it works well doesn't mean it can't be improved. A good example of this is the app Mileage by Evan Charlton. It was last updated a year ago and still has the UI from 2.2 or 2.3. Surely the developer could have added a few new features, streamlined the code, etc? I moved on from the app after using it for several years, simply because I didn't get a reply from the developer when I emailed him (and that was a couple months shy of 2 years ago- still no response).
Also, what happens when there is a major bug? Or what if an incompatibility in later versions of Android arises? Based on the year long drought of updates, I wouldn't expect the app to ever be fixed.

Add me to the Raindar camp. Posted via Android Central App

Americant Posted via the Android Central App on my htc One M8

No mention of RadarNow? I've used it for years. it's simplistic, sure. But it's never failed me.

Conley and I looked at it, we just weren't feeling it.

+1 Also, RadarNow! Beta. Both get the job done. Posted via the Android Central App with my OnePlus One.

It works for me. I use that and the radar in AccuWeather. Good enough. Posted from my Nexus 7 2013 via Android Central App

Or you can use "Raindar" which is fast, simple, free, private, easy, and works so very well.

i use eweather hd a lot. lots of options and info throughout the entire app. all kinds of overlays on the radar too.

Giving MyRadar a shot. Thanks, Ara! Seems nice so far. -Shawn
Noting the world one S-Pen at a time.

I'm in the United States, and I really don't care about semantics but I'm sure you'll get readers that complain that America does not = The United States. Slight disconnect between your title and "note on location".

What? I can't remember a time in my life when America did not mean the United States in any vernacular. I've been all over the world and when people ask if, or assume that, I'm American they mean that I'm from the United States. Posted via the Android Central App

+1 Posted via the Android Central App and Note 4

You're right, America does not = United States. That's why people from the US are called United Statesians and not Americans...oh...wait...

Well, actually in French some people will say "états-uniens" which is united-statsians or whatever...
But I get it: Americans are from the USA and North-Americans, well from North America. Posted via the Android Central App

I'm sorry, I guess mass ignorance = truth. Yes someone from the United States is an American, but so is anyone originating from the Americas, which is a mass of land including, north, central and south America.

Very, very rarely, if ever, will you hear anyone from any other country aside from the US refers to themselves as Americans or their nation as America.

Nobody calls calls a Canadian an "American" nor a Mexican an "American". The term "American" might not be perfect, but that is what you call citizens of the United States of America. Period. We are not USAians, nor United Statesians. People in South American countries are in South America, not "America". However, you can say they are in the "Americas" (note the "s").

Raindar and Radar Now are simplistic radar apps for the common user. They have no business in this discussion. Radarscope and PYKL3 are what professionals expect to see in a radar app. Multiple options, every tilt the radar can provide and every product. There are a lot of modes that the average user doesn't understand about modern doppler weather radar. While everyone wants to know when is it going to rain, not everyone understands how the radar detects and shows possible rotation within a thunderstorm. The apps listed here are geared more towards that. I also have to say, I disagree with your statements about PYKL3. Joe Jurecka is very active with app development. He does not release app updates on a whim. For years, many of us have tested beta versions of PYKL3, to make sure the version that hits the play store is perfect. Unlike RadarScope and WDT, Joe is actually open to suggestions to improve PYKL3. It was many of these suggestions that made PYKL3, what it is today. WDT doesn't release updates to RadarScope any faster, and isn't interested in what its users think needs improving. It is this difference and the ability to customize the program to your liking, that puts PYKL3 ahead of RadarScope, it its offering and functionality.

I was looking at more than the app update schedule, but also at the activity of the social media feeds and site linked in the app's description. Those aren't very active either. I'm happy to see developers open to suggestions, and I'm happy that PKYL3 is highly customizable, but it's a bit unwieldy, especially at first. A high learning curve doesn't necessarily make it a bad app -- just look at Tasker. Also, note the header of each app. I said PYKL3 was for advanced users because of all that customization available to users.

I've been using MyRadar for the last couple of years. Works great. Posted via my Samsung Galaxy Note 4.

I love and use both RadarScope and PYKL3. They are indispensable for analyzing storms or other radar data, and offer most of what real desktop radar clients do for a fraction of the price. I thought they were expensive until I found what the Level 3 desktop suites go for! The free radar apps that populate the play store are child's play compared to these, so if you have any interest in tracking weather like pros, ya gotta try one or both of these apps. Posted via the Android Central App on N7 '13

I've been a RadarScope user since day one. Other than the customizing what are the advantages with PYKL3? Not trying to rate one over the other just asking you a user of both If in your opinion the differences warrant buying another high end app.

Yeah, they both are pretty similar overall, but in my case I had started with PYKL3, then added RS later for its super-res view and a couple other additions. I still use PYK though in addition to RS and they compliment each other well. I like PKY, yes for its enhanced customization, but for other features also. The radar image certainly isn't quite as detailed as RS, but I like the meso (rotation) indicators on PYK; I like that I can get lightening data on PYK for free(not sure if I'm supposed to though lol); I like that I can set up a surface ob view, for wind direction, speed, and temp, on one of the 4 viewsets which RS doesn't offer. Just details like these that the basic RS view doesn't provide. Don't get me wrong, I'm not bashing RS, I really love it too, I just really think both apps provide unique benefits for a wx observer. Then there are a few things that RS does that the other doesn't so they both have benefits! Maybe it's not worth another $10 for some of PYK features, but I don't regret its purchase one bit. I love em both! For another alternative, look at RadarAlive. It looks more similar to PYK, and I'm considering getting it too, just because I love L3 radar apps! :) Posted via the Android Central App on N7 '13

Thanks for taking the time to give such a detailed answer. Very helpful. Posted via the Android Central App

I use RadarNow! Premium version Posted via the Android Central App

Red sky. It works. Posted via the Android Central App

MyRadar, premium and 1Weather for radar... On my phone. Posted via the Android Central App

I've used PYKL3 Radar for years. Love it. FYI, screen sensitivity is user-adjustable (like just about everything else!) so no need for whiplash protection. One of my favorite features are the Viewsets that let you have four preset display configurations.

WeatherBug's radar view works just fine for me.

Raindar! Posted via the Android Central App

Small world!I knew there was a reason I watched Conley's forecast here in Central Texas.

+ 1 for Radarscope and the old version of weather bug pro when it was available for purchase w/o ads Posted via the Android Central App

I've used PYKL3 for several years, with the Alison House subscription. A most impressive weather radar app for sure.

I use radar express Posted via Android Central App on 1+1

Been using PYKL3 for years. More info within a few touches on this one app than searching thru several websites. Severe weather, winter weather... You name it. Definitely requires some knowledge of radar technology and techniques to get the full benefit. With that being said... Best $10 I've ever spent on an app. Posted via the Android Central App

I still use raindar for "I'm in a hurry and just want to see if/where it is raining/snowing", but I use radarscope, if the weather is severe to track the storms, look at the data especially living in tornado alley...

What about radarnow Posted via the Android Central App

Am I the only Radarscope fan? Lol I love Radarscope!! Posted via the Android Central App

No love for Rainy Days? I've been using that since my evo 4g. Posted via the Android Central App

Rainy Days is my first weather radar app since 2010 and has been on every android device for straight forward Radar. No Muss No Fuss. Also uses Google Maps.

You should check out StormEye radar app. I find myself bouncing between that and Raindar.

I have been using RadarNow for years, it is my go-to weather app. In fact, I finally paid for the premium version last week now that they changed from yearly fees to one-time. In addition to showing a nice radar loop for my area, current conditions are clear to see AND I can get an hour by hour listing of upcoming foretasted temperatures, chance of precip, and wind speed. I've tried a few other apps in the past but always kept going back to RadarNow. It is quick and simple. This may sound like an advertisement but I really don't have any connection to their company.

BeWeather app has sufficient radar function for casual use.

The Weather Underground is superior to the three apps you
have reviewed and it's free with
day/night full color animated loops. I highly recommend the
WEATHER UNDERGROUND APP ! Posted via the Android Central App

Great article. Thanks Ara. Posted via the Android Central App

Great recommendations! Im going to download one now! Bloop, bloop, bloop, bloop... I have Samsung. :D
Android Central Newsletter
Thank you for signing up to Android Central. You will receive a verification email shortly.
There was a problem. Please refresh the page and try again.