Best PS5 Controller Charging Docks 2022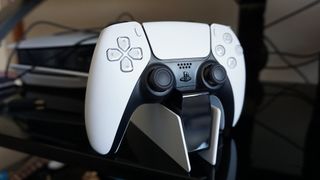 (Image credit: Jennifer Locke / Android Central)
The DualSense controller for the PlayStation 5 is a fantastic piece of hardware. However, like the DualShock 4, it needs to be charged regularly to hold up to your hours-long gaming stints. Sure, you could just plug it into your PS5 with the charging cable, but that requires you to keep your PS5 in rest mode. Anyway, it's not the most aesthetically pleasing option available — so why not invest in a sleek PS5 controller charging dock to go with your sleek console? Here are the best options available.
Charging your DualSense
Why you can trust Android Central Our expert reviewers spend hours testing and comparing products and services so you can choose the best for you. Find out more about how we test.
While most of these chargers are similar in build and do similar things, what you get may depend on your needs. If you only have one controller, a charging station might be overkill. So if you're going to invest in one, why not invest in one with flashy LEDs? However, if you do have more than one controller, it can be a great resource for keeping all of your controllers in performance shape. Playing with a wire can be tiresome and, if you're playing with multiple people, impractical given the limited number of charging ports on the PS5 itself.
Our favorite is undoubtedly the original, the PlayStation 5 DualSense Charging Station. Every other charging station on this list is attempting to look as much like the original as possible, and none of them claim to do the job of charging your controllers better. If supply weren't an issue, we'd recommend every PS5 owner get one. However, the official charging station has been sold out in many places, and if you don't want to wait, there are many good alternatives.
Android Central Newsletter
Get instant access to breaking news, the hottest reviews, great deals and helpful tips
Rachel Kaser is an Android Central gaming contributor, who's been writing since 2013 and gaming since the age of five. She's covered everything from gaming news, reviews, and analysis -- if it exists in gaming, she knows about it. She also contributes to Future's other sites, iMore and Windows Central. If you want to hear her opinions on games, pop culture, tech, and everything in between, follow her on Twitter @rachelkaser
Android Central Newsletter
Get instant access to breaking news, the hottest reviews, great deals and helpful tips
Thank you for signing up to Android Central. You will receive a verification email shortly.
There was a problem. Please refresh the page and try again.