The best part of taking a trip is Google Photos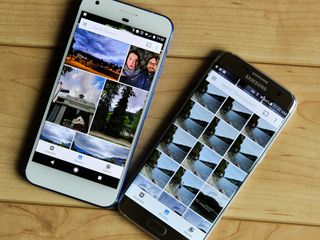 Vacations. They never happen soon enough and, for some of us, they're a luxury if they happen at all. That's why it's so important to not only relish every minute of free time but to also ensure that any memories you may have captured are properly archived and stored away for the next trip down nostalgia lane.
Google Photos is particularly helpful at making this happen. I recently took off on my first vacation since the new Photos features have made headway, including shared albums, high-resolution uploads, and the ability to create and edit movies. (Yes. It's been that long since I've taken some quality time off.) I took over 300 hundred photos with my Pixel XL, Galaxy S7 Edge, and Gear 360 while traipsing around New Zealand. Here's how Google Photos did all the hard work managing those memories.
Easy backup on the go
Why you can trust Android Central Our expert reviewers spend hours testing and comparing products and services so you can choose the best for you. Find out more about how we test.
Admittedly, I may have committed a folly by purchasing the 32GB Really Blue Pixel XL, but Google Photos had me covered on my journey through Kiwi Land. Anytime I nearly hit my gigabyte limit, I'd find a Wi-Fi spot and get to uploading and offloading. It's exceptionally easy to do with Google Photos, too.
In the hamburger menu bar, simply tap the option to free up space and remove any photos and videos that have already been backed up to the cloud. Each shot taken with the Pixel XL took up about 4MB, so I hit my limit pretty fast. But whenever I cleared off those photos that were already backed up to the cloud, I recovered about 10GB of disk space.
You can also back up photos from other apps. I backed up all of my Instagram Stories and Snapchat snaps, as well as the folder containing content downloaded from the Gear 360. You can set up automatic downloads on any other mobile devices you might have in tow, too, so that everything is stored and ready to archive once you get home.
One note of caution, however: If you're concerned about redundant backups — for instance, you use Dropbox's camera upload feature for posterity — make sure that those photos are backed up before you free up disk space. I forgot to check and, as a result, a majority of my vacation photos were only backed up to Google Photos. That should suffice, but I like to have doubles in case disaster should strike. (Of course, you can download the photos again once they're uploaded, but unless you have a Pixel they may not have been sent to the cloud at their full resolution.)
Fully-functional photo albums
I love to snap every dynamic moment of my time away, but I hate the dread that settles in when I'm back and I realize that I have to individually tag and upload every single photo before I can share it. Thankfully, Google Photos did all that for me before I even got home.
Google compiled every relevant photo and video I had shot in New Zealand into its own, ready-to-share library. The album includes location stamps for each batch of photos, like the restaurants we ate at, the hikes we took, and the scenery we drove by. It started documenting those locales from the minute I touched down in Auckland and ended the day I flew back home to San Francisco. It even accounts for photos that I uploaded with other devices and paired those with relevant locales.
One thing to note, however: If you don't back up your photos during your vacation time, they won't be archived in this manner after the fact. I only backed up half of what I shot with the S7 Edge. Everything else had to be manually added to the album folder after Google had populated it with what was available. It's not a major deal, but it's something you'll want to keep in mind if you'd like to take advantage of Google's automated features.
A helpful Assistant
Who doesn't love a good home movie? The Photos Assistant offered up several videos of my trip based on the metadata of each file. I would have never thought to put together some of the clips that Photos compiled, but for the most part, it was right on the money.
Even better: You can add a bit of your own flair to the presentation by editing the video on your smartphone. In the Photos app, you can change the background music, tack on a filter, and edit the order of content. You can even add on any images and videos that Google may have missed. When you're finished, you can give the video a title and export it to YouTube for all to see. Just make sure that if you're not using the clips from the included music library that you're not uploading anything that's copyrighted — especially if you plan to show off your video publicly.
Google Photos can compile quick collages, too. If you'd rather not deal with choosing your own snapshots for an Instagram-friendly mock-up, Google will take a batch of photos you've shot in rapid succession and compile them for you. Of all the simple things that Google's Photos Assistant can do, this one is my absolute favorite. It's especially fun to include any outtakes.
How do you use Google Photos?
Have you used Google Photos on a trip? Did you like what it offered? Tell us!
Get the Android Central Newsletter
Instant access to breaking news, the hottest reviews, great deals and helpful tips.
Florence Ion was formerly an editor and columnist at Android Central. She writes about Android-powered devices of all types and explores their usefulness in her everyday life. You can follow her on Twitter or watch her Tuesday nights on All About Android.
I utilize all of these services- love google photos. We like to cast the pictures to our television and review our trips/outings. I also like adding those albums to the backdrop on my Chromecast.

This is the kind of good, informative article that I come to AC for, good work!
Also, I live Google Photos, especially the keyword search capabilities.

Flo,
Great article and I use Google photos on my tablet and phone.

I use photos to archive all my photos, now I have scanned all my print photos with the new Google app and it is all there. Works perfectly.

Same here, love it. I migrated all my images from another cloud Service to Google Photo.

I love Photos, specially with shared albums. My wife and I created an shared album so our family members and some friends could have a more updated view of our adventures, but, unfortunately, it's only possible to add 1000 (one thousand) pictures in the same album. That was a bummer, since we reached that amount in less than half (12 days) of our vacation. But apart from that limitation, photos is great!

I have to agree with you on this. Took a big family vacation to Mexico this past September. I was able to backup and organize everything perfectly. My wife, brother, and sister all use Google photos as well so it made it easy to share photos with each other and sync up an album between all of us. I also appreciate that Google photos was able to compare data between the GPS on my phone and the date and time stamps on my DSLR photos, and thus was able to location tag the photos from my DSLR automatically. It's not perfect but it makes it much easier to search photos by location.

Also Flo I'd love to hear your thoughts on taking photos with both the Pixel and GS7e

Literally working on that article as I type this to you :)

Great write-up Flo, well done

Google Photos is pretty great. I no longer horde a massive collection of pix on sd card. The film editing portion is OK, was much better before (the ability to configure a short or long movie at the start of a project, and video stablization) but I still use it fairly regularly.

Love Google photos for all the reasons you mentioned and more. Great article.

Google photos is one of the best (and underrated) things to come from Google. Such a simple solution to issues related photo management. Totally agree with everything in this article.

My wife, which really doesn't care about ANYTHING on her Nexus 6p, besides communicating (maybe some candy crush here and there) and the photos and videos of our children she's taken with the phone. She will tell anyone that her single favorite app on her phone is Google Photos. She loves the little movies it creates, facial recognition (which recognizes my 6 year old son from being a newborn, which is CRAZY) and having access to every photo and video she's ever taken. And I have to agree with her... Google Photos may be my favorite app on my phone. As a chef and a father of 4, and dogs and cats and my beautiful wife... It is awesome to type any of their names and see some old photos that have a lot of good memories. I also take a lot of photos of my food and it's fun to see how I've evolved as a chef over the years. So good and great article Flo.

I use Google Photos to create albums of my 11 month old to share with out of town family, which works wonderfully. They can keep up with how much she's growing and I get all my photos backed up. It's very nice to be able to have all of my phone pictures backed up automatically, and I've plugged in the desktop app to grab all photos from my mirrorless and DSLR whenever I pull pictures off of those. Now if only I could get those automatically backed up without connecting them... It also saved some frustration for my wife for her phone. After having the baby, she quickly filled up her 32gb of space with photos and videos. After we installed Google Photos and started automatically backing up photos, it allowed her to actually have more than a couple hundred MB of space left on her phone. So Google Photos has been amazing for my uses.

The search option in the google photo app is strangely not working great on my side... I named all my pictures and I do not find them (almost nothing) and I m sure of what I have written... I do not understand at all.

Google photo is not removing automatically the local pictures... On my SD card... Google bugs all the time somewhere... The app is ok though.

I'm also having the same problem. From what I've been looking this problem exists for more than a year. Shame that Google isn't doing anything to fix it.

Good article, and pretty much true, but the best part about taking a trip is Project Fi. To get off the plane in another country and just have your phone work with absolutely no additional setup or cost (except for voice calls) is a game-changer.

Agree. Project Fi international features make me not miss Verizon at all.

My camera will automatically write to my phone (When paired) and then google photos has those to backup (at full resolution). This is actually fricking awesome for vacations where I used to worry about running out of SD card space.

The best part of taking a trip is Google Photos. Really? That's depressingly tragic.

That's exactly what I thought. Just enjoy the trip....Google Photos will take care of the memories.

I'm hoping for spectacular footage and pictures when I go on vacation in a few weeks. The home movie feature sounds great.

My current set up is to use Google photos. Then use DriveSync to automatically upload to a specific folder on my actual Google drive whenever it sees a change made to the DCIM folder my pics land in. Then a cronjob automatically downloads those changes and in Google drice twice daily to a local hard drive. Triple redundancy, without ever doing a damn thing manually.

Also very good feature that I used, you can share album per link or in app with friends who are traveling with you, and they can upload the photos to the album. That way everybody gets the photos, and Google still makes those wonderful movies for you! This summer me and my friends loved it since nobody had to send photos to each other after the vacation.

I used Google photos for my honeymoon. It was great because my husband's photos could be merged with mine into the same album making sharing later so easy. And instant syncing with all devices meant I could show my mom (who is not tech savvy) all the photos on my 12.9" iPad months later with almost zero effort. It was actually kind of perfect.

I have the LG G5 and would LOVE to use Google photos, but it keeps giving "Google Photos has stopped" error messages on my phone.
Not cool... I used it on previous devices and LOVED it.

don't like google photos. it is stock on the sprint v20 and lacks behind the gallery on the Samsung. I use onedrive to automatically backup my photos as I have a terabyte of storage with my office 365 account.

Did you enjoy New Zealand? 32GB won't be enough to take pictures of every single please you can visit. Was nice to see the location tag in our pictures. I'm from NZ.

I didn't start using it until I picked up my first N7 back in mid August, I then began using it to back up photos from my N4 and have loved it since. I too have had multiple devices in the same locale and snapped similar pics and loved how it automatically created a story for the day with my photos and how spot on the location tags were. Currently have a V20 and an iPhone 7 plus and it's super convenient having it on both devices/OS and is stupid simple to share/save pics between both. Love it

<a href=""><strong>
Colton . true that Richard `s story is inconceivable... on monday I got a brand new BMW 5-series after I been earnin $5174 this last 4 weeks and-just over, 10-k last-month . it's realy the coolest job Ive ever done . I began this 5 months ago and almost immediately brought home minimum $82, per hour . check this link right here now
sdfsdfsdfsdfsdferewrwerewrewrwerwerwerwer
................ http://www.JobNews80.Com