The best music apps for the Samsung Galaxy S6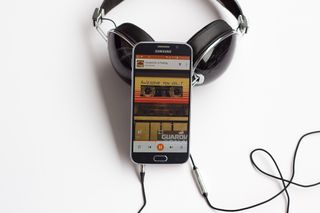 There are a few obvious choices when you want to listen to music on your brand new Galaxy S6, like the bundled Google Play Music, or Samsung's own Milk Music (opens in new tab). Then there are popular streaming options like Rdio or Spotify for those that are willing to fork over a subscription fee, and free alternatives like Songza if you can deal with ads.
What else is out there for folks that like to maintain a local music library? We're here to help find you something in the overwhelming list of options in the Play Store. Of course, there's nothing stopping you from loading these apps onto any other Android device, so take a gander even if you aren't packing an S6.
READ NOW: The best music player apps for the Galaxy S6!
Shuttle
For Android purists, Shuttle offers a clean, flat interface with a full-bodied music library access. A variety of home screen widgets and in-line headphone controls can manage playback. With a $1.75 premium upgrade, users can enjoy Chromecast support to get music onto a home audio system, tag editing, and lots of additional themes. Shuttle has a particularly neat Muzei extension available that changes your device's wallpaper to the album art of whatever's currently playing. By and large, Shuttle is one of the best-looking Android music players out there.
Download Shuttle in the Play Store (opens in new tab)
n7player
n7player puts a big focus on a finger-friendly interface. Users can navigate their music library with a series of pinches and long presses, with sharp, snappy transition animations between each screen. There are a bunch of different skins to pick from if you aren't digging the default look. A handful of resizeable home screen widgets and a lock screen are included, plus in-line playback control through your headphones.
n7player isn't all about looks, though. Support for AirPlay, Chromecast and other external devices is available through a separate plug-in. A 10-band equalizer with a variety of presets and auto volume normalization help you get the perfect sound. The free trial lasts for 7 days, after which you'll need to shell out $4.49.
Download n7player in the Play Store (opens in new tab)
doubleTwist
doubleTwist made a big name for itself for importing libraries seamlessly between platforms. Besides a well-loved desktop app, their Android client has quite a few unique features. On top of managing your home media library, you can also browse a streaming radio library, subscribe to podcasts, and manage videos. Playback controls are available via notification tray, lock screen, and in-line headphones.
The core app is free, but with an $8.99 upgrade, you can get AirSync to synchronize your library over Wi-Fi, control music on Apple TV, Sonos, or Xbox, subscribe to podcasts ad-free, download album art, and play with an equalizer. AirSync is also available on its own for $4.99. A few home screen widgets are available, with more available on the Play Store as separate downloads.
Download doubleTwist in the Play Store (opens in new tab)
Poweramp
Poweramp is a massively popular music player chock-full of features. Of course you get the usual library management and playback tools, including notification tray controls and album art lookup. With an extra plug-in download, you can easily look up song lyrics. Themes and skins are available if you want to make things a little more snazzy. Playback control is available through in-line microphone, a custom lock screen, or home screen widget. The equalizer includes commonly-used presets and plenty of custom control.
After two weeks, you'll need to upgrade the free trial version for $3.99.
Download Poweramp in the Play Store (opens in new tab)
Neutron Music Player
For what Neutron lacks in a flashy user interface, it makes up for in utility. A wide range of audio compatibility including FLAC, DSP, and 64-bit playback will be a godsend to audiophiles. You can tweak tempo and pitch if you're feeling creative, or stick with fine-tuning the equalizer. You can pull in audio from a variety of sources, like network devices and FTP, and output to your home system over UPnP or DLNA. Overall, Neutron packs a wallop of features for anybody that takes their music seriously.
Following a five-day free trial, you'll need to upgrade to the full version for $5.99.
Download Neutron Music Player in the Play Store (opens in new tab)
Google Play Music
Of course Google Play Music is on the list. It comes loaded on the Galaxy S6 already, is lock-step with the core Lollipop design tenets, and can access any of your own cloud-stored music. There's a nice marriage between local music and premium service via Google's All Access $9.99 subscription option. Chromecast support is great for getting tunes onto the TV speaker system. There's an equalizer tucked away with all the knobs and dials you need to make your music sound great. Meanwhile, Instant Mixes can take your music and create an ongoing playlist that falls in line with a song or artist. Google Play Music is a safe bet for enjoying your music with a bare minimum of hassle.
Download Google Play Music in the Play Store (opens in new tab)
Your favorite music apps on the Samsung Galaxy S6?
There are plenty of other music apps out there, and new ones are coming out all the time. Hit us up in the comments with your latest favorite players.
Simon has been covering mobile since before the first iPhone came out. After producing news articles, podcasts, review videos, and everything in between, he's now helping industry partners get the word about their latest products. Get in touch with him at simon@futurenet.com.
"for the Galaxy s6" lol....... Posted via the Android Central App

OK that headline is a little.... Opportunistic. None as far as I know are exclusive to the s6. Yeah I know the bills need paid... Posted via the Android Central App

Lol its so true, it's hilarious how AC tries to hide advertising as informational topics/articles, if it wasn't for android-centric topics I'd think I was reading Engadget Posted via the Android Central App

Okay would you pay $10.00 a month for an Android Central subscription that way Android Central wouldn't have to rely on ad money? Posted via the Android Central App

This isn't a paid article, and we aren't hiding anything. The S6 is ridiculously popular. Punch in some search terms into Google Trends and you'll see something like this. All we're doing is providing stories for people looking for information. That's our job, right?

Ok. .so I am new to the android world. I've always been an apple girl for the simplicity of it. I was talked into the Samsung S6 because of all the amazing technological features (I am the least techie person ever! They had told me at the store that there was a free music app on here. He even told me he would load it on here. He said you could download "for free" any song you wanted and there was never a song he couldn't find. What app is this. I had 1000's of songs on my iPhone.

I found Poweramp to suit me best, it was the best one to find music on my SD card, something some of the others refused to do. Posted via the Android Central App

Same here, until some bug with the app wouldn't let me edit tags or delete songs. No way to fix it without some update, and looking at the FAQs in the app just crashes the stupid thing. On top of all that, it started to label properly tagged songs/albums as unknown. Been using Poweramp for years now, but i'm done.

If you use PowerAMP, you might want to read this regarding suspicious behavior: http://arxiv.org/pdf/1504.06093v2.pdf

The equaliser in Google play music looks nothing like the ones I see on my nexus 5 and 9. Why is it different from device to device? Posted via the Android Central App

Because that equalizer is the one that comes on the Galaxy S6. Posted via the Android Central App

What about Phonograph? Posted via the Android Central App

Used to use Poweramp a lot, but now I mainly stick with Shuttle+. The UI on Poweramp needs an overhaul to Material Design guidelines. With the exception of the settings menu, Poweramp has never really had a design update. It still looks the same as it did back in the gingerbread days.

They have a material design skin that looks pretty good. Posted via the Android Central App

Poweramp has all different skins including a lovely material design theme. dreaming of electric sheep

This comment also applies to Erik Johnson3: Yes, I know themes are available and that there's a material theme for it. Changing the theme is only a patch though. Even then, the themes aren't without their bugs and they don't tend to get updated often.

None of these do what I need a music player to do: allow me to listen to anything in my collection, anywhere. Try DSub on the phone/tablet, and run a Subsonic server at home. The music stored on the phone itself is just the last 4 Gb (configurable) listened to from the terabyte+ full collection. No fancy interface is going to trump that functionality.

Yes, yes these are words. Posted via the Android Central App

I think Samsung's music player has a some nice features, like playing music based on current mood. But, the audio quality is noticeably inferior to Poweramp. I love Poweramp, but it is getting long in the tooth. There are many features I would like to see, and development seems to be going almost nowhere. I might give Shuttle a try.

Or you could use the Samsung Music Player app that comes with the device.

Use this app for music I download onto my phone and like it so far.

Neutron FTW or any Android phone will make your music better. Been using for 3+ years now. Posted via the Android Central App

GoneMAD Music player. Best Android music app EVER! Tons of customization. Different themes including Material and Holo. Chromecast integration. Only thing missing is the ability to edit tags on music stored on SD card without root.

No mention of Rocket Player or Jet Audio? Are those obsolete already?

I use Google Play Music because I'm subscribed to All Access. Plus Material design is a bonus. Posted via the Android Central App

ROCKET PLAYER FOR LIFE ! I've used ton of other music players for my GS4 but they could never pick up my music on my sd card or even on the phone storage sometimes. Chris and Justin (Devs) are also wonderful at support. - Kira

Second that Posted via the Android Central App

I'll third that for Rocket Player. I went through several players including the Goog, but RP has suited my needs the best.

google play music is a zero ..if you use multiple devices and try to deactivate more then 4 a year. "sorry, you've deauthorized too many devices"

I thought they removed that. I remember when unlimited deauthorization was removed and limited but then was it not removed recently and recently by months ago last time I heard. Posted via the Sailfish iMore app

Not sure why this even references a specific phone. I almost didn't read it because of the title. Posted via the Android Central App

I'm surprised there was no mention of playerpro but I'll admit the last major update was kind of a step back in terms of functionality but still I've been using that player for like 5 years now and I've had very little problems with it. Shuttle looks pretty nice though. Posted via the Android Central App

Power Amp and Neutron Posted via the Android Central App

You guys are pushing the s6 hard. Enough already, the G4 would be my choice if I bought today. I played with my bosses s6, didn't come away impressed Posted via...The One

Android Central is talking/reporting about the S6 because the S6 is one of the current and more popular flagships that's recently been released. ALSO lots of newcomers come to Android Central looking for options and ideas. Posted via the Android Central App

That's comedic. They do about one of these "how to" s6 stories a day, now I know they do them with other phones, but nowhere near the frequency. And I've never seen a "best music player for LG G3" or moto x, or HTC or any phone. Sammy is loaded, they're probably paying more than other OEMs Posted via...The One

This isn't a paid post. If we ever do that sort of thing, it will be clearly labeled. acelucero75 is right. The S6 is insanely popular, and we're just meeting that demand.

BlackPlayer Ex - great interface, UI. Just outstanding.

Rocket player with isyncr to sync music on iTunes. Works a dream and chromecast support too Posted via the Android Central App

Just installed that. It's actually very good. It should've been on the list, it's smoother than the other 3rd party ones for me. Posted via the Android Central App

Is it normal for Google Play Music to always be running in the background? Posted via the Android Central App

Yes it is. I think it has something to do with it being part of the other Google services, and probably programmed that way for "readiness". Personally, I have either "frozen" or completely uninstalled any Google services/apps I'm not using.

Thanks. Posted via the Android Central App

Rocket Player! It's the main reason why I use an Android phone. Best music app by far!

Are those the Skullcandy Aviators in the background behind the GS6? ..yeah Posted via the Android Central App

This is a dumb article.... Best android music players? Posted via the Android Central App

Umm...I guess I'm not picky about these sorts of things cause I just use AmazonMp3 app as my primary music player. Posted via the Android Central App

Neutron, ZPlayer, or better yet root and viper4android with the stock app

Any of these support smart playlists based on regular playlists? Been looking for this to make my switch from apple complete...

Define "regular playlists". Playlists are just files with specific extensions. I can't speak for all the top ranking music players, but I use Poweramp, and it supports pretty much anything you can throw at it.

When I was using my iPod, I had 3 playlists that were on there... A normal playlist with my favourite Albums
A normal playlist with my favourite Songs A Smart playlist with the following rules :
1. Playlist is Albums or Songs
2. Last played is not in the last 7 days I'm trying to get the same experience on Android... but so far, no joy...

Not sure about album-based playlists, but of course one can create/import song-based playlists. I've got a number of them, myself.

No Tidal? Bahahaha! Stupid celebs...

Milk! Posted via my Samsung Galaxy S6

Use Rocket on my Nexus 7 so I installed on my M7, only to discover I really like the built-in HTC player better; no equalizer tho so I installed Equalizer FX, too. I'm trying one called Omich Player on my Tribute.

PowerAmp can suck it. Had it for years now and the interface still looks exactly the same, unless you get a good skin for it (Material skin looks awesome.) Bugs go unfixed and it fails to identify songs easily.

Milk for the win ! Posted via Samsung Galaxy S6

I love AC, but I can also see I'm not the only one who notices this sort of dumbed-down approach to article naming. Unless Samsung wrote the app, it isn't specific to their phones. In fact, every major player in terms of audio players for Android is compatible with all devices running version x.x.x and above. Kind of annoying that the topic isn't simply "The best music player apps for Android". Poweramp Pro FTW!

I use the stock one. Have tried the N7 one, but still prefer the stock one. It's full of features..auto off, equalizer, smart volume, etc. But I'll give a couple of these a try. The ones with sync prowess seem fairly interesting to me. Posted via the Android Central App

Google play music wins in every way for me. 1) It saves tons of storage space since the S6 doesn't include a micro-sd slot. Just storage the music in the Music Manager cloud and pin music or playlist on your device you listen to frequently. Also, pinned music is about 2 to 4 times smaller then other physical formats. 2) Multi-device usage is gold. No iTunes for me and my old iPad2.

Jetaudio plus Posted via the Android Central App

+'infinitiy' for Neutron! I use it on a different platform but it's easily the best paid app ever, and for those not on Neutron yet: fully charge your phone, put it in airplane mode, normalize your music library, and enjoy your music once its finished. The time spent normalizing depends on the size of your library. *Google Play Music is good too but not audiophile great.

Stop with the "For the S6" titles. Click. Bait. These are not device specific apps.

I just want to know what the best music app is for the S6. I pay for an app called radio. It doesn't offer all of the music I want but I can download music to my phone as often as I want and it is convenient when running or bicycling as it doesn't eat into my data plan. When I upgraded to the S6 it stopped working. I tried dumping it and reinstalling it multiple times and it starts to load and stopped at a screens hot of the logo.
So I wonder, what is the best music app for the S6. All apps I see want money and I don't want to pay for another one if it isn't going to work. Posted via the Android Central App

I just got my edge and I downloaded a song off of my mixtapes but I don't know where it saved to. also, on my htc I was able to choose which part of the song I wanted to use as my ringtone, is this feature still available? if anyone knows please fill me in Thanks

Well, i am using google play music just to put a lot of my favorite albums from various artists including linkin park, eminem, offspring, etc.. I have my play music activated now 3 months ago using my grandma's credit card (activated in september 2015). I have now 500 songs in my library and i've also tried all access subscription (tried this subscription from october) as a trial for 2 months. my brother has his play music activated in 2013 and he now has aprox. 3500 songs. Best music app ever !!
Android Central Newsletter
Get the best of Android Central in in your inbox, every day!
Thank you for signing up to Android Central. You will receive a verification email shortly.
There was a problem. Please refresh the page and try again.