The best music apps for the Samsung Galaxy S6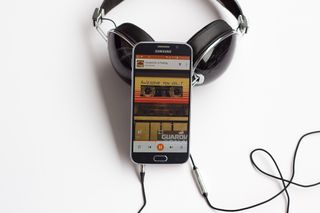 There are a few obvious choices when you want to listen to music on your brand new Galaxy S6, like the bundled Google Play Music, or Samsung's own Milk Music. Then there are popular streaming options like Rdio or Spotify for those that are willing to fork over a subscription fee, and free alternatives like Songza if you can deal with ads.
What else is out there for folks that like to maintain a local music library? We're here to help find you something in the overwhelming list of options in the Play Store. Of course, there's nothing stopping you from loading these apps onto any other Android device, so take a gander even if you aren't packing an S6.
READ NOW: The best music player apps for the Galaxy S6!
Shuttle
Why you can trust Android Central Our expert reviewers spend hours testing and comparing products and services so you can choose the best for you. Find out more about how we test.
For Android purists, Shuttle offers a clean, flat interface with a full-bodied music library access. A variety of home screen widgets and in-line headphone controls can manage playback. With a $1.75 premium upgrade, users can enjoy Chromecast support to get music onto a home audio system, tag editing, and lots of additional themes. Shuttle has a particularly neat Muzei extension available that changes your device's wallpaper to the album art of whatever's currently playing. By and large, Shuttle is one of the best-looking Android music players out there.
Download Shuttle in the Play Store
n7player
n7player puts a big focus on a finger-friendly interface. Users can navigate their music library with a series of pinches and long presses, with sharp, snappy transition animations between each screen. There are a bunch of different skins to pick from if you aren't digging the default look. A handful of resizeable home screen widgets and a lock screen are included, plus in-line playback control through your headphones.
n7player isn't all about looks, though. Support for AirPlay, Chromecast and other external devices is available through a separate plug-in. A 10-band equalizer with a variety of presets and auto volume normalization help you get the perfect sound. The free trial lasts for 7 days, after which you'll need to shell out $4.49.
Download n7player in the Play Store
doubleTwist
doubleTwist made a big name for itself for importing libraries seamlessly between platforms. Besides a well-loved desktop app, their Android client has quite a few unique features. On top of managing your home media library, you can also browse a streaming radio library, subscribe to podcasts, and manage videos. Playback controls are available via notification tray, lock screen, and in-line headphones.
The core app is free, but with an $8.99 upgrade, you can get AirSync to synchronize your library over Wi-Fi, control music on Apple TV, Sonos, or Xbox, subscribe to podcasts ad-free, download album art, and play with an equalizer. AirSync is also available on its own for $4.99. A few home screen widgets are available, with more available on the Play Store as separate downloads.
Download doubleTwist in the Play Store
Poweramp
Poweramp is a massively popular music player chock-full of features. Of course you get the usual library management and playback tools, including notification tray controls and album art lookup. With an extra plug-in download, you can easily look up song lyrics. Themes and skins are available if you want to make things a little more snazzy. Playback control is available through in-line microphone, a custom lock screen, or home screen widget. The equalizer includes commonly-used presets and plenty of custom control.
After two weeks, you'll need to upgrade the free trial version for $3.99.
Download Poweramp in the Play Store
Neutron Music Player
For what Neutron lacks in a flashy user interface, it makes up for in utility. A wide range of audio compatibility including FLAC, DSP, and 64-bit playback will be a godsend to audiophiles. You can tweak tempo and pitch if you're feeling creative, or stick with fine-tuning the equalizer. You can pull in audio from a variety of sources, like network devices and FTP, and output to your home system over UPnP or DLNA. Overall, Neutron packs a wallop of features for anybody that takes their music seriously.
Following a five-day free trial, you'll need to upgrade to the full version for $5.99.
Download Neutron Music Player in the Play Store
Google Play Music
Of course Google Play Music is on the list. It comes loaded on the Galaxy S6 already, is lock-step with the core Lollipop design tenets, and can access any of your own cloud-stored music. There's a nice marriage between local music and premium service via Google's All Access $9.99 subscription option. Chromecast support is great for getting tunes onto the TV speaker system. There's an equalizer tucked away with all the knobs and dials you need to make your music sound great. Meanwhile, Instant Mixes can take your music and create an ongoing playlist that falls in line with a song or artist. Google Play Music is a safe bet for enjoying your music with a bare minimum of hassle.
Download Google Play Music in the Play Store
Your favorite music apps on the Samsung Galaxy S6?
There are plenty of other music apps out there, and new ones are coming out all the time. Hit us up in the comments with your latest favorite players.
Get the Android Central Newsletter
Instant access to breaking news, the hottest reviews, great deals and helpful tips.
Simon has been covering mobile since before the first iPhone came out. After producing news articles, podcasts, review videos, and everything in between, he's now helping industry partners get the word about their latest products. Get in touch with him at simon@futurenet.com.