Best Gamepad for Oculus Go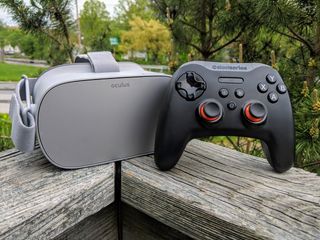 Whether you're looking for the best headset or the best gamepad for your headset, we've tried just about everything and we know just what to look for when improving our VR experience. If you're looking for the most comfortable and affordable gamepads to use with your Oculus Go we've found the best options.
The SteelSeries Stratus XL is the perfect gamepad to use with your Oculus Go. It's comfortable and extremely familiar in style. If you're looking for a little more control when it comes to your virtual reality (VR) gaming then you want this gamepad!
Why use a gamepad with your Oculus Go?
Why you can trust Android Central Our expert reviewers spend hours testing and comparing products and services so you can choose the best for you. Find out more about how we test.
Some horror games like Doors of Silence have gamepad compatibility options you might want to take advantage of, and there are other games where normal Oculus controls straight up don't work. In cases like that, it's nice to have a gamepad on hand for you to substitute with so you can still play your favorite titles.
While the Oculus Go comes with its own remote there are plenty of VR games you play on this headset that require or are enhanced by a good ol' fashioned gamepad. Minecraft is a perfect example. It's just not as enjoyable to play Minecraft with a motion controller. This is why Oculus supports games and gamers who prefer this gameplay mechanic.
Make all forms of mobile gaming more comfortable
The folks at SteelSeries have a long history of quality controllers for mobile platforms and the Stratus XL kicks that up a notch. It pairs instantly to your phone and works with dozens of Oculus games right out of the box. Stratus XL is an all-around quality gamepad with a layout that is easy to remember when your eyes are in VR.
Three things matter the most when it comes to a VR-friendly gamepad — comfort, battery life, and durability — and SteelSeries has checked all three boxes with the Stratus XL. This is an Xbox-esque gamepad that looks and feels familiar with a button layout you will quickly become comfortable with despite not being able to look down at it while in VR. This gamepad will easily survive the occasional drop when you are spooked in VR thanks to its rugged plastic design. The use of standard thumbsticks means the chances of breaking them on a drop is unlikely.
On average, this controller will get you through 40 hours of constant use. The only way you're changing the batteries in this controller once a week is if you are really and truly invested in games like Minecraft, and we applaud you. If you do run out of power in the middle of a game, a pair of AA batteries will have you back up and running in no time.
Alternatives to the SteelSeries Stratus XL
You want to make sure you're choosing the best option for you, and great as the SteelSeries Stratus Xl is, it's not for everyone. These are the best alternative options for you to find what fits your budget and priorities.
Moga Hero Power
Compatible with Android devices
Compatible with Windows 7 and up
Comfortable and familiar
Bluetooth adapter sold separately
Uses batteries instead of being rechargable
Having an Xbox-style gamepad is great for familiarity, but the Oculus Go is a portable virtual reality platform. It makes sense that you'd want the gamepad to be equally as portable. The Moga Hero Power stows in a bag easily and doesn't take up a ton of space. It also features buttons and joysticks that are nearly flush with the casing and shorter palm grips that flow in line with the rest of the body. This gamepad also doubles as a more traditional phone gamepad with its foldable phone clip! That means when you're not using it for your Oculus Go you can still use it with your phone for mobile games.
IPEGA makes a bunch of gamepads for tablets and phones alike, but this smaller controller is perfect to use with the Oculus Go. The battery is rated for 10 hours of gameplay, and the auto-off feature ensures you'll only be using power when you're actually playing. If you want a better Oculus Go gameplay experience without spending a ton, the IPEGA has you covered.
Bottom line
If you're looking for console-class gaming on your Oculus Go, SteelSeries Stratus XL is where you want to spend your money. 40 hours of gameplay is quite a feat when it comes to playing your favorite games in VR. No one wants to change a battery in the middle of gameplay and the Stratus XL reduces the need to. It's comfortable, affordable, and familiar, and since it feels like an Xbox controller you'll have no problem adjusting to its style. You can even use it with your Android devices, and that makes it a very useful controller to have in your home.
Credits — The team that worked on this guide
Essa Kidwell is an expert in all things VR and mobile devices who can always be found with an Oculus Go around their neck. Outside of creating stories for Dystopia Rising, they're always taking apart their tech and finding new ways to have fun on their Pixel 2! Find them on Twitter @OriginalSluggo.
Russell Holly Russell is a Contributing Editor at Android Central. He's a former server admin who has been using Android since the HTC G1, and quite literally wrote the book on Android tablets. You can usually find him chasing the next tech trend, much to the pain of his wallet. Find him on Twitter.
Get the Android Central Newsletter
Instant access to breaking news, the hottest reviews, great deals and helpful tips.