Best Samsung Galaxy Note 8 Deals for June 2018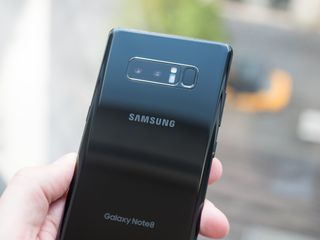 Samsung's Galaxy S9 is here, and while there's a lot of hype and excitement surrounding the very latest that Samsung has to offer, that doesn't necessarily mean it's the phone for you.
The Galaxy Note 8 is Samsung's other main flagship that came out last October, and just like the Galaxy S9, the Note 8 has a gorgeous Infinity Display, fast processing power, and dual rear cameras. Add all that together with its iconic S Pen, and you end up with a phone that might serve you better than the Galaxy S9 ever could.
You can find a lot of deals on the Note 8 to help make its intimidating price tag much more reasonable, and these are our favorites.
Buy a Note 8 at T-Mobile, get another one free
Being able to get two phones for the price of one is always something we can get behind, and whether you're a new or existing T-Mobile customer, that's exactly what the Un-Carrier is offering.
To get this deal, you'll first need to buy two Note 8s on monthly installment plans. Once you receive the phones, you'll call T-Mobile, transfer your number, and then trade in an eligible device. Once your trade-in has been received, you'll fill out an online form and then get a prepaid MasterCard within 6-8 weeks for $750 (the cost of one of one Note 8).
See at T-Mobile (opens in new tab)
Save up to $396 with activation on Sprint at Best Buy
Best Buy is one of the most popular places to shop for new phones, and if you're a Sprint customer, the retailer is cutting the Note 8's price by as much as $396 when leased on a Sprint Flex plan.
As long as you activate the Note 8 on a new line of service, you'll pay just $18/month for the phone instead of the regular $40/month. You'll need to upgrade the Note 8 after 18 months since you're just leasing the device, but if you want to own it, you can still save $250 by paying $29.58/month for 24 months (normally $40/month).
See at Best Buy (opens in new tab)
Get a Galaxy S8 for free when buying the Note 8 on AT&T
If you're an AT&T customer and want to get the Note 8, you can score a free Galaxy S8 when activating both devices on an AT&T Next plan.
The Galaxy S8 will be made free thanks to monthly bill credits, meaning you'll end up paying $31.76/month to get your hands on a brand-new Galaxy Note 8 and S8. In our eyes, that's not a bad deal at all.
See at AT&T (opens in new tab)
Buy a Note 8 and get the Gear S3 for just $99
As if a free phone wasn't enough, AT&T is also offering Note 8 buyers the chance to get the Gear S3 Frontier or Classic for just $99.99 when activated on a 2-year agreement.
The Gear S3 is Samsung's most powerful smartwatch to date, and it comes with a full fitness-tracking suite, the ability to make payments via NFC and MST, built-in GPS, and an LTE radio so you can stay connected even when you venture away from your Note 8.
See at AT&T (opens in new tab)
Your Favorite Deals?
Do you have any favorite Galaxy Note 8 deals that aren't listed here? If so, be sure to drop them in the comments along with a quick line about why you like the deal!
Joe Maring was a Senior Editor for Android Central between 2017 and 2021. You can reach him on Twitter at @JoeMaring1.
Mine are on their way... they could be in my mailbox right now. Got a great price on the phone and the free gifts make it a hell of a deal.

I need to check and see if my goodies shipped yet.

I might be in the minority, but if they reduce the price of the phone and exclude the freebies, that would make the phone affordable for a lot more people and put it within reach of many. Those who need those accessories, can pay for them.

But that doesn't further Samsung's initiative of getting its accessories out there. It's to create a perception of value without having to take as big of a hit as it would by actually reducing the price of the phone. Also means that it can just end the deal a few weeks in and not have to fluctuate the MSRP of the phone to compensate.

Not sure where your at but most got a discount on there note 8 already, with 300 to 425 off . Apple will sell you a fast charger for $90 , that's what you get from the fruit company if you buy the new 7s

Meanwhile, all I have is the phone itself.

Lol. Except the goodies are always better a month later...#whyimwaiting

I would have liked netflix or HBO for an year than the goodies...but hey, free is free..:)

Download mobdro.com now you will have free HBO and cable channels with Samsung gifts. Make sure you uncheck unknown sources.

I will wait awhile for the inevitable discounted price of the device in 3-6 months.

Are go on ebay buy a s5 for $80 get $300 off plus $200 worth of freebies . An enjoy the best phone of 2017 for 6 months..just saying

Exactly. I've had my S7 for less than a year and I'm already underwater on my payment plan (cheaper to buy outright on Amazon than it would be to pay off AT&T). Like with cars, never again will I buy brand new or at first, full original retail.

I used to think this but then I realized that pre-order offers usually result in lower pricing than pricing in the 3-6 month range. The worst time to buy is 1-3 months after release (highest pricing and few deals) and 9-12 months after release (newer better release about to drop). Pre-order offers can knock as much as half off + freebies and mid-cycle deals can be found on like new devices and sometimes new as well but they are not as plentiful plus you have to wait to get the newest tech. Overall, those who pre-order usually end up with the best deal dollar for dollar when taking advantage of the slew of offers and discounted pricing.

I am highly suspect that there will not be some really good incentives thrown out over the holidays though. I bet the sales on the S8 and S8+ will be pretty good.

There will be an the s8 is a excellent choice

Probably especially since the S9 is expected to release even as early as January 2019.

I love this deal. I got a great phone (eat your heart out iPhone X) fast charger, and the 128 GB card, plus I got the $425 off as a former Note 7 owner. I'm tickled. I love this phone.

Dont you just love the fact that you don't have to pay $90 For a fast charger on top of the freebies

I got three N8's and already got my 360 camera. Waiting for my two fast wireless chargers and SD cards now. Thank you Samsung!

Ikr an i actually got a 256 memory card plus the nice wireless charger

How did you get the 256 GB card? Sweet.

You know I'm not sure was supposed to get the 128 but they sent the 256 I'm not complaining

I traded in my S8+ at T Mobile and they gave me $425, same as Samsung offered for previous Note 7 owners. No freebies, but that's fine with me.

You still get the freebies from Samsung.

Yea all you have to do is download Shop Samsung App from playstore, register, update info and take a pic of receipt of purchase and you're done.

I already owned both a wireless charger and a 128 GB SD card. So, I got the 360 camera.

What's your opinion on the camera?

Why does Samsung make us act fast and then make us wait until January for Oreo? Can't they develop their version as Google is making it? My next phone is going to be a Google phone!

Why in earth would they do that? With all the potential issues a build has, What a waste of time!

To let everyone have it at the same time rather than the disaster known as fragmentation!

I don't think you understand what he's getting at. The initial builds of a new OS (even those released to the general public). The skinned versions are typically based upon the x.0.1 release of the new OS with more bugs patched.

Picked ours up on the 15th and did the promo in the parking lot before we left, haven't gotten notification of anything shipping yet.

That's the way to do it. Announce the discontinuation of deals now and cut them off a week before the Pixel launch. Create a sense of urgency for those who were holding out. Rest assured folks, there will be more Note 8 deals the week of the Pixel street date.

Yep cause samsung is so worried about the sells of the pixel......Not . Note 7 sold more then the pixel an we know what happened to it . Fyi the deals have been available for over a month an a half . Which was stated at the time the promo started

I didn't mean to imply that Samsung was worried one bit. However, I think its a perfect time to stop the launch promo, then introduce another one when the competing devices come out. FYI, the Pixel and Pixel XL2, Iphone X and V30 all launch in the month of October. Samsung will do whatever it can to keep the Note 8 in the headlines and keep sales strong. I wouldn't be surprised to see another deal offered up in mid to late October (and maybe even another color). It's not about Samsung being worried about competition. They're in a league of their own. However, they won't be content with it being the best selling Note ever, they want to dominate all sales regardless of what other devices are released.

Old g, you got that right! Samsung had nothing to worry about with the release of the gPhone (that's what it might as well be since it's basically an iPhone, no expandable memory or headphone jack). But like I said to someone else, the Pixel might be a good entry level phone, would probably be popular with the teenie-boppers.

Well fwiw the end date for these pre-order deals was announced back when the phone was, about a month ago. Samsung didn't know when the Pixel event was going to be ;)

Glad you pointed that out

The Pixel is junk! It's a Google iPhone, or should it be a 'gPhone'...no expandable memory, no headphone jack, and a display that is having problems. I guess it might be ok for an entry level phone. It's certainly nothing to brag about!

And Samsung has NOTHING to worry about as far as sales, trust me.

My goodies have shipped. As far as discounts, it won't be that long... Likely once the iPhone X is available. The Pixel is absolutely not competition for the Note 8. Here in Canada the Samsung Galaxy S8 can be had on a two year contract for $0, the Galaxy S8+ $99 on a two year contract. So for all the whining about the cost of the Note 8... Unless you just woke up from a coma, the latest and greatest tech always costs a small fortune, then is discounted over time.

Once we get to Black Friday, you can pick up a Note 8 for a price low enough that you can buy five wireless chargers and five sd cards.

Paid 525 for my beast phone an i don't have to wait 6 month to enjoy it

Come back here on Black Friday and show us a deal better than the currwnt deals like the BOGO deal or the $425 off deal which also pair with the free camera or free sd card/wireless charger and I'll ship you a free wireless charger.

Ikr there's zero chance of a Xmas deal on a note 8 for $526 ...Not happening

Got my phone this week but still do not have my gear 360. Just says preorder. must have run out. Hopefully it will ship soon.

I paid Verizon $480 for my Note 8 by trading in my paid off used S7Edge. I wasn't a previous Note 7 owner. I received my Note 8 on 9/5 and got my Samsung 360 camera on 9/15. I'm loving this device and I'm happy with the deal I got.

Trying to decide whether to leave Verizon for T-Mobile and it's BOGO deal. We would be replacing a Note 3 and Note 5. It seems like a good move, but we just haven't made the jump yet. It always seems like a better deal will be out there.

Your not gonna get a better deal then Verizon there giving a crazy trade in an all the free stuff . Something like 400 over for your old note 3 .

Would have bought the Note 8 but hurricane Harvey screwed that up. Repair flood damage cars or get new phones. The cars won. Have not been happy with s7Edge since the N7 issue. We may just wait for the N9.

Yeah, fed ex says they delivered mine 10 days ago. I never got an email that they were shipped, and would not have known except I checked on the day they told me it was going to ship, the 25.

I pre-ordered it from Sprint at half price, along with the free microSD card and fast wireless charger. I don't think that promotion is available today, though.

Republishing old post from the past ... WTH AC

They re-publish no longer relevant articles from months ago with no new information multiple times a week. Must be click bait. Pathetic.

My SD card and charger show that it was delivered and signed for by me 3 different days last week (Mon, Tues, Wed). I called the carrier Wednesday and she said, "I have good news, it was delivered today at 12:20 and signed for by me."
I proceeded to tell her that it had not been delivered and she created a case number and told me someone would contact me and I have not heard from anyone. I'm sure the next step will be to call Samsung and that will probably go nowhere where either. Very frustrating to say the least!

My items were supposedly delivered about 3 weeks ago. FedEx claimed they delivered to my porch. No way! Someone is always home and I have a huge dog that would have alerted. Opened a case with FedEx which was a waste of time. Called Samsung 2 weeks ago and finally got an email indicating my submission was accepted. Souls have my promo items in another 4 to 6 weeks.

I got the best deal as a ex note 7 owner . But m ost of the carrier have good trade in deals . Plus right now take $200 off at Best buy ,target will give you a $200 ecard . But I'd stay far away from Craigslist an swappa . Ebay is the better an safer bet

Some people are ridiculous...if you really WANT the Note 8, but it! Why wait for 6 months, just to learn (if you don't know already) that the Note 9 is coming in 6 months. Verizon will let me trade this Note 8 for the 9 in 12 months, and since I pre-ordered his, I'll be right at the year mark and will have the Note 9. I really don't see waiting for something you really want, just to save some money. Getting a deal is great, but not worth the wait. Deal of no deal, I want what I want when I want it. You'll regret waiting.

Those deals are awful. The Samsung one requires you to trade in a fairly RECENT PHONE.. and all those so-called discounts are NOT VALID if you want to pay for your phone in one lump sum.

i did the best buy deal which is best. you don't have to turn in a phone and get the $250 off

My favorite (deal/curse) was paying $636 to (have/get stuck with) the note 8 for 24months Because I traded a v20 with screen ghosting for $240 off. I think I got suckered a bit by Verizon, but here's to the Note 10 in 2019!

Looking for root Samsung Galaxy Note 8 device?

Want to root your Samsung Galaxy Note 8 device with best and most secure rooting tool, then just try with SuperSU Pro. This rooting tool can be named as the best ever rooting tool right now. Over millions of users have been using this great tool for all kinds of rooting activities. Moreover this is the only rooting tool which gives the user more user facilities. Without any mess any user can use this rooting tool and download the latest version of SuperSU Pro free of charge via https://www.supersupro.co/
Android Central Newsletter
Get the best of Android Central in in your inbox, every day!
Thank you for signing up to Android Central. You will receive a verification email shortly.
There was a problem. Please refresh the page and try again.