Best Fantasy Football apps on Android for 2021-22 season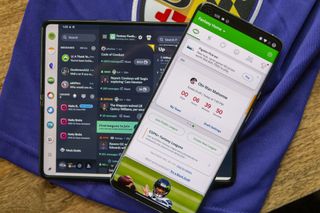 (Image credit: Andrew Myrick / Android Central)
The kickoff to the 2021 NFL season is rapidly approaching, and from office leagues to public leagues, we're sure there's a lot of you looking to get in on the fantasy action. We've gathered up our favorite Android apps to help you dominate this year's fantasy football draft (and hopefully, the season that follows it)! You'll find plenty of options here, each letting you drill down into player statistics, the latest news, and updates to your draft.
Note: These apps are for season-long fantasy football, not daily fantasy sites like FanDuel and Draft Kings.
These three apps should help take you to the championship
Why you can trust Android Central Our expert reviewers spend hours testing and comparing products and services so you can choose the best for you. Find out more about how we test.
It's no secret that there's a lot of luck and a little bit of skill involved in fantasy football. On the skill side, you can rely on all of the intuition you want, but when you find an app like Sleeper, you'll get all the information needed to make the right choices every week.
While you can use Sleeper to host your league, it's still a bit of an obscure app, and not everyone in the league will want to set up another account. The ESPN Fantasy Sports app makes it easy to get everyone up and running while providing in-depth analysis and weekly suggestions on what lineup changes to make.
Maybe you want to dive outside of the realm of normalcy on the quest to securing your first (or latest) championship belt. Fantasy Football League Dominator 2021 will import and sync all of your rosters, then will provide analysis based on your weekly matchups, along with who you should be targeting on the waiver wire.
1. Sleeper
The excitement level for Sleeper has only grown over the last couple of years since the application has seen new features added regularly. Seriously, the team over at Sleeper never sleeps and is always improving the application to make it the perfect fantasy sports companion.
You can import your current league from the likes of ESPN or Yahoo and bring them into Sleeper. Then, the unique chat functionality removes the need to try and get everyone in the league into another chat app. The developers have even recently made it possible to access league history as more and more leagues move away from other services.
The various sidebars give you more information about various games that are either coming up or currently taking place. You'll even receive notifications that make Sleeper the perfect companion for the best smartwatches, as your wrist will buzz as soon as news breaks. Best of all, the news feed aggregates traditional sports websites, along with Twitter posts from the most influential talking heads in the football world.
Simply the best
Don't sleep on this one
Sleeper has become the de-facto choice for fantasy football enthusiasts and hardcore players alike. The application offers up-to-the-minute notifications as soon as news breaks while including a great community.
2. ESPN Fantasy Sports
As someone who has been in fantasy football leagues for more than 10 years, ESPN Fantasy Sports is still the app used mostly for the leagues. However, everyone knows about ESPN's fantasy prowess, and despite hiccups on draft day, the app is largely reliable.
You can easily manage your lineups, and there's IBM Watson integration to help make those game-day decisions about who to start. For example, make sure you're playing the guy with the juicy defensive matchup over the guy facing a top-three defense that week. You also get access to a myriad of fantasy football content daily, so you're always informed about matchups, potential diamonds in the rough, and much more.
The ESPN Fantasy Sports app may not look the prettiest and is still somewhat barren on the social aspect, but it is the de-facto choice for many fantasy football commissioners. We just hope that ESPN brings in a new wave of aesthetic updates in the future to breathe some life into a stale application.
Nothing super fancy
Gets the job done
ESPN's Fantasy Sports app leverages the network's extensive news teams to provide real-time alerts of trades, injuries, and scores for your favorite teams. You can also check in on live auctions and gut-wrenching snake drafts, in addition to participating in mock and live drafts.
3. Fantasy Football League Dominator 2021
Speaking of apps that are not overly beautiful or extravagant on the surface, there's Fantasy Football League Dominator 2021 from Footballguys. However, it's still an app you should check out. Importing your various lineups is extremely easy, and it works with all of the most popular fantasy football services like ESPN, Yahoo, CBS, and more. Your rosters will sync even as you make changes, so you can always head back into the app and see what the analysts say about your players.
In addition to providing a news feed from the biggest news sources in the business, Footballguys has a staff of more than 60 fantasy football enthusiasts just like you to provide unique takes. Plus, if you're playing in a league with obscure rules, FFL Dominator 2021 can be tweaked to match the correct settings for your leagues.
Get suggestions on who to start, who to drop, or who you should trade to bolster your roster. Daily injury alerts ensure that your lineup is ready to go at kickoff, and there's even statistical analysis to project how many points your top guy could score that week.
Dominate your league
Fantasy Football League Dominator 2021
Unique analysis could make the difference
FFL Dominator 2021 might not be pretty, but it's well worth your time. Import your lineups and settings, then get some of the best analysis and suggestions on how to get ready for Sunday.
The rest of the best fantasy football apps for Android
It's tough to choose only three apps that can make or break your run to the title. Actually, it's impossible, as some apps fit the needs of some more than others. If our top three picks aren't what you're looking for, we've rounded up some other great fantasy football apps.
Fantasy Football Draft Kit 2021 - UDK
For many, Draft Day is like Christmas in August, but it's extremely important to make sure you know who you're going to draft based on your position. The Fantasy Football Draft Kit gives you the most accurate positional rankings, along with tier-based rankings, to determine who you should be looking at in the later rounds.
The team at The Fantasy Footballers has put together profile videos for more than 100 different players. This gives you a unique take on what players will be on the board while you try and figure out who to take. Sleepers and Busts provide you with the most up-to-date info about that diamond in the rough and those who you should completely avoid.
Draft like a pro
Fantasy Football Draft Kit 2021 - UDK
Make the right picks
Fantasy Football Draft 2020 - UDK has everything you need to prepare for the draft, with custom rankings, a personalized Draft Board, and so much more. There are breaking news notifications every day leading up to the big day, so you know everything you need to know before entering the War Room.
Yahoo Fantasy
When it comes to all-in-one fantasy sports apps, Yahoo Fantasy leads the pack. The app combines all of your favorite fantasy sports into one app, including fantasy football. From here, you can manage your team throughout the week, leading up to game day.
After each week has been completed, you can read a generated recap showing a breakdown of how the matchup went with highlights and low-lights. There are even a few extra goodies thrown in if you win (enjoy the confetti), but there's also the analysis from Yahoo's Fantasy Sports writers as news breaks.
All-in-one
For all of your fantasy sports leagues
Yahoo Fantasy includes fantasy leagues for more than just the NFL; you can get in on MLB, NBA, and NHL, too. Before the league starts towards the end of the month, you can work on mock drafts, check in on player news and score updates, and see what the experts are saying about the latest progress.
NFL Fantasy Football
It should come as no surprise that the NFL has its own fantasy football app. It's been around for years and offers much more than your traditional regurgitated news headlines. Thanks to the NFL's access, you can view content that isn't available anywhere else.
Is your current matchup coming down to the wire on Monday night? Watch the game live from the NFL Fantasy Football app and keep track of your scores simultaneously. You'll even get access to features like Next Gen Stats, which you won't find elsewhere. It helps you to determine who's the smart start and who should ride the bench.
From the source
NFL's apps are better than you think
The official NFL Fantasy Football app features live and mock drafts, live scoring, in-game video highlights, the ability to join and create leagues and quickly choose and tweak your weekly lineup. There is a lot of timely player news available and expert analysis to help you in your game.
Fantasy Football Calculator
Take all the tools you need to get ready for the draft, think about things you didn't think you would need for the fantasy season, and throw them into a single app. Fantasy Football Calculator is a newcomer to the list, as it offers the "kitchen sink" approach for your season. Not only can you perform a myriad of mock drafts, but you can also use it to scout your potential draft picks, along with your favorite players.
You can even go through the draft and then run a series of simulations to help you figure out what moves you might need to make to win the 'ship. And once draft day hits, use Fantasy Football Calculator as your digital draft board, so you don't miss a pick and have a clear overview of how your team is shaping up.
From start to finish
Fantasy Football Calculator
More tools than you can believe
Get some mock drafts out of the way, figure out who you want to pick, come out of draft day on top, and dominate your league, all with the help of Fantasy Football Calculator.
Twitter
Twitter is actually an invaluable tool for those who need to keep up on the latest news and updates, and it goes far beyond just being one of the best Android apps. Following certain analysts and enabling notifications will provide you with the news on that player's status as soon as it happens.
We recommend building a list of your favorite fantasy football analysts and personalities so you are always in the know. And maybe you can convince your commissioner to create a league Twitter account to have some fun as the season progresses.
Fastest updates
Make sure you know when they know
Twitter is the tool you should use for getting news before it breaks. Following the right people and enabling notifications could make a huge difference.
theScore
Okay, so you already have the apps you need to manage your league, but what about getting the latest news headlines about the players on your team? That's where theScore comes in. You can personalize news and notifications based on the players and not just your favorite team as a whole.
Then, you can keep track of how the other games on the schedule are faring and keep an eye on everything else in the world of the NFL. News is aggregated from the most popular sources, including some from writers at theScore. It may not be as important as other apps on this list, but theScore does a great job creating a personalized news source for the players you care about.
Personalized news
News you didn't know you needed
At its core, theScore is a fantastic way to track your favorite sports and teams. But the fantasy owners will love the personalized news feed for players they care about and not teams as a whole.
Be an expert in 5 minutes
Get the latest news from Android Central, your trusted companion in the world of Android
Ara Wagoner was a staff writer at Android Central. She themes phones and pokes YouTube Music with a stick. When she's not writing about cases, Chromebooks, or customization, she's wandering around Walt Disney World. If you see her without headphones, RUN. You can follow her on Twitter at @arawagco.