The best DashClock Widget extensions we're using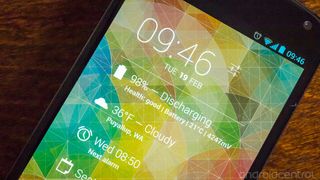 DashClock Widget is the newest fascination among users that have devices running Android 4.2, and one of the biggest reasons is the potential for customizations via extensions. The widget itself has a solid core set of functional extensions such as weather, calendar and Gmail, but the real fun begins when you start grabbing new extensions for other apps to plug into the widget.
Hang with us after the break and see a few of the best DashClock Widget extensions that we're using.
Plume for DashClock
If you're using Plume as your Twitter client of choice, then the separate DashClock Widget extension is a must-have. It's interesting that the developers have chosen to make a separate app rather than integrate it with the main one, but the functionality is the same nonetheless. If you happen to be more of a fan of Falcon Pro, they've integrated DashClock as well.
Download: Plume for DashClock (opens in new tab); Plume (opens in new tab)
DashClock Facebook extension
Just about the most self-explanatory extension possible. This one places the number of unread messages and unseen notifications in the DashClock Widget. You can connect the app to your Facebook account whether you've got the proper Facebook app installed or not -- a nice touch -- and set the refresh interval manually.
Download: DashClock Facebook Extension (opens in new tab)
Press (Google Reader)
Press is the Google Reader client of choice for many of us, especially as more improvements are made with each update. The latest update brought an integrated extension to DashClock, so you'll get it when you install the main Press app (think we prefer it this way), and it shows the number of unread articles there are waiting for you. There aren't any settings for the extension specifically, as you can manage the global refresh settings from the app itself.
Download: Press (opens in new tab) (Google Reader) (opens in new tab)
Battery Extension (DashClock)
This extension will show off your current battery charge percentage, health (if supported), temperature and voltage. When collapsed (or in a smaller widget) it will show just the percentage, and when expanded it will show detailed information. There is just one setting for the app, which lets it hide when the phone is charging. That's useful if you're using DashClock Widget on the lockscreen, because the lockscreen already shows battery percentage while charging.
Download: Battery Extension (DashClock) (opens in new tab)
DashClock Custom Extension
For all of the things you'd like to do but just aren't quite available as viable extensions just yet, there's DashClock Custom Extension. As the name implies, it lets you create custom extensions to do a whole bunch of things. You can create up to three custom extensions, each of which has a custom name, description and action associated with it. These can do many things, such as launch apps, trigger shortcuts, open a website, call a contact or edit a note.
Download: DashClock Custom Extension (opens in new tab)
This is obviously just the tip of the iceberg when it comes to DashClock Widget extensions, with more and more being added every day as the widget becomes more popular. You can find a few pages worth on Google Play (opens in new tab), and sound off in the comments if you happen to have found a favorite one.
Andrew was an Executive Editor, U.S. at Android Central between 2012 and 2020.
where might i acquire the background used in those photos?

http://www.behance.net/gallery/iPad-Retina-Wallpaper/3516257

Search for "Andy Gilmore wallpapers" and you'll find alot more like it. ;)

This evidently won't work on my HTC Evo 4G LTE... it makes me a Sad Panda!

Its Android 4.2 only because its meant for the lockscreen widget spot :( .

HTC has had its own lock screen widget where the user can choose 4 from 6 options. Many who are envious or complaining are just not aware of the several HTC lock screen "widget" options. Another simply brilliant HTC Sense feature available for nearly a year, I believe. Of course the notification bar handles practically everything.

Dude, you love HTC more than I love my own family. If they aren't paying you, I feel very sad for you.

AnyDash displays notifications from any App in DashClock
https://www.androidcentral.com/e?link=https2F2F...

Yeah, found that one last night, really sweet!
Only downer is with DashClock's current API Devs must determine the amount of Widgets per extension to a set # (can't be unlimited) & AnyDash Pro currently limits itself to 3...but if DashClock updates its API AnyDash will be the only Extension I'll need!

I set this up for FriendCaster Pro - it's useful for apps which don't yet support DashClock.

There's a Whatsapp one as well, can't wait for all this to be baked into apps. https://www.androidcentral.com/e?link=https2F2F...

Link is showing up as dead.

Is there a way to have the widget full screen on the lock screen like that all the time? Or must you manually expand it by swiping down before you can see all of the extensions? Thank you.

Not on stock AOSP, but I believe it's an option in some of the custom roms

This is my biggest annoyance with the lock screen widgets currently. Having to swipe down to get the full widget kind of defeats the purpose when I could just unlock my phone with a simple swipe as well.

Not on stock AOSP, but there's an option in CM 10.1 to have the lockscreen widgets expanded by default. The downside is it takes two actions to unlock (first clicking the lock at the bottom to minimize the widgets, then sliding to unlock as usual) but as has been said before having to expand the widget totally defeats its purpose, so I personally have the widgets maximized by default. Plus my muscle memory has already adjusted so it's really not that much more trouble to unlock the phone than it was before.

With DashClock having it expanded doesn't defeat the purpose since you get info from mulitple sources at once. You would have to unlok anbd chek each app normally. I really think DashClock is an amazing app that will only get better. Since it's made by a Google Tech it's possible it will be standard in Key Lime Pie,but maybe not. The beauty of ndroid is giving a fully functional basic experience that you ca then customize to your liking.

Thank you for your responses guys, I appreciate it.

Love the way DashClock is coming together, but still wish it would let me set my location for weather manually.

dont like how u have to pull it down to expand all the widgets. wish it was expanded to begin with but i know that would cause issues with the unlock area

Now we need a matching daydream. I like the idea of matching widgets on locks creek home screen and daydream.

Dashclock makes me want 4.2, I have not really cared about lockscreen widgets at all until dashclock. Really well done.

Yeah, I have been on 4.2.1 since it became available for the GNex, but you're right. Until now, I haven't used any lockscreen widgets. I also don't like the fact that your main widget isn't fully functional right away by default. You have to "slide" the widget down or else the default function is the unlock circle. You can get around this if your ROM lets you maximize your widget by default, which is what I prefer. It's only recently that we FINALLY got a GNow widget... I hope more devs jump onto this feature because it really is handy, but it's under-utilized right now.

Yes, same here. Wasn't interested in any of this stuff till dashclock appeared.

I have the Nexus 4 and I and I can not figure out how to get the extension to work, I don't have Twitter, not sure you need that app in order for it to work, But instructions for the Extension would be very helpful. I also have other Beautiful widgets made by levelup studio.

If you have Dashclock on your lockscreen and it is your main one (the one that shows up by default when you wake your phone), you need to "slide it down" by just swiping from the widget downwar. Then, you will see a settings toggle for the widget up by the clock. Click this and tap the area directly next to the check mark. Here, you can switch between appearance, advanced, and extensions. On this screen, click add another extension and add whatever ones you want. If you get extra extensions (such as for Plume or FB) you should be able to add them here as well.

Series guide beta also has support thats quite handy if you watch a lot of tv shows https://plus.google.com/u/0/112462818579768957964/posts/Njze8kjKzat

I've added an extension for it to my food app. :-D https://www.androidcentral.com/e?link=https2F2F...

if this was made by a google engineer, why isnt it just baked in to android?

DashClock Forex Extension:
https://www.androidcentral.com/e?link=https2F2F... DashClock Ticker Extension (Stocks)
https://www.androidcentral.com/e?link=https2F2F...

"There is just one setting for the app, which lets it hide when the phone is charging. That's useful if you're using DashClock Widget on the lockscreen, because the lockscreen already shows battery percentage while charging." Yet there is no way to hide the clock in the widget. Which is odd since the clock is already always showing both on the lockscreen and on the homescreen. I'm using the Battery extension, but it doesn't seem to update at all. Actually that seems to be a problem with DashClock itself because the whole thing only updates when I remove extensions and then put them back on.

You definitely should add AnyDash, which supports any App to show their Notifications as DashClock notifications. Play Store: https://www.androidcentral.com/e?link=https2F2F...

can i get a link to the wallpaper?

Looks like that particular facebook extension is gone. Any word?

I just released a new DashClock Music Extension that displays the currently playing song. It works for all the major music players and should definitely be added to this list. https://www.androidcentral.com/e?link=https2F2F...

WorldClock - https://www.androidcentral.com/e?link=https2F2F... Contacts - https://www.androidcentral.com/e?link=https2F2F...

Does anyone know how to make Dashclock big like on the screenshots above? On my phone Dashclock is squeezed into the upper half of the screen and all the text/notices are shrunk to the right of the clock. The bottom half of the screen is basically empty except for the unlock button. Thanks!! Rooted Nexus 4 Stock 4.2.2

I've just been reading about this myself. I think you need to be on CM10 to get the option to have widgets expanded by default. Otherwise, you need to drag the dashclock down in order to see it. That's an annoying extra step if you're not running CM10. I'm on a custom ROM based on CM10 so I'm going to request they add in that setting.

this dev. needs to get with the program and allow 4.1 users to use this also.
How annoying.

It's not a dev restriction. From what others are saying above, this app is simply not possible on 4.1
Android Central Newsletter
Get the best of Android Central in in your inbox, every day!
Thank you for signing up to Android Central. You will receive a verification email shortly.
There was a problem. Please refresh the page and try again.