5 great budgeting apps to keep your finances in the black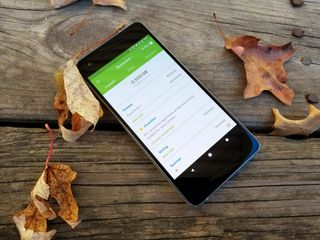 We're not sure that keeping a budget or balancing the books has ever really been an easy task. It's certainly gotten more difficult as technology has surged ahead, letting use cash more and more infrequently, while we spend more of our money in a digital marketplace. All is not lost though because there are plenty of great apps available on the Google Play Store that are made to help you stay in the green, and stick to your budget.
We've grabbed up five of the best budgeting apps out there, to make sure you stay on target!
Spendee
Why you can trust Android Central Our expert reviewers spend hours testing and comparing products and services so you can choose the best for you. Find out more about how we test.
Spendee is a bright, easy-to-use budgeting app, which is always important. It's already bad enough we have to spend time making sure we have enough money to pay the bills and enjoy ourselves, the least we should hope for is ease of use. The addition of bright colors, graphs to show spending habits, and customizable categories with matching icons is definitely a plus. You'll need to input everything manually here, but it as easy as tapping to add an item, picking a category, typing out the amount, and then saving your entry. You can choose to add tags, notes, and even a location tracker, but that's up to how detailed you want to be.
Spendee uses Material Design so it's really easy to navigate. Once you create and name your first wallet, you have access to a timeline, overview, and your budgets. If you rock the free version of this app you only get access to one wallet, but you can upgrade to Pro by paying monthly or yearly for access to more features. Your timeline will show where you spent or earned money, your overview gives you insights on your spending habits and cash flow, and your budget will show you how close to overspending you are and how much you can continue to burn through without breaking your bank.
Download: Spendee (Free with in-app purchases)
Mint
Mint is probably the most recognizable app on our list, and with good reason. It's powered by Intuit, the same company that owns Quicken, Turbo Tax, and Quick Books. This app is made to be your financial hub. It will link up with your bank accounts, and credit cards, and lets you enter in manual transactions as well. There is financial advice, the Mint life blog, and you can even link up your credit score through the app. This app is colorful, connected and really well done. If you've been looking for a financial hub, this might be the app for you.
The Mint app is broken into two basic pieces. Once you've loaded up the app, and added your bank accounts you'll have access to the Updates, and Overview pages. These serve as your main hub when using Mint. Updates will show your recent transactions, both those you've made on linked accounts and those you've manually put in. Keep in mind, that while your credit, or check card transactions are automatically updated in the app, you'll have to input every cash transaction manually. Under recent transactions you'll find uncategorized transactions—which you can edit so that they are in the proper category, followed by Advice, Recently used accounts, and then the Mint life blog.
Swiping or tapping to switch over to Overview will show you your finances in a variety of graphs. You'll see how much money is in each linked account, along with bar graphs for your budget and cash flow, your credit score and more financial advice, along with a chart filled with your spending habits each month. There is also a sidebar menu that allows you to look at any of these details in depth.
Download: Mint (Free with in-app purchases)
YNAB
YNAB is the acronym for one of the more popular budget buildings apps out there, You Need a Budget. It works off of a pretty simple premise: the best way to build a budget is to account for every last cent you have coming in. This way, there are no surprises midway through the month. It lets you add all sorts of expenses, connects with your accounts, and can even give you long-term readouts about your spending habits.
It's available to use via the app, but you can also login to the YNAB website to adjust things there if you prefer. It does require a subscription of about $80 a year but offers a free month-long trial to let you see it's the right fit for you. This app goes above and beyond letting you easily adjust how and where your money is spent, as well as helping you to watch as you pay down your various debts.
They give you access to plenty of resources if this is your first time trying to stick to a budget, with an emphasis on taking control of your finances to reach the goals you've set like saving up for a Vacation, or a new car.
Expense IQ Money Manager
If you like being able to see everything you have going on financially in one place, then Expense IQ Money Manager does a great job. It includes a budget, a transaction register, notifications about upcoming bills, and doesn't ever require you to connect your bank account to take advantage of these features.
Expense IQ gives you plenty of information, but it's intuitive to add and easy to read. With additional options to fund specific projects, and view reports of your spending habits. It also makes keeping up with bills easy, since you can enter them in along with how often they recur. Once you've entered your income and bills all you need to do is ensure that your transactions are up to date. You can enter them manually, or connect your bank account to keep an eye out.
While you don't get access to everything that Expense IQ offers with the free version, you can upgrade to the Premium version to get access to even more reports to give you peace of mind when budgeting towards your future.
Download: Expense IQ Money Manager (Free with in-app purchases)
EveryDollar: Budgeting
EveryDollar: Budgeting is another app that has you budget every last dollar you have coming in so that you know where every last penny is going off to. With the free version of the app, you'll have to input your bills and income manually, however you do have the ability to build a specific budget for each month.
This means you can adjust where your money goes during months when your expenses are a bit higher, without accidentally overdrafting your bank account or missing any bills in the process. You're able to input multiple lines of income, as well as adding in your debts so that nothing gets forgotten in the chaos of your busy life. While you can upgrade to the Pro version of the app and sync up with your bank account, that's the only perk of upgrading.
Download: EveryDollar: Budgeting(Free with in-app purchases)
Questions?
As you can see there are plenty of choices when it comes to which type of app you use to balance your budget. Whether you need to be able to export your budget for future use or just want an easy way to view your finances, there is definitely an app out there that can help you out. Which budget app looks like it's up your alley? Did we miss a great app that you use to budget? Let us know in the comments!
Update, November 2017: We've given this list a big refresh for 2017!
Get the Android Central Newsletter
Instant access to breaking news, the hottest reviews, great deals and helpful tips.
Jen is a staff writer who spends her time researching the products you didn't know you needed. She's also a fantasy novelist and has a serious Civ VI addiction. You can follow her on Twitter.