The best apps for following the NFL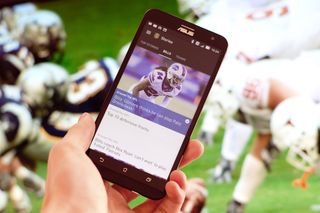 The 2015 NFL season is upon us, and you'll want to stay in the know. These football apps for Android keep tabs on scores for your favorite teams, drill down into detailed player stats, feature video clips, expert commentary, and often a little fantasy football on the side. If you're pumped about football starting up, take a look at our app picks.
Read now: The best Football apps for Android
NFL Mobile
When you want information direct from the source, NFL's mobile app is the way to go. Scores of ongoing games are updated to the minute, and a wide range of news stories are available to follow up on the latest matches. If you're a Verizon customer, you get a few extra features, like video streams of primetime games.
Download: NFL Mobile (Free, ads) (opens in new tab)
theScore
theScore is a well-loved sports app which lets you personalize your coverage across a wide range of sports. Comprehensive news coverage includes high-quality still photos, video clips, and the latest news. The real serious fans can dig into deep player and team stats. A particularly nice addition is Android Wear support with tailored push notifications, which you don't see everywhere.
Download: theScore (Free, ads) (opens in new tab)
ESPN
With the ESPN app for Android, you can easily set alerts for your favorite teams so you never miss a beat. You can tune in live to the ESPN Radio stream to catch up, and look through the results of recent games. Fantasy football is also baked right into the app if you feel like joining in. Of course ESPN does more than football; there are subsections for MLB, NBA, PGA, MMA, and just about every other sport under the sun.
Download: ESPN (Free) (opens in new tab)
Yahoo Sports
Yahoo Sports lets you follow NFL, NBA, baseball, and just about any other sport you're interested in. Real-time alerts keep you up-to-date, while game, team, and player profile pages let you dig deep. News feeds are kept up to date with entries from popular experts. There's also fantasy football baked right into the app, if you're into that kind of thing.
Download: Yahoo Sports (Free, ads) (opens in new tab)
Your favorite teams
Every NFL team has a free, dedicated app for keeping tabs on players, games, and other news. These are perfect for those that are well and truly rooting for the home team. Here's the full list.
AFC-North
AFC-South
AFC-East
AFC-West
NFC-North
NFC-South
NFC-East
NFC-West
Your favorite NFL apps for Android?
That should keep you in the loop for the rest of the NFL 2015 season. How do you guys keep tabs on your favorite football teams?
Simon has been covering mobile since before the first iPhone came out. After producing news articles, podcasts, review videos, and everything in between, he's now helping industry partners get the word about their latest products. Get in touch with him at simon@futurenet.com.
Verizon NFL mobile??? Watch games fo free Posted via the Android Central App

NFL mobile is the same, just for us non Verizon members we have to pay to watch. * sent from my Note 5, with an S Pen safely inserted TIP FIRST.*

Oops obviously didn't read the article first lol Posted via the Android Central App

Yahoo sports!!!! Posted via the Android Central App

Scooby Posted via the Android Central App

Bleacher Report is the best, streams for teams, injuries, and fantasy. * sent from my Note 5, with an S Pen safely inserted TIP FIRST.*

NFL Mobile is completely useless when it comes to viewing games in progress. It fails to display any games whatsoever, and simply crashes over and over. It's not just me, I've heard the same thing from everyone who tries to stream a live game. And I'm on Verizon.

Works very well for me Posted via the Android Central App

NFL moble is not very good. Why can't the NFL develop an app as nice as MLB@Bat? Prefer thescore for football

'fins! +++ Insert witty signature, watch as others not get it, profit +++

Tannehill is gonna be one helluva QB one day

I don't think they are gonna wait that long. Either he or Philbin will go if this year is another 8-8. Philbin didn't turn out as I hoped. Is Hyde for real? If so they did a great job there and the defense played well even though it was Minnesota. Maybe everyone was quick to write the 9ers off +++ Insert witty signature, watch as others not get it, profit +++

It'll probably be Philbin. Hyde is definitely legit, but the Viks defense was all jacked up on Monday too.

We both failed today... Not sure which was worse.. S-Pen goes *** click ***

They say the same thing about my boy Stafford. You can only say it so many years in row. NFL is a win now league. Time to perform. Posted via the Android Central App

I still like Stafford... +++ Insert witty signature, watch as others not get it, profit +++

9ers all day! I just hope the defense plays just as good against the ranked #2 offense, the Steelers. [T-Mobile]→ Note 4 - 32 gigs + 64 gig Samsung SD card

I have verizon and was at work Thursday night and tried to watch the game and it said not available in my area Posted via the Android Central App

NFL Mobile, ESPN and Team Stream. Those are the three apps I swear by all year. Posted From my Verizon Galaxy Note Edge via the Android Central App... And Don't Eat The Yellow Snow!

CBS Sports app is king....much cleaner than ESPN.

Agree... CBS Sports is simple and useful

Well if ur like me when can get ur home town games NFL Sunday Ticket is the best for me. Not only can I watch the Bills, I can watch any game on Sunday. It's even better this year with Chromecast support. Posted via the Android Central App

great work
http://www.techvaid.com/www-yahoomail-com-yahoomail-com-yahoo-mail-login/

I love the alerts on Bleacher Report...

TheScore is the best by far.
Android Central Newsletter
Get the best of Android Central in in your inbox, every day!
Thank you for signing up to Android Central. You will receive a verification email shortly.
There was a problem. Please refresh the page and try again.