Best apps to follow the 2016 U.S. election!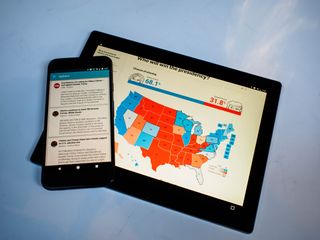 You may or may not have noticed the 18-month roller coaster we've been lovingly referring to as the 2016 U.S. Presidential election, but it's (probably) coming to a close at some point on November 8th. At least, that's the best case scenario. Goodness only knows what reality will have in store for us.
If you'd like to spend the day constantly refreshing election results pages to see who will be our next Commander-in-Chief, we've got a few apps and site shortcuts for you to install. If you're still not sure where you're vote is being cast, we've got something for you as well. If you're hoping for a grand election-themed escape, we've got something in mind for you as well.
Voter
Why you can trust Android Central Our expert reviewers spend hours testing and comparing products and services so you can choose the best for you. Find out more about how we test.
One constant theme with this election has been the massive number of undecided voters out there. Plain and simple, there's a lot of folks out there not particularly thrilled with any of the choices available. If you're in the group and would like some reading material on where to push the button, the Voter app may be what you need.
Voter poses a series of questions to determine your general political leaning, and offers you information surrounding the candidate that acts like they agree with your personal position. From there, you can look up other candidates or take a look at a news feed full of current events from a bunch of different news sources. It's a good all-around source that may help you choose, if you haven't already.
FiveThirtyEight
While not an app, you'll be hard-pressed to find a better source for statistical information regarding the election than Nate Silver's FiveThirtyEight team. The website does an incredible job breaking down as much information as possible into easy to consume graphs. If you're done looking at pretty pictures, these graphs are often accompanied by detailed explanations of what happens next.
This site is also not politically charged, meaning they don't have an opinion on the issues shared on the site. This is where you go for data, in the form of volume and more. The site is very mobile-friendly, and looks great just about anywhere.
NPR One
If you'd rather listen to what is happening during the actual election, you'll find some great resources in the NPR One app. This app is built to gather data from your usage and offer you a stream of podcast-style news snippets geared toward your interests, but will serve you well for the election and surrounding stories if you're interested in that constant stream of information.
You could continue to use NPR One after the election of course, but for this particular day if you want something in your ear while working there's a good chance this is what you're looking for.
Twitter Moments
We know those silly Mainstream Media people can't be trusted, and the folks at Fox News are pure evil, so obviously the best place to get election news is from random people posting whatever they think will get the most retweets on Twitter, right? RIGHT?!
Hyperbole and shouting claims of bias aside, Twitter Moments is actually pretty great for capturing a bunch of information on a topic. For the election, there's could to be more than a couple of these moments full of stories from sources all over the web that help to create a story. Whether that story is entirely accurate is totally up to you to research.
Showtime
If you're not really interested in anxiously refreshing things and would rather have some fun while you wait to see who is next in charge, Showtime is going to have some fun stuff for you. There's some good shows and documentaries for you to watch surrounding the election, but as the sun goes down Stephen Colbert is going to be doing a live and likely adult-themed special all about the results.
It's supposed to be something similar to his Late Show, but who knows what will actually happen. If you're looking for a way to laugh through the event, this is probably a good place to look. This one is U.S.-only, unfortunately.
Take a deep breath, it's almost over
Do you have an election day plan? Will you be in front of a television with nachos and a cold one, or are you going to be out encouraging others to participate in this event? Share your plans to stay connected and survive the season finale of America in the comments!
Get the Android Central Newsletter
Instant access to breaking news, the hottest reviews, great deals and helpful tips.