Best Android apps and games of the week: Goat Simulator and more!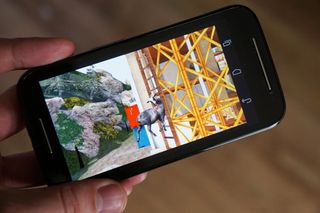 We've got another batch of the best new Android games and apps to have launched in the last week for y'all. Goat Simulator is by far the most recognizable launch this week, but we've got a few apps for businessy types, too. Hop into the Google Play Store and check out our picks, and as always, drop a comment for your favorite new releases.
Interstellar
Why you can trust Android Central Our expert reviewers spend hours testing and comparing products and services so you can choose the best for you. Find out more about how we test.
Interstellar is a great-looking sim game set in outer space. Players build their own little solar systems and explore those of others. The challenge really steps up when you need to navigate wormholes and slingshot around planets to make it back to your system with enough fuel and time.
Interstellar has plenty of eye candy, and sets a great mood for the upcoming Matthew McConaughey flick.
Antisquad
Antiqsquad is a cartoony turn-based strategy game where players command a motley crew of mercenaries against well-armed rivals. Tactically position your crew to make the most out of an area's cover, but also providing the best line of sight to enemies. There are 30 different missions with tons of different weapon and ability combinations to play around with. The overall look and feel is very similar to RAD Soldiers, but since that never came to Android, it's great to see someone else step in.
Antiqsuad is particularly great because they have both a premium version without in-app purchases and another that's free with IAPs.
Star Wars Commander
Star Wars Commander is a Clash of Clans (opens in new tab)-style casual game where players join either the Rebel Alliance or the Empire and wage war across a classic sci-fi landscape. Players train troops, build defenses, and work with characters from the beloved franchise to complete missions. The usual freemium tropes are here, but that won't stop die-hard Star Wars fans for a second.
Beach Buggy Racing
Beach Buggy Racing is an upgrade on the hugely popular Beach Buggy Blitz (opens in new tab), and has bumped up the graphics in several departments. You're now riding much faster with more competitors, power-ups, and big, winding stages. Instead of driving endlessly, you know have set courses you're trying to earn three stars on. Over time, you upgrade your ride with currency won from matches or in-app purchases. An energy bar limits how much you can play at once, so make sure to make every run count.
Beach Buggy Racing is a great update on what was already a graphically impressive title.
Goat Simulator
Goat Simulator bridges the gap between man and beast in ways never imagined possible. From the lifelike licking of other creatures and objects to ragdoll physics that cause models to spaz and clip randomly, it's no wonder you quickly lose yourself in goatness and, eventually, a profound identity crisis.
Play Goat Simulator. It will change your fundamental assumptions of humanity and goats.
Treehouse
Treehouse is a popular learning platform focusing on coding. You can pick up courses on CSS, PHP, Python, and plenty more. Videos accompany every lesson, and achievements are earned for passing tests. There's a free two-week trial, then you can pick up a basic subscription plan for $25/month or a pro plan for $49/month.
Sign up for Treehouse if you've had lofty goals for learning new skills but haven't had the time to try it out.
Horizon
Horizon is a dirt-simple video app that automatically keeps your recordings level. No more accidentally shooting moments in portrait, then freaking out and switching to landscape, only to have that second half totally sideways. Horizon dynamically adjusts the video to make sure the video stays level using one of three different shooting modes. You can also shoot from the front-facing camera and apply filters if you're into that kind of thing.
BitTorrent Bleep
BitTorrent's instant messaging client launched its alpha for Android this week with the aim of providing secure peer-to-peer communications. This means your chats aren't going to any central server anywhere, ripe for the NSA snooping. No account is needed to sign up, though you can import contacts from Gmail and set up an account to play nice with a desktop app if you like. Voice and text messaging are supported, though stability is still something of an issue, given the alpha status.
As early as it may be, BitTorrent Bleep is a promising chat client in an era increasingly concerned about privacy.
Samsung My Knox
Samsung launched a client for their enterprise security suite this week, allowing users to keep work and personal data secure thanks to a suite of web-based tools. After a quick e-mail authentication My Knox can remotely lock and wipe your device in a pinch. On a day-to-day basis, My Knox offers dedicated apps for e-mail, calendar, contacts, file viewing, browsing, downloads, memos, image gallery, videos, and music. The app plugs into Microsoft Exchange on the back end, but unfortunately only supports the Samsung Galaxy S5 and Samsung Galaxy Note 4 for now. You can also sit tight until many of these features are implemented in Android L.
If you've been having trouble convincing your IT guy at work to implement Knox, now would be a good time to try again.
Adobe EhcoSign
Adobe EchoSign is a secure means of signing electronic documents. The new Android tablet client encrypts signed documents, send them off while on the move, and manage agreements with real-time status updates. You'll need a subscription to use Adobe EchoSign, but for anybody that works with contracts on a daily basis, it would be well worth it.
Your favorite new Android games and apps?
That's it from us this week. Stick around for the editor's picks tomorrow, and check out the comments for any other suggestions.
Get the Android Central Newsletter
Instant access to breaking news, the hottest reviews, great deals and helpful tips.
Simon has been covering mobile since before the first iPhone came out. After producing news articles, podcasts, review videos, and everything in between, he's now helping industry partners get the word about their latest products. Get in touch with him at simon@futurenet.com.
Wrong link for goat simulator? Posted via Android Central App

Sigma supremacy Posted via Android Central App

Goat Simulator is $4.99... Posted via the Nexus 5

that goat scared the sht out of me when i entered his castle then put him on his throne to get goat queen mutator but some kinda satanic noise played in the background jfc

Was going to get goat simulator for 1.99 but not for $5. Also the link is dead. Posted via Android Central App from Samsung Note 3 or Surface Pro 3

I just didn't go to Starbucks last week and bought goat simulator instead. Posted via Android Central App

I went to a farming supplies store and bought a Goat Stimulator instead.
My goat is happy now.

Treehouse link is going to modern combat 5

Interstellar is actually pretty good for a movie game. Posted via Android Central App

The amount of apps and more so the amount of games coming out for the Android OS are increasing everyday and indeed, it becomes quite hard to know what to download and play but with these aforementioned games and apps they are seemingly worth to be tested.

I bought Goat Simulator with credits earned from the Google Rewards surveys. It's a win-win-win. Posted via Android Central App

I read this wrong... Thought the app was Goat STIMULATOR... now THAT'S a game I'd play! Posted via Android Central App

Hey i don't know if you have already reviewed this game "MicroTrip" , i found it long back and it was featured many places. I loved the game graphics and looked super cool.I was playing it everywhere. Check it out Simon. :)