The best Android games and apps of November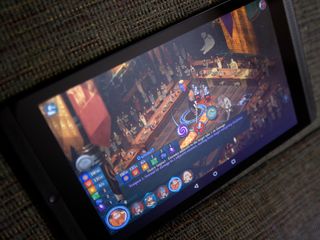 November is winding down and the dust is settling from Black Friday insanity, so it's time to look back on the month and all of the great new apps and games that have been released. This go-around we have some excellent strategy games, as well as a new action title to keep you on your toes. On the app side, we've got something for the kids, something for the wardrobe, and something for the kitchen.
It's been a really good month for Android apps and games. Dive into our top ten list of the latest Google Play Store releases, and be sure to drop a comment with the best new stuff to grace your home screen.
Kingdom Rush: Origins
Why you can trust Android Central Our expert reviewers spend hours testing and comparing products and services so you can choose the best for you. Find out more about how we test.
The classic tower defense game is back, and is elfier than ever. Kingdom Rush: Origins goes back in the fantasy story's timeline to when everything started, but to be honest, players are really into this for the finely tuned strategy gameplay and goofy cartoon style. Defend against waves of monsters, gather up their gold, and level up your defensive structures to take on bigger threats. Let too many through the gauntlet, and it's game over.
Most of the towers will be familiar, though the old artillery tower has been replaced with a boulder-hurling druid. There are new heroes to control, including an assortment of premium ones, though heroes now have their own signature spells to unleash. The gem system is still in place for consumable power-ups. Heroic and iron challenge versions of every level give you some real tricky stages to chew on. Strategy fans will get sucked right back into Kingdom Rush: Origins. Be sure to check out the predecessor, Frontiers, if you haven't already.
Tilt 2 Live: Gauntlet's Revenge
Tilt 2 Live: Gauntlet's Revenge, is the latest iteration in an excellent action game series. Instead of being stuck in a static arena and having to tilt your device around incoming enemies and towards power-ups, you have to work through a continually scrolling stage, similar to an endless runner. Gather blue cubes as best you can without getting hit. Take too many hits, and it's game over. The finely tuned gyro controls make for a really tense and fast-paced game. Give the last Tilt to Live game a shot if you're looking for more twitchy action.
Valiant Hearts
Valiant Hearts is a puzzle game by Ubisoft set in World War 1. Inside you'll find a heartwrenching story about soldiers on the front line of The Great War and their faithful hound Walt. Valiant Hearts boasts a gritty graphic novel art style and a varied mix of gameplay types. Additional episodes to the story are available through in-app purchases, or you can get a bundle for the whole set. The earlier release on PC and console enjoyed a great reception, and the mobile adaptation has shaped up really nicely.
Civilization Revolution 2
Civilization Revolution 2 revamps the graphics of the classic strategic simulation game while maintaining the core turn-based gameplay of diplomacy, commerce, and war. Players must build cities, connect them, harvest natural resources, train soldiers, research technologies, and construct wonders on the road to global domination. The Civilization series has an intensely loyal fanbase, and the latest PC game, Beyond Earth, has earned solid reviews. In that light, the whooping $14.99 pricetag may seem appropriate, especially if you're of the mind that mobile games deserve the same level of compensation as big boy platforms.
The Banner Saga
The Banner Saga is a highly polished tale chock-full of Norse mythology. Help two caravans survive in a world without a sun while also negotiating tenuous relations between humans, giants, and numerous factions between them. Jump between meaningful dialog sessions and turn-based combat with 25 different characters spanning five classes. Failure in combat leaves lasting results through the rest of the game. The art style alone in The Banner Saga is enough to warrant a purchase, but it also strikes an excellent balance between strong, character-driven story and classic RPG-style action. It's a premium game with no in-app purchases, but on the downside, there's no full-screen immersive mode.
The Hunt
The Hunt is a social networking app for folks looking for the source of specific fashions. Pictures of clothes are posted, and users leave comments as they try to figure out where to get it. Hunts can be for identical items, similar ones, things that go with the posted item, or open invitations for style suggestions for the poster. Anybody conscious about their style will find a use for this imaginative crowdsourcing app.
Yummly
Yummly is a highly polished recipe app that should prove invaluable for all of your home cooking. Recipes can be searched for by occasion, cuisine, taste, diet, nutrition, allergy, cook time, technique, and more specific criteria. Once you find a recipe you want to use, it can be saved to your personal recipe box, where you can keep tabs on ingredients when shopping. The tablet layout is clean, colorful, and uncluttered, and the selection of recipes is truly boggling. Whether you're amateur or seasoned chef, Yummly is worth a download.
Nokia Z Launcher
Nokia released a pared-down launcher app for a narrow group of devices this month. The Nokia Z launcher figures out your most frequented apps and surfaces them for easy access in the future. It also has a neat scribble feature so you can draw a letter on the home screen to conduct simple searches for device content with minimal fuss. Though still in beta, the Nokia Z launcher is quite promising. If you have a supporting device, like the LG G3, and like to keep things simple, give it a go.
Google Messenger
Google has unbundled SMS and MMS messaging in a new optional app called simply Messenger. All of the important features are there, like quick search, easy sharing, message blocking, emoji support, and archiving. For now you can keep SMS handling in Hangouts, but some folks want to keep the two separate, namely because they don't want to get involved with Google+ or the other services that have been bundled in with Hangouts. For them, the new Google Messenger will be a godsend.
Disney Movies Anywhere
Disney Movies Anywhere allows fans of new and classic films to access their entire Disney Collection from their Android device. The app links in to your Google account so any Disney flick you've bought through Play Movies will be available through the app as well. Often you'll get codes for digital copies when you buy a disc, which can be redeemed through the app. Support across multiple platforms means you can watch on just about any screen. For now the service is only available in the U.S., but keep an eye out for broader geographic reach soon.
Your favorite new Android games and apps?
That's it for our monthly round-up of new Android games and apps, but don't be shy, now. Sing out in the comments with anything you've downloaded lately that you think is worthy of attention.
Get the Android Central Newsletter
Instant access to breaking news, the hottest reviews, great deals and helpful tips.
Simon has been covering mobile since before the first iPhone came out. After producing news articles, podcasts, review videos, and everything in between, he's now helping industry partners get the word about their latest products. Get in touch with him at simon@futurenet.com.