What network does Mint Mobile run on?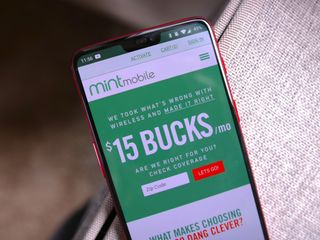 (Image credit: Android Central)
Best answer: Mint Mobile operates on T-Mobile's network with full support for 3G, 4G LTE, and 5G. While you can buy a phone directly from Mint, bringing your own T-Mobile-compatible phone will work just as well.
Unlimited calls, texts, and 3GB of high-speed data: Mint Mobile (opens in new tab) ($15/mo. at Mint Mobile)
Mint Mobile uses T-Mobile's towers
Mint Mobile is a prepaid MVNO (mobile virtual network operator) that provides a great prepaid experience and uses T-Mobile's network to get its customers connected. In the U.S., Mint's services are operated entirely online, rather than in physical brick-and-mortar stores, and the company's business model is structured around paying for months of service in bulk — specifically, you can buy three, six, or 12 months of service in advance.
Because Mint has no physical locations, it ships out any SIM cards or phones you order. That doesn't mean you have to buy a phone from them. Since the MVNO runs off of T-Mobile's cellular towers, you can use any T-Mobile phone you might already own, or pick up an unlocked phone (provided it supports T-Mobile's network).
Bringing your own phone to Mint Mobile
Along with T-Mobile phones, most GSM-unlocked phones should work just fine on Mint Mobile. You can also use phones from AT&T, Cricket, Simple Mobile, Straight Talk, or Metro by T-Mobile, so long as they've been unlocked by their respective carrier to work on other networks — in most cases, carriers are happy to help you unlock your phone once it's been fully paid off. You can even bring your current number.
For the best possible coverage and speeds on Mint Mobile, your phone should support as many of T-Mobile's mobile bands as possible. For 4G LTE, look for bands 2, 5, 4, 66 with band 12 and 71 adding additional coverage in many rural areas. For 5G, look for support for bands n71 and n41 for optimal sub-6 performance. You can check you phone's IMEI (opens in new tab) if you're not sure.
You can see which frequencies should be available in you are with Mint Mobile's detailed coverage map (opens in new tab).
Our pick
Unlimited talk, text, and data with 3GB of high-speed data each month
Mint Mobile connects your unlocked phone on T-Mobile's network with plenty of data for most tasks and unlimited talk and text.
Hayato was a product reviewer and video editor for Android Central.
Android Central Newsletter
Thank you for signing up to Android Central. You will receive a verification email shortly.
There was a problem. Please refresh the page and try again.