Google Pixel Watch 2: Everything we know so far and hope to see
The next Pixel Watch could arrive later this year.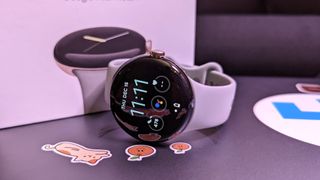 (Image credit: Namerah Saud Fatmi / Android Central)
The Pixel Watch is easily one of our favorite smartwatches. After years of rumors and leaks, Google gave us a smartwatch that not only looks great, but it runs Wear OS incredibly well and even brings Fitbit into the mix. As Google's first smartwatch, it's quite impressive.
Unfortunately, Google didn't tease the Pixel Watch 2 at its I/O event in May, meaning we don't have much to go on when it comes to Google's follow-up smartwatch. However, that doesn't mean the company isn't working on a new smartwatch, and some rumors have already pointed to a new, upgraded model arriving later this year for those of you that held off on buying Google's first-gen Pixel Watch.
Here's everything we know so far about the Pixel Watch 2.
Google Pixel Watch 2: Price & availability
When it comes to pricing, the original Pixel Watch wasn't exactly the cheapest smartwatch out there. Google offered the wearable at a premium, starting at $349 for the Bluetooth/Wi-Fi model. Meanwhile, the Galaxy Watch 5 started at just $279 for its comparable model. Google tacks on an additional $50 for LTE connectivity.
With last year's pricing already above many other Android smartwatches, Google would likely not raise the price of the next Pixel Watch. However, we can't be too sure, given that there will likely be a few improvements in tow for the device. Still, if Google wants to keep its smartwatch somewhat competitive, it may likely keep the same pricing.
As for availability, the Pixel Watch 2 will likely be available in the same regions as the original. Based on last year's schedule, the Pixel Watch 2 may launch sometime later this year alongside the Pixel 8 series.
Can confirm, as we have been working on the story in the background. As far as I know, Google is planning two watches for later this fall.1) Pixel Watch 2, which will launch with Pixel 8, and 2) a version for kids, though that more than likely will be branded as "Fitbit" https://t.co/pcbgfk3Af1May 5, 2023
Both 9to5Google and Jon Prosser indicate that the Pixel Watch 2 should be available this fall, likely in October.
Google Pixel Watch 2: Design
At the moment, we don't know a lot about what to expect from the Pixel Watch 2 outside of the name, which was recently leaked. That said, given it's a second-generation product from the company, we don't expect many big changes to the design. The original Pixel Watch was highly praised for its design, so Google probably won't want to rock the boat.
We expect the same bulbous design as the original, with the haptic crown and side button. It will probably launch in a few different color options, likely to match the upcoming Pixel 8 series. We also expect the Pixel Watch 2 to retain the proprietary watch band connector. However, we might gain smaller bezels around the display, which could potentially point to a larger display.
Google Pixel Watch 2: Specs
Despite the rather old chipset, the original Pixel Watch has an impressive set of specs. 2GB of RAM is more than most Android smartwatches, and the 32GB of storage is double what you'll find on Samsung smartwatches or 4x more than other Wear OS watches.
Google is likely to keep much of this the same for the Pixel Watch 2, but it's been speculated that the company may give the watch a newer chipset. This would provide the Pixel Watch 2 with better efficiency and, hopefully, better battery life.
The original Pixel Watch is only offered in one size, but there's no word on whether or not Google plans to expand this by offering two sizes, which is something most smartwatch OEMs do.
Google Pixel Watch 2: Software & features
With Wear OS 4 already out of the bag, there's a good chance the Pixel Watch 2 will run the new software out of the box. We're still learning about what we can expect from Wear OS 4, but so far, there are some exciting features on the horizon. The update will enable backup and restore capabilities, something that has only been available on Galaxy Watches.
Wear OS 4 will also be more battery-efficient, thanks in part to how it handles watch faces, and it will offer more accessibility options. Google also announced new apps coming to the platform, such as Gmail and Google Calendar — two highly-requested apps for Wear OS.
Thanks to early looks at Wear OS 4, thanks to the developer preview, we can see that the update may also bring Material You theming, meaning Pixel Watch 2 owners may be able to set their preferred color throughout the UI.
Image 1 of 3
Wear OS 4 also brings improvements on the health side, with better support for golf tracking and more through Health Services. We also expect there to be some improvements to Fitbit integration on the Pixel Watch 2, but nothing has been said on this front.
Google Pixel Watch 2: Wishlist
The Pixel Watch is a great Android smartwatch, but it's far from the best Android smartwatch on the market, and there are a number of things Google can learn from its first year with its own smartwatch hardware. The company may likely introduce the successor to the Pixel Watch later this year, so if it does, there are some ways we think Google can improve on the experience with the Pixel Watch 2.
Better battery life
While the Pixel Watch is a great smartwatch, Wear OS isn't exactly known for being easy on the battery. In our experience, the watch lasts roughly a day on a single charge, maybe a day and a half if we're lucky. It's not exactly known for longevity, which doesn't bode well for Google's first smartwatch.

With Google's next-generation Pixel Watch, the company needs to try to set a standard with battery life. Pixel smartphones have pretty great battery life, so the watch needs to match.

Of course, it might help if Google used a more up-to-date chipset. The company is apparently using the Exynos 9110 chip, which is built on a 10nm process. It performs very well but is not as efficient as Samsung's newer Exynos W920 chip used in the Galaxy Watch 5 series. Perhaps using the newer chip alongside a dedicated co-processor will help improve battery life.
Refine the design
Having a crown on a smartwatch isn't exactly unique. For watches that don't have capacitive or rotating bezels, à la Galaxy Watch, it's a handy addition that makes navigating menus a little easier. However, the placement of the crown can be an issue for some.
One complaint Fossil smartwatch owners have is that the crown can get in the way when working out because of how one's hand is often positioned when performing certain workouts and exercises. It can cause unwanted button presses, and if your hand is held in place long enough, you can accidentally power your watch off. It's a bit of a hassle when you're trying to use your watch to track your workout.
Google might want to consider moving the crown, so it's not placed at the center. Similar to how Samsung and Mobvoi place two buttons at the top and bottom while keeping the center button-free, Google could place the crown on the bottom while the multitasking button could remain in its place (this would obviously be different for left-handed users that wear their watches on their right arms). This way, the crown isn't digging into your hand during workouts.
And speaking of the button, Google should make it so that it's not so flush with the chassis and consider changing its position so that it protrudes from the side and not from slightly under the watch; that way, it'll be a bit easier to press.
Bigger screen and more sizes
Many of the best Wear OS watches are available in more than one case size. However, for some reason, Google opted for a one-size-fits-all smartwatch. Unfortunately, the 41mm case size is on the smaller end of smartwatches.

Google should introduce a second larger size for the Pixel Watch 2, at somewhere around 43mm or 44mm. It should also come with a larger display for both models. 1.2 inches is pretty small — even the smaller Fossil Gen 6 models have closer to a 1.3-inch display. Smartwatches aren't really where one goes for content, but reading notifications and things would be a lot easier with a larger display.
And on that note, Google needs to do something about those bezels. They're not as bad as we once thought they'd be, and they blend pretty seamlessly with the display, which is a nice touch. But when using the watch, the bezels are quite noticeable.
More (cheaper) third-party bands
Part of the Pixel Watch's charm is the fact that, like the Apple Watch, Google went with a proprietary connector for Pixel Watch bands. However, while they may look nice, they can limit the selection for third-party bands as opposed to other Android smartwatches like the Fossil Gen 6 that go with more standard connectors.
One of the biggest complaints among Android Central staff when it comes to the Pixel Watch is that there needs to be a bigger selection of third-party bands. Not only is the current selection of third-party bands small, but many of them look cheap, have loose connections, or just completely fall off.
It doesn't help that Google's first-party bands are very expensive. The company really needs to partner with third-party accessory makers so we can have a larger and better selection of official bands at more affordable prices.
Qi wireless charging
One of the biggest problems with wearables is all the proprietary charging solutions. No two wearables have the same charger, and it can be quite obnoxious for those of us with multiple smartwatches or wearable devices. And while legislation is being put in place for USB-C to become the standard across smartphones and larger devices, smartwatches don't have such rules.

Some smartwatches, like Samsung's Galaxy Watch line, have some form of wireless charging, but you won't find Qi charging support, which has become a standard for smartphones and is even compatible with many wireless earbuds. Fossil states that it did not include Qi with its Gen 6 smartwatch because it's slower and it would make the watches thicker. However, the convenience of wireless charging may outweigh those complaints, especially if you want a relatively quick top-up and you don't have your watch charger around.

Last year, there was a lot of hullabaloo about wireless charging on the Pixel Watch, which isn't officially supported. However, it's a feature we would love to see on the next version, even if it means a slightly thicker device.
More features
Google has been gradually adding more features to the Pixel Watch, which is nice. However, there are some features we would like to see the company include with the launch of its next watch.
For starters, we would like the option to customize the buttons. Right now, Pixel Watch users are at the mercy of whatever Google has assigned for the crown and the button, and there's no way to change this. Even on Fossil smartwatches, users are able to customize the double-press of the crown. And while the app switcher function of the button is plenty useful, Google should offer some level of customization for the button.
Other features we would love to see include more ringtone customization, more "classic" style watch faces from Google, and the option to customize the quick settings menu. The watch should also sync modes with a smartphone, so when a Pixel goes into Bedtime Mode, the watch should sync with the phone instead of having to manually turn it on. This should also apply to Do Not Disturb and alarms.
Get the Android Central Newsletter
Instant access to breaking news, the hottest reviews, great deals and helpful tips.
Derrek is a long-time Nokia and LG fanboy who loves astronomy, videography, and sci-fi movies. When he's not working, he's most likely working out or smoldering at the camera.