Verizon simplifies its Cloud storage plans, now includes 5GB of storage each month for free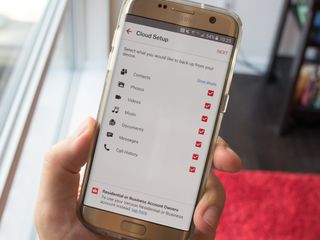 Verizon is simplifying its Cloud offerings and giving you more for your money. The base plan now includes 5GB of storage per month for free, and the top plan goes as high as 1TB per month for $9.99. With these new plans, Verizon is giving customers more storage without asking for any additional money, so you can now safely store all of your contacts, photos, videos and more in the cloud without breaking the bank.
The new cloud storage plans, as noted by Verizon (opens in new tab) now are:
Small (S): Free 5GB of storage per month
Medium (M): $2.99 for 25GB of storage per month
Large (L): $4.99 for 250GB of storage per month
Extra-Large (XL): $9.99 for 1TB of storage per month
Current subscribers will be given the additional storage of the tier they are on without having to do anything on their end, for example if you're currently on a 75GB plan you'll be bumped to the new 250GB plan.
Jared started off writing about mobile phones back when BlackBerry ruled the market, and Windows Mobile was kinda cool. Now, with a family, mortgage and other responsibilities he has no choice but to look for the best deals, and he's here to share them with you.
I have this option,but really only use Google drive.I suppose it's all in there,I've just never bothered even looking and don't use it. Posted via the Android Central App

Why in the heck would anyone want to use this instead on Google Drive or OneDrive????

Some people don't know any better :( Blackberry Priv
Nvidia Shield "Portable"
Sony Xperia Z3 Tablet Compact

I've had 5 gig storage for free for the last 2 years. Posted via the Android Central App

Same here. But one line has 25GB for free for some reason. Not complaining. I use Google Drive, Box and One Drive as well. Posted via the Android Central App

If your Verizon plan is the More Everything plan, it includes the 25 GB cloud feature free for each line, but it has to be manually added. The feature was probably added by a rep when the phone was upgraded, which Verizon reps do if they are aware the feature is free on that plan (not all know this sadly). If you are now on the Verizon plan or simple plan as it is sometimes referred to, it is not included but the free feature is grandfathered for any line that already had the feature code before the plan change. Posted via the Android Central App

OneDrive or Google Drive is better. Posted via the Android Central App

People actually use this? Oh my.

All of the phones on our More Everything Plan have 25GB for free, so why bother? Beyond that, we only pay $0.99 a month for 50GB of iCloud Storage for the family to share apps.

I'd use it if it didn't count towards your data usage Posted via the Android Central App

I have my photos and video on google, but my text and call history on Verizon Cloud. I would use it more if I was not charged for the data to and from the cloud. Posted via the Android Central App

Verizon has been giving 5GB of cloud storage for free for years now. Posted via the Android Central App

5GB has been free to anyone on the more everything plan for nearly 2 years. Posted via the Android Central App

People use it because they don't want to pay for extra storage and they'll take whatever free space they can get. In addition to photos and videos, it also backs up contacts, texts, music and documents. It will also do contacts, pics and videos on an iphone. If you had the option of getting 25 GB free or pay for through another provider, what would you pick? Also when the average user purchases a new phone they generally expect the carrier to transfer everything, only a small percentage of people actually do this on their own. Having this option (as do other carriers) makes it easier for the said carrier to do this for it's customers. Even though almost everyone on these boards is self sufficient to do this, we are a small minority in the grand scheme of smart phone users. Posted via the Android Central App

Also there is a setting to have it only back up on Wi-Fi, as does nearly every other cloud service...you don't have to use your data. Posted via the Android Central App
Android Central Newsletter
Get the best of Android Central in in your inbox, every day!
Thank you for signing up to Android Central. You will receive a verification email shortly.
There was a problem. Please refresh the page and try again.