This Moto X4 smartphone sale from $150 is calling for your attention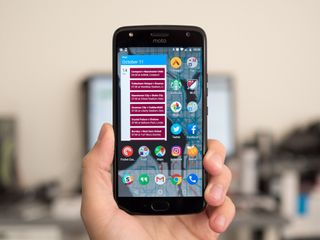 With all of the budget smartphones out there these days, it's hard to know which is truly worth the money. One fantastic choice is the Moto X4 device (opens in new tab), and today you can pick one up unlocked at B&H for just $149.99 (opens in new tab) when you clip the coupon on its product page. It features 32GB of storage, comes in your choice of Super Black or Sterling Blue, and saves you $100 off its average cost at Amazon (opens in new tab). That's a savings of $200 off its full price and a return to the best deal we've ever seen on this phone. Considering it was already priced at a bargain, this is a killer offer for a reliable Android device. B&H includes free expedited shipping with your order and offers tax-free purchases for customers in select states.
You could also pick up the 64GB model of this device for $199 (opens in new tab) by clipping the coupon on its product page. This version comes with a free Avoda TPU Case (opens in new tab) valued at $20, so that's something to consider as well. Neither option offers too much in terms of storage, but luckily they feature microSD card (opens in new tab) support up to 2TB.
The Moto X4 is IP68 water-resistant and features a 5.2-inch full HD display with 12MP and 8MP dual rear cameras, along with a 16MP front-facing camera that even has a flash. It's compatible with all major US carriers and is equipped with a 2.2 GHz Qualcomm Snapdragon 630 octa-core processor and 3GB of RAM. The phone ships with Android 7.1 Nougat installed with the ability to upgrade to newer software versions such as Android 9 Pie, too.
If you're curious to learn more information about the phone, be sure to check out our full review.
See at B&H (opens in new tab)
Alex is a graduate from the University of North Florida with a background in sales and merchandising. When he's not hunting down the next great deals to post on Thrifter, he can be found making music and working on his eBay business.
For 150.00 you can't go wrong! When it released 400.00 bananas!

Look, I have this phone, and it's been really good. BUT, even at $150, it's debatable whether it's worth it now. I have the Android One version, and it was promised two platform updates, and three years of security updates. It shipped on 7.1.1, and has updated to 9.0. So, it's doubtful it'll see any more platform updates. In addition, Motorola (as usual) has started to abandon security updates they previously promised for older phones. My phone is still on the January 1st patch, even though it's Android One, and other non-Android One Motorola devices have received the February patch. So, as a functioning phone, the X4 is fine. But it's not gonna get updated any more. So, to me, I wouldn't pay any more than $100 for an X4 at this point.

if you have the android one version you don't have to worry bout updates. that's part of what makes it Android one. and this phone will get Q. great phone and a bargain for under $200.

I couldn't believe it when I saw the X4 on Amazon for $139.99 the other day so I grabbed it. It's a pretty little phone with good specs. The best I've had in years in fact. Im not obsessive about security updates and the phone is supposed to get Pie immediately once activated. Im thrilled to get such a nice phone and I'm very proud of it. My case is supposed to get here Saturday. I'll set it up then.😊

You'll like it then. It is a really nice phone. I feel the cameras are under-rated. I did download the Pixel 2 Camera APK, but I still like the wide angle lens on the X4. The phone in general performs very well, and yes, you should get the Pie update shortly, if not already. Slippery as all get up, though, so watch it for that.

It's not total waterproof!! I bought mine in Brazil and after 8 months the microfone have stopped working because it was rusty with the water that come inside the mic, when I dropped this on water, my guarantee wasn't valid in UK, and to repair it paying will cost more than take a new one from my operator... I try to talk with Motorola from Brazil and UK and no one could help me, so Motorola, never again?

Don't do it. I picked mine up so I could switch to Fi, but despite being fine for a few weeks it went straight downhill. The microphone quit working after perhaps a month, music apps crash after every few songs, it can't handle multiple open apps and will close the one you switch from. The performance is insanely poor, which surprised me given that the specs aren't bad. It's the only phone I've ever damaged by dropping it despite being put through far less abuse than my others. The blue light filter is so ineffective I don't know why they bothered making it, updates are few and far between, the lack of a gallery has turned out to be far more annoying than anticipated, and the battery life is garbage. Keep your $150 and put it toward a phone that won't end up in the garbage in a few months.

Google Fi has the 64gb version on sale for $149. Amazing value for an NFC phone that just got Pie w Q around the corner.

It's more than likely NOT gonna get Android Q, even Android One versions. They promised two platform updates, and three years of security patches. The X4 started on 7.1.1, went to 8.1, then 9.0. It's already met it's two platform updates. Security patches have been at least a month behind from the beginning on mine, and now it seems Motorola is getting even lazier with those. My Android One version is still on the January 1st security patch. Don't buy this phone without understanding it's pretty much at EOL status software wise.
Android Central Newsletter
Get the best of Android Central in in your inbox, every day!
Thank you for signing up to Android Central. You will receive a verification email shortly.
There was a problem. Please refresh the page and try again.