The Microsoft Surface Duo might actually be worth it at just $410 — but only for today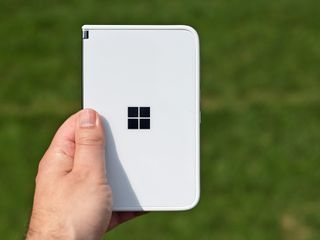 (Image credit: Daniel Rubino / Android Central)
As of July 7, the Microsoft Surface Duo is sold out on Woot.
What you need to know
Microsoft's Surface Duo has dropped in price to $410.
This is part of a one-day sale at Woot, with the deal slicing the price of the Surface in half.
Customers can buy up to 10 each while supplies last.
Microsoft's Surface Duo has just gotten one of its biggest price drops to date with a today only Woot sale offering the Surface-branded foldable for just $410. That's more than $1000 off its original selling price and $500 from the $999 selling price it dropped to earlier this year.
It currently sells for just over $600 at Amazon, so this deal represents a $200 savings. In this price bracket, you're looking at phones like the $349 Google Pixel 4a, making the Surface Duo a tempting grab and one of the best cheap Android phones, at least for the duration of this sale.
Microsoft's Surface Duo has had a troubled run. It launched with a high price, with relatively outdated specs, and to the soft booing of poor reviews. This is not to say that it was a dull or boring product. It was certainly an interesting offering, bringing a fresh take to the growing foldable market.
It was, however, reviewed by Android Central's Daniel Bader as "a hot mess of half-finished ideas and buggy execution," a consensus shared with other reviewers. Microsoft later updated it to squash many of the bugs, but no update could add 5G or bring a newer processor.
A hot mess is unpalatable at over $1000 but less so at $410. So if you want a Surface Duo now, though, this is probably your best chance to get one.
Microsoft Surface Duo
The Surface Duo is Microsoft's first, messy foray into the world of Android hardware, with a slim design and unique hinge mechanism. It didn't quite take off sales-wise, but Microsoft has made it a unique experience for the buyers who invested.
Will this model work on Verizon?

Other Android sites still saying to avoid, especially since it's still on Android 10.

But will this AT&T model work on Verizon?

Microsoft stated that 11 is coming sometime this summer, frankly I simply love this device for the way I work. I will admit that I am not a typical phone user so ymmv.

Any Android phone made by Microsoft should be avoided, especially their Surface Duo unless you're a diehard Fan and in the MS ecosystem which thankfully I'm not.

I'd have gotten this phone when it first came out if it wasn't priced so high. I Just may snag one up here soon.
Android Central Newsletter
Thank you for signing up to Android Central. You will receive a verification email shortly.
There was a problem. Please refresh the page and try again.