Samsung details phones that are next in line to receive the Nougat update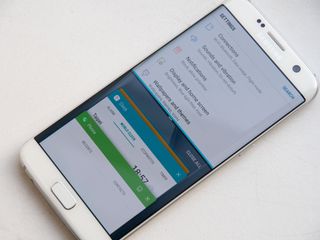 Following the Nougat rollout for the Galaxy S7 and S7 edge, Samsung has now revealed the list of phones that will receive the update next (opens in new tab). Here's the list of phones (and tablets) that will pick up the Nougat update in the first half of 2017:
Galaxy S6
Galaxy S6 edge
Galaxy S6 edge+
Galaxy Note 5
Galaxy Tab A with S Pen
Galaxy Tab S2 LTE (unlocked variant)
Galaxy A3
Galaxy A8
Seeing as how the list has several notable omissions, including the Galaxy A5, A7, and the popular Galaxy J series, it is likely not the final list of phones that will pick up the Nougat update. On the flip side, that means that phones not on the list will not be updated to Nougat before at least the third quarter of 2017, which is a lengthy wait for a platform update.
Along with the list, Samsung also detailed the features that will be available with the Nougat update, including changes to the notification panel and multi-window mode, Performance Mode, and more. Here's a look at all the new additions.
Harish Jonnalagadda is a Senior Editor overseeing Asia at Android Central. He leads the site's coverage of Chinese phone brands, contributing to reviews, features, and buying guides. He also writes about storage servers, audio products, and the semiconductor industry. Contact him on Twitter at @chunkynerd.
Still haven't gotten it on my stupid Verizon GS7.

Does any other provider have it released on a locked GS7?

I don't know, all the info I've seen has been totally vague.

Relax, it just really started rolling out and also it's gotta go through Verizon's approval process and bloatware department... Relax..

Why the A3 will get the update and not the more powerful A5 and A7?

Because the A3 sold more units

They should've cranked it out much quicker for the Note 5 following the Note 7 debacle. It sucks going from top of the line back to a year old phone.

Because the note 5 is a beast. Why have a chance at making the phone have issues after a major update? Don't fix what is not broken.

I'm feeling the same way. I had the Note 7, then bought a new Note 5 because I didn't want to go back to my Note 4. Much of what I miss from the Note 7 was software features that I believe can be added to the Note 5. The big question is what will the Nougat update look like on the Note 5? If they add Grace UX, Secure Folder, the new S-pen tools (GIF creator, Translate), and YES even the edge menu and always-on-display, it would be amazing. From my knowledge, there is no reason why all these things can't be added to the Note 5. That will make using it much better between now and when a possible Note 8 comes out. Can't wait to see what it actually gets!

If you can brave it. It is well worth installing a full note 7 port to the note 5. They work perfectly and have everything you are asking for.

It is odd that samsung didn't release a software update to the note 5 since the note 7 is gone. I have had the note 7 port on my note 5 and it is excellent and makes it very comparable to the note 7.

Well, hope my A3 will get the Grace UX along with the nougat update.

Should not take that long for a company like Samsung, if they want to differentiate among others.

Haven't gotten update yet. Have unlocked 7edge and in China atm. Still waiting -_-

Rolling out now for the unlocked folks. #NeverBuyCarrierPhones

Well the Unlocked phone model SM-930U , I bought because I thought Unlocked phones would get earlier access to updates and beta software...But Samsung treats this phone as a second class citizen. The EXACT apposite of every other manufacturer. Nougat update, rolling out now?...no not for US...
Thanks Dave

You'll get it before anyone else. The international versions are a much broader market so they are hitting those first. My 930f got it this morning.

I HOPE you are right, But we US Unlocked customers get security updates once every 3 months..per Samsung, The us carriers release updates about every 45 days. and from what I saw the International model 930F gets updates monthly...
So This is why I am VERY skeptical of Samsung. I will not bother paying all this money for a Samsung Unlocked model ever again...unless they prove they are changing their policy..
Thanks, Dave

45 days? I wish. I'm still on Verizon's October update.

I bought a unlocked S7 model in the US G930U and still no update smh Samsung...

But timely uodates and and Samsung are incompatible So folks stop whining

There is no whining involved in expecting timely monthly security updates. Never mind, when will Android 7 show up on Samsung flagship carrier phones? February, March, April? Aww, to hell with it, just buy an S8, and start the same cycle, yet again.

I am seeing "Galaxy Tab S2 LTE (unlocked variant)" - Is this implying that the WiFi-Only version of the Galaxy Tab S2 will NOT be getting firmware? Or is it still possible in the future? You know...like my Galaxy S7 Edge (Verizon)..(possible in the future) LoL

Yes, any news? S5 needs to get an update! keeping my hopes up! *fingers crossed*

Samsung announced months ago that S5 would not receive Nougat.

The last software update totally messed my phone up. I have no sounds,speakerphone doesn't work,ringtones,notifications,nothing! I'm very anget to say the least. I also noticed settings&other things disabled in my device that I can't turn back on,as well as new downloads they installed&when I click on them I get a msg stating "not compatible w/this device" now how stupid is that? I can't uninstall them either. I'm concerned I will loose all my pics&personal things. Warranty is fixing to expire&only thing to do is send it to Samsung or do factory reset. I think this will be my last Samsung phone. - God bless all.

Last time I trust Verizon and Samsung on updates. Can't wait for my Pixel to arrive!

That's hilarious. I had pretty much the exact same experience. The last update my Verizon S7edge received was the October 1st security patch, which it received on November 16th. Due to that, combined with a number of other factors, this comment is being posted from a pixel xl 128gb from the Google store, since there is a March timeframe from Verizon for the pixel xl. I did use my early upgrade on Verizon as well, to an iPhone 7 plus, the only phone line Verizon has that they can't screw with the updates, besides the never in stock, extremely long delivery window (at least the xl's) pixels. I think I've about had enough of carrier bullshit molesting what is mine.

If I install it manually (have converted to adoptive storage) or wait on the OTA update, either way, will there be any issues since SD card is now encrypted

My guess is you'd loose all the data on the sd card.

I didn't think adaptive storage was possible on a Galaxy S7?

How do you enable it? A quick Google search suggests it isn't possible.

Galaxy Tab A with S Pen but no Galaxy Tab A (without S Pen)?
Considering it's a minor difference in hardware and some additional software for S Pen, that seems kinda ridiculous. I just bought the Galaxy Tab A (2016 model) less than a month ago. Considering it's a device that's less than a year old, it makes sense that it should receive the update. I'm guessing it will just be later in the year for me?

I still havent got it for my galaxy s7 why???

Neither have I -_- still waiting

Android 7 has been out for a handful of months and I haven't seen it yet. Boo hoo.

Wow, no Galaxy Tab S2 WiFi? That sucks!!

Would love to see it for my NOTE Edge after the Note 7 crap but Samsung/ATT will never happen.

I am waiting!/ S7 edge, Sweden

Hello guy.. Do you think that my S6 edge plus will still get the update on Metropcs service.??????

How about on the unlocked S7's that were said to be getting it over a week ago? Still nodda on my 930u

Someone tell ASUS and HUAWEI to say something about Nougat please.
Better off with poor Sammy
Android Central Newsletter
Get the best of Android Central in in your inbox, every day!
Thank you for signing up to Android Central. You will receive a verification email shortly.
There was a problem. Please refresh the page and try again.