Galaxy S7 Nougat update: Top 10 features to know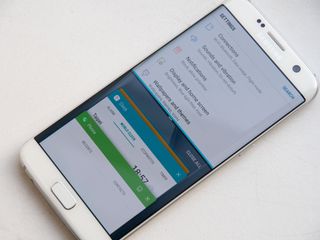 The Android 7.0 Nougat upgrade for the Samsung Galaxy S7 + S7 edge — currently in testing through the Galaxy beta program — is the most comprehensive update yet for Samsung's 2016 flagship. In addition to giving the GS7 its first Android platform update, the Nougat beta gives us our first look at Samsung's next-gen UX, which is loaded with new features.
There's a lot to see, and because we're dealing with non-final software, things may change between now and the day the final OTA hits. Nevertheless, we've rounded up the features you need to know so far. Check out our top ten:
1. Everything looks different!
Gone are the days when you'd have to buy a new phone to get an updated UI. Nougat on the Galaxy S7 looks radically different to what you may have become used to on Marshmallow. Samsung has completely moved away from circular settings toggles and the blue-green accent colors of previous phones. Instead, it's all about bright whites, condensed fonts, and subtle light blue accents.
App icons themselves have also been tweaked, bringing them in line with what we first saw on the Galaxy Note 7 — what's sometimes called the "Grace UX" — with a focus on rounded rectangles and more clearly defined shapes.
The result is an interface that seems much more refined than anything we've seen before from Samsung. That's most evident in the redesigned Settings app — the rat's nest of menu items has been pared back significantly, and shortcut sections at the end of each main settings menu easily allow you to jump to related options.
2. New notification + quick settings
Alongside the well-known notification changes in Android 7.0 — notifications now behave basically as they do in stock Nougat — Samsung's new interface overhauls the quick settings area.
Your five most prominent quick toggles sit up top at all times, then swiping down reveals a grid of extra options, which can be scrolled through horizontally and rearranged to your liking. Samsung also gives you the option to change the location of the brightness toggle, and customize the grid layout — 3x3, 4x3 and 5x3 are the current options.
Quick Connect has been changed too. Right now this toolbar, which can help you manage paired gadgets, shows up when headphones or speakers are connected. From here, you can choose where audio is routed, and easily disconnect from devices.
The notifications area has seen the most changes throughout the GS7 Nougat beta so far, so it's possible we may see further tweaks and refinements as the update approaches stable status.
3. Put troublesome apps to sleep
Samsung's power management options continue to look for less-used apps and stop them from using power in the background. But now you can manually "sleep" certain apps from your home screen. Simply long press on an app and choose "put to sleep."
From there, it won't use power in the background, or receive updates when it's not open.
Manually "sleeping" individual apps isn't something you should normally have to worry about. But it could help tame more power-hungry apps in some situations.
4. Multi-window has been overhauled
Multi-window — a staple Samsung feature for many years — is supported at the platform level in Android 7.0. And that means you're able to use split screen and pop-up view in the vast majority of apps, not just a select few.
And the UI for using multi-window has changed a bit too — now it's a sort of hybrid between the stock Android way and the Samsung way. You can still jump to split-screen mode by tapping the icon next to any supported app in the Recents menu, or dragging it upwards to fill the top portion of the screen. Alternatively, you can long-press the recent apps key. From there, you can control the split between apps just like any other Android 7.0 phone — drag the divider between them — and Samsung also lets you easily close one of the apps, or swap their position.
For pop-up view — Samsung's windowed mode — you can drag a supported app to the middle of the screen in the Recents menu, or swipe inwards from the top-left corner when the app is full-screen. From there, it's easy to drag a windowed app around, minimize it down to a floating icon, send it full-screen, or close it entirely.
Scaling in windowed apps has also been improved, so that when an app is in windowed mode it won't simply be rendered at full size and shrunk down. Instead, you can now rearrange apps into windows of any aspect ratio, with menus, text and other visuals dynamically filling the available space.
5. Blue light filter
A feature of Android 7.1 on the Pixel phones, as well as Apple's iPhone and many others, blue light filter mode allows you to reduce eye strain at night by giving the display a warmer hue. (In theory, that's supposed to make it easier to get to sleep when using your phone late at night.)
By default, it's available in the quick settings menu, and long pressing on it allows you to control just how yellow the screen becomes, or set a daily schedule for the feature. (For example, you might want it to activate automatically at a certain time every evening.
6. Performance Mode
Samsung has taken a much more granular approach to performance and battery options in Nougat. You've still got regular battery-saving modes, including a "maximum" power-saving mode that completely disables many of the phone's higher functions.
The "Performance Mode" takes this a step further, giving you four presets to choose from, and a shortcut to switch in and out of the top "high performance" mode in the quick settings area.
Here's how things break down:
Normal: 1080p, video enhancer on, game launcher on, game tools on
Game mode: 1080p, max brightness, game launcher on, game tools on
Entertainment mode: 1440p, max brightness, video enhancer on, UHQ upscaler on
High performance: 1440p, max brightness.
7. Device Maintenance
Battery and storage settings now live in the new "Device Maintenance" section, which encompasses performance modes, RAM and security settings. So to find out how much space you've got left, or how view your estimated battery life you'll need to tap through a few more menus.
The Device Maintenance area, a continuation of the Clean Master integration seen in earlier Samsung phones, gives you a score out of 100 based on all five of these areas — battery, performance, storage, RAM and security — and gives you a big friendly button to press to "fix" issues that might be slowing your phone down. For example, on our device, the it detected around 1.6GB of cached data which it deemed "unnecessary." It doesn't go into any great detail on exactly what you're clearing out though, so you mostly just have to trust that it knows what it's doing.
The Device Maintenance tool can do the same for RAM, stopping some apps from running in the background. (In our case, it suggested Twitter and Gallery, bizarrely.)
8. A more useful Always On Display
Like on the Galaxy Note 7, Samsung's Always On Display becomes much more useful on the Galaxy S7 with Nougat. The Always On Display can now show notifications from all apps, in addition to the date, time, battery level and calendar appointments, depending on how it's configured.
The inclusion of third-party apps here is the most important addition — some of the other features were already included in a separate update for the Galaxy S7 and S7 edge. You may still prefer to turn this feature off to save power. But with its increased functionality in Samsung's latest software update, there's a stronger argument for leaving the Always On Display... well... on.
9. Display and resolution scaling
Samsung included a "condensed mode" in the Galaxy S7 on Marshmallow, letting you see more on screen by increasing the display density. With UI scaling being supported at a system level in Nougat, you now get more fine control over this. There are three "screen zoom levels — small, medium and large — and on the Galaxy S7 edge the "small" option gives you a Google Pixel-like zoomed-out view, with more items visible in Gmail and other apps.
In addition, you can also directly control the phone's screen resolution — running at a resolution lower than the native Quad HD (1440p) can save a small amount of battery power. The default is now Full HD (1080p) if you're setting things up from scratch, and although the difference isn't entirely noticeable, you may want to manually set it to Quad HD to make the most of the GS7's impressive SuperAMOLED panel.
More: Galaxy S7 display scaling options on Nougat
10. Squircles!
Finally, icon borders — squircles (or "square circles") — are back! By default, the Galaxy S7 on Nougat encloses icons in a rounded rectangular border. This sometimes gives the UI a more cohesive appearance — for instance, many apps like Twitter just use their normal icon inside a rounded rectangular cutout. Other apps, like the Play Store, place a white icon on a white frame, which looks a little weird. (We've been here before with Google's circular icons on the Pixel.)
Love 'em or loath 'em, it's easy to switch squircles on and off in the Display settings menu. It is interesting, however, that they're enabled by default this time around.
Galaxy S7 owners, what do you want to see in the Android 7.0 Nougat update? Shout out down in the comments!
Get the Android Central Newsletter
Instant access to breaking news, the hottest reviews, great deals and helpful tips.
Alex was with Android Central for over a decade, producing written and video content for the site, and served as global Executive Editor from 2016 to 2022.
Is there any good estimate for when the S7 OTA will arrive?

According to a recent leak they say the Galaxy s7 nougat update should arrive by the end of the month or early January next year.

I hope that this is correct.

Why dont you just do the beta you get to keep it till the ota shows up

Dw Linton How to get N beta in S7e?

Probably another couple of months of waiting for an official release.

Only if you're on Verizon.

Probably about the time the S8 comes out.

There's one very basic thing that still seems to be missing: double-tap to wake.
There's not a single day I don't miss that feature (mainly because ALL my other phones have had it since 2012) and seeing it still not coming may be a factor against me updating the S7 to 7.0.
Specially if the "security policy" that Google introduced and that broke douple-tap to sleep apps working with fingerprint unlocking is still in place. It's bad enough I can't double-tap to wake my S7, I will not be losing double-tap to sleep either over some stupid Google-idea. I'll wait and see what 7.0 brings. Then I'll decide if I'll update.

Except one double tap feature is there on the always on display if you double tap the notification it wakes the phone and takes you to app and or message

Agree. I would rather use my AOD vs double tap to wake or raise to wake.

Except I don't use AOD as I don't like it (I never used it on Nokia phones from where it came and there it had way more functionality, let alone on the S7 where it's pretty useless).

But with third party support you can now pause skip tracks etc.. they have made it a lot more functional now.

With AOD, I just hit the home key (wakes it) and leave my finger there for a second (unlocks it). EZ PZ

Hitting the home key and waiting for the phone to unlock doesn't require AOD turned on. And that's not the point I was making. What if I just want to unlock the ovine with double-tap instead of a fingerprint? I currently can't.

The Wave to wake feature is still there. I don't use double tap because it's easier to just Wave my hand over my phone.

Good luck waving the hand over the phone while taking the phone from your pocket all of that with only one hand...

The answer to the situation you are referring to is, "use Always on Display". It cuts the screen off when in your pocket and when you pull it out it pops on. I was referring to when your phone is just laying there not being used with Always On turned off for the wave feature.

Actually no, that's not the answer. The answer is the feature being placed back. Double-tap to wake doesn't serve only to check the screen saver. It also serves to easily unlock the phone for example. Double-tap and swipe. Or double tap and unlock. None of that is solved with the useless AOD on the S7.

There's no use in double tap and swipe to unlock your phone when anyone can unlock it. What would be the purpose of locking your phone in that case. But, if you're the kind of person that locks your device, a tap and hold of the fingerprint scanner will do the job you're looking for. Duuh.

Now that I've re-read your comments, I realize that you don't actually use a password lock. You just use a basic swipe lockscreen.

Right. If you lock your phone, double tap is useless. I loved that feature on my M8. Using it on a locked Samsung device would drive me nuts.

What I also noticed is that this person doesn't use Android or Samsung Pay either.

Yeah, it just wouldn't work for me with my current set up.

That's correct. I have the S7 with the fingerprint lock but only because double-tap is missing. Otherwise I wouldn't have it locked as I have no need to lock my phones. I don't have anything in them that would require that (and they never leave my hands... And if it gets stolen, I always have a second one on hand to remotely lock it and wipe it). I also have certain apps individually locked. So the phone itself can be unlocked without problem. And no, I don't use either Android or Samsung pay. First because they're not available in my country (and even if they were they wouldn't be accepted anywhere). Secondly because I don't want any credit card info stored on my phone. And thirdly because I don't see any advantage over taking out a credit card.

All this hype and no release date or anything. Nevermind when the carrier's get it, the US could be waiting till next summer. Another reason not to buy Samsung.

Your welcome. Already have.

Now that Google has Pixel, this will probably be my last Samsung.

Sprint and Tmo will have to it sooner than everyone, and that's likely in the next couple of weeks. The beta is going smoothly.

Agreed. Hopefully themes will allow the eye-blinding overkill to be tamed a bit.

Yep. They will. This is basically Grace UX from the Note 7. Folks will also be able to use a system theme then apply a different icon theme to it. it's something the Note 7 could do and now the S7/S6 will be able to to do.

This update looks good! I don't like all the white though but I'm sure that can change

Yeah you can just apply a theme.

Secure folder. This was the best thing on the note 7. Miss it on the s7 edge. Wish they would add that feature.

The S7 edge has a Privacy Mode under Privacy and Safety... You can hide some stuff, check it out, might work out for you. I have the international model, don't know if the US carrier variants don't have this at all.

I have it on my Canadian s7 edge

That's more of a hardware thing since I think you need Iris scanner for that. But it would be nice to have maybe use the fingerprint scanner instead.

There goes the point of using an amoled panel with all of the white. WHERES THE BLACK LMAO

Dont be dtupid. You can use themes

Samsung central...pshhhh. Why don't you publish an article about the best parts of the *other* phones that already have nougat. People with the Samsung Galaxy S7 and Edge won't see this update until March. I honestly doubt the market penetration on the unlocked version in the US is going to be a large enough portion of people for this to even matter. And the international version won't see it until after the unlocked version I'm sure.

My $200 desire 626s if on the same version as my $800 Galaxy S7. For crying out loud, the M9(a 2015 flagship) if getting nougat already! Haha. Oh, Samsung...

As I sit here with Nougat on my S7 Edge. And the purist it's going to get! lol

Nice. And you're one of how many million with this phone? Let me guess, you got into the very restricted beta testing?

Not that restricted actually. And most of those millions aren't phone nerds, and couldn't care less.

I'm a phone nerd and am looking forward to the update (had the Note 7 a much too short week). BUT I'm much happier about my Nov 1st security patch my S7E has which is inevitably more important than getting the latest OS for me (see that "for me" at the end? That indicates an opinion or preference - just in case follow up comments missed it).

The S6 got Marshmallow in February this year so I'm betting we'll see Nougat on the S7 by January, as this beta testing period was started/finishes a month earlier than it did last year. The beta period ends in mid-December so January seems the logical choice for the final build.

It's the principle. Look at how much larger Samsung is, with a significant amount more of resources. And they can't push an update out to their *2016* flagship faster than "little old HTC" can to their *!2015!* flagship? Go cut the grass, Samsung. You're done in my house.

You'd be the same one complaining that they shouldn't have rushed it because it ruined your phone. Can please some...

Here's an AC article about the Motorola Nougat update: http://www.androidcentral.com/moto-z-nougat-life-thousand-improvements

"Everything looks different!" Ugh, my parents are gonna be so confused.

Old people and technology, eh?

Friend I am over 80 and perhaps not as agile as you
but still read and write and use technology.

Some of these features are all well and good, but I am really more interested in what they've done with the Language settings. It seems that is one area they always screw up big time and then allow the carriers to make it even worse by limiting the number of languages you can choose from. Nougat makes significant changes to the way languages and locale are handled so I wonder how much of that Samsung left alone or changed.

Just looked in settings. I counted 188 different languages supported in this beta.

It all looks very nice. I'm really looking forward to this update. I'm glad Samsung is taking all the time in the world to get it done right. I was very intrigued about the split screen changes since Samsung already does it very nicely, it sounds like it's gonna be a nice combination of both.

Wake me up when official out.

Wake me up when it's official out.

Wake me up when it's official out in March.

You know there's an edit button, right?

He wrote his comment from his idrizzy aka iphone thats why...

it's for phones with SAMOLED displays not LCD which begs the question is there a dark/black/night mode ? Presumably dark themes are available for those (like me) that detest bright white and pastel shades.... ?

There's only a blue filter but with some kind of a dimmer like the brightness adjustment one, it varies from orange to blue, same as note 7, it will make a difference when in a dark room specially if in bed before going to sleep, it can also be scheduled to turn on and off. no themes were available from what i remember, only light filter.

No dark mode. Yes, everything is white, sadly. The theme store didn't work in the beta until today's build so I'm sure there will be plenty of dark themes available soon, hopefully.

That looks very nice! Hopefully there's a dark mode option, too.

Will the Galaxy S6 be getting Nougat?

Considering the s5 got marshmallow I would think so.

No adoptable storage, no deal.

Keep in kind that adoptable storage slows down your phone significantly. SD cards are way way way slower than the SD drives that come built into the phone.

Keep in mind that this is a bulls**t lie spread by Samsung execs before the S7's launch. Debunked here: https://jdrch.wordpress.com/2016/04/18/mythbusting-adoptable-storage/

Man, all that Note 7 looking shizzle. Cannot WAIT to get that back. Not even mentioning all the under the hood stuff.

I hope Nougat looks this good on the Nextbit Robin.

When the display screen is the main battery hog, and limited battery life is THE main constraint on mobile devices, it just boggles my mind why phone makers tout white and pastel wallpapers and backgrounds (and it boggles my mind why users use them.) The first thing I do on new phone with an amoled screen is go to an all-black wallpaper, and black backgrounds on apps wherever possible -- and that is because black uses no battery (fires no pixels), whereas white is maximum battery drain (fires all pixels). And there is a secondary benefit -- everything is more visible on a black background, allowing the brightness to be turned waaaay down -- reducing battery drain even more.

absolutely! it disturbs me greatly that in all this genius that designed and styled this update, it just didn't occur to ANYONE ??? that bright white displays are downright ridiculous on an AMOLED display for exactly the reasons you've stated above.
What other oversights have there been ?

Uhhh... how much time do you spend in your settings app and quick settings every day??? Seriously. That being said, I'm not a fan of that light baby blue text at all.

This is the exact OS that was already pre-loaded on the Note 7, same GUI same everything. i got the chance to use my note 7 from August 3rd till September 25, and it's a pretty good OS, get over how it looks. I am using now the S7 Edge and hate it, but can't wait for the update so it gets better since they have the same hardware under the hood.
The battery saver mode transforms the phone, i used to get 16 hours of heavy use non stop, it's so much easier to navigate once you get used to it and it will take u a couple of days.
The device maintenance is so helpful and it will affect the battery life.
The note 7 was 100mA less, but gives 30% more time because of the OS and you will notice the difference.
The quick settings will become a drop down list, you don't need to go to settings for further settings which is awesome.
The edge light will be for all apps not only native ones like phone message and email, if you get a facebook notificaiton or twitter, whatsapp, snapchat, it will light up.
The always on also will display all the apps not only the native ones. Don't judge before trying, you will love it.

So much attention to look and feel. What we need is innovations in use and application in our daily lives. We still dial the same way as we have for years. That could be improved. Scheduling appts, reminders is still largerly unchanged. Improving the music cataloging/playing experience would be great. Bluetooth syncing and switching could be greatly improved. How about application screens that change based on location;work, home, boat, etc. or room; bedroom, den, kitchen. Love Samsungs fingerprint login! How about a more seemless integration with Skype, and Wifi dialing when in the regular dialer? Seemless conference calling between Skype/regular mobile users. Built-in password management. Android needs to fix the "disappearing" contacts issue. Where and why do contacts just evaporate?
These are some of the features that will make our phones and lives easier. Just another icon color/shape/menu change? Save the upgrade hassle.

Blech! All that whiteness! I hope there are dark themes! Not helpful to battery life either, lighting up the screen... The rest looks interesting...

It would be great if apps could more automatically be stored on the SD card. CleanMaster used to support this but ceased to support this about 6 months ago. And CleanMaster required too many clicks to do it then. What is needed is a more global setting such as "store all apps on the SD card that can be stored there except these apps, and the user would just have to choose the few apps that he or she wants stored in RAM." This type of functionality would allow more control over RAM management.

I just want to see next alarm on the home screen or edge clock. Preferrably both.

Effectively all of the software features available to the Note 7 (RIP old friend), minus the s-pen and 150 bucks. I think that's a win.

How is it that the LG G5 for Verizon already has the Nougat update the the Samsung phones do not! That is wack. My coworker go their update a few days ago.

It's because Samsung is going to release Nougat 7.1.1 in lieu of 7.0 when they release the final version to the public.

The big question is when to we who have a carrier locked phones get the update, since we can't access the beta?

The carrier phones of sprint, T-Mobile, and Verizon where the only ones to have access to the beta. Verizon is no longer apart of the beta. They just had limited spots open for the beta.

I would like to be able to use free fonts and anything else I want without rooting my device.

I've decided to try out 7.0 on the S7 for a week. On Saturday I'll be rolling the phone back to the March 6.0.1 version. For every thing I like about the 7.0 update I find 2 I hate. Let's start with what I like: - custom quick setting toggles in the notification tray. Very useful to launch some apps no matter in which screen you are. - Resolution scalling. I don't notice any difference between 1080p and QHD. I also don't notice any difference in battery life. But I like to be able to decide that. - Maintenance centre is nice. Now here's why I'm going back: - Google's idiotic "security policy" hasn't been fixed and double tap to sleep + fingerprint unlock on Nova is therefore still broken. It's bad enough the S7 doesn't have double tap to wake, not being able to have double tap to sleep is just infuriating to me. - The new notification shade is a disaster. I can choose the size of the grid when fully expanded...but not when not? As a result I get 6 minuscule icons at the top of the screen, which are a pain to reach without gymnastics or holding the phone in a way I consider unnatural and uncomfortable (I hold my phones with the bottom resting atop my little finger). - The new settings are a complete mess. The axing of the quick settings on the top is a very stupid idea. I actually used it a lot. Now I have to either constantly search or spend ages trying to figure out where the Hell did Samsung put a certain setting. They literally picked Windows 10's new settings app and ripped it off. There are a lot of Windows 10 things they could have copied...the settings app should have been the last thing. - Multi-windows is a disaster now. I have the habit of using it with YouTube on top and another window open below it. With "Google's split screen" whenever I try to use it, the picture on YouTube goes black and I have to constantly be rewinding the video for the picture to show again. And the gesture to minimize the video window with a swipe? Yeah, not working with the new split view. - WHITES EVERYWHERE. A black theme solved the horribleness of the settings menu and notification shade. Unfortunately things like the caller now remain untouched and every time I go to use it I have to bare those horrible whites and that new "colourful sea" animation, as if a unicorn was vomiting inside my phone. - The new notifications are also terrible. For example, on 6.0, when I opened the torch, I'd get the notification with a "turn off" option right there. Now? Now I not only have to pull down the notification tray, I also have to expand the notification to turn off the torch. An extra set which was completely unnecessary.
Same thing for most notifications. They get condensed and cut and I have to expand them to be able to make them useful. Sure I can now reply directly from them but what's the point? If I'm going to have to expand them to actually be able to read them and then click to reply I might as well just click them and have the app open. I gave it a try. No one can say I didn't.
But the 7.0 update on the S7 is just too bad for me to want to keep using it. Too much broken for my taste. And I don't give a sh*t about which version of Android I'm in. All I care about is that the phone works the way I want it to work. And that's not happening on 7.0 to me.
(Same reason I rolled the Z3C back to KitKat).

What a stinking, steaming pile of dog crap 'Nougat' is. Having a Samsung Galaxy S7, I have just updated to 'N' and have to say, what a freakin' disappointment! I have no idea what it is with Google and why they make each update of Android more sparse than the one before, but come on, enough of the 'Material Design' garbage. It is utter sh!te and always has been! FFS, bring back colour, gradients , demarcation an some some nice icons. Not the monochromatic sh!tty interfaces that we've had for what seems like an eternity. Most of use have handsets cosying £500+ with beautifully awesome screens like nothing seen before in a hand held device and we are forced to look at huge white spaces, big, white interfaces/menus, with single colour icons! WTF? For instance the pull-down the top menu for instance on my Samsung Galaxy S7 Edge' is white, with light blue basic icons. I know, I've got an idea! For the next Android update, make the icons white on a white background and be done with it! We, the users can just use 'The Force' to find what we are looking for. FFS! It might be a surprise to Samsung/Google/Android, but some of us don't like, or to put it bluntly, HATE predominately white/light interfaces, with light-coloured this and light-coloured that. Personally, it literally hurts my eyes to look at a predominately white interface and when all the icons are the same colour instead on being individual, then I think that takes longer to find what your looking for. It's like someone with OCD is in charge and wants everything to match! I'm all for continuity, but there's got to be some give when it's informational content on screen. Oh, and the 'LOOKING FOR SOMETHING ELSE?' found at the bottom of each sub-menu in settings? WTF? Just put all the available options there for me to peruse! I'm pretty sure I'll manage to navigate the extra content! Here's an idea, why not use easily identifiable icons in order to de-clutterise the menus instead of over texting the menus? Also, WTF is it recently with the overuse of actual words instead of icons? For instance, in the default email app, if you long-press a message, you are presented with the word 'DELETE' as an available option. Now forgive me if I'm wrong here, but what is the universal symbol for 'DELETE'? A fracking waste bin, that's what!? Everyone in every language is familiar with this, so why change it to the actual word "DELETE". Surely, it must be harder to program the OS to use the translated word for 'DELETE' considering the wide range of languages available in Android. Oh, and 'NOTI. SETTINGS' on the pull-down menu? Ahhhh, this annoys the p!55 out of me! If words have to be used, at least use the full words as it just looks less lazy! Another step back IMHO is the in-call screen which is so poor, it's criminal!. Sadly, there wasn't the preferred full screen HD image of the caller contact in previous versions of Android (although, I'm pretty sure it was a loooong time ago), but at least we had the half-screen contact's image on display during a call up until recently. Now? A stoopid little lo-res circle with a blurry-crap background. Again and update that makes the interface look worse. I'm pretty sure there is an Apple insider at Google signing off these 'ASAP' (As **** A Possible) updates in the hope more Android users will defect to Apple. Defection has never crossed my mind in 8 years, but the last two updates (M & N) are pushing me closer! I just feel that the interface of last few incarnations of Android has become increasingly clinical to the point the interface is just not nice to look at or as easy to navigate (no colour, no demarcation and no vivid icons. Maybe by Android 'P' we'll have retrograded to a black & white, icon-free, DOS-like (just text) interface! Most of the yunguns' probably don't even know what DOS is FFS. Seriously, it as if Google are retrograding in order to re-upgrade the interface in the future.

Hello everyone
I received the update about a week ago, I'm still try to play with new features...
So far I like it, but I found a few things that I hate.
#1
I type in 3 different languages, I use to just typing no matter what language was selected it was working and suggesting words. Now I have to make sure I select the right language otherwise it won't!
#2
When I press and hold home button to open Google app, the app it open and the keyboard disappears while I'm typing.
Tried to clear the cache and look for any reason why was doing that but nothing seems to work.
#3
The quick setting menu was awesome cause I had what I needed right there ready to go. This is just my point of view of the update, some of you might like it better than the past OS versions.
I hope this will be useful for someone.

Like an idiot I clicked update on my Galaxy S7 non-edge phone yesterday without reading. Boom! Nougat installed and the rest is a piss me off day. I could not increase the size of the fonts in the notification area. What is this? A notification area for ants? This nougat is the worst Android update ever. Has anyone figured out how to increase the font size in notification area? I tried the zoom, font etc. but to no avail. Can I go back to Marshmall easily? Thanks in advance.

Its pretty easy,
go to settings, display, screen zoom and font
change your screen zoom
I just did it AGAIN and it changed the notification area size... It sucks your having an issue with it, i personally couldn't be happier with this update, i feel like i got a new device.