Motorola has sold over 70 million Moto Gs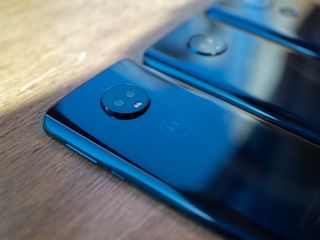 Motorola just launched its latest generation of the Moto G, with three phones — the G6, G6 Plus and G6 Play — that bear little resemblance to the humble original Moto G from 2013. Though the size, features and specs of the G series have evolved heavily over the last five years, the mission is still the same: be a phone for the masses that's affordable but also has an experience beyond its price. And apparently, it's worked — Motorola's Sergio Buniac, whom I spoke with prior to the G6 launch, said that Motorola has sold over 70 million Moto G series smartphones since the line launched.
That's 70 million phones in five years, or an average of 12 million phones per year. And considering sales numbers were initially quite low, selling only a few million per year, 2016 and 2017 have obviously been enormous for the Moto G series and Motorola as a whole. Even though the Moto E and lower-end Moto Z Play series phones have been solid growth areas for Motorola in some markets, the Moto G has driven a large portion of its success since being acquired by Lenovo in 2014 (opens in new tab). Buoyed by what have clearly been strong Moto G sales, Motorola has taken a top-2 position across the biggest markets in Latin America, and also become the No. 1 unlocked phone brand in the U.S.
Motorola sees the growth continuing on an aggressive upswing as well. Mr. Buniac said that within this generation of Moto G phones, the company's goal is to reach 100 million total sales. Considering these phones will be on sale for roughly 18 months, that's an extremely impressive number. The new Moto G6 series won't be on sale in the U.S. for a few weeks, but went on sale on announcement day in Brazil and other Latin American countries — and I expect that sales were strong from the start.
Get the Android Central Newsletter
Instant access to breaking news, the hottest reviews, great deals and helpful tips.
Andrew was an Executive Editor, U.S. at Android Central between 2012 and 2020.
I like the phones but they are too slow with updates.
I might not opt for Motorola phones in future if they don't improve on the update front.

#FirstWorldProblems Seriously? I dont remember one time Motorola promised super speedy updates

Motorola provided a faster update to Nougat on my Moto G4 Plus in India (on Dec 29th 2016). This time there isn't any news of even a soak test for Oreo for the G5 Plus which I am using now.
Security patches are also quite late to arrive.

Like I said before. Motorola didnt promise speedy OS or Security Updates. If you want timely monthly security updates then buy a Pixel or BlackBerry Andriod phone. Want fast OS uodates then buy Pixel

I know Motorola did not promise speedy updates but they did promise one OS upgrade to the G5 plus which still hasn't been given after so many months of release of Oreo. As I said I will be changing - though I like Motorola phones for their hardware and software, I will most probably be changing over to Nokia next time.
There are many others like me who are going to be doing the same.

This is a needlessly aggressive and condescending response, considering that they didn't say anything about Moto promising speedy updates. They said that Moto's slow updates may prevent them from buying Moto phones in the future.

That's what I meant and I am not the only one.
Thanks !

I love the twist for camera and "karate chop" for Flashlight on all Moto phones. They are just "OK" on updates and that includes the Moto X4 Android One edition. It is slower than I expected for Android One.

Yes, it is. I have four other devices on Lineage OS, running Android 7.1.2, that now have the April 5, 2018 security update. My Moto X4 Android One is still on the March 1, 2018 security update, though it is running Android 8.0 since December.

I've been tempted to go back to one, used a Moto G4 that I got on swappa for $125 for a few months last year and other than the camera being a little lacking for me it handled everything else without issue and it was the 2GB Ram model. Gave it to my kid and now I'm running a Pixel 2 but some days it feels like I'd be just fine with a Moto G.

Out of the 70 mil 3 are ones are bought for me mom.

Moto lost me as a customer due to poor customer service when my g4 plus went faulty. I may just have been unlucky but I'm going to give them a miss this time round.

How many did they sell in the last year or two? I was more likely to buy a motorola back when they weren't owned by Lenovo. I wouldn't touch one now along with most phones especially if they include a notch.

Big fans of the Moto G's it's what I tell my staff to order.
They keep wanting Samsung's for some strange reason.
Might start recommending the Nokias now though.

Yup, I have a Moto g5s Plus. It's a decent phone. My first android and first phone that isn't a Nokia. I bought it cause Nokia 6 wasn't up to the mark...But I'll be going back to Nokia again the next time around. They are getting a lot of things right, especially on the design and updates front. But I definitely will miss Moto's glance, flashlight chops and camera twists!

That last sentence I agree with I was chop choping with my pixel yesterday I was like oh yeah right.

I'm very unhappy with Motorola. My last Motorola phone was working perfectly. Paid it off. Got big update. Suddenly phone has problems. Got worse & worse until unusable. They Sabotaged my phone to make me get a new one - that's for certain. Criminals. No more Motos for me.

This is why Moto cannot keep up with updates. Since they have a personal vendetta against you, the coders are busy making an update that will make you need a new phone. Sneaky!

The battery life on my Pixel 2 has been a bit dodgy of late. I blame the subterranean lizard people.

https://i.imgur.com/v8Uvhbt.jpg

Thanks for starting my day with a smile :)

"#1 unlocked phone in the US." They are the only unlocked phone even worth checking out at Best Buy. They stand out among the junk phones and overpriced phones surrounding it. Nokia has a chance to be a real competitor, but needs to step up it's US retail game.

"That's 70 million phones in five years, or an average of 12 million phones per year." Math is hard, eh? Try 14.