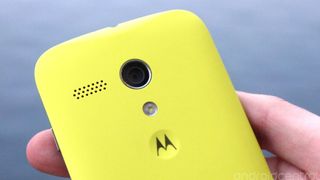 Motoro​la's latest is the best cheap Android phone you can buy, by a surprisingly wide margin
Outside of Google's Nexus line of products, good, inexpensive Android phones have been hard to come by. Instead, the word "cheap" has frequently gone hand in hand with "nasty" when describing handsets in the £100-150 (or $160-200) price range. That's outright, with no contract signed. But with its new budget phone, the Moto G, Motorola is seeking to change this.
In its recent presentation from Brazil, the new, fully Googlified Motorola took aim at both the low-cost competition and rival Android device manufacturers in general. The former, it said, typically consisted of compromised, out-of-date hardware that in turn delivered a lackluster user experience. And the latter had a wrongheaded approach to smartphone design, according to Moto VP Punit Soni, loading Android down with unnecessary bloat and features that compete with Google's ecosystem.
Instead the manufacturer insists its entry-level plan makes more sense by focusing resources on key specs like the display and CPU — and building apps, not intricate new UIs atop Google's OS. Moto G is the result — a budget Android phone unlike any other in its price range, and one that looks set to shake up the low-cost Android space.
Let's see how it shapes up, as we give the Moto G the full review treatment.
Pros
Comfortable, ergonomic design with great build quality. Fantastic display. Speedy performance for the price. Superb value for money.
Cons
No LTE. Back covers can mark easily. 8GB of fixed storage leaves little breathing room.
The Bottom Line
You can easily point to a lot of things that aren't on the Moto G. But even so, it's the best phone at this price point by far. Go buy one. Hell, buy two.
Swipe to scroll horizontally
The Moto G video walkthrough
Moto G hardware and build quality
With a mostly featureless front, flattish sides and a curved back, the Moto G isn't the most head-turning smartphone design it there. But what it lacks in pizzazz it makes up for in ergonomics and understated class. Much like the Moto X, it fits in the hand very comfortably, with smooth curves on all sides and no unwelcome sharp edges. Power and volume keys sit on the right edge within easy thumb (or middle finger) reach. And the back is the spitting image of Moto's larger flagship too, from the stylized lip at the top to the dimple under the camera where you'll find the only branding on the device, a single Motorola logo.
The design is simple, but it works — it's comfortable and unthreatening, but stylish. The phone ships with a standard matte plastic back shell — removable to access the microSIM slot — and Motorola will be selling aftermarket shells in a variety of colors. We've been using the bright lime-yellow back with our review unit and we've noticed it has a more premium finish than the bundled black one. Both backs seem more than a little susceptible to wear and tear, however. The standard black picked up visible wear around its edges in the first week of use, while the yellow one sported blue stains around its corners after a couple of days of being pulled in and out of a jeans pocket. Fortunately in the case of the yellow back, we were able to clean these marks off easily enough with a damp cloth. (After removing it from the phone, of course.)
There's really not a whole lot to say about the front of the Moto G — it's 100 percent screen, save for an earpiece, notification LED and the usual sensors, including a front-facing camera. As the G uses software keys, there's nothing to see when the phone is powered off.
Switch it on and you'll reveal the Moto G's most powerful asset, the 4.5-inch 720p LCD display which looks absolutely fantastic, and is all the more impressive considering the phone's price point. It's bright and clear with colors that are vivid, but not over-saturated. What's more, viewing angles impressed with almost no discoloration when viewed off-angle. Clearly this high-quality panel is where most of your £135 is going — and rightly so, as its the thing you're going to be fixated on every time you pick up the device.
On the inside, the Moto G rocks a Snapdragon 400 CPU — a quad-core variant that's a little different to the Snapdragon 400 we're used to seeing in recent Samsung and HTC phones. It's got four Cortex A7 cores clocked at 1.2GHz, paired with an Adreno 305 GPU. The Cortex A7 is designed primarily with energy efficiency in mind, and that's reflected in the excellent battery life we've witnessed during our time with the Moto G. But its also no slouch in terms of general day-to-day performance. You'll certainly notice a difference if you use the Moto G side by side with any of the current crop of high-end Androids, mainly in terms of touch response. But at the same time its far from sluggish.
There's also 1GB of RAM — about as much as we'd expect for this class of device — and enough to keep things running smoothly most of the time. We did notice a couple of instances of the home screen launcher being dropped from memory, leading to redraws when we pressed the home button. However this was mostly after relatively long browsing sessions with multiple Google Chrome tabs open, and the launcher was pretty quick to spring back to life upon pressing the home key.
There's a choice of 8 or 16 gigabytes of built-in storage available — the former for £135, the latter for £160. The 16GB model isn't easy to track down online at the time of writing, but our 8GB review unit leaves 5.52GB free for your own apps, photos and other stuff. That's not a lot of breathing space, but not unexpected for a phone so cheap. Naturally, as a device that follows Google's design guidelines for Android, there's no microSD slot.
Connectivity-wise, the Moto G tops out at 21Mbps HSPA+, so there's no LTE or DC-HSDPA on offer here. You do at least get pentaband coverage, which means you'll get support for most HSPA networks around the world, including AT&T and T-Mobile in the states. (Update: The original Moto G spec sheet specified five HSPA bands on a single model. It has since emerged that there will be two GSM Moto G models, a global version with quad-band HSPA support and a US-only model with tri-band support.) Besides that there's WiFi b/g/n and Bluetooth 4.0, but no NFC — another completely understandable omission.
Overall the Moto G hardware tale is one of sensible, measured components wrapped in solid build quality that puts much of the plastic competition to shame, particularly in the entry-level space. It's not a great gaming platform — the processor sees to that as much as the limited storage space. Motorola's various compromises make sense, and the device's spec sheet tells the story of a hardware budget cleverly spent, most significantly when it comes to the display and CPU.
Moto G specs
Moto G software, OS and features
On the surface, there's not a whole lot about the Moto G's software that stands out. It's running near-stock Android 4.3 Jelly Bean (with a KitKat update promised for January 2014) and the only major visual distinction is the transparent background of the software keys in the home screen launcher. Besides that it's almost identical to Android 4.3 running on a Nexus device.
The decision to go with vanilla Android is a very deliberate one for Motorola. Of course it makes sense now that it's owned by Google (and since earlier this year, very publicly so). But its also part of Moto's war on bloat and inefficiency — the company wants to emphasize performance and responsiveness over flashy graphics. And in any case, you could certainly do a lot worse than the look and feel of stock Android 4.3.
So 99 percent of what you see is the work of the Android design team in Mountain View, with the main additions from Motorola coming in the form of apps and features. These include Motorola Assist, which allows you to toggle certain settings based on where you are or what you're doing. For instance you can silence the device and and auto-reply to certain contacts while you're in a meeting (based on your Google Calendar events), or keep things quiet at night by telling the app to mute notifications between certain hours. Assist is a neat, useful feature, but it's nowhere near as capable as similar offerings from some rivals, such as Sony's endlessly customizable Smart Connect app.
You also get Motorola Migrate, a new app to help you automatically import your own content — contacts, texts, call history, media and other stuff — from an older phone. But perhaps more useful on a day-to-day basis is the trusted Bluetooth feature, which lets you disable lock screen security if paired to a "trusted" device. As we've found using the Moto X, this feature works great if you use your phone with a smartwatch or some other wearable device.
What you don't get is any of the fancier features from the Moto X, such as active notifications, the shake gesture to load the camera app, or touchless controls (wherein you can say "OK Google Now" anywhere, at anytime, to launch a search). Motorola tells us that's a limitation of the phone's hardware, mainly to do with the fact that it's using an off-the-shelf Snapdragon 400 as opposed to a custom creation with low-power processors to handle sensor input. But our disappointment is more than offset by the Moto G's low price, and it's entirely understandable that these advanced features are currently outside the reach of a budget product.
Moto G official accessories
Motorola has launched a full complement of accessories alongside the Moto G. There's a wide range of brightly-colored, replaceable back panels to add a splash of color to the device, as well as more traditional bumpers in various colors to protect the phone from knocks and scrapes. And if you're carrying the Moto G loose in a bag there's an official flip cover to keep the screen protected. These come with a built-in magnet to automatically power the screen on when opened.
In the UK, the flip shell will cost a respectable £18.99, while the bumper is a mere £9.99. Moto also offers wired earphones for £34.99, and USB battery packs in various sizes will apparently vary in price depending on region.
To learn when the latest accessories come into stock, hit up the ShopAndroid newsletter.
Hands-on with Moto G accessories
Moto G camera review
In addition to its fairly basic 1.3-megapixel front-facing camera, the Moto G packs a 5-megapixel rear shooter with LED flash which can record 720p HD video. As you might expect from a budget smartphone, it's not an amazingly good camera. However it's also not terrible, mainly due to Motorola's camera software.
The Moto G shares the Moto X's camera app, which looks similar to the stock Android camera app, but it's different — and better — in quite a few ways. Photos are taken by tapping anywhere on the screen and other features are activated by swiping gestures — swipe to the left to view the photos you've just taken in the Gallery app, or swipe inwards from the left edge to bring up a wheel of options including flash, HDR, focus modes and panorama.
By default the device is set to "Auto HDR" mode, which automatically senses scenes with wider dynamic range and takes an HDR shot instead of a standard exposure. That's a good thing considering the sensor's relatively narrow dynamic range, and it's also the main reason we were able to capture so many decent-looking pictures on the Moto G. But that also means it's typically slow to capture images, an issue compounded by the fact that it's also pretty slow to focus. This is not a camera for the impatient.
The Moto G can capture 5-megapixel images in 4:3 orientation or 3.8-megapixel shots in 16:9 mode, which crops out the top and bottom. Viewed at full-size, it's clear there's a good deal of noise reduction, compression and sharpening going on to make the camera's output presentable. That means a lot of fine detail gets scrubbed away, even in bright conditions. In turn, nighttime and indoor shots quickly become smudgy and blotchy — and blurry, too, if anything happens to be moving. And despite the best efforts of Moto's software post-processing, quite a bit of chroma noise remained in darker areas of many shots.
Image 1 of 18
One particularly useful software feature is the ability to manually control focus and exposure by dragging a bracket around the screen. This allowed us to capture a few great-looking macro images, such as the shot of the berries in our sample gallery. But again, it's something that requires patience and a little skill to use.
All in all, it felt like many of the Motorola camera app's fancier features were wasted on the Moto G's very basic imaging hardware. Nevertheless, with patience you can coax good-looking outdoor images out of it. Just don't expect any miracles.
Video performance followed a similar pattern of fairly soft images, narrow dynamic range and noticeable chroma noise — though the frame rate was at least consistent. There's also a slow-motion video capture mode, though this too is limited by the Moto G's relatively low-end optics.
But let's face it — if you're buying a Moto G, it's probably not for the camera. The fact that it can take good photos some of the time is a bonus, but realistically it makes more sense to prioritize the display and processor over cameras on a budget handset, just as Motorola has done here.
Moto G battery life
With a 2070 mAh battery and an energy-efficient Cortex A7-based CPU inside, is not surprising to find that the Moto G delivers excellent battery life. We had real difficulty depleting the battery in under 24 hours with our day-to-day usage patterns — and when we did it was with a healthy six hours of screen-on time behind us. When idle, the the device uses almost no power at all, even with accounts syncing in the background. And even relatively strenuous tasks didn't seem to impact available charge too drastically. Music playback and web browsing over HSPA, for instance, didn't produce the rapid increase in battery usage we're accustomed to seeing on other Android phones.
The Moto G was also unfazed by hostile radio environments during our testing. For example, busy stations in central London which quickly sap the batteries of many other devices had no such effect on the Moto G — or at the very least, this characteristic battery drain was significantly reduced.
Of course it's still wise to plan on a nightly charge, but if you do you shouldn't have to worry about battery life at all. And it's refreshing to say that about any Android phone, let alone one at this price point.
The bo​ttom line
Depending on your perspective, the Moto G can be seen as a ridiculously cheap phone considering its quality, or a ridiculously good phone for its price. Either way, it's a lesson to other manufacturers in how to make a good, cheap Android phone. The screen is the best you'll find on a budget handset, the CPU, while by no means high-end, strikes a great balance of performance and energy efficiency, allowing the built-in battery to drive the device through a full day of use with ease.
Camera performance isn't exactly trailblazing, but nor is the Moto G's shooter the complete dud it might have been. Similarly, while we're disappointed to see that the Moto X's headline features are absent, this is an understandable omission.
The Moto G easily the best cheap Android phone you can buy right now. (And probably the only Android phone at this price point that delivers a user experience of this quality.) Every criticism of the Moto G has to be framed against its ludicrously low price point. It's closer to mid-range handsets like the HTC One Mini and Galaxy S4 Mini in hardware potential and feature set, but nearer the likes of the HTC Desire 200 and Galaxy Young in its pricing. It's frankly amazing that a manufacturer is able to put together a device like the Moto G for £135 and make money selling it.
And that just makes us all the more disappointed that Motorola is not yet represented outside of the entry-level space in Europe.
Sign up for Black Friday email alerts!
Get the hottest deals available in your inbox plus news, reviews, opinion, analysis and more from the Android Central team.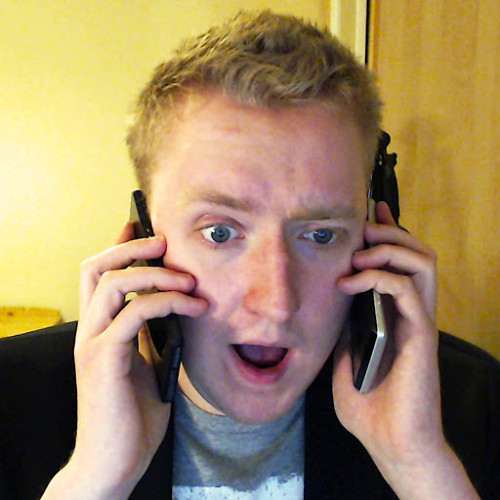 Alex was with Android Central for over a decade, producing written and video content for the site, and served as global Executive Editor from 2016 to 2022.