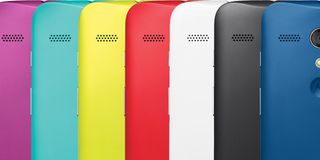 Motorola's Moto G looks to make a name for itself worldwide by being a mid-spec'd but properly priced Android smarpthone.
Here are the complete Moto G specs:
Operating system: Android 4.3 Jelly Bean (to be updated to Android 4.4 KitKat in Janurary 2014)
Display: 4.5-inch LCD display at 1280x720 resolution. 329 ppi
Processor: Qualcomm Snapdragon 400 processor at 1.2GHz. (MSM 8x26, Adreno 305)
RAM: 1 gigabyte
Storage: 8GB or 16GB, two free years of 50GB on Google Drive
Dimensions: 129.9 x 65.9 x 6.0-11.6 mm
Weight: 143 grams
Battery: 2070 mAh (non-removable)
Rear camera: 5 megapixels, (4:3 for full resolution), LED flash, 4x digital zoom, slow motion video, burst mode, auto HDR, panorama, tap-to-focus
Front camera: 1.3 megapixels
Video capture: 720p (front anrear) at 30 fps
Networks: GSM (850/900/1800/1900 MHz); UMTS (850/900/1700/1900/2100 MHz); CDMA (850/1900 MHz). No LTE.
Wifi: 802.11 b/g/n
Bluetooth: Bluetooth 4.0
Location: GPS/GLONASS
Android Central Newsletter
Get instant access to breaking news, the hottest reviews, great deals and helpful tips
First!! Hahaha lol rofl lmao lol!!

Really? Posted via Android Central App

OMG... one step below a troll commenter.

Long time no see this... posted from a s3 and waiting for nexus 5. From CALMEX

I thought this kinda stuff died out on 2010..... ;-) Posted via Android Central App

Anyone remember a phone called the HTC First. It had pretty much the same specs.
It was considered a almost perfect phone except for the capacitive buttons and the Facebook Home integration. Posted via LiquidSmooth 4.3 Sprint GS3

The First started out as 99 on contract, this device would probably be free. The First was also burdened with a horrible name and and even worse Facebook skin. Most users don't want to have to deal with unskinning their devices.

Yeah, not to mention, the First was discontinued, after one month, hahaha. Facebook and HTC made it such a big deal, and then they completely forgot about it, lol. Posted via Android Central App

Hmmm quite interesting since it's so cheap. I wonder how this compares to the HTC One S from a while back.

I currently have the htc one s for my wife on tmobile and it is better quality, more memory and higher hspa+ at 42mbps. Only reason to go with the moto g would be no bloatware.

The Moto g has a better screen, better processor, runs 4.3 (the one s will be stuck one 4.1 and won't get updated past that, while the Moto g is getting 4.4), customizable back cover, and the same amount of memory (1gb if ram and 16gb of storage at $200). Plus getting a One S for $200 new off contract is probably impossible. The Moto G is better in almost every way (not to say the one s is bad).

This is the phone that will beat the low end Nokia´s. If Moto would run ads focusing on the availability of just about any app, on a decently spec´d device, for a hard to beat price, this market will be there.

Optimization. The Moto G runs as smoothly as a high-end phone, while the One S is probably more underpowered and slow. Posted from my pure Google Nexus 4 using the AC app.

Can't have everything sadly Posted via Android Central App

For that price, I agree. Was just kinda hoping.

Got to remember that this phone is being sold mostly in areas where either there is no LTE or extremely expensive. Also in these areas people are more price sensitive so makes sense to remove LTE just to get the lower price point. most people who are looking to buy this phone don't care about LTE.

LTE also drains the battery far more than 3G Posted via Android Central App

I understand its a lowend phone but at least give it 42mbps. At 21mbps and no lte I am no longer interested. I just got a bargain on ebay. Only $279.99 for a used xperia z and the condition was actually really good. I think they could have done better on the specs.

Used... Posted via Android Central App

Yea i know. I'm just trying to point out that with a little persistence you can get a decent phone. But its good to be able to get a new phone for only $179.99 with almost stock android

For the $179/$199 UNLOCKED price I have no problem with these specs. This is a great deal, I am sorry no one besides moto is offering anything like this for that price new.

At this price people will buy the 8gb model fast but then they'll kick themselves when they run out of memory and wished they got the 16gb.

Ya seems like a no brainer to spend the extra $20 for the 16gb.

21mbps isn't enough for you? I dare say it is fine with 99.7% of the world's population. Probably not the super-geeks who run Speedtest and post the results on Facebook and Instagram.

I would love to get that speed. Verizon 4G where I live is slower than that, and my WiFi is even slower yet. Posted from the awesome new Nexus 7

2Mbps sustained is plenty fine for just about everything. Even 720p video streaming is about 1.2-1.5Mbps. Not sure what having that extra 40Mbps would get you. On 2Mbps things load damn fast as it is, if you need more than a few Mb then you're just whining. Maybe it's because I was a smartphone user in the era of gprs, but give me a few Mbs and I'm happy. I could never have LTE and be perfectly fine.

I never get over 6meg on o2 uk anyway so that stuff doesn't bother me Posted via Android Central App

On o2 in the UK to! Glad its not just me getting the crappy 6mbps Posted via Android Central App

I think Motorola could be onto a winner in Europe with this phone. It comes in at a very competitive price point.
I like the colour choices and styling too. Very much Moto X lite. Posted via Android Central App

Everyone needs to understand that this device hits a price point, and to do so certain features need to be omitted from the hardware. Nothing wrong with that now. Hopefully that changes in the future as prices for hardware drop as well.

Good point. Its good to see this price point on a new release phone that will have android 4.4 in less than a month. This is a great backup phone or a great gift.

I wouldn't be surprised if the US model ends up having LTE. It's not coming for another two months, so maybe that's why. We all know Verizon and AT&T won't have anything to do with non-LTE phones, so if Motorola wants them to carry this in stores, it needs to have LTE.

I don't know about att and but verizon maybe. att can fall back on hspa+ which is decent in speeds. Verizon will want lte since they plan on switching people over to that next year. But again its verizon so they most likely will not get this phone just like they didn't get the nexus 5

It wont get LTE and it will be sold from Motorolas website in the states.. going around the carriers is the only way to make any profit on a 179$ phone..

Bingo. Or let the carriers sell it for more (T-Mobile) or attach it to a contract. I can see ATT offering this 'free' with a 2 year contract.

It's headed to Verizon's prepaid line, which AFAIK does not have access to LTE.

This is a true value for money...
But a Phone for emerging market and no SD card slot??? why??

I'm over SD cards now. Its only a matter of time before all phones makers do away with the slot. Posted via Android Central App

If that is so, then they better start putting decent amount of storage. 8GB just isn't enough storage for a lot of people. Even the 32GB of storage on my N5 isn't enough for me. If they continue to withhold putting a SD slot in, they will be disadvantaged compared to the competition.

The phone is $179. Of course it's not going to have 32gb of storage. This isn't a phone for power users, it's an entry level device. Not every phone is designed with YOU in mind. PS - Most manufacturers are ditching the SD cards. Apple certainly seems to do just fine without them.

This. Posted via Android Central App

$200, those specs are fine. Users with prepay will eat this up.

HSPA+ (up to 21 Mbps)? That can't be right. HSPA is 21Mbps
HSPA+ is 42Mbps I think.

No, HSPA+21 exists. Posted from my pure Google Nexus 4 using the AC app.

Now, I know what my next mom's phone is going to be. :-)
That's exactly what prepaid world (outside of the US) was waiting for - cheap device with the right size, decent battery life and performing well. I hope that Motorola can meet those demands and not fall short as LG and Google did w N4. Posted via Android Central App

haha . . "next mom" . . are you planning to be born again? haha :)

Lmao Posted via Android Central App

LMAO Posted via Android Central App

"fall short as LG and Google did w N4."
Thanks for proving you don't know what you're talking about.

There are so many n4 haters. I have had a slew of different brands and handled many flagships and the n4 might be my favorite. I still like the n4 design over the n5. I don't know why people think it is a failure. The only thing right now that could pull me away is the Moto X possibly. |❌_❌|

Yeah, I'll admit, I was skeptical about the Nexus 4, until I actually bought one. One of the best phones I've ever used: it's fast, reliable, and it provides a very smooth experience. Posted via Android Central App

I [i]think[/i] he meant as far as keeping up the demands for production (remember the N4 shortages?).

If this had an SD slot. I would consider getting one. Sadly, no SD slot :/ Posted via Android Central App

And another voice in the lame SD chorus...

What's wrong with wanting an SD slot? I keep all my stuff on an SD card, so I need an SD slot. If you don't need one, that's fine, but there's nothing wrong with wanting one on the phone. Keep your stupid comments to yourself. Posted via Android Central App

people used to keep their stuff on floppy discs too, then burned their stuff on cd's - and we all screamed bloody murder when the drives started to disappear on desktops and laptops - but we're all fine now and I'm sure you will be too ;-)

Agreed. Posted via Android Central App

It's not a stupid comment, honestly, brother. Every single time, a phone is released without an SD card slot, people start "singing" the "no SD card, no buy" chorus, without actually realizing why the slot was excluded in the first place. No SD card slot equals unified storage and no royalties paid to Microsoft. Unified storage increases the performance of the handset, and not having to pay Microsoft any royalties keeps the costs down. Posted via Android Central App

Poor you, getting picked on for wanting to cling to a technology that MS, Google, Apple, and just about everyone other than Samsung has said is a bad idea.

F*ck what these ppl are telling u. U have a right to want a SD card slot. It's just easier than backing up everything then downloading it on a new phone.. Especially music. The fact is there is no wrong answer to this. SD card storage is good and bad.. There are pros and cons.. But the option of using one or not is better than no option at all. Posted via Android Central App

No one is arguing his right to want an SD card slot; but, it's useless to complain in the comments section, when neither Google nor Motorola care. The only OEM still including SD card slots -in its flagship devices-is Samsung. To downplay our comments is down right hilarious. If someone is allowed the right to constantly complain about something that a complaint won't/isn't likely to change, then we're allowed the right to respond to said comments and point out why said complaint is overplayed and unlikely to spur any kind of change. If he wants something constructive to complain about, he should voice frustration over the lack of higher storage options in today's flagship phones. Posted via Android Central App

This is a great device at a great pricepoint, especially for the folks on pre-paid plans or T-Mobile without contract plan. Yes the specs are not the greatest but at a starting price of $179, I won't complain about specs.

It would be really nice to see this device and the X to take off for Christmas and the new year for Motorola and Google, I hope they have mass market figured out. Posted via Nexus 7

Meenova better gear their production way up! http://www.meenova.com/

Nice...this is the new "Nexus 4". If it had an microSD slot it would be perfect.

Lol Posted via Android Central App

i just found my little brothers christmas gift! but on gsm arena it says no NFC. not a big deal but is that right?

This sounds like a great entry level device. People are going to snap it up. Not sure why people are referring to it as the new Nexus 4 though? The CPU and graphics aren't as good, there is half the RAM, the camera on the rear isn't as good and probably more. Posted via Android Central App

It certainly has the bang for your buck that the Nexus 4 did. It was the best phone for MVNOs in the US and now, the Moto G will fill that spot at a cheaper price point. My family is happily using Galaxy Exhibits (S3 Minis) on T-Mobile. It was the $235 price that sold them. I'll probably recommend the Moto G when they need a new phone.

No LTE ? Posted via Android Central App

even this screen is better than the faPple one

Hmm interesting device, seeing how well Nokia did with the 520 series, I see this device has a better screen, bigger battery, and a tad bit faster cpu and more ram. For 180$ off contract that is a heck of a price, but I do agree with posters above, they cannot leave SD card out of devices like this (8GB or 16GB options only) you just cant.

"...you just can't..." Yet, they did. And, the price, alone, will win people over. When the Nexus 4 first debuted, the 8GB sold-out first. When Google dropped the price $100, the 8GB sold-out first, again. The 16GB Nexus 5s sold-out, before their 32GB counterparts. This tells us, that the majority of price-conscious people are more concerned about price, than with storage space, even if a "few bucks more" nets them double the storage. Posted via Android Central App

They can and they have. The average user uses their smartphone for web browsing, simple games like Angry Birds and Candy Crush, social media and taking pictures. They don't need that much media storage.

Agreed. Posted via Android Central App

I would have liked to have seen an least an AMOLED display and voice control but that is what the X is for unfortunately :-/

No LTE? I'd definitely choose a Galaxy Express over a Moto G.

So does this support the active notifications and touch-less control like the Moto X?
Android Central Newsletter
Get instant access to breaking news, the hottest reviews, great deals and helpful tips
Thank you for signing up to Android Central. You will receive a verification email shortly.
There was a problem. Please refresh the page and try again.