Moto X Pure Edition, one of our favorite phones of 2015, is getting Nougat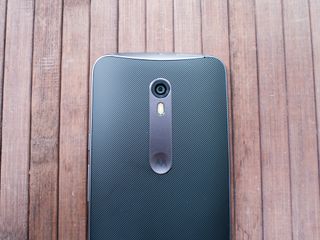 Android 7.0 is rolling out to one of our favorite devices of 2015, the Moto X Pure Edition, also known as the Moto X Style in some parts of the world.
Motorola's parent company Lenovo promised the update way back in October of last year, but has been prioritizing its 2016 lineup that includes the Moto Z, Moto Z Force, Moto Z Play, and Moto G4.
The Moto X Pure Edition was sold directly through Motorola back in 2015, as well as at various carriers in the U.S., but it's unclear whether the Nougat update is aimed specifically at the unlocked model. Motorola says (opens in new tab) that the update "improves your mobile experience with new multitasking features, more efficient notification controls and improved data saver and battery features."
Of course, the rollout will begin slowly, so if you're still running the Pure Edition it may take a few days to a few weeks to reach you.
At the time, the Moto X Pure Edition was one of our favorite devices, and only got better after being updated to Marshmallow. Now that it's at Nougat, likely the last of its major updates, we're hoping the phone holds up to performance scrutiny — we may have to dust it off to see!
Daniel Bader was a former Android Central Editor-in-Chief and Executive Editor for iMore and Windows Central.
Shame about the Moto X Play which came out with the Pure!

The last motorola phone I'll buy. Great while it lasted

I bought one around launch and it was surprisingly janky. Ended up giving it away out of disappointment

I bought an X Pure as a backup phone and kinda disappointed that I sold it. It was a solid phone and I didn't worry about cracking the screen.

Loved the phone, but I had two and both screens cracked from really wimpy drops.

Great phone ... I still have mine, but bluetooth basically just stopped working ... very sad, other than that, I could keep it for a while still.

My Bluetooth is messed up too. Turns off on its own all the time.

I never had that issue with my Moto X Pure Edition.

I highly doubt this will get o.

O won't be final for several months.

..this is a 2015 phone. lol.

Dudes, wake up, I'm being sarcastic, what I meant was obvious I thought: the Moto X PE is finally getting Nougat after all this time, just as O is almost here, Motorola is ridiculously behind schedule on their updates. You get it now?

FINALLY!! I love my XPE (crappy battery aside) and am so happy to be getting the update soon. Loved the original Moto X too.

Same here. The only reason to upgrade was atrocious battery life.
In the first week it had 4+ sot in a 14hrs day. Few months later it got to 3. 6 months later 2.5-3 in 12h of use. Year later - on the charger all the time.

...the 2016 should have always been ahead of the Moto X Pure Edition.

It was a great phone. I would have kept it if it wasn't for the real poor battery life. It will be interesting to see if 7.0 makes an improvement.

I bought this phone last summer on the cheap! I had an LG G3 crap out on me and didn't have the means to upgrade to a brand new flagship-type phone. (I also bought direct from Moto instead from a carrier!) It's served me great for the last 8 months. I'm always down for a software update, but I really hope this one is smooth. It's been in the works for a long time and I hope it's not one of those updates that costs more in battery life and stability than it's worth

I hoping it makes battery life better, as it did on the wife's note 5.

I doubt it. If Marshmallow didn't fix it , Nougat won't for sure. At best it will keep it the same.
I think that the issue is too powerful - inefficient display combined with messy processor and possibly the cheapest battery cell to find. It's definitely hardware

Snapdragon 808 hasn't aged well, IMO.

Yay, finally! I really hope it helps the battery which has been miserable lately. If it doesn't help out it's going to be upgrade time soon.

Here I thought they forgot about this phone.

The 2016 Motorolas should always be ahead of the 2015 Motorolas.

I'm really impressed at the speed and efficiency of Moto under Lenovo. /sarcasm
. I wish they'd stuck with Google.

That's Google's BS play. Nothing on Motorola

Google propped them up , they never intended to keep them

I retired my MXPE in March, when it stopped Turbo charging, even with a Turbo charger. After almost two months with a Pixel, I probably won't go for a phone as big as the MXPE again. I guess I could fire up the MXPE again to get the update...

Such a good phone.. Bought it for the wife in launch and still rocking it... Hasn't asked for an upgrade yet... But yes probably the last Moto for the family

If it's such a good phone, why would it be the last Moto for your family?

Uhm... perhaps because it is 2 years old? Motorola's new flagships have that modularity gimmick, and other flagship offerings are better (S8, G6, Pixel 2). Still a fantastic phone, but not one I'd buy right now with new tech... seriously.
l

Um. Yes, the Moto X Pure Edition is a 2015 phone. But I'm asking why a current Moto or an upcoming Moto isn't good enough for the poster's wife.

Beautifully made device with a beautiful design, unlike the hideous new Moto Z's and G's with bland designs and overgrown bezels. The fingerprint sensor should have gone on the back where the M for Motorola was. If they would've stuck with similar designs to this, and just done that, Moto would be making fantastic devices still, unlike the Lenovo generic Chinese phone they're producing.

OMG! Finally! Only had my moto x for about 14 months, so it's in pretty good shape. Looking forward to 7.0 notifications for sure.

Anyone. Should I get my Moto X Style back and spend the price of Moto E3 (£92) I agreed to pay in August, or buy a new G4 or Lenovo P2 (not G5).
I'm back in contact with Motorola UK. It's been lying in their outsourced service centre for 6 months, waiting paid screen repair but they messed up badly.
I don't remember my 3 months use of it, just the camera and battery weren't great. I dunno :p

Moto has been prioritising phones that are old but have left the new one in Moto M for the dead.
The phone was purchased because i believed they will complete the OS after the nougot update.
The current Stock ROM doesn't feel complete even my Lenovo's standard leave alone Moto's.
The tweeted about the update but later on apologized but does that remove their responsibility??

Moto M is more niche. And what do you mean "complete the OS?"

Moto M has a Mediatek processor. It'll probably never get an update.

Any way to force the update?

This is great. Had this phone for a short while and loved it. Camera is decent beside low light but it chugs along nicely. Got one for my dad who is still using. Great buy at the current price point which can be found a bit over 200 mint

Loved the phone. Worked great! Passed it on to the wife who still uses it as her daily driver and runs her real estate business with it. She has no complaints. Makes long phone calls daily, numerous texts and emails. The vibration will rattle your teeth. Has a very strong LTE signal. WiFi and blue-tooth work without issue. Moto mods while driving work great! Possibly the best phone I have ever bought. Customized it on the web site. Almost wish I would have kept it for myself. I just hope that Nougat doesn't screw anything up for her because I will be the one who has to remedy it!

Anyone actually get the update yet?

I got excited when I tried to force the update by pulling my sim card and got the update screen. Looks like its just a security update. Mine was still on the September 1, 2016 patch. It's booting up now so I'll share definitively after it's done.

Yep, just a security patch... updated from September 1 to December 1. Bah.

I kinda wish they hadn't told us the update was imminent if it wasn't a day or two away, at most. Telling us, having Android sites report, "The update is out!" and then none of the phones in the wild seeing it is just cruel.

The update has been canceled indefinitely.

Really? Why hasn't THAT been reported instead of getting our hopes up

Because websites like androidcentral don't care about old phones, none of their editors probably even has a Moto X Pure lying around anymore to even check if this update exists. Lenovo knew it would need a couple of months to release their new version of the Moto X and they also knew they were losing customers willing to upgrade to the LG G6 and the Galaxy S8. Therefore they put out a press release (with zero intention of actually updating the X Pure to Nougat), the tech websites just distributed this press release (with zero intention of actually checking if it was real), and suckers like us customers would hold on to our old Moto X phones a little longer waiting for a non-existent update until they get to release the 2017 Moto X and we go "well, I might as well but the new phone now".

Seriously, has anyone anywhere actually gotten this update? I thought you guys were supposed to report things as they are, not as Lenovo or other companies want us to believe they are.

17 days and no update. This is sad

23 days and no update. Super sad.

I thought you said it was cancelled indefinitely

Over a month and no update. I'm done waiting

I'm also mad at Android Central for not following up on this. Perhaps 965 stories about the S8 instead of 966 will do, and you can have some time left to verify whether or not a corporation is lying to customers.

Hey Daniel, have you tried dusting off your "ancient" two-year old device? You'll find the update to Nougat doesn't exist. It'd be nice to see an edit here to reflect that fact.

Over 50 days after this announcement, no update, and no word from Lenovo. Daniel is too busy drooling over the Z2 and Lenovo's new marketing strategy to care about this. I miss Phil.

I've "heard" of some people getting the update, but they apparently got it in April

Still no update. Helloooooooo!

Take it for what you will but the update is rolling out in Brazil. The file is available for download but only for Brazilian Moto Xs

Now finally the guys at Talk Android stepped up and asked Lenovo about this situation. They got a non-response to the effect that nougat for the Moto X Pure is in the final stages of testing. This testing is unique in that involves evaluating the response of the device to the passage of time at geological scales.

It was the same as silence. Amazing how you can buy off sites like Android Central and pass misinformation for truth, scam your customers and have the tech press show up at your next event and promote your new phones.
Android Central Newsletter
Get the best of Android Central in in your inbox, every day!
Thank you for signing up to Android Central. You will receive a verification email shortly.
There was a problem. Please refresh the page and try again.