How do you listen to music on your phone?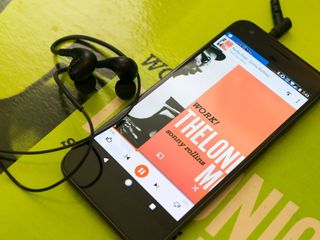 Phones have doubled as music players since forever. But we've come a long way since V cast Music and Motorola's ROKR iTunes days.
Between streaming services, subscriptions, FM radio and your own collection of songs there are plenty of ways you can use your phone to jam out a little bit. And most of us do, at least every now and then. Chances are, most of us do things a little differently, too.
We're no exception. Everyone at AC likes to listen to listen to some tunes every now and then, so this week we went around the table to find out how we do it.
Russell Holly
Regardless of the phone I'm using, I split time between Google Play Music and Soundcloud. The latter is where I go for songs from artists that aren't really ready for publishing an "album" or folk artists who are mainly live performers. When I'm in the house, I'm either using a Chromecast to a nearby television or Google Home if I'm in the bedroom.
Outdoors is a little different. If I'm out cooking in the backyard, I'm usually using my Tylt Tunz speaker. It's not much, but it's cheap and lets me use NFC to pair. If I'm out and about and need music, I usually go with the LG Tone Ultra neckbuds. They're lightweight enough that I can wear them without really noticing, and the battery will never not get me through an entire day. I wish the sound was a little better, but not enough to justify buying into the next tier pricing for these neckbuds.
Ara Wagoner
I've been a Google Play Music power user for years, and while I have a tendency to moan about it needing an overhaul, and needing a dark theme, and an alarm function, it's still the service I want to use. The radio stations have improved over the years (though I still miss the 'Instant Mixes' that would limit themselves to my personal library), and Play Music is accessible basically everywhere, and mixes uploaded and purchased music in ways few other music services allow. I limit myself to using Google Play Music on one phone at a time to help avoid hitting that five phone limit in my device list, and right now that phone is the Samsung Galaxy S8, where I've been seeing an unfortunate error where I lose the ability to control my music via Bluetooth controls and Android Wear, forcing me to open the app, pause my music, then force close and re-open the app.
I've been a big Bluetooth user for years, and since I've moved to the S8, I've been using a pair of Samsung Level On Pro Headphones, which have Bluetooth, Active Noise Cancelling, and some interesting controls, seeing as they use a "Smart Touch" touch pad rather than traditional button controls for both volume and media controls. There's the aftermarket Bluetooth head unit in my 2003 Honda Odyssey for during trips, and another Bluetooth receiver in the bedroom. I'm also using Google Home to listen to music in my apartment… mainly the shower, where I can take full advantage of those sweet, sweet music controls like "Play it again" and "Fast forward 90 seconds".
There's also the small matter of using Google Play Music as my alarm clock.
Marc Lagace
I recently made the switch to Spotify Premium and I don't know why I didn't switch earlier. I tried out Google Play Music for a bit after it acquired Songza, but ended up relying on Apple Music for the bulk of my music streaming needs and subscribed as soon as it became available in Canada. I stuck with Apple Music for so long as I did because I appreciated the curated playlists and also didn't want to have to re-add my carefully crafted music library on another platform. Nevertheless, I decided to give Spotify a shot and have found it superior in nearly every way (especially the inclusion of podcasts).
I'm on an "unlimited" data plan with my carrier, which pairs really nicely with streaming music services and lets me take my music everywhere I go. I use a GoGroove FlexSmart X2 in my car to stream tunes, but I'm actually at a bit of a crossroad for all my other music accessories. My Bluetooth headphones I used for working out just fell apart on me this week, and I'm currently on the search for a quality portable Bluetooth speaker for the summer. For now, I'm good using the Galaxy S8 earbuds which are more than servicable.
Florence Ion
How do I listen to music? Well, I ditched having a well-curated music library years ago. Listening to music is still a major priority in my life, but with the dissipation of physical media, actually archiving and collecting it fell by the wayside.
The only thing I tend to these days is the one playlist I have on Spotify. I don't need anything else. If it's radio I require, I'll pop into TuneIn to capture my favorite overseas radio station. I'm also a longtime subscriber to Digitally Imported, which delivers fresh electronic tracks my way on an almost-daily basis. I can't work with lyrics in the background either, so DI's variety of ambient chill out stations are typically on rotation while I'm plugging away writing about smartphones or whatever.
I will consume music in two ways: with these slightly dorky Bose SoundSport headphones hanging around my neck or through one of the two Google Home units in my house. But truthfully, I enjoy relative silence at home. If I'm really feeling in the need of a jam session, I'll hop into my car, connect my phone to the stereo, and go for a cruise around town. I pretend for a second that I'm back in high school with a newly acquired driver's license, and that there's nothing up ahead except for the open road and my one Spotify playlist.
Daniel Bader
For a long time, Rdio was the best place on the web and mobile to listen to music. It took me a long time, after it was ignominiously purchased and tossed aside by Pandora, to find a new equilibrium but today I can happily say I'm a Spotify devotee.
Spotify is also a much better service today than it was when Rdio was acquired in 2015, thanks to updates to its core streaming tech — it's a lot more reliable — and its new interface refresh, which, while remaining dark as a late-90's emo song, looks much better on Android than it used to. Spotify is also smarter: it has finally incorporated the next song prediction technology that it acquired from The Echo Nest, making it easy to begin listening to an album or even a single and not have to worry about selecting something else, since it has so much data from my previous sessions. Small things, too, like integration with Genius to display lyrics and important notes on popular tracks, make the app worth using instead of minimizing. And, finally, its algorithmically-generated playlists, like Discover Weekly and Release Radar, are ridiculously good.
As for the hardware, I don't really have a single pair of headphones I turn to; it all depends on the situation. Yes, I like AirPods with my Android phones; they sound pretty good and, better yet, they're extremely convenient to just place and forget. But when I don't want to look like a total dork in public, more recently I turn to the in-box Galaxy S8 headphones with some Comply Foam Earphone Tips, which I highly recommend for anyone with weirdly-shaped ears like mine, since they achieve a better seal by slowly expanding to fill the space in your earhole. Gross but awesome.
When I'm more serious about listening to music, I rotate between two pairs of over-ear cans: V-Moda's Crossfade M-100s sound incredible and are, though compact, incredibly comfortable to wear for hours. They're probably my favorite pair of wired headphones I've ever used. When I'm wireless, or need noise cancellation to drown out the sorrows of the world, I need my Blue Satellites, a delightfully chunky set of headphones with a few quirks and some awesome sound.
Andrew Martonik
My music app of choice is Google Play Music, mostly because I latched onto it early before going to Spotify or something else, and I'm invested, in terms of my playlists, library and familiarity with the interface. When I don't want to make any decisions, I flip over to the TuneIn Radio app to listen to a few different radio stations. I like that it can stream live but also record for listening later.
As for hardware, an increasing amount of my listening is coming in through my Bose QC35 headphones over Bluetooth. When I first got them I thought they'd just be for travel, but I've ended up using them daily — even out of the house. They're super comfortable, sound good (don't @ me) and the noise cancellation is top-notch. Anytime I have a bag with me I also carry a cheap pair of earbuds — currently the OnePlus Bullets V2 — for a backup.
Jen Karner
I've always been a huge fan of music, which is why my external hard drive still has well over 50GBs of music...and hasn't had anything added since 2014. So it took me quite a while to pick between the different apps for music until I found the one I liked the most.
This means over the years I have held subscriptions to Google Play Music, Pandora, and Spotify at one time or another. Somehow though, I just keep coming back to Spotify. It gives me radio stations like Pandora, while letting me build my own playlists and easily share new music finds with friends. I also love the fact that Spotify will create new playlists for me filled with music I already love, and new finds that I may have known about prior.
I still occasionally jump over to iheartradio, since I'm a glutton for punishment, and if Spotify's radio stations aren't giving me what I want to hear, I still have some hard core curated stations on Pandora. However, at this point Spotify is where I listen to most of my music, and pay for a membership so I can rock out in the car, or when I'm going for a run.
Where I sort of fall off the wagon though is in terms of headphones. I'm not really the type of gal who runs out to buy a pricey pair, since I tend to accidentally destroy or lose my headphones more often than not. Right now I'm using the earbuds that came with my Galaxy S8, but before that I had a $30 pair of skullcandy headphones that had been treating me well for a few months.
Jerry Hildenbrand
I listen to music most all day, every day. I'm one of those people who needs the background noise to keep sane, and music helps. Mostly.
At home I use my phone to do it, but not as the source itself. Whatever phone is in my hands is automatically a Chromecast remote and I have Chromecast Audios in my office, the living room, the bathroom (don't judge) and the back porch. With the audio group feature, I can have my music follow me wherever I am and a whole-house solution is easy and cheap to build.
On the rare occasion I do leave the house (sunlight burns and you can't play any Elder Scrolls games) I listen two different ways. Most times I just use whatever phone I have running (right now that's the BlackBerry KEYone) and these Aukey Arcs earbuds to listen to Amazon Music. I use Amazon because it doesn't care how many different things I want to use the service on, unlike Google Play Music and its seemingly random device authorization limits. I hate earbuds, but the Aukeys are over-ear so they stay in and aren't uncomfortable. And they were cheap af.
If I'm going to be somewhere that I know i want to escape into my own little world with some good music or on an extended jaunt away from home, I still use the HTC 10 and my old beat up Sony over-ear headphones. I've got better headphones here, but those just work really well with the amp in a (good) phone and are easy to drive. When they die, I'll buy another pair to replace them. The music that goes through them is my own collection played through PowerAmp. My next buy is going to be a wireless USB hard drive so I can bring all my music when I need it.
Harish Jonnalagadda
I started using Spotify a year and a half ago, and it has most things I'm looking for in a streaming service. It has a majority of the albums I listen to, and the curated playlists are amazing. The main limitation is that there's no ability to stream lossless music, but I have a workaround in the form of a Synology DiskStation DS414. I loaded up the NAS with four 4TB WD Red drives (one for music), giving me access to my entire music library wherever I go. DS audio — Synology's audio streaming service — natively supports the FLAC audio format, and it transcodes on the fly on devices that don't have the codec.
I'm very particular when it comes to the music I listen to, and my hardware reflects that. The Jaybird X2 is the go-to headset for the gym, and while there's a new variant out, my X2 is still going strong. I switched out the bundled Comply ear tips with the Comply sport, which gives me a better fit.
When I'm home, I switch between two pairs of over-ears: the Sony MDR-7506 is what I turn to when listening to classic rock or metal, and the Audio-Technica ATH-M50x for bass-heavy tunes.
I recently picked up the Sony MDR-1000X mostly for travel, but I'm using the headset more and more in the house. I tried out the Bose QuietComfort 35, but the MDR-1000X blows it out of the water when it comes to the sound quality. The headset features Sony's excellent LDAC codec, which transmits over three times as much data over Bluetooth as other devices. While you need a compatible Hi-Res certified device to take full advantage of the codec roght now, it is baked into Android O.
How do you do it?
Jump into the comments and let everyone know how you listen to your favorite music with your phone!
When you're done, catch up on all the previous AC roundtables!
Sign up for Black Friday email alerts!
Get the hottest deals available in your inbox plus news, reviews, opinion, analysis and more from the Android Central team.
Ara Wagoner was a staff writer at Android Central. She themes phones and pokes YouTube Music with a stick. When she's not writing about cases, Chromebooks, or customization, she's wandering around Walt Disney World. If you see her without headphones, RUN. You can follow her on Twitter at @arawagco.