How do you listen to music on your phone?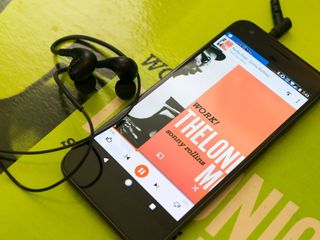 Phones have doubled as music players since forever. But we've come a long way since V cast Music (opens in new tab) and Motorola's ROKR iTunes days.
Between streaming services, subscriptions, FM radio and your own collection of songs there are plenty of ways you can use your phone to jam out a little bit. And most of us do, at least every now and then. Chances are, most of us do things a little differently, too.
We're no exception. Everyone at AC likes to listen to listen to some tunes every now and then, so this week we went around the table to find out how we do it.
Russell Holly
Regardless of the phone I'm using, I split time between Google Play Music and Soundcloud (opens in new tab). The latter is where I go for songs from artists that aren't really ready for publishing an "album" or folk artists who are mainly live performers. When I'm in the house, I'm either using a Chromecast to a nearby television or Google Home if I'm in the bedroom.
Outdoors is a little different. If I'm out cooking in the backyard, I'm usually using my Tylt Tunz (opens in new tab) speaker. It's not much, but it's cheap and lets me use NFC to pair. If I'm out and about and need music, I usually go with the LG Tone Ultra neckbuds. They're lightweight enough that I can wear them without really noticing, and the battery will never not get me through an entire day. I wish the sound was a little better, but not enough to justify buying into the next tier pricing for these neckbuds.
Ara Wagoner
I've been a Google Play Music power user for years, and while I have a tendency to moan about it needing an overhaul, and needing a dark theme, and an alarm function, it's still the service I want to use. The radio stations have improved over the years (though I still miss the 'Instant Mixes' that would limit themselves to my personal library), and Play Music is accessible basically everywhere, and mixes uploaded and purchased music in ways few other music services allow. I limit myself to using Google Play Music on one phone at a time to help avoid hitting that five phone limit in my device list, and right now that phone is the Samsung Galaxy S8, where I've been seeing an unfortunate error where I lose the ability to control my music via Bluetooth controls and Android Wear, forcing me to open the app, pause my music, then force close and re-open the app.
I've been a big Bluetooth user for years, and since I've moved to the S8, I've been using a pair of Samsung Level On Pro Headphones (opens in new tab), which have Bluetooth, Active Noise Cancelling, and some interesting controls, seeing as they use a "Smart Touch" touch pad rather than traditional button controls for both volume and media controls. There's the aftermarket Bluetooth head unit in my 2003 Honda Odyssey for during trips, and another Bluetooth receiver in the bedroom. I'm also using Google Home to listen to music in my apartment… mainly the shower, where I can take full advantage of those sweet, sweet music controls like "Play it again" and "Fast forward 90 seconds".
There's also the small matter of using Google Play Music as my alarm clock.
Marc Lagace
I recently made the switch to Spotify Premium and I don't know why I didn't switch earlier. I tried out Google Play Music for a bit after it acquired Songza, but ended up relying on Apple Music for the bulk of my music streaming needs and subscribed as soon as it became available in Canada. I stuck with Apple Music for so long as I did because I appreciated the curated playlists and also didn't want to have to re-add my carefully crafted music library on another platform. Nevertheless, I decided to give Spotify a shot and have found it superior in nearly every way (especially the inclusion of podcasts).
I'm on an "unlimited" data plan with my carrier, which pairs really nicely with streaming music services and lets me take my music everywhere I go. I use a GoGroove FlexSmart X2 (opens in new tab) in my car to stream tunes, but I'm actually at a bit of a crossroad for all my other music accessories. My Bluetooth headphones I used for working out just fell apart on me this week, and I'm currently on the search for a quality portable Bluetooth speaker for the summer. For now, I'm good using the Galaxy S8 earbuds (opens in new tab) which are more than servicable.
Florence Ion
How do I listen to music? Well, I ditched having a well-curated music library years ago. Listening to music is still a major priority in my life, but with the dissipation of physical media, actually archiving and collecting it fell by the wayside.
The only thing I tend to these days is the one playlist I have on Spotify. I don't need anything else. If it's radio I require, I'll pop into TuneIn (opens in new tab) to capture my favorite overseas radio station. I'm also a longtime subscriber to Digitally Imported (opens in new tab), which delivers fresh electronic tracks my way on an almost-daily basis. I can't work with lyrics in the background either, so DI's variety of ambient chill out stations are typically on rotation while I'm plugging away writing about smartphones or whatever.
I will consume music in two ways: with these slightly dorky Bose SoundSport (opens in new tab) headphones hanging around my neck or through one of the two Google Home units in my house. But truthfully, I enjoy relative silence at home. If I'm really feeling in the need of a jam session, I'll hop into my car, connect my phone to the stereo, and go for a cruise around town. I pretend for a second that I'm back in high school with a newly acquired driver's license, and that there's nothing up ahead except for the open road and my one Spotify playlist.
Daniel Bader
For a long time, Rdio was the best place on the web and mobile to listen to music. It took me a long time, after it was ignominiously purchased and tossed aside by Pandora, to find a new equilibrium but today I can happily say I'm a Spotify devotee.
Spotify is also a much better service today than it was when Rdio was acquired in 2015, thanks to updates to its core streaming tech — it's a lot more reliable — and its new interface refresh, which, while remaining dark as a late-90's emo song, looks much better on Android than it used to. Spotify is also smarter: it has finally incorporated the next song prediction technology that it acquired from The Echo Nest, making it easy to begin listening to an album or even a single and not have to worry about selecting something else, since it has so much data from my previous sessions. Small things, too, like integration with Genius to display lyrics and important notes on popular tracks, make the app worth using instead of minimizing. And, finally, its algorithmically-generated playlists, like Discover Weekly and Release Radar, are ridiculously good.
As for the hardware, I don't really have a single pair of headphones I turn to; it all depends on the situation. Yes, I like AirPods with my Android phones; they sound pretty good and, better yet, they're extremely convenient to just place and forget. But when I don't want to look like a total dork in public, more recently I turn to the in-box Galaxy S8 headphones with some Comply Foam Earphone Tips (opens in new tab), which I highly recommend for anyone with weirdly-shaped ears like mine, since they achieve a better seal by slowly expanding to fill the space in your earhole. Gross but awesome.
When I'm more serious about listening to music, I rotate between two pairs of over-ear cans: V-Moda's Crossfade M-100s (opens in new tab) sound incredible and are, though compact, incredibly comfortable to wear for hours. They're probably my favorite pair of wired headphones I've ever used. When I'm wireless, or need noise cancellation to drown out the sorrows of the world, I need my Blue Satellites, a delightfully chunky set of headphones with a few quirks and some awesome sound.
Andrew Martonik
My music app of choice is Google Play Music (opens in new tab), mostly because I latched onto it early before going to Spotify or something else, and I'm invested, in terms of my playlists, library and familiarity with the interface. When I don't want to make any decisions, I flip over to the TuneIn Radio app (opens in new tab) to listen to a few different radio stations. I like that it can stream live but also record for listening later.
As for hardware, an increasing amount of my listening is coming in through my Bose QC35 headphones (opens in new tab) over Bluetooth. When I first got them I thought they'd just be for travel, but I've ended up using them daily — even out of the house. They're super comfortable, sound good (don't @ me) and the noise cancellation is top-notch. Anytime I have a bag with me I also carry a cheap pair of earbuds — currently the OnePlus Bullets V2 (opens in new tab) — for a backup.
Jen Karner
I've always been a huge fan of music, which is why my external hard drive still has well over 50GBs of music...and hasn't had anything added since 2014. So it took me quite a while to pick between the different apps for music until I found the one I liked the most.
This means over the years I have held subscriptions to Google Play Music, Pandora, and Spotify at one time or another. Somehow though, I just keep coming back to Spotify. It gives me radio stations like Pandora, while letting me build my own playlists and easily share new music finds with friends. I also love the fact that Spotify will create new playlists for me filled with music I already love, and new finds that I may have known about prior.
I still occasionally jump over to iheartradio (opens in new tab), since I'm a glutton for punishment, and if Spotify's radio stations aren't giving me what I want to hear, I still have some hard core curated stations on Pandora. However, at this point Spotify is where I listen to most of my music, and pay for a membership so I can rock out in the car, or when I'm going for a run.
Where I sort of fall off the wagon though is in terms of headphones. I'm not really the type of gal who runs out to buy a pricey pair, since I tend to accidentally destroy or lose my headphones more often than not. Right now I'm using the earbuds that came with my Galaxy S8, but before that I had a $30 pair of skullcandy headphones that had been treating me well for a few months.
Jerry Hildenbrand
I listen to music most all day, every day. I'm one of those people who needs the background noise to keep sane, and music helps. Mostly.
At home I use my phone to do it, but not as the source itself. Whatever phone is in my hands is automatically a Chromecast remote and I have Chromecast Audios in my office, the living room, the bathroom (don't judge) and the back porch. With the audio group feature, I can have my music follow me wherever I am and a whole-house solution is easy and cheap to build.
On the rare occasion I do leave the house (sunlight burns and you can't play any Elder Scrolls games) I listen two different ways. Most times I just use whatever phone I have running (right now that's the BlackBerry KEYone) and these Aukey Arcs earbuds (opens in new tab) to listen to Amazon Music. I use Amazon because it doesn't care how many different things I want to use the service on, unlike Google Play Music and its seemingly random device authorization limits. I hate earbuds, but the Aukeys are over-ear so they stay in and aren't uncomfortable. And they were cheap af.
If I'm going to be somewhere that I know i want to escape into my own little world with some good music or on an extended jaunt away from home, I still use the HTC 10 and my old beat up Sony over-ear headphones (opens in new tab). I've got better headphones here, but those just work really well with the amp in a (good) phone and are easy to drive. When they die, I'll buy another pair to replace them. The music that goes through them is my own collection played through PowerAmp. My next buy is going to be a wireless USB hard drive so I can bring all my music when I need it.
Harish Jonnalagadda
I started using Spotify a year and a half ago, and it has most things I'm looking for in a streaming service. It has a majority of the albums I listen to, and the curated playlists are amazing. The main limitation is that there's no ability to stream lossless music, but I have a workaround in the form of a Synology DiskStation DS414. I loaded up the NAS with four 4TB WD Red drives (opens in new tab) (one for music), giving me access to my entire music library wherever I go. DS audio — Synology's audio streaming service — natively supports the FLAC audio format, and it transcodes on the fly on devices that don't have the codec.
I'm very particular when it comes to the music I listen to, and my hardware reflects that. The Jaybird X2 is the go-to headset for the gym, and while there's a new variant out (opens in new tab), my X2 is still going strong. I switched out the bundled Comply ear tips with the Comply sport (opens in new tab), which gives me a better fit.
When I'm home, I switch between two pairs of over-ears: the Sony MDR-7506 (opens in new tab) is what I turn to when listening to classic rock or metal, and the Audio-Technica ATH-M50x (opens in new tab) for bass-heavy tunes.
I recently picked up the Sony MDR-1000X (opens in new tab) mostly for travel, but I'm using the headset more and more in the house. I tried out the Bose QuietComfort 35, but the MDR-1000X blows it out of the water when it comes to the sound quality. The headset features Sony's excellent LDAC codec, which transmits over three times as much data over Bluetooth as other devices. While you need a compatible Hi-Res certified device to take full advantage of the codec roght now, it is baked into Android O.
How do you do it?
Jump into the comments and let everyone know how you listen to your favorite music with your phone!
When you're done, catch up on all the previous AC roundtables!
Android Central Newsletter
Get instant access to breaking news, the hottest reviews, great deals and helpful tips
Ara Wagoner was a staff writer at Android Central. She themes phones and pokes YouTube Music with a stick. When she's not writing about cases, Chromebooks, or customization, she's wandering around Walt Disney World. If you see her without headphones, RUN. You can follow her on Twitter at @arawagco.
Google Music + Chromecast everywhere in my house, I use Google Home to throw my music to whatever combination of speakers I want ("All the Speakers", "Upstairs", "Downstairs", "Office", "Bedroom"). I also have a pair of big over the ear bluetooth HiFi Elite headphones, which despite the size, I like because they come with a spare headphone jack that can be used when the battery runs down. I use these while commuting. Aside from Google Music, I also occasionally listen to TuneIn Radio and IHeartRadio.

I have a nice 200GB MicrosSD card in both of my phones. I use Poweramp to listen to the 320Kbps MP3 files I have on both of my cards. Also I have TuneIn Pro to listen to my Hip Hop Radio Station.
I have Bluetooth in my 201 Nissan Maxima, that way, I am never without the jams I love!

I do exactly the same :) 128GB card with FLAC and 320kbps mp3's and Poweramp :D

I bought a ZTE axon 7, use the onkyo high resolution app, through klipsch reference series phones. Awsume. I download all my music from either iTunes or HD tracks.

I wasn't going to bother posting about my A7, but since you did, I'll pile on. I rarely listen to music on my phone. I have an ancient iPod mini that still works, and I use that at the gym. But, thanks to the A7's pretty damn good speakers, I do occasionally listen on it - via Amazon prime, and occasionally YouTube. It's kind of in the sense of 'the best camera is the one you have with you'. My A7 is a decent audio system that happens to be in my pocket. And all things being equal, I'm glad I bought it for that reason. Of course all things are never *quite* equal... ;-)

I wanted to love the axon 7 so much. As you said the speakers are awesome and for me the camera was good enough but I just couldn't stand the UI on it and I had to move on to something else. Hopefully their next phone can be just as good hardware wise and the UI has improved.

Groove or TuneIn Radio in my car.

Groove is the best since you can upload your music library and it's platform agnostic.

I was using google play music but they are still missing a ton of features such as cross fading. They seem to be the only service that hasnt implemented that yet. Although they have gapless playback but its so inconsistent and when you upload your own music they tend to sensor it when explicit. Its annoying to correct every song they mismatched. They should make themes to change up the appearance like they do on the web interface. So much missing from such a near perfection music application. I switched over to Spotify because its so dynamic, I refuse to pay but the free version offers quite a bit. If google music was close to spotify they would dominate.

I have a QNAP NAS and take advantage of my unlimited data on Sprint to use QNAP's QFile app to stream my music from my NAS to my phone without the drop in quality that I used to get when using Google Music to stream my music library. I used a set of wired over the ear Sony headphones and an equalizer app on my LG G4. I would get an LG G5 with the Hi-Fi Plus module if the module worked on US Sprint versions of the G5.

BlackBerry DTEK60, streaming Spotify Premium and Google Play Music (the latter for some purchased music that isn't available on Spotify) . TuneIn and Classic FM for radio. I have a good old Bluetooth BlackBerry Music Gateway and two Chromecast Audio devices. In my car I sometimes use the standard BlackBerry earbuds, and at home a pair of Sennheiser headphones.

I use Poweramp to play music I've downloaded through Amazon Music, Google Play Music, (rarely) iTunes, or elsewhere. I prefer buying through Amazon if possible because I can download songs directly to my phone with the metadata intact, so I just have to point Poweramp at my Amazon music folder and it's ready to go. Almost anything else requires downloading it on my computer, connecting my phone, and transferring it, and I prefer to avoid that hassle. As for listening, I really only listen to music while I'm driving or mowing the lawn, the latter through my Sennheiser HD280 cans that double as light hearing protection, and the former via a cassette adapter because my car sucks. In either case, it's playing from my Moto Z Droid.

My two brother in laws, wife, and myself all pitch in for Spotify Premium family plan, so that's my app of choice. it's a good deal and my preference for many years anyway, so when the family plan came out, it was a no brainer. The phone is a Samsung Galaxy S7. At home, i use a Anker Soundcore bluetooth speaker which is in the office, but can be moved outside for BBQ days. The headphones are Sony bluetooth over the ears, which are good enough for me.

Google music is what I use plus the YouTube red is nice

I don't. I am one of those weird people that gets no enjoyment out of music.

I had Apple Music, but now I use Spotify. And I supplement that with my personal library that's stored in Google Play Music. Sent from my Sony Xperia X Compact

Spotify Premium & TuneIn for streaming music.
Rocket Player for my personal collection.
Creative D100 Bluetooth speakers when listening at home & Philips in-ears when outdoors/gym.

Spotify Premium for all music, and SoundCloud for podcasts.

Does not matter which source of music I listen to, but one essential is viber4android best sound and equalizer available.

MediaMonkey for my own music, some TuneIn Radio and all through my Beats Studio Bluetooth Headphones.

While I stream occasionally, most of my listening is local, because I have a 200gb microsdcard in my HTC 10. I usually use my JBL Aware-C earphones with active noise cancellation. Otherwise, while working or exercising, its Podcast Addict through Bluebud X's over BT.

I have a big library of OGG Vorbis files (yeah, I like OGG Vorbis), and I use for playing music PowerAmp or n7, as the changes on how Android manage the Music DB just f---ed-up my OGG files (some of them has tags that I can't change no matter what). PowerAmp and n7player both have specifics DBs that deal good with my malformated tags. I use lots of phones, but as here in Brazil phones from Onkyo, Bose and others are really expensive, I need to deal with phones that in US are those from US$10> range. However, some of the phone makers are now shipping their intermediate phones with decent phones, like ASUS with Zenfone 3 (my actual device). I also use some phones from Samsung, JBL and Sennheiser. For bluetooth, I like to use SBH50 from Sony, that is more a Bluetooth device where you can jack a P2 headphone or earphone than a REAL (and EXPANSIVE) bluetooth headphone. Also, for Podcasts I use Podcast Addict, that manage my 50+ podcast feeds nicely.

Spotify premium is my main source, also use Tune-In often and free Pandora sometimes. I use an Aukey Bluetooth to aux in for my car. I have a $12 pair of wired JVC headphones that sound good enough for me when I want to use that and I also have a JBL Bluetooth speaker. At home I have a Yamaha stereo that has Bluetooth built in. Off the phone I also listen to some FM radio still, there is a good locally owned station where I'm at. I like how the Moto G5 I just got has the FM radio built in as that station doesn't broadcast online.

I'm almost all local. There are times that I stream, but that's usually with music that I've already uploaded. I like to have about 3,000+ on my phone. I listen to a lot of music and having it local is a good thing, and relying and paying for a streaming service isn't too cost effective unless it's a student discount. Right now I still have a student discount for iTunes Music, so I think 5 bucks is okay. Once that's over, I might just do away with it entirely.

I have Spotify Premium and listen to it most of the time. I also use Google Music for my offline music collection, though not nearly as much as Spotify. On my commute I wear AKG Y20U earbuds, based on Wirecutter review. Pretty good for a $25 buds.
One of these days, I might pick up a Bluetooth set.

Groove Music has treated me well, especially as they have decent apps for both Windows and Android. I typically play it through my Bose Soundlink Mini 2 via Bluetooth, no matter what device I'm using at the time. I think one of the speakers in my vehicle is blown but that speaker is quite portable, and with most of a day's battery life I just set it on the dash and I'm good to go.

I listen to music on Deezer, with the sound quality set to the maximum and using Xiaomi's Mi In-Ear Headphones Pro HD (silly name, but amazing quality.)

I actually buy CDs through Amazon. A lot of time I can buy the CD cheaper (or close to the same price as I like to have the whole album) than the MP3 and still get the MP3 to download instantly. Once I get the CD I rip it using Mediamonkey, as Flac, and sync from my phone wirelessly. I the B&O in ear headphones when traveling and I have a couple pairs of over the ears, for at home. I use wired headphones so I don't have to worry about charging something. I also think wired sounds a little better.

Google play for me but like the artical says i wish it would let you use songs as an alarm clock.

Play Music for streaming. Poweramp for local files.

I subscribe to Google Play Music but I utilize an app that lets me save the music to my phone in a way that I can use other music apps on my phone. I'm not a big fan of GPM's interface so it's nice I'm able to use any number of 3rd party apps. I usually switch between Polygraph & Pi Music Player depending on if I have a white or black theme going.

Google play is my primary way. I use it on my phone with headphones or on my desktop plugged into my speakers. I also use SoundCloud for smaller artists and I have friends that put music on there. I used to use Pandora a lot, even back before everyone was rocking a smartphone and blackberry was still cool, I used Pandora on my desktop for Internet radio.

SiriusXM typically connected via Bluetooth to a sound bar in the living room. I also keep a small collection of favorite albums stored on the phone to listen to at any given time or for when streaming isn't an option (ex. on a flight).

I use in order of most to least frequency: Spotify, SoundCloud, and Google Play Music.
I hook up my HTC 10 to my stereo speakers in my room because of BoomSound, basic-quality wired Sony earbuds while I sleep sometimes, and use my OnePlus 3T for Bluetooth in my car, Bluetooth speaker, and my bullets V2 while I'm out and about.
My music is everywhere I am.

Well, I get as a long time Windows Phone user and after Nutella has spent the last two years telling us to buy Android because all his support was going there, imagine my surprise when I set Groove up to find out it is missing so many God damn basic features. WORST CEO EVER. Fix your damn crap before you direct me in a totally different direction, you clown.

Oh it's you again. The guy with a boner for Nadella. Get over it.

What part of what I said isn't true? ..... Exactly

Welcome to android.
Just find another music player .
Personally, I think Groove sucks on every platform...

I've been using my free unlimited subscription of Rhaspody/Napster from T-Mobile for years now. It gets the job done on my S8+ and it's free. Win win situation. I just can't see myself paying for music when so much of is free these days.

LG V20 (quad DAC), wired Paradigm earbuds, Tidal HiFi when I am away from my stereo (call me a fanatic).

Good setup, your ears must be happy :)

None of you use Poweramp?! That's honestly surprising

doubleTwist Cloud Player + standard wired headphones on my Samsung Galaxy S7. I occasionally use streaming music apps as well, but my music collection is large enough to generally keep me entertained.

Samsung G7E - BT connection in car; "move" music to Google Home when I pull into the garage (two GH unites and a UE speaker connected to a Chromecast Audio - for now). At the gym, I use my LG G3 (sans SIM card) connected to a set of LG Tone Pro's (HBS780 version). On rare occasions (waiting rooms, fitness walks, etc.) I'll use the Tone Pro's on my S7. Google Play Music.

Google Play Music, either through a crappy little bluetooth speaker in our kitchen, or occasionally through the Chromecast on the TV. I'd like to get a nice bluetooth sound bar for the TV to play music through. But, we have a small place, and truthfully, playing music through the wired speakers on my computer does the trick.

I have always used Pandora. I realize Pandora isn't' very popular nowadays, but for my needs, the service works great. I am not a music lover/music aficionado, and I don't want to pay a subscription fe for a streaming music service. That being said, Pandora has all of the features that I need. Other than having my radion stations setup, I love the fact that Pandora will allow you to watch a 10 second video and then enjoy 1 hour of uninterrupted music without ads! That's a great feature to me! As far as the audio playback quality, most of hte time, it's good enough for me, and the UI of Pandora still is pretty intuitive to use.

Spotify because of family plan (they were first to offer it on our market) and Spotify Connect (on PS4 and Fedora). But Spotify mobile app sucks horribly, it's slow, user unfriendly... And I was on Deezer before. As for headphones - always Bluetooth and beoplay H8 gray hazel.

Spotify over SoundBot in my car or QC35 at home.

I'm old school. I like downloaded MP3s.

GPM with a pair of Bose QC35's in the office. When I'm at home, I'm rocking the Home.

PlayerPro + 256GB SD card + Air Audio to stream it to my Chromecasts. Useful at work where streaming over company wifi is frowned upon and I'm not burning through data for it. Other than that, I use Google Play Music when I have people over because picking a mood and letting it play works well.

I am old school, I guess, as I prefer to own a hard copy and encode it myself. The majority of my listening is done through Plex, accessing my 430GB collection of LAME CBR 192kb mp3s. I am no audiophile, obviously, and prefer to use bluetooth and my Velodyne vBold headset or my Denon/Bose/KLH stereo mostly built in 1996 (the Denon replaced the original Sony in 2014) If I do use a music service, I typically just use free Pandora. I think I would like Spotify better if I had any intention of paying for a service, but Pandora does a better job of making radio stations in my experience (for free users). I also occasionally use Google Play Music.

I'm old school too. My preference isn't listening on my phone. I usually play vinyl using both a valve phono preamp and a valve power amp.

Well I'm super duper old school and only listen to music I play with a g'itar and banjo on my front porch ;)

Sometimes I'll stream Spotify, but I usually prefer to listen to my own music in FLAC format using a USB OTG adapter, the Neutron Music Player app, my Nobsound valve headphone amp, and my Sony MDR-7506 headphones.

I'm still old school. Various mixes on my phone using PowerAmp.

HTC 10 + Spotify Extreme Quality + Poweramp (FLACS) + HTC In ear Hi Res = :)

I use Tidal HiFi and Google Play Music on high quality streams and downloads.
My device of choice is a GS7.
Headphones depend on my mood and where I'm at.
(SONY MDR-V55 "on ear" when I'm stationary in front of my PS4.)
(SONY MDR-XB50BS "in ear" for Extra Bass and Bluetooth comfort when I'm moving about.)
(Samsung Level U Pro "in ear" when at work or laying in bed.)

Ah, now this is right up my alley! I have two icons and the clock on my home screen. One is the default music player, and the other icon is a folder with all my media apps. My first choice is the HTC music player because the interface is direct and does exactly what I want. No crossfade or gapless though, which is a bummer for albums like Jean-Michael Jarre, but battery life is awesome with this efficient app. Next up? Google Play Music, but the cluttered UI and having to look for what you want each time you open it makes it a bad candidate for the road. If needed, I'll launch it before rumbling out of the driveway. ABout on par with GPM is Amazon music. I prefer buying music off Amazon because I can play it in my other players. For exploring other genres, I'll use Tunein Radio, and just for kicks I'll use the FM radio (a real radio built into the phone, not an app). I also have PowerAmp pro, but found I don't need any help with volume or EQ, except when using a BT speaker. The Fade, Crossfade, and Gapless features are great, but the app loses directory information once in awhile. Hardware wise, I stick with the M8 and frequently just let it play on my desk at home (like right now, actually), or at hotels. I have two or three BT speakers, but they collect dust because, BoomSound. My first pick at home for headphones is one of a few pairs of Sony headphones or my Sennheisers. First preference for comfort is over ear, then on ear, then in ear. The best sound quality for the buds is a toss up between the Jaybird X3's and the hardwired HTC Actives. The Jaybirds have a little more of an EQ bump in the bass, but the HTC's have a wider frequency response and better bass extension. If you walk down the notes on a bass guitar, the lowest notes will drop off of the Jaybirds first. The Jaybirds have an excellent app for setting EQ that the HTC buds do not have, but it can't fix the bass extension because it's just the hardware reaching the lower limit.. Surprisingly though, Jaybird has gotten real close in quality to wired headsets, and I have to listen harder than I expected to pick out the differences. The award for most surprising quality go to the Jam Transit on ear headphones. I picked them up because the headphones for my live concert mixer went missing, and I picked them up for emergency use on the way to a gig (I also do live sound). I was not expecting much, but they sound very good for the price. They clamp down on my ears too much, so I don't use them for long periods. In the car is fun: Kenwood head unit with hardwire and built-in BT and USB. Speakers were just replaced a few weeks ago with a matched of Kickers, chose because they sounded the best (alway shop with your ears!). They are clean, full, detailed, and have a good kick (duh). For the lows, I have a modified factory-type sub built by the guy who designed the original for Chrysler. It still did not have enough power for for my liking, so I got rid of the wimpy internal amp and went with a Pioneer sub amp. And to eliminate voltage sag to the amp and tighten the bass up, I installed a dedicated battery with 10 inch power leads straight to the amp in back. Home is where I can only have real fun if nobody is home. I prefer an original CD, but second is plugging the M8 into a pair of channels on a mixer which feeds into a pair of commercial amps and then to the speakers. No EQ. I'm fortunate to have four of the world's six existing Direct Drive Active Cabinet loudspeakers. The other two are in a recording studio as the mains. They will destroy plaster walls and shorten light bulb life in commercial buildings, but they are the purest and most detailed speaker I have ever heard. I used them for parades for several years and was told you could feel the bass two blocks away. Tested by the same certification company to does it for Bose, JBL, and Polk Audio, they are the only speakers to ever be run at full power with zero distortion. Zero. Even the engineers at the facility could not believe it, and they ran the results by hand to verify. To this day, nothing from Bose or anybody else has touched the sound. Despite having 2,816 watts on hand, I like laying back and only pushing about 50 or so and just getting lost in it. With frequent company though, opportunities are rare :( Now all I have to do is get the picture out of my head now that Ara mentioned listening in the shower...

That is a hell of a setup you got there. Good job!

Wow! your system sounds amazing.

Apple Music. I also have YouTube Red which includes Google Play Music but don't use it for that. I've used Amazon Music as well but didn't care much for it.

Knowing Jerry uses Amazon Music makes me feel happy. I thought I was one of last folks still using it. It works for my needs.

MP3's, Jango, Pandora and some iHeartRadio. Listen through HiFiMan RE-400a's or Etymotic Research HF5's. Plan on getting a pair of Klipsch Heresy III's for the home.

As far as my choice of music apps on my Galaxy S7 edge go, Google play music for music and podcasts. Amazon Music to switch it up from time to time. Spinrilla for mixed tapes and unsigned underground artist. TuneIn radio for when I want to listen to the radio. My hardware is an assortment of headphones for different purposes. For daily commute I use a pair of wired KZ ATR in ear buds. For working out I use blutooth Sharper Image in ear buds. For sitting in my chair at home lounging, I bring out the heavy hitters: 2010 original version of Dre Monster Beats Pros wired into a FiiO E6 headphones amplifier that's wired to a blutooth dongle that's paired to my phone. Yes it is bulky but amazing sound when I'm just lounging around the house.

Google play music, soundcloud and chromecast. I've been using Google play since the beginning.

For my music pleasure, with my LG V10, I still have groove from my wp8 days, Google play music; with a mix of TuneIn app mixed in; LG infinim, beats studio, and Sol republic wireless....

PowerAmp and JBL E15 earbuds. Not into streaming

I mostly use Pandora for music and comedy, with the occasional Slacker and PocketCasts for my podcasts. I'm using the regular OP3 and Phiaton MS100BA (balanced armature) earbuds. If I wanna stream via bluetooth at home, I have the Bose Soundlink Mini in the living room and the Sony SRS-BTX300 in my bdrm.

When I was a teenager I would say "songs on iTunes are so expensive at 99c, why don't we just pay a one time fee and then you can download all you want". My freshman year in college I googled it and tried to find something like that, and found spotify with a message saying "coming soon to the US" and a sign up email notification. One week later I got an email and I downloaded it. All the ads were for Sprite, and it was pretty awesome. I haven't used it for about three years now. But it's because I don't listen to music much. I've been too poor to buy headphones, so just last week I bought my first pair in three years. Monoprice ear buds for 11 dollars. I have about 8 songs on my phone and it gets me almost exactly from the moment the train leaves to my stop for work. I'm sure I'll get spotify again, but today is not the day. Not enough money to pay for sizable data amounts.

LG V20 with tidal, plus Synology nas for more lossless music through 1more 3 driver in ear phones. Unfortunately iTunes watered down music quality from the then current CD level to shrink files sizes for early iPods... There is a whole generation that has never listened to lossless audio. If you never have, try for one week and you will never go back. V20 DAC is fantastic!

PowerAMP Alpha 305 with Fiio K1 DAC, listening to flac and high bitrate mp3 files on my SD card, mixed with Tune Pro and youtube, soundcloud as well.

Spotify + Bose Mini SoundLink II

SiriusXM, Slacker, Spotify, NextRadio, Amazon Music, Google Play Music, Audible, and YouTube. Plus the many gigs of music on my phone. Just depends on what I'm in the mood for and each app has its own merits. As for sound devices I really like my Apie premium wood ear buds and my Harman/Kardon Onyx Studio 3 Bluetooth speaker.

1. Mobile - S6 with GPM + aiaiai TMA-2 young guru. 2. MacBook Pro - iTunes with aiaiai TMA-2 young guru. 3. Home - Chromecast /GPM with Bose speakers.

Poweramp for my on board 330kbps MP3's and DI.FM for streaming music. I only listen to phat beats.

Rocket player and Amazon Music with Amazon basics earbuds.

I use Poweramp myself and a good chunk of my flacs end up out of order and sometimes in another folder can someone help me out please?

Spotify premium is my main source.
When on my home I listen music through a good pair of speakers. When on road I prefer Spotify app through Jaybird X2 that sounds amazing!

I use Google Play Music for my phone. I use the headphones that came with the S8 for my standard day to day listening. I have some Beats Studios that I use when I want massive bass. When I'm not using my phone I have a Fiio X1 that I use with a pair of Bowers and Wilkens P5 S2s.

I use Spotify or listen to local radio through apps to listen to my music. I have yet to experiment with Google music or other options yet.

I have apps in both Naxos Jazz and Classical Libraries, Soundcloud, Pandora Radio, Slacker Radio, Tune In Radio, I❤ Radio, Jazz Radio, Amazon Music, Google Play Music, and Samsung Music Player (64 GB micro SD card that is over half full of my favorite tracks and playlists) on my GS7. I own a pair of Bluetooth Jam 2 speakers, as well as some el cheapo (Travelocity) Bluetooth earbuds. I also use some wired earpods that came with the phone and a couple of others. I play music thru Bluetooth in the car. So I have access to my music anytime, anyplace, anywhere. Life is good.😎

Free 6 month trial of Tidal

I moved back and forth between Spotify and Google Play Music since I returned to Android from Apple land last year. I like Spotify's dark theme, the ability to search within a playlist (a weird omission from The Search Company) and the clever Discover Weekly and For You playlists. On the other hand the killer feature of Play Music for me has always been the cloud music locker that seamlessly blends the Google catalogue with my more obscure favorites that don't feature in any streaming service. Then Spotify ruined their interface - the bottom navigation bar is mostly out of line with Android design and together with the 'now playing' bar basically takes up the lower half of the screen. There are up and down navigation arrows which move the interface sideways - it's a complete mess. About the same time Google actually fixed their interface and added useful functions which finally made me give up Spotify. It's still number one for discovering new music, but if you actually have an idea what you want to listen to, Play Music currently provides a better overall package.
As for the equipment, I have a pair of Harman Kardon Soundsticks (a 2.1 to be exact), connected to a Chromecast Audio and for solitary listening I use either the Bose Soundlink Over Ear (bluetooth) or the AKG Y50 and Y20 (both wired - and both offer truly great sound for their price)

Awesome to see Jerry say he's an Amazon Music guy. I am as well. It started with my early adoption of echo devices and not playing nice with Google Play Music. However, I have found i like the way it adds music to my music and playlists better than Google Play did 2 years ago when i made the switch.

I usually plug my device into the headphone jack in the car and jam away while driving. I've got playlists for my one-thousand plus songs including Everything, Country, Alternative (new age, hippy future music), slow songs, new/recently added songs and even songs that are rarely played... I just swipe over to the music page on my droid, select the playlist that I want to hear and let it go.

I swear by Amazon Music. I tried Google Play's free music for awhile but got tired of the ads pretty quickly. I am almost done with a thirty-day trial of Groove Music. I'm on the fence about that one, frankly. My gripe about the lot of them is the lack of k-pop and j-pop choices. Ironically, of the three music apps, Google Play is the only one that comes close in terms of j-pop/k-pop.

I concur. I actually subscribe to Spotify, Google Music, and also Apple Music (yes, Apple!) - and the reason why I have kept Apple is that they have a kpop/jpop section that blows away the other services with Google Music being the only one that is anywhere on the same page. Google Music is getting better, but I hate to say that the way Apple Music handles kpop/jpop is leaps and bounds ahead.

I agree 100%. Download to your phone or stream.

I use Spotify and Pandora

I used to download my music from Amazon to my 200GB SD card but now I just use Spotify Premium.

Google Play music is my choice for quite long time. I like it better than Spotify. And 50 GB of 4G data helps to stream it on the go. At home - Wi-Fi and Philips Bluetooth audio adapter connected to the amplifier and full size stereo system or Philips Bluetooth headphones as the second choice.

I still I have my well-curated music library which I use PowerAmp to listen to. When I do stream which is very seldom I use Pandora by picking an artist and letting the program create a playlist. My earphones of choice are 1More triple driver earphones but I actually prefer over the ear headphones.

I don't listen to music on my phone. The closest is sometimes I watch video on it and listen to that - with VLC or Youtube.

Google Play Music and Amazon Music. BeyondPod for podcasts.

GPM w/Shures se21 in-ears.

Am i the only old school enough to use just RadioFM and my own music on my android?

Google music has always been and continues to be a a horrible app. It's clunky as a music player. (used to use Power Amp before listening to your own mp3 files became impossible on modern phones without SD slots) And if you're paying for the service the app cripples your genre choices. You just sort of have to accept what it gives you. I like heavy metal but under new releases it's not even a choice. I hate that it lists singles as albums. I find myself opening the play store music section to find new music. I hate it.... But use it because I pay for it and it works like Napster did in the late 90's. If I want something more obscure I'll jump over to bandcamp.

I use Google Play Music for most of my, err, music listening. But in reality I listen to a lot of podcasts via Pocketcasts, so that's most of my listening time. I have a few pairs of headphones that I use, I kind of have a "I like to buy headphones" problem. At home most of my listening is done on a UE Boom speaker. I absolutely love that thing. I have a jambox mini that doesn't see a lot of use anymore, but is there when I need it. I have a Google Home pre-ordered (coming to Canada within a couple weeks) and I anticipate I'll do a lot of my listening through that in the future. When I need to listen to headphones at home I have a pair of Sony MDR-XB950BT Bluetooth cans that I really love. They also include a line in for wired listening if I need to. I like this thing so much I actually bought a second one on a sale and listen to that at work. When I'm on the go I'll use one of the afore mentioned Sony sets, or my Jaybird X3's with some comply tips on them. Ever since I got the comply tips I use the X3's a lot more as they're way more comfortable for me. But a battery life of "only" 8 hours on them means I can't listen to them all day. When I'm working out I have a pair of relatively crappy $50 bluetooth over ear headphones that I don't care if I kill with sweat. They don't sound great but I don't care about that as much when working out. I don't even remember what brand they are. Maybe Phillips? Lastly, I have a pair of Bose QC20 noice cancelling headphones. I don't use them a ton anymore, but they're really good earbud style noise cancelling headphones. I used to travel regularly for work, and those things were an essential thing for me while flying. In reality I should use them more than I do now but I'm so used to bluetooth I don't go wired unless I need to, and I'm not spending the $450 Bose wants for the QC35's in Canada.

Mostly my Spotify or Google Play as it synced all my itunes tjingdm Even then I have my iPod. Cause it's a pain to listen to music and play pokemon go on a phone

I've never felt comfortable wearing earphones or buds of any type, it makes me feel too isolated from the world. So I only stream via Bluetooth to speakers when I'm working in the office, in the garage or in the car. I buy all my music and keep it on an SD card on the phone with backups on my desktop. I also have a substantial collection of CDs and I've ripped many of those to mp3. That's it for me. P.S. I use PowerAmp also, love it!

I'm a bit of a dinosaur, listening to local music exclusively.

My Nexus 6 is in a case with a kickstand, and I'm listening to Amazon Prime music all day. I bounce from some of their playlists to some of mine, and just random albums I either own or have access to via Amazon.

got google play music premium so that gives me no adds unlimited downloads, youtube red, & youtube music. best bang for buck by far. I love it. on a family plan with some 5 friends. So I pay 2.50 a month to the account leader. So they pay 15 a month. but when broken between 6 people its really cheap.

Basically whatever I downloaded from Google music. Don't listen to much music any longer and really don't seek anything new out either. If I'm reminded of something I like, I'll buy it and download it.

I mainly use Google Play music for the majority of my listening needs. I have a Slacker account still, but I think I'm going to get rid of the paid portion since the majority of my actual library lives within the Google music app. Playback is handled by two UE Boom speakers, one dedicated to my phone, and the other to my tablet. I also have a pair of Sony MDR-ZX770BT's that I use to enjoy music when I have time to relax or when I need to drown out the world during homework sessions.

I use Pandora Premium and use offline mode.
Android Central Newsletter
Get instant access to breaking news, the hottest reviews, great deals and helpful tips
Thank you for signing up to Android Central. You will receive a verification email shortly.
There was a problem. Please refresh the page and try again.