Review: LG's Tone Ultra neckbuds are as good as it gets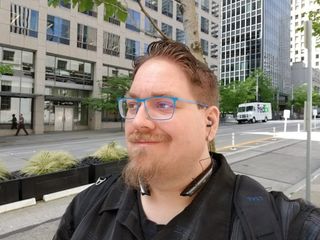 Love them or hate them, Bluetooth earbuds you wear around your neck aren't going anywhere. They're inexpensive enough to be purchased on an impulse, the battery will never not last you a full day, and the connection to your phone is usually pretty strong. LG has dominated this category for years now with its quality and price, and after a week with the LG Tone Ultra (HBS-820) (opens in new tab) it's clear that isn't changing anytime soon.
See on Amazon (opens in new tab)
It doesn't get much more generic-looking than the LG Tone Ultra. When you imagine neckbuds, this is basically the image that appears in your mind. A small flexible band connects a pair of plastic shafts with buttons on either side, and an earbud resting at the end of each tip. When you pull on the earbud you get a short shot of retractable cable, allowing you to connect to your ear regardless of head size. The earbuds have adjustable rubber tips for different ear sizes, and the inside of the plastic shafts have a soft rubber coating with ridges to help with airflow and discomfort against your neck.
Image 1 of 3
The most important part of the design here is the buttons. Each button is a physical, tactile button, which is important. There are no touch surfaces here, nothing to swipe across or tap. You get a Play/Pause button, a Call/Google Assistant button, switches for volume and track skipping, and that's it. There are no accidental button presses here, every button is nice and tactile so you know what to expect when you reach up to adjust something. The setup is simple, easy to learn, and there are no surprises when using these neckbuds throughout the day.
The software is just as simple. When you turn the Tone Ultra on, a voice will let you know what the battery status is and either connect to your phone automatically or let you know it is ready to pair. Once connected to your phone, you can control audio from either the neckbuds or the volume toggle on your phone. There's not much else to do here, no need for an app to add features or settings.
Audio from the LG Tone Ultra isn't going to blow you away, but it's decent. APTx is supported, so as long as you have a phone that also supports that tech, you'll notice a difference in audio quality. As long as you're streaming music from a source offering higher quality audio or playing a decent file locally, these earbuds are just about as good as comparably priced wired earbuds, which is great. The dual MEMS microphones in these neckbuds are great as well, even in windy environments.
LG's big battery claims with these neckbuds include 13 hours of music listening time, 14.5 hours of talk time, and 30 days of standby. My use found the music listening time hovered right around the 12-hour mark before I was hearing battery low warnings every couple of minutes, and standby in my nine days of testing seemed excellent. Where I wasn't at all impressed was in the operating range. LG claims the Bluetooth 4.1 headset can deliver up to 33ft, when in most cases for me the range was closer to half that before connection issues started. In some cases, that range was closer to 10ft before audio stutters appear, which isn't great if you're walking around a room with your phone on a charger.
There's a lot to like about the LG Tone Ultra if what you want is a decent set of relatively inexpensive neckbuds. LG isn't trying to be gimmicky with touch surfaces or NFC pairing, but at the same time there's really nothing remarkable about these neckbuds. They get the job done, and for a lot of people, that's all these neckbuds need to be. Personally, I'd prefer a better operating range and a USB-C port so I can charge directly from my phone instead of continuing to rely on microUSB, but in every other way these neckbuds exceeded my expectations.
See on Amazon (opens in new tab)
Get the Android Central Newsletter
Instant access to breaking news, the hottest reviews, great deals and helpful tips.
Thanks Russell, I am actually looking for a daily pair to replace my Bose QC30s. The noise cancelling is nice, but to be honest, since I bought them they have not made to through a day of heavy use. I'm assuming it's the noise cancelling that's eating up the battery. I want these for daily use, and retire the Bose to travel only.

Buy B&O, no aktive ANR but almost as good , if not better than BOSE with active ANR. Don't know how B&O is doing it. My B&O H6 sound so nice with my B&O designed QUAD DAC Amp in my LG V20. Obove 50 Ohms the V20amp is firering on all 4 cylinders. Throw every other mobile S8. iP7+ , HTC 11 etc in trash can, because this.is it.

I got the LG tone Platinum instead for my mother. They were $150. I mainly got them for the superior audio quality they were advertising. Hopefully I don't hear any complaints from her.

I've got these. The sound is excellent for in ears, and it's always fun to retract the cords by pressing on the little buttons. My only gripe is the noise cancelling isn't stellar but then I'm yet to find a set of in ears that can compete with over the ear ones.

I would love to know why they havnt figured out a way to make it not stutter when my body is in the direct path of the devices. Walking thru NYC is impossible unless they phone is in a breast pocket, thanks to all the other interference around. And even in the middle of nowhere - to be extreme - i still can't even have the phone my back pocket.

I've had this same issue with my Jaybird X2's. Very frustrating.

I had a pair of these, or a very similar pair. They worked great, but after about 9 months they developed a short in one of the headphone wires, presumably because of pulling the headphone out and retracting several times a day. However, LG was going to send me a new pair, I just forgot to send them back before the year warranty was up.

Have a pair of Samsung level U pro's and they look and sound great. Not as bulky looking as these.

the LG always seem too bulky to me as well. I have the Samsung Level U and love them

I do as well. I am concerned for the article, though, as the author responds doesn't take disagreement kindly.

These will be nice if my 3 year old tone+ headset ever wears out. Use them regularly and still have 10 plus hours of misic on one charge the bluetouth get 25 plus feet and sound is good enough still. Best 50 bucks ive ever spent on an electronic purchase

I had ultra until I lost them. Replaced them with the Infinity a little over a year ago and couldn't be happier. Everything from audio books at work to shredding on the longboard and snowboard. Seriously the best wireless set I've ever owned.

I think as far as the Tone lineup there's much better options than the Ultra. My first set was the HBS-770 and I'm currently using the Infinum HBS-912 and neither suffer in range nor sound quality. The 770 had better lows/bass than the 912 but the 912 is much clearer and has retracting buds, whereas the 770 just had magnetic clips.

810's here. One of my favorite electronic purchases ever.

V-Moda Forza Metallo Wireless are the best ones. Great bass for this kind of headphones.

I have the LG Platinums. I've tried the Bose mentioned above, Air Pods and the new LG Tone Free's. To me the Platinums are the best. Great sound for such a small earbud and all day battery. I listen to 8 plus hours a day plus calls. Highly recommended. Just don't try a quick beard trim while listening. Snipped the cord on my first pair. Lol. I felt like such an idiot I couldn't​ even get mad. Just shelled out another 150 bucks.

This design is great for cycling. I have the LG 850. The design advantage is you can have them around your neck buds retracted and quickly take a call. Also good for rail travel London stations are incredibly noisy and the 850 exclusion of background din is of different order to any hard plastic designs. The other advantage is where you need to talk you simply flip one out of the ear and let it dangle - far superior than a trendy mini bud in each ear. As they are tethered there's no danger of lost. Battery life and pause are good.

I was at a thrift store last fall and came across a pair of LG neck band headphones. I had looked into them previously for workouts but went with a cheaper option. They were $5 and I figured they were probably $50 retail or something. I got them home, charged them, and then found out they were the LG Tone Active+ that were released last year with a retail of $179. Happy day made happier when I realized how good the sound quality was. Also, the battery lasts a very long time. Certainly worth the $5 I spent. I like them so much I decided to not flip them for the $100 profit I could make. High praise.