Review: LG's Tone Ultra neckbuds are as good as it gets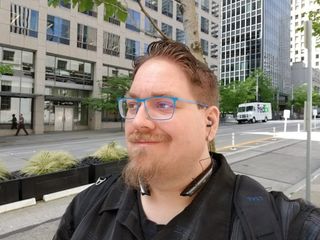 Love them or hate them, Bluetooth earbuds you wear around your neck aren't going anywhere. They're inexpensive enough to be purchased on an impulse, the battery will never not last you a full day, and the connection to your phone is usually pretty strong. LG has dominated this category for years now with its quality and price, and after a week with the LG Tone Ultra (HBS-820) (opens in new tab) it's clear that isn't changing anytime soon.
See on Amazon (opens in new tab)
It doesn't get much more generic-looking than the LG Tone Ultra. When you imagine neckbuds, this is basically the image that appears in your mind. A small flexible band connects a pair of plastic shafts with buttons on either side, and an earbud resting at the end of each tip. When you pull on the earbud you get a short shot of retractable cable, allowing you to connect to your ear regardless of head size. The earbuds have adjustable rubber tips for different ear sizes, and the inside of the plastic shafts have a soft rubber coating with ridges to help with airflow and discomfort against your neck.
Image 1 of 3
The most important part of the design here is the buttons. Each button is a physical, tactile button, which is important. There are no touch surfaces here, nothing to swipe across or tap. You get a Play/Pause button, a Call/Google Assistant button, switches for volume and track skipping, and that's it. There are no accidental button presses here, every button is nice and tactile so you know what to expect when you reach up to adjust something. The setup is simple, easy to learn, and there are no surprises when using these neckbuds throughout the day.
The software is just as simple. When you turn the Tone Ultra on, a voice will let you know what the battery status is and either connect to your phone automatically or let you know it is ready to pair. Once connected to your phone, you can control audio from either the neckbuds or the volume toggle on your phone. There's not much else to do here, no need for an app to add features or settings.
Audio from the LG Tone Ultra isn't going to blow you away, but it's decent. APTx is supported, so as long as you have a phone that also supports that tech, you'll notice a difference in audio quality. As long as you're streaming music from a source offering higher quality audio or playing a decent file locally, these earbuds are just about as good as comparably priced wired earbuds, which is great. The dual MEMS microphones in these neckbuds are great as well, even in windy environments.
LG's big battery claims with these neckbuds include 13 hours of music listening time, 14.5 hours of talk time, and 30 days of standby. My use found the music listening time hovered right around the 12-hour mark before I was hearing battery low warnings every couple of minutes, and standby in my nine days of testing seemed excellent. Where I wasn't at all impressed was in the operating range. LG claims the Bluetooth 4.1 headset can deliver up to 33ft, when in most cases for me the range was closer to half that before connection issues started. In some cases, that range was closer to 10ft before audio stutters appear, which isn't great if you're walking around a room with your phone on a charger.
There's a lot to like about the LG Tone Ultra if what you want is a decent set of relatively inexpensive neckbuds. LG isn't trying to be gimmicky with touch surfaces or NFC pairing, but at the same time there's really nothing remarkable about these neckbuds. They get the job done, and for a lot of people, that's all these neckbuds need to be. Personally, I'd prefer a better operating range and a USB-C port so I can charge directly from my phone instead of continuing to rely on microUSB, but in every other way these neckbuds exceeded my expectations.
See on Amazon (opens in new tab)