Apple's AirPods may be the best Bluetooth earbuds for Android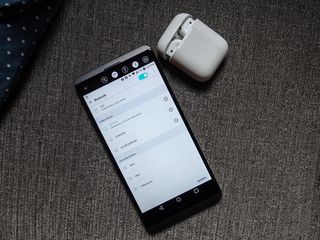 I picked up a pair of AirPods last week, and have been using them with my iPhone, Mac and other Apple devices. The experience is fantastic — seamless, even — and the sound isn't half bad, either. When you first open the dental floss-like lid and place an iPhone nearby, the two gadgets talk to one another, and a little window pops up on the iPhone's screen to begin pairing.
But, not being an active iPhone user, the experience was short-lived. I turned to my LG V20 and asked, "Are you willing to behave the same way?" I placed the AirPods nearby, opened the dental floss lid, and nada. (Strain your credulity for just a moment, please.) But unlike the vast majority of Apple's Lightning-specific accessories, the AirPods use a common standard, Bluetooth, to actually pair with devices and play music on them. So, knowing that this was a possibility on Android, I set out to test the universality of Apple's latest sales phenom.
The pairing process
AirPods pair to an Android phone like any other Bluetooth device: relatively clumsily, and through the settings. Opening the lid and holding down on the earbud case's single button, the system is placed into pairing mode when the LED turns white. It should then show up in the phone's Bluetooth menu.
I did this reliably — more so than with most other Bluetooth headphones — a dozen or so times with various Android products, from phones to tablets, and the AirPods were found and connected quickly every time. It's unclear how much juice Apple's W1 chip gives to non-iDevices, but if nothing else it seems to be pointing things in the right direction.
Using them
Say what you will about the AirPods' design, but you really shouldn't dismiss them until you have them in your ears, jamming away untethered while you walk around the house or run errands. I've had the displeasure of using Bluetooth headphones that had one or more damning flaws, from discomfort to poor battery life, and the only thing I'd say about the AirPods is that they look a little funny, and take some time getting used to.
But once paired to any Android phone — I mainly used them with the LG V20 and Google Pixel — the experience was superb. Pairing, as said, was reliable, and I have yet to experience a lost connection. Even better, I've found them to be far more trustworthy over long distances than most other Bluetooth headphones; I've climbed stairs, closed doors, and even gone outside, all with my phone sitting two or more dozen feet away with no skips. Your mileage may vary, but these are the most problem-free Bluetooth headphones I've used to date, and if Apple's name wasn't on the box it would be a must-buy for many Android users.
The accelerometer in each of the AirPods also works as a gesture tool on Android. When paired with the iPhone, a double-tap on the side of either earbud activates Siri; on Android, the gesture functions as a play/pause button which, I'd argue, is far more useful. And it works, every time. (Not unlike how the Samsung Gear IconX earbuds work, in fact.)
The AirPods' case provides around 24-hours of additional battery life to the five hours inside the AirPods themselves. And though it may seem annoying having to carry around a second thing to keep the earbuds going, in practice it means they last longer, and are more easily charged, than any Micro-USB-based Bluetooth headphones I've owned to date. That you can pop them into the case for 10 minutes and gain an extra couple of hours of uptime is an added bonus. And while the case itself charges using Lightning, if you have an iPhone or iPad in your house, you can easily charge these, and there's an extra cable in the box. All you need is a USB-A port.
Sound quality
Here's where things get a bit muddy, for lack of a better pun. AirPods sound a lot like EarPods, Apple's in-the-box wired headphones. And while there's a bit more oomph to the bass line and a slightly more even sound at the high-end, this is by no means an audiophile experience. That Apple discourages the use of seal-tightening ear tips makes it even harder to find an ideal placement, and while I have been lucky enough to find a position where the AirPods fit nicely and sound full, other people may not be as lucky.
Is this $160 sound? Definitely not. At best, it's $100 sound. But that doesn't mean it's not worth buying.
Should you buy AirPods with an Android phone?
There are plenty of great Android-compatible Bluetooth headphones that are both cheaper and sound better than the Apple AirPods. But there are none that I want to walk around in my ears with as consistently, and that leads to me listening to more music for longer. Unlike other in-ear Bluetooth earphones, AirPods are comfortable enough for me to wear for hours with no discomfort, and sound good enough that I'm happy to do so. They're great for phone calls, too, and I've yet to receive complaints about sound quality from people on the other end of the line.
Yes, you pay an Apple tax, and I too balked at the $159 price, but even as an Android user I feel comfortable recommending them. AirPods are even more useful if you use a Mac, since the included W1 chip — the thing that makes it super easy to pair with an iPhone — also works with Apple's laptops, so it's easy to switch between phone and computer in a snap, if necessary.
I don't imagine I'll have much luck convincing the hardcore Android stalwart to buy a pair of AirPods — the product exudes "Appleness" in every atom — but Apple did so many things right with this product that I have to try.
Get the Android Central Newsletter
Instant access to breaking news, the hottest reviews, great deals and helpful tips.
Daniel Bader was a former Android Central Editor-in-Chief and Executive Editor for iMore and Windows Central.