Camping can be a blast, but having to leave your phone, tablet, and other devices behind at home is no fun. With the ECOFLOW River 370 Portable Power Station, you can bring along tons of power and a way to charge nine devices at the same time, and you can even save more than $100 on its purchase at Amazon today. Clipping the coupon on its product page and then entering promo code 9Z5BV86E during checkout drops this portable generator down to just $426.99. That's a serious discount off its regular price of $540, and it's one this product has never reached before until now either; it only recently fell below $530.
Power To The People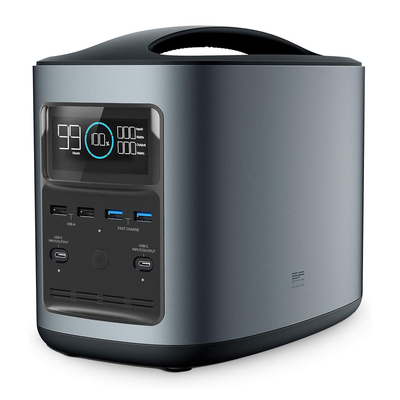 ECOFLOW's 500W River 370 can power up to nine devices simultaneously with its various USB ports and AC outlets, helped along by its integrated 100000mAh battery. Clip its on-page coupon and enter the following promo code at checkout to save.
$426.99 $529.99 $103 off
ECOFLOW's portable generator offers a way to easily bring 500W total power output anywhere you go, making it a perfect pick for camping trips and outdoor excursions. It features a built-in handle as well as an integrated 100000mAh battery that can help you recharge everything from your mobile phone and tablet to your laptop, game console, lights, mini-fridge, and more. There are nine convenient ways to charge devices with the River 370, including two 300W AC outlets, two 60W USB-C ports with Power Delivery, two 28W Quick Charge USB ports, two 12W USB ports, and a 12V cigarette lighter socket.
With its built-in battery management system, this portable power station features voltage control and temperature control, along with some more advanced safety features. There's even an LCD screen where you can view its input and output wattage, battery level, remaining charge time, and more. ECOFLOW includes a wall charger, car charger, and a USB-C cable to help you power it up, as well as an 18-month warranty.
We may earn a commission for purchases using our links. Learn more.