Google Pixel Fold: Everything we know about the Pixel Notepad foldable
Thanks to leaked renders, we finally know what Google's 2023 foldable should look like.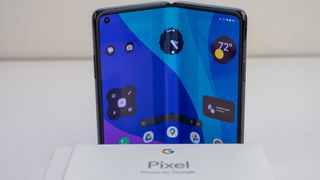 (Image credit: Nicholas Sutrich / Android Central)
We don't know yet if Google will call it the Pixel Fold, Pixel Notepad, or something else. But whatever its name, a Google Pixel foldable phone will very likely arrive in 2023 after years of delays.
Leakers have claimed in the past that the Pixel Fold would ship alongside the Pixel 6 in late 2021, then the Pixel 7 in 2022. Now different leakers are claiming Google will launch it alongside the Pixel Tablet or the Pixel 8 this year. But should we give any credence to those rumors?
It's easy to be skeptical, but several fairly prominent sources have begun to leak final design renders of the device, and at least one person claims they've seen the Pixel Fold used in public. Plus, the history of the long-rumored Pixel Watch — launched last year after several years of leaks and delays — proves that a Google product can gestate for years before its engineers okay it for public release.
Samsung, Motorola, Huawei, OPPO, and Xiaomi have all launched generations of foldables already. The Pixel Fold will compete against popular phones like the Galaxy Z Fold 4 that have evolved from years of user feedback and mistakes into polished products. Google won't have as much leeway for failure and experimentation with its first attempt, which could be why it's taking so long to ship.
What will the Pixel Fold look like, when will it arrive, and could it have more than one design? We'll answer all your questions with all the leaked info we could scrounge up, along with exclusive info we obtained from an inside source about its release date.
Google Pixel Fold: Release date
For months, over-confident leakers assured us that Google planned to release a Pixel foldable phone alongside the Pixel 6 in fall 2021, then in March alongside Android 12L, and finally in late 2022 next to the Pixel 7 and Pixel Watch. None of these leaks came to pass, but in theory, this is because Google keeps shifting its own deadline.
Last year, we reached out to a source with knowledge of Google's operations who told us confidently that the phone would ship in 2023, though they didn't provide a specific month.
Since then, Pixel Notepad launch speculation from DSCC CEO Ross Young indicated that the foldable would arrive in spring 2023, entering production at the beginning of the year. Later, a source for Frontpagetech, which leaked the phone's alleged design, claimed it would arrive in May 2023, coinciding with Google I/O 2023.
Plus, an anonymous source provided Android Authority with a Google phone roadmap that claimed the Pixel Fold and Pixel 7a would both arrive in May 2023. Now that we know I/O 2023 takes place on May 10, we can hope for a Pixel Fold reveal on that date.
Are you convinced? Not so fast! A more recent report courtesy of The Elec (opens in new tab) indicates Google now intends to begin Pixel Fold mass production in July or August 2023. That would suggest a fall 2023 launch closer to the release of the Pixel 8 and Android 14, after the arrival of the Galaxy Z Fold 5. So we'll have to wait and see.
Google Pixel Fold: Name and models
The name "Pixel Fold" has long been rumored, and may have been Google's internal name for it at one point. But it may not be the name that appears on the box.
Thanks to the popularity of Samsung's Z Fold devices, Google reportedly decided it wanted to differentiate its foldable name to avoid comparisons. It allegedly settled on Notepad early in 2022 after previously considering "Logbook," either of which would distance Google's phone from Samsung's lineup.
At various points, Google has referred to the Pixel Fold by different codenames like Felix, Passport, and Pipit. Because Google is constantly changing the device, it's possible the official name has continued to change; so Pixel Notepad may not be the actual name.
Whatever it's called, the Pixel Fold may be just one of two Google foldable phones currently being developed. A code deep-dive from 9to5Google (opens in new tab) found a reference to a foldable codenamed "Jumbojack" that the Android devs used for a variety of software tests based on the "posture" of the phone, such as "half-opened" or "flipped."
The codenames Passport and Jumbojack evoke a passport opening horizontally and a Jumbo Jack cheeseburger opening vertically, respectively. While Jumbojack could theoretically ship alongside Passport — similar to Samsung's simultaneous Flip and Fold releases — we suspect Jumbojack will never ship, and was simply designed as a way for Google to test vertical-folding phones internally for its Android 12L release.
But, in theory, Google could follow up on its Notepad foldable with a Galaxy Z Flip 4 lookalike down the line.
Google Pixel Fold: Pricing and availability
We've heard several rumors that Google will try to undercut the Z Fold series in price by selling the Pixel Notepad for $1,400. That's $400 less than the Z Fold 4, for reference.
Google took a similar strategy with the Pixel 7 and 7 Pro, priced at $599 and $899, respectively. By selling its flagships for less than the industry rate while offering high-quality performance, Google has made an impression on Android fans.
Unfortunately for deal hunters, Jon Prosser at Frontpagetech (opens in new tab) claims the Pixel Fold will cost $1,799 after all, based on information from his source. Given claims that Samsung Display would produce the Pixel Fold, it perhaps makes sense that the phone would have a similar production cost as the Z Fold series.
Whether it costs $1,400 or $1,800, the Fold will cost much more than most people would ever spend on a phone; most people bought the Z Fold 3 through carrier deals, after all. So we'll have to see what kinds of trade-in deals people can find for Google's foldable phone.
As for Pixel Fold availability, Google only sells its phones in a handful of countries, though that number has grown in recent years. The Pixel 7 is sold in 17 countries: Australia, Canada, Denmark, France, Germany, India, Ireland, Italy, Japan, Netherlands, Norway, Singapore, Spain, Sweden, Taiwan, United Kingdom, and the United States.
We can hope the Pixel Fold will sell in the above countries, but past phones like the Pixel 5a only sold in two countries. So it may depend on where Google thinks the phone is likely to succeed. You'll have to rely on Samsung, OPPO, or other brands for your foldable fix depending on where you live.
Google Pixel Fold: Design
Two separate Pixel Fold design leaks have given us a pretty clear impression of what it will look like. From the front unfolded, it'll have the same square-ish look as the OPPO Find N, wider than the Galaxy Z Fold 4. From the back, it'll have a similar camera module to the Pixel 7 Pro, but the width will make it look more like a phablet than a phone.
The first Pixel Fold leaked renders from Frontpage tech, shown below, comes from descriptions of the phone from insider sources. The inner display has noticeable top and bottom bezels compared to other foldables we've seen. But the cover display benefits from the wider design, compared to the much more narrow outer display on the Z Fold 4.
Image 1 of 5
A subsequent Pixel Fold leak from OnLeaks reaffirmed Frontpagetech's rendering of the phone. These, too, showed Google's signature look added to a square-ish foldable device. The leaker also claimed he knew the phones' display dimensions: a 7.68-inch inner display and 5.79-inch cover display.
Image 1 of 2
This aligns with a DSCC leak that suggested the Pixel Fold design would use a 7.6-inch inner display with 21.6:18 aspect ratio and a wide 5.8-inch outer display.
For more specifics, a 91Mobiles leak suggested the Pixel Fold will have a Samsung-made display. The source claims it'll have a 123mm x 148mm inward-folding display with 1840 x 2208 resolution; for comparison, the Z Fold 4 measures 130.1 x 155.1 unfolded with 1812 x 2176 resolution, making the Pixel Fold slightly smaller but with more pixels per inch.
We also expect the phone to have a side fingerprint sensor (per 9to5Google (opens in new tab)) and a triple-rear camera module.
Somewhat ominously, a 9to5Google (opens in new tab) source said that the Pixel Fold will be significantly heavier than the Z Fold 4, allegedly to pack in a larger battery.
This March, a Redditor claimed to have spotted the Fold on the NYC subway based on the "camera bump," which the user (presumably a Google employee or beta tester) kept hidden from photos. While most of the photos are too blurry to tell anything, the Redditor described the Fold as having a "dark blue, black color" and "super thin" bezels."
Otherwise, the only other relevant Pixel Fold design leak comes from Weibo leaker Digital Chat Station, who claims that it will have a "relatively small-sized large screen" similar to the OPPO Find N and an "ultra-micro-hole camera" set within the frame of the phone. This would ensure the Notepad will have a seamless look without relying on an under-display selfie camera, which has yet to impress us on the Z Fold series.
Google Pixel Fold: Specs
If the Pixel Fold comes out in early 2023, it'll use the Tensor G2 chip. That's not from a leak; that's just our uncontroversial guess. And if it doesn't ship until late 2023, Pixel Fold will likely use the Tensor G3 chip instead, the same as the Pixel 8.
Also, given the premium price, we'd expect the foldable phone to have 12GB of RAM, same as the Pixel 7 Pro (and Z Fold 4). Combined with Tensor G2, that'll put it on par with the best Android phones of 2022...but not necessarily of 2023.
Google Tensor is a custom silicon platform made by Google and Samsung LSI that emphasizes AI performance more than traditional benchmark speed. The Tensor G2 barely overperformed the original Tensor, which means the Pixel 7 Pro falls well short of the Galaxy S23 series and its Snapdragon 8 Gen 2 chip in speed and battery efficiency.
That's one reason why the Fold design might have to incorporate such a large battery (as mentioned above). So if Google does use the Tensor G2, it could be a problem for the Fold if it appears to be too "last-gen" to compete.
And while we don't know whether the Notepad is still 7.6 inches as originally rumored, we'd expect it will have the same QHD+ resolution and 120Hz refresh rate with LTPO for variable refresh rates as the Pixel 7 Pro, too. Anything less would make the Notepad look overpriced.
In terms of camera specs, the aforementioned 91Mobiles leak indicated the Fold will use a Sony IMX787 primary sensor (64MP, 1/1.3-inch) IMX386 ultra-wide shooter (12MP), and S5K3J1 telephoto sensor (10MP), plus an IMX355 selfie camera (8MP).
Aside from the impressive-sounding main sensor, the selfie camera is the same one found in the Pixel 3 series, which doesn't sound ideal. The telephoto lens, however, is the same as the one found in the Galaxy S21 Ultra, so it will likely take pretty good shots at 3X optical zoom.
Google Pixel Fold: Software
Depending on whether the Pixel Fold ships in early or late 2023, it'll use either Android 13 or Android 14. Android 13 incorporates and improves upon all of the excellent foldable and large-screen software introduced by Android 12L in 2022. Now, stock Android includes features like a taskbar for favorite apps, flexible app formats, and better split-screening tools.
Unique software will also come with Google's primary apps. In the Digital Wellbeing app, recently discovered code found that the "Flip to shh" gesture will be modified for the Pixel Fold; instead of just putting the display face down on a desk to silence notifications, you'll have to close the Fold and then put it face down for it to work. This code leak proves that Google is hard at work adapting its apps for its foldable phone, another piece of evidence that it will arrive soon.
Whichever Android OS the Pixel Fold receives, it'll very likely match the other Pixels for software support, which means three OS updates to Android 16 or 17 and five years of security updates through 2028.
We'll have to wait and see how "stock" Android performs on foldables and how it compares to unique software developed by competitors like Samsung — which uses similar tools with One UI 5. In the end, that'll matter more than hardware for deciding how the Pixel Fold, or Pixel Notepad, stacks up against the best foldable phones.
Google updated its keyboard app Gboard for foldables in June, dividing the keys across two halves to give you a better typing experience. We hope this will be the first of many improvements to Google's core apps, in preparation for the Pixel Fold's launch.
Then, Android 13 arrived in August 2022, though it mostly optimizes the changes made with 12 and 12L. Most likely, it's Android 13 that the Pixel Notepad will ship with, after which it would receive three OS updates to Android 16 and five years of security updates through 2028.
The best foldable phone today
We don't know for sure when the Pixel Notepad will arrive. If you don't want to wait, the Z Fold 4 is the best foldable available today, with blazing performance for gaming and browsing, plus superb software that takes full advantage of the mini tablet-sized display. If you can stomach the price, it'll receive support and improvements for years to come.
Get the Android Central Newsletter
Instant access to breaking news, the hottest reviews, great deals and helpful tips.
Senior Editor, VR/AR and fitness
Michael spent years freelancing on every tech topic under the sun before settling down on the real exciting stuff: virtual reality, fitness wearables, gaming, and how tech intersects with our world. He's a semi-reformed Apple-to-Android user who loves running, D&D, and Star Wars. Find him on Twitter at @Michael_L_Hicks.