Costco selling Droid RAZR with free bonus pack -- HD Dock, HDMI cable, and chargers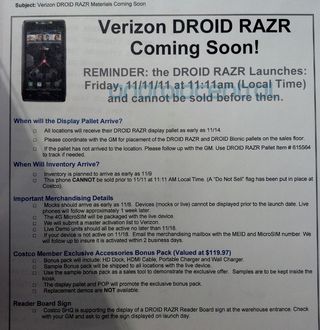 There's two important things to know about the Droid RAZR in this Costco internal memo an anonymous friend sent us -- the first is that yes, Costco will be carrying them, and the second is that Costco members will get an exclusive "Accessory Bonus Pack" with an HD dock, HDMI cable, portable charger, and a second wall charger. The flip side of the coin is that it looks like at least some locations will be waiting a few extra days past the 11/11/11 11:11 launch date before they will have the phones in stock, with Nov. 14 being the target date for inventory to start showing up.
Will Costco's liberal return policy, customer service, and of course that sweet HD dock (check out the review) be enough to keep you waiting a few days to get your RAZR? Shout out in the comments, and of course you can always discuss further in the forums, which are already bumping with excitement over this one.
Thanks, Anon!
Droid RAZR review | Droid RAZR forums | Droid RAZR specs
Senior Editor — Google Ecosystem
Jerry is an amateur woodworker and struggling shade tree mechanic. There's nothing he can't take apart, but many things he can't reassemble. You'll find him writing and speaking his loud opinion on Android Central and occasionally on Twitter.
the phone is great. the time is dumb.

wonder how much more they will charge off contract than verizon does?

Costco doesn't sell phones off contract. New lines and upgrades only.

So does the 90 return policy apply to their phones too? So you know... when them quad core phones come rolling out in Feb and March.

I am unsure if Costco's return policy is as good for their phones. I purchased a bionic, dont like it, want to swap for a Nexus when it comes out but they told me 14 days to switch to another phone, 90 days for a exchange for the same phone is what they told me.

Really? I thought Verizon had a 30 day thing to exchange for a phone if you didn't like it.

Naw. It's the other way around. Verizon 14 days, Costco 30.

Costco wins hands down on EVERYTHING they sell over EVERYBODY else.

And the phones only come in family packs...

I am hoping they do the same thing for the Nexus if at all possible. If that will be the case, I will clearly wait.

It says right on there that inventory will start arriving on the 9th. Display pallet is not inventory... if you've ever been to a costco you'd know it's just an advertising thing. It's a big pallet of fake inventory designed to advertise the phone. And knowing.. is half the battle. (Especially when writing for a blog that thousands of people read)

Hope Rezound gets this deal!

Also to whoever asked, Costco doesn't sell the phones off contract. New lines and upgrades only.

I would love to see the Nexus come with a GPS dock and cigarette charger. Yes, I will get mine from CostCo, they beat Verizon in every department.

Meh. I've already got universal car docks & enough car chargers. I think the packages like this one are the most valuable.

I believe I can wait a few months for a Quad Core Tegra 3 phone!

I wish we had a Costco in SW Indiana. All we have is Sam's Club. The nearest Costco is >100 miles away. >:-O

See if Sam's club has same deal. A friend of mine has been getting his phones from Sams. I never asked him about the return policy though. Something to look into maybe?

Why would you get this phone instead of waiting for the Galaxy Nexus?

This sounds like a better deal than anywhere else. Two questions: can I use my $50 new every two discount at Costco (still have my OG Droid)? will I be able to keep my unlimited data going through Costco? If I can get favorable answers to these questions, I will be making a trip to Costco on Friday.

I went from OG Droid to Bionic (kinda regret it now) but yes your unlimited carries over going through Costco

Thanks. How about the new every two discount, can I use it at Costco?

I was due for my upgrade, I got my upgrade price, no other discount.

To scooph and all those who replied with questions about this:
1)YES you can you use new every two discount at Costco and
2)YES your unlimited plan carries over. For those who ORIGINALLY had the unlimited plan will keep it forever UNLESS: You get a phone PRIOR to your contract ending OR you get a 'Add a Line'. With the 'Add a Line' only that phone on the AaL plan will be on the tiered plan.
Ya'll wondering how I know? I researched the crap out of it when I was deciding to get either Droid 3 or Bionic. Bionic is 4G where D3 is not. The selling point for me was the unlimited carry over, so I got the Bionic to which now I want to get the Razr in which I will have one day to exchange at Costco.
Good luck on everyone's decisions. Android phones are great, just a pain in the ass to decide what you want. :D

No Costco doesnt use new every two....if you have any questions i will be gladly able to help i work for wireless advocates.

They did something similar with the Bionic too. Surely the Nexus will get some love. Hoping anyway...

For us Canadians, the Razr is $149.99 plus you get a $150 costco gift card a a free car charger

And you are stuck for 3 years. Although that gift card is a pretty sweet deal....pretty much like getting the phone for free. But 3 years is just too long...I can't even really handle 2 years.

Verizon is offering a double data promo at the moment. If I buy this RAZR at Costco can I get the Accessory Bonus Pack and also the Double Data promo or do I need to buy the RAZR at Verizon store to get the double data?

Yes, you will get the 4GB data. They use Verizon's computer system so it's all the same.

The 4GB plan only applys to 4G Devices its a promo, Also Costco Doesnt Do New Every 2....n Last I Saw Someone Put About Costcos Exchange Policy, Basically its like Verion 14 dayz return policy to reverse your contract but we dnt charge restocking fee n 90 exchange is om any device not the same ;-) ...work for Wireless Advocates inbox for any questions.
Android Central Newsletter
Thank you for signing up to Android Central. You will receive a verification email shortly.
There was a problem. Please refresh the page and try again.